A solar panel installation company and its director have been fined after a passer-by reported unsafe work on a commercial job.
Reading Crown Court heard how an HSE inspector visited the site following the tip-off where Sasie Limited was installing solar panels on the roof of a commercial building.
The inspector identified two workers on the roof without any form of fall protection and a prohibition notice was served.
When the HSE inspector returned to the site three days later there was further unsafe work being carried out on the roof.
An HSE investigation found that the unsafe work was allowed to continue by the director despite a member of public bringing it to his attention and the serving of the prohibition notice.
Sasie Limited of Nottingham pleaded guilty to breaching safety regulations and was fined £10,000 and ordered to pay costs of £6,300.
Director Een Marsden Kelly of Nottingham also pleaded guilty and was fined £500.
Speaking after the hearing HSE inspector Dominic Goacher said "Falls from heights are the one of the biggest causes of workplace fatalities and major injuries.
"All work at height must be properly planned irrespective of the task being undertaken and those in control must ensure suitable control measures to prevent falls are in place throughout the duration of the project".
The Secretary of State for Education, Damien Hinds, has given final approval for a Geospatial Technician Apprenticeship by approving the funding band, meaning that this is now ready for delivery.
The Institute for Apprenticeships has also recommended a final funding band to the Secretary of State for the Geospatial Mapping and Science Degree Apprenticeship and this will also be ready for delivery very shortly.
The Survey Association (TSA) funded the apprenticeship development work, assisted and guided by Apprenticeship Consultant, Christina Hirst.
TSA Vice President Nick Hampson commented: ''TSA has always been committed to encouraging more young people into the survey profession and we are delighted that our funding has helped to make Geospatial Apprenticeships a reality. TSA Member Companies made an important contribution to the Steering Group.''
''Since 2001, over 400 students have graduated from the TSA Course in Surveying at the Survey School and the Geospatial Apprenticeships are the next logical step –  combining both funding and a recognised qualification.''
Both apprenticeships were approved in September 2017 by the Institute for Apprenticeships and the employers who developed these have been awaiting these funding band approvals before delivery can start – now agreed at £9,000 for the Geospatial Technician Apprenticeship and £27,000 for the Geospatial Mapping and Science Degree Apprenticeship (the latter subject to final sign off from the DfE).
The approval of these apprenticeships means that geospatial employers can use their Apprenticeship Levy payments or Government's apprenticeship funding to pay for the development of new talent for their businesses.
Antony Jenkins, Chair of the Institute for Apprenticeships said: "I'm delighted that we've been able to approve these standards. High quality apprenticeship standards like this help learners and employers reach their potential.
"More and more businesses of all sizes are realising the benefits that high quality apprenticeships can offer. The Institute is putting employers in control of developing the standards they need, giving learners a basis for lasting employment and overcoming national skills gaps."
The geospatial apprenticeships have been developed by a group of 19 employers*, led by Skanska and supported by the two relevant professional bodies, the Royal Institution of Chartered Surveyors and the Chartered Institution of Civil Engineering Surveyors (ICES). The apprenticeship development was also supported by Class of Your Own.
Mark Lawton of Skanska, Chair of the Trailblazer Group said: "It was truly inspiring to see professional bodies, trade bodies and different sectors of industry collaborate together under the project management of Christina Hirst. The future geospatial educational requirements for the apprenticeship have been tailored by the Trailblazer Group, and I feel this is a huge educational step for our geospatial future talent."
The Geospatial Technician apprenticeship will provide the knowledge, skills and behaviours for successful apprentices to apply to become Associate members of the Royal Institution of Chartered Surveyors or of the Chartered Institution of Civil Engineering Surveyors and successful apprentices from the Geospatial Mapping and Science Degree Apprenticeship can apply to become Members of the Royal Institution of Chartered Surveyors or the Chartered Institution of Civil Engineering Surveyors.
A number of Colleges and Universities are gearing up to provide these Apprenticeships and employers interested in supporting apprentices can find more information and the Trailblazer contact for these Apprenticeships by visiting
https://www.instituteforapprenticeships.org/apprenticeship-standards/geospatial-survey-technician/
for the Geospatial Technician Apprenticeship and by visiting
https://www.instituteforapprenticeships.org/apprenticeship-standards/geospatial-mapping-and-science-degree/
for the Geospatial Mapping and Science Apprenticeship.
Leading sealant and cosmetic repair company gearing up for a Corker of a year with new recruit!
Following a record year, SD Sealants, the UK's leading sealant and cosmetic repair company, is expanding its offering in Northern England with new Area Manager, Mat Corker at the helm.
The company, which provides sealant application and cosmetic repairs for house builders and commercial businesses, has seen rapid growth in the past year, having created upwards of 20 new jobs in the North East, following the launch of its new office in Leeds last November.
Heading up the expansion is Mat Corker, who has over 15 years of experience in the cosmetic repairs industry, and for the past six years has been running his own company, Cosmic Cosmetic Repairs, which takes on projects nationwide.
Nick Jones, Managing Director at SD Sealants, said on the appointment: "Mat has an incredible wealth of knowledge on the cosmetic repairs industry, and we're very excited to have him coming on board to drive expansion this year. I'm confident that his experience will be invaluable as we look to grow our services in Yorkshire and beyond.
"We are going through a period of major growth at the moment, recruiting more staff and expanding across the UK so having someone with Mat's experience is a fantastic boost for the team."
The cosmetic repairs division is recruiting for a number of staff in the North of England, and will be carrying out repairs across a range of sectors including residential, hotel, catering and corporate buildings.
On his new role, Mat said: "I'm delighted to be joining the team at SD Sealants this year, particularly as they are going through such an exciting period of growth. I'm Yorkshire born and bred, and so I'm thrilled that I can help to create job opportunities and drive business development in the area.
"Although I've been running my own company for the past few years, bringing an already well-established and organised business into Leeds is a fantastic opportunity and I'm really looking forward to the new challenge."
Launched in 1973, SD Sealants and Cosmetic Repairs originated as a family run business in Somerset that specialised in the supply and application of sealant.
Since then, the business has gone from strength to strength, becoming one of the UK's largest sealant and cosmetic repair companies, with nine offices across England, Scotland and Wales.
For more information on recruitment opportunities in Leeds, visit SD Sealants vacancies page
The average salary in construction management has hit £81,609 according to the latest pay survey of UK property professionals by RICS.
And that is topped-up by an average annual bonus of £22,252.
Construction management was one of the best paid professions in the survey which covered 42 disciplines.
Across all property professions base salaries grew on average by 12% to £58,633.
Quantity surveyors earned an average of £56,212 with an annual bonus of £5,754.
RICS qualified professionals are earning 21% more than their counterparts and 14.2% of those who received a pay rise in the last year did so through gaining professional qualifications.
Barry Cullen, RICS Diversity & Inclusion Director said: "The latest results from this survey show the built environment continues to be an attractive sector to work in with professionals' pay hitting highs not seen since the financial crisis.
"As headcount is once again expected to increase in 2018, more employers are placing greater focus on attracting and retaining talent, with attractive pay and benefit packages.
"However, organisations must embrace an offering beyond an attractive salary and benefits package if we are going to truly diversify the profession and meets the needs of our future.
"In 2018, the gender pay gap still remains evident and whilst it is significantly less for those under 26, more still needs to be done."
More than 60 construction trade bodies are now united in their support for the Aldous Bill to reform retentions.
MP Peter Aldous will see his bill get its second reading next month.
It proposes that cash retentions owed to the supply chain are held in trust rather than lost when companies like Carillion go under.
The bill is being supported by a broad cross section of the entire supply chain including electrical, plumbing, heating, interiors, house building, roofing, scaffolding and demolition.
ECA Director of Business Paul Reeve said: "Quite simply, the time for major change to retentions is now.
"Putting retentions in trust would help to protect the supply chain from future upstream insolvency, and it would reduce the amount held in retentions when buyers see that they can no longer use suppliers' cash to support their own business model."
BESA Public Affairs & Policy Manager Alexi Ozioro said: "Levels of support for the Bill are very encouraging, and this is a real opportunity for government to show it can respond to urgent developments and legislate on more than just Brexit.
"It will take months, maybe years to feel the full effect of Carillion, and what this Bill will do is make sure thousands of people can enjoy a more secure future."
Peter Aldous MP said: "This coalition of support shows the urgent need for reform and unity of industry following Carillion.
"Support covers so much of the industry that we now have a golden opportunity to change construction for the better.
"I hope government gets behind industry and this Bill.
"We need action to protect SMEs before more millions are lost, and this Bill is about ensuring people's money is safe so businesses can grow and invest in their future."
5 awesome tech tools for successful construction companies
Technology has its pros and cons — it can lead to role reductions but increase efficiency.
And although construction is one sector that might always require the human touch, it includes areas ripe for improvement through digital innovations.
With that in mind, here are five awesome tech tools for successful construction companies.
Virtual Reality (VR)
Architects, designers and engineers have relied on flat 3D construction models for years to work out how their projects will look in real life.
But looking at a scale model of a bridge, shopping centre or office block on a desk or computer doesn't enable an accurate assessment — which leads to expensive snags once building work is well underway.
VR is being adopted by specialist firms like Victaulic to solve this age-old problem. It allows staff to walk inside a built environment to see and feel whether their designs for mechanical piping and fire-protection systems are up to the job.
Wearable tech
Wearable tech like exoskeleton suits and Augmented Reality (AR) goggles looks set to carve a foothold in the construction industry very soon.
And it should make sites safer for all workers, as well as increasing efficiency.
Exoskeletons will improve the power and precision of the human body, while protecting it from injuries.
And AR headsets from firms like Meta allow teams in different locations to collaborate on construction layouts in real-time — and quickly create prototypes for clients so that they see how their new home or business premises will look prior to physical construction.
Automated HR
Making sure staff get paid on time, with the appropriate deductions and benefits, is fundamental to good business relations.
And construction firms who operate across different tax jurisdictions often employ expensive HR teams to cope with this admin-heavy and time-consuming task.
But outsourced payroll services can be less expensive and more accurate, so less time is spent correcting inaccuracies, and data analytics produce detailed reports allowing management to monitor useful metrics.
Project management software
Pulling together all the work streams on a large civil engineering or architecture project and delivering results on time and to budget is no easy task.
Project management software can help to make the process more efficient at every stage by identifying problems early, reducing risks and using rich data to automatically generate high quality handover manuals for subcontractors and clients.
Field productivity software
Large construction projects with tight timescales require regular detailed monitoring to stay on track.
And that entails daily field report being completed, collated and sent to management.
Field productivity software from niche firms like PlanGrid allows workers to fill out forms and reports on mobile devices onsite and upload them instantly so they're easily found, analysed and shared.
This means project leads can report to clients regularly without a wasteful paper trail.
Invest in any of these five awesome tech tools for successful construction companies and impress every stakeholder involved in your next project.
Has your construction form adopted new technology recently? Share your story in the comments section.
UK plant giant JCB is hiring 600 production line staff over the next three months due to "unprecedented" global demand for its machines.
In addition to these shop floor jobs, JCB said it also had vacancies for more than 100 permanent employees in engineering and other staff professions at its World Headquarters in Rocester and sites across the UK.
The firm, which already employs 6,000 people in the UK, said it now had a very healthy order book and is taking on over 200 operatives immediately with a further 400 staff required within 12 weeks.
Worldwide growth in construction has brought record demand for many of the product lines manufactured at its Derbyshire plant at Foston, as well as its Staffordshire factories at Rocester, Cheadle and Rugeley.
JCB chief operating officer, Mark Turner said: "This is great news for the local economy and great news for anyone seeking to work with a globally successful business.
"We know the cities of Stoke-on-Trent, Derby and surrounding towns have people with the skills we need, and in return they can expect excellent rewards.
"We urgently need fabrication welding skills along with paint sprayers, and general assemblers who will be given full training.
"The opportunities are initially for agency employees, however we see them as long-term opportunities – in fact, in the first three months of 2018 we have given permanent contracts to 200 agency staff. That means over the past four years we have handed permanent contracts to 850 agency employees.
"The future is very bright for JCB as global demand for our machines continues to grow, which means great prospects for people who want to work with us."
The new roles pay a minimum of £10.40 per hour for Monday to Friday working hours, with a premium paid for shift-work opportunities.
Nottingham City Council is vowing to award more work to smaller contractors in the wake of Carillion's collapse.
The council's Procurement Strategy for 2018-23 promises hundreds of millions of pounds worth of work for local firms.
City Council Deputy Leader, Councillor Graham Chapman, said: "We want to support small and medium size firms which are the lifeblood of the local economy.
"We have more scope to do this than councils which have been outsourcing the provision of services wholesale to a single giant supplier.
"As the collapse of Carillion has shown, there are huge risks to this approach."
The new Procurement Strategy will give smaller businesses more chance competing with larger rivals by breaking down bigger contracts into smaller ones where possible.
Visitors to Ecobuild can find out more about how a renowned design and engineering programme based in Vienna brings together expertise from across the globe to identify ways to make buildings more sustainable.
The Austrian capital offers an innovative backdrop as a live case study, providing insight into passive house and sustainable, smart city expertise for Green.Building.Solutions. (GBS).
Participants can immerse themselves in a unique, intensive experience – developing new skills to design and build sustainable cities in an environment that includes workshops, lectures, fact-finding visits and insight from world-leading academics.
Applications are now open for the not-for-profit programme, which is relevant to students and professionals alike in the fields of architecture and professions relating to the built environment – and with all study and social activities carried out in English, it is well-suited to participants from a truly international background.
The GBS team will be on the Advantage Austria stand at the event to talk more about the programme.
GBS takes place from 21 July to 12 August and is organised by the OeAD-Housing Office – part of Austria's national agency for international mobility and cooperation in education, science and research.
Run in association with 16 universities, including Vienna's BOKU University of Natural Resources and Life Sciences and the Vienna University of Technology, the course is priced at €2,490 for professionals and €2,000 for students.
This cost includes all social activities, lessons and tours, as well as accommodation for participants throughout the duration of GBS in one of OeAD's passive house student residences – giving an added perspective to participants' experiences in Vienna.
The accommodation is also included as part of the fee for almost a week after the programme, enabling those taking part to explore the city at leisure. Two additional workshops are offered during the extra week: a three-day specially-priced Passive House workshop and a three-day excursion for all 2018 participants.
Günther Jedliczka, CEO of the OeAD-Housing Office, said: "Austria is world-renowned as a pioneer in sustainable construction and GBS offers students the opportunity to broaden their perspective and build a network of useful contacts.
"It provides a truly international atmosphere, with 46 students from 30 nations successfully completing the programme in 2017.
"GBS's timetable starts with an overview of the historical development and introduction to green building design, before moving on to the detailed study of highly efficient and sustainable buildings.
"Sustainable materials, construction ecology, building physics and innovative energy technologies are addressed, as well as building simulations and daylight engineering.
"The Sto Foundation will also offer a hands-on workshop to students studying colour technology along with architecture and engineering students, whereby they physically build a 1:1 wall model of Passive House details.
"Finally, an investigation into indoor and outdoor climate is undertaken, before the programme concludes with an integrated design project, which centres around an actual live topic in Vienna."
As well as GBS, the OeAD-Housing Office also operates the Alternative Economic and Monetary Systems programme (AEMS).
AEMS analyses how economic, political, monetary and environmental factors need to change to be more sustainable and takes place from the 25 July until 10 August 2018.
More details about GBS and AEMS – including testimonials from 2017's programme participants – can be found at www.summer-university.net
Developer Landsec has gained revised planning consent for its 564,000 sq ft office scheme above Crossrail's Liverpool Street Moorgate ticket office in the City.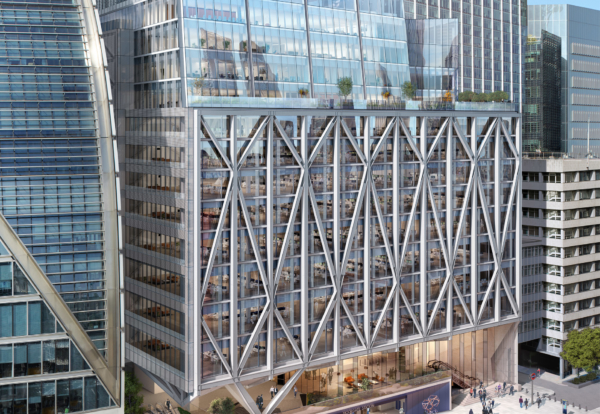 The development at 21 Moorfields will be the new headquarters for Deutsche Bank, which agreed to take most of the space contigent on planning being granted.
Landsec had already committed to construct the substructure, which is due to complete in March 2019 and now expects that construction will continue straight through to practical completion, anticipated in November 2021.
Colette O'Shea, Managing Director, London Portfolio, Landsec, said: "We welcome the resolution to grant planning permission and look forward to continuing to work in partnership with Deutsche Bank and the City of London Corporation to deliver this strategically important site."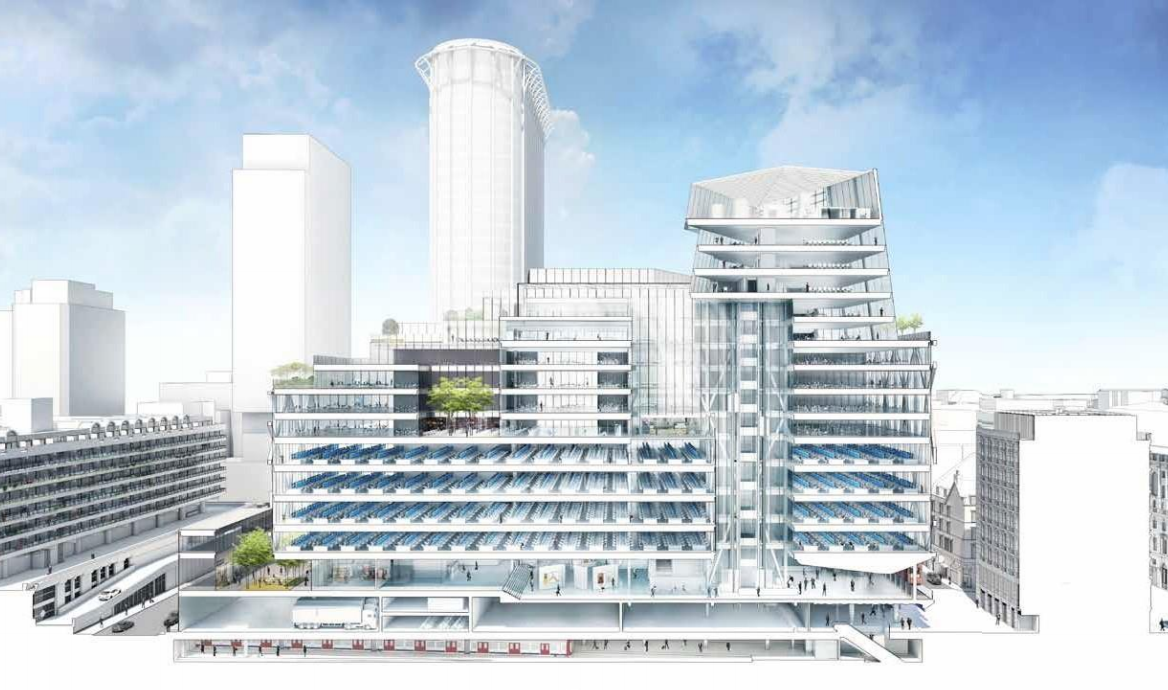 Chris Hayward, Planning and Transportation Committee Chairman, City of London Corporation, said: "With the Elizabeth line supporting the creation of an estimated 63,000 jobs in the City of London and Isle of Dogs, this office, located above a future station, fits in well with the City's ambitions for growth.
"Deutsche Bank's move demonstrates a high level of confidence in the City of London as a leader in financial and professional services. The City Corporation remains committed to supporting businesses with an additional 1.37m sq m of office space under construction that has the potential to accommodate 85,000 workers."