Belgian construction material group Etex is planning to build a £140m plasterboard factory in Bristol.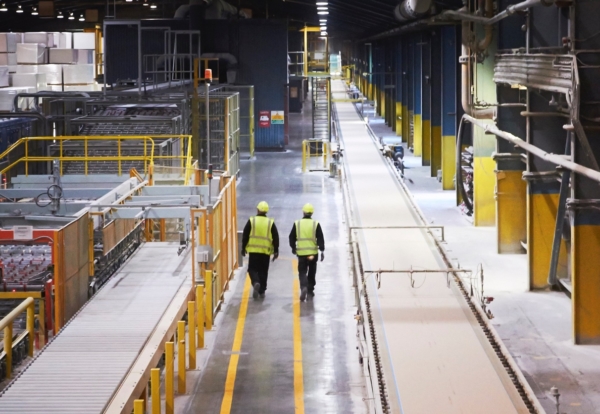 New factory will be built next to the existing plant in Bristol Port
Etex Building Performance, the dry construction arm of the group, will develop an advanced plasterboard manufacturing facility for its Siniat brand at the Royal Portbury Dock in Bristol Port, adding significantly to its production capacity in the UK.
A brownfield industrial site has been secured close to its existing plant, maximising its ability to import raw materials sustainably along the Bristol Channel.
Subject to planning Etex hopes to start production in 2022 and once operating at capacity, the new plant will double its Bristol-based production of certain plasterboard products.
The company's two existing plants at Bristol and Ferrybridge will continue to operate.
The investment is Etex's largest single capital investment to date in the UK which boasts Europe's largest plasterboard market.
The new facility will serve Siniat's customers across the UK, including projects in the residential, commercial and renovation sectors, and will manufacture the company's full plasterboard product range.
Neil Ash, head of Etex Building Performance (North West Europe), said: "This commitment to the UK construction market will not only provide our customers with better service and reliability of supply, it will also enable us to capitalise on a growing plasterboard market as clients recognise the productivity benefits that lightweight construction offers.
"Investing in this added capacity also strengthens our ability to develop superior building material systems for our UK customers, helping to create high-performing buildings that meet the needs of the people who use them."
Energy and services specialist ENGIE has been appointed to provide a £60million repairs and maintenance service on behalf of Rotherham Metropolitan Borough Council.
The contract, which begins on 1st April 2020, will see ENGIE provide responsive repairs, adaptations, void works and estate management services to 9,800 homes across the south of the borough. In addition, ENGIE will also provide gas, mechanical and electrical maintenance work and a number of capital improvement schemes across the wider Rotherham area.
The contract will begin with an initial duration of five years, which would be extended to a further five years dependent on high performance.
It is expected that the work programme will create more than 100 apprenticeships for local people, over the ten-year period, as well as 40 new jobs and more than 90 work experience placements for young people. ENGIE has also committed to a number of engagement opportunities with local schools, colleges and universities.
Martin Smithurst, Divisional Chief Operating Officer at ENGIE UK, said: "We are very pleased to have been chosen to form this exciting partnership with Rotherham Council. We have a proven track record of providing an excellent repairs and maintenance service, as well as helping our partners address their housing, social value and climate emergency-related priorities, and I'm sure that this programme will be no different.
"ENGIE has a long history of working within the borough, so it's great that we can continue to do that through this partnership. We look forward to working with our partners for many more years to come to create, improve and maintain homes and places across Rotherham."
Councillor Dominic Beck, Cabinet Member for Housing at Rotherham Council, said: "The repairs and maintenance delivery providers we appoint are extremely important and I am confident we have recruited an excellent partner in ENGIE with a strong track record.
"We are delighted to award one of the Council's housing repairs and maintenance contracts to a company that has shown they have the highest standards of service delivery which in turn will mean our tenants enjoy high-quality accommodation. Another key factor in the tender process was that the successful companies must demonstrate how they will add social value to the community.
"We want to work with companies that give back to the communities that they work in, who promote a borough where people can grow, flourish and prosper, and strengthen the skills of the local workforce and support people into jobs."
Today, smart buildings are becoming more dynamic and tailored to individual requirements, specifically within the office space. The ability to work remotely from just about anywhere has put pressure on building owners to provide a desirable environment and service. With the traditional set up no longer enough, the workspace is enduring dramatic changes and altering the nature of work and what we once knew as 'the office'. And with Gartner predicting that the greatest source of competitive advantage for 30% of organisation's over the next few years will be their ability to creatively exploit the digital workplace, the pressure is on for businesses and building owners alike to invest their time and resources into the latest technologies.
Employee Expectations
Office expectations are changing. We are now seeing an increasing number of employees working outside of the office and customising their workspace to meet their needs. Current research reveals that millennials would be willing to take a pay cut to work in a nicer office, likewise would also consider quitting over the fact that their workplace is either outdated or inefficient. In light of this, it is increasingly important for employers to keep up with the rapidly changing demand of employees in order to stay competitive when attracting and retaining talent.
The office is now expected to be a work-life experience; and keeping up with the digital culture plays a large part in this change, as does flexibility in terms of workflow and the physical space. Designed to foster creativity and create a healthier work environment, workspaces are now becoming more 'aware' through an ecosystem that allows buildings to dynamically adjust to the requirements of users who are both temporary and permanent, through the convergence of IT and Operational Technology (OT) such as building management systems, energy and space management. There is an expectation in place, and if existing or new companies don't adapt, then they will fall behind.
Collaboration and Productivity
With 87% of employees worldwide still not engaged, and a lack of motivation and productivity proven to be linked to the office setting, companies need to rethink the role and purpose of the office and focus on providing a combination of streamlined communication and social collaboration.
Smart office design is blurring the lines between the traditional formal-informal setup, with more ad-hoc social spaces and areas designated specifically for socials or team building. Many companies are leading the way, revolutionising the way that offices function with shared office facilities and hot desks on a part-time or multi-lease basis. With desk layouts developed by algorithms instead of designers and spaces that can adapt to employees' priorities and needs, companies are responding to the demand for mobility and flexible consumption in the modern digital workspace. By configuring open and closed spaces through noise-absorbing fabrics and glass doors, buildings are providing the privacy that comes from individual offices within an open plan setup, meaning that staff no longer need to be confined by physical walls.
Real-time collaboration has also become an extremely essential technology for offices, and it is IoT that defines it; fixed, portable and wearable devices are integrated into the design and interact with each other through a cloud-based network. Examples of this include fixed AV screens which can be controlled through a users phone, wafer-thin sensors that can detect occupancy, and indoor wayfinding platforms that help employees navigate office floor plans via smartphone. The scalable and robust solutions that IoT offers can enhance business efficiency, and most importantly, employee productivity.
Sustainability
With sustainability the hot-button topic, businesses are constantly working to meet the demands of a growing ecologically conscious marketplace. And with 72% of office workers revealing that a sustainable environment is important to them, embracing this move has become a competitive necessity. Through clever environmental design which optimises space, consumption and resources, smart offices can reduce the overall environmental impact and save money and resources along the way. From autonomous energy systems that shut off heating and lighting when rooms are vacant to systems that monitor and optimise the use of water and electricity, these offices can identify their most wasteful aspects and also lessen the pressure on the national grid. For new companies, integrating green from the beginning is the way to go, and for existing buildings, embedding strategic energy management as part of the business strategy will drive strategic business advantage as well as attract new employees, clients and business partners.
Making the Business Case
Smart buildings in themselves are a new revenue stream. But the cost of IoT implementation is frequently perceived as a barrier to its adoption and development, despite the cost-benefit analysis in the majority of cases presenting significant financial savings. Many smart offices are built from the ground, so existing workplaces need to be retrofitted. And although there is an upfront investment or cost to retrofit an existing building, once installed, additions such as optimised lighting make running these spaces much more cost-effective to the building owner. As a result, offering lower fees to the customer for an enhanced experience will be able to make the offer even more appealing.
Conclusion
People are the largest investment of an organisation, and as new technologies evolve to make their lives easier, safer and more comfortable it is important to look at which technologies will create the biggest impact to your office. The efficient, ease of use and cost-effective nature of what defines a smart office is what will drive both it's growth and normality in the workspace. IoT is forcing its way into our business lives, and rather than waiting for the fad to pass by, it is imperative that companies keep up with the trend and innovate their working space, or they will risk falling behind.
Nick Sacke, Head of IoT and Products, Comms365
Liverpool's most recognisable building, The Royal Liver Building, will pay tribute to the Armed Forces, veterans and allies through a specially commissioned commemorative light display.
Following on from the inaugural light show, Flight, which launched this year's River of Light festival, the Remembrance Day display at the 108 year old building will be a tailored light show that will illuminate the exterior of Liverpool's globally recognised landmark.



The display will allow people to pay their respects every hour between 6pm and 9pm on both Sunday 10 and Monday 11 November.
The display has been organised by real estate consultancy practice CBRE and designed by engineering and consultancy firm, Arup. Prior to creating the story, Arup's lighting design team brainstormed what Remembrance Day means to them. The team then used these ideas to develop a series of scenes depicted with light during the five minute tribute. Starting with the poppies in Flanders Fields and honouring the graves, recognising the Armed Forces and then the sun setting on the day, the display will be a memorable and fitting tribute to past and present armed forces.
Lauren Blow, Senior Lighting Designer at Arup said:
"The Remembrance Day light display is a tribute to all those who have lost their lives in the line of duty and is designed to be calm and respectful, with slower fades and transitions of light. It extends the Remembrance Day tributes into the evening, using the fabric of the Royal Liver Building as a canvas – a building which was once connected to the war efforts, having housed HMS Eaglet."
Ian Edwards, Senior Building Manager at the Royal Liver Building, commented:
"There is a deep-rooted connection between the Royal Liver Building's history and Remembrance Day. Many previous Royal Liver employees, who worked for the company for many years, return to the Royal Liver Building each year to host a small ceremony to honour previous workers who lost their lives during the wars. We are proud to offer people a place to pay their respects to loved ones."
For more details about the Royal Liver Building's Remembrance Day tribute please visit www.rlb360.com
First developed in the 1960s, Powder Coating has become an increasingly popular alternative to liquid paint, and now makes up over 15% of the industrial finishing market. Versatile in its applications, long-lasting and durable; powder coating is an ideal metal finishing method well suited to a diverse range of projects and industries.
But what exactly is powder coating, and what is it that makes it so desirable?
What is Powder Coating?
Powder coatings can be thought of as being like paint, but minus the solvent. They are made up of a polymer resign, such as epoxy or polyester, combined with curatives, levelling agents, pigments and other additives. These ingredients are melt mixed, cooled and ground into a homogenous powder.
The powder coating process is generally broken down into three stages:
• Preparation & Pre-Treatment
• Application of the Powder Coating
• The Powder Coating is then cured under heat
Typically used to finish metals, the coating is usually applied as a free-flowing dried powder using a spray gun. This particular method applies an electrostatic charge to the powder which causes the particles to be attracted to the ground substrate prepared in the pre-treatment process. Once the powder has been applied, the coated parts are then cured in an oven, wherein the temperature causes a chemical reaction that produces long molecular chains of high cross-link density. In addition to metal substrates, powder coatings can also be used on a range of non-metallic surfaces such as plastic.
What are the benefits of Powder Coating?
From items you use every day to heavy-duty industrial machinery; powder coatings are used to provide an attractive and durable finish for all kinds of products across a range of industries. There are several benefits to this finishing process that make it superior to traditional liquid paint in many applications.
From a functional standpoint; powder coatings offer a greater level of durability. Powder-coated surfaces provide significant resistance to everyday wear and tear. Unlike liquid paints that are delivered using an evaporating solvent; they can be applied in thicker coats without sagging, dripping or running. For industries such as construction, automotive, electrical engineering and agriculture; this reduces the need to replace equipment as powder coating can last for decades, ultimately saving businesses money over time.
In addition to its durability, powder coatings are more Eco-friendly than traditional paint finishes. Because this method does not require the use of solvents, they offer less of a carbon footprint. The process of powder coating also cuts down on the amount of waste, not only that but in many cases – it can even be recycled. This reduction of the wasted product presents significant cost savings, not only because less product goes further, but also it reduces the burden on companies to dispose of volatile organic compounds and remains compliant with industry regulations.
It is well documented that the construction industry faces the continual challenge of a skills' shortage, with an ageing workforce and shrinking talent pool.
According to the Federation of Master Builders, 22 per cent of the current construction workforce is over 50 and 15 per cent are in their 60s. At the same time, the industry is also losing younger workers to competing sectors where work is perceived as more stable or appealing and pay is more competitive.
This is why SITECH, the UK's premier Trimble construction technology provider is supporting Plantforce, leading supplier of plant hire machinery, to deliver new technology-focused, training courses designed to tackle the skills' issue head on.
The new site-ready operator training packages will serve a dual purpose. First, helping to upskill existing construction workers to operate machines on a digitally enabled, high performing construction site thereby retaining valuable skills within the industry and second; training the next generation of employees on modern machine control in order to attract much needed talent into the sector.
The new courses are the first of their kind in the UK and will be delivered at Weston College's Construction Training Centre in Weston-Super-Mare, with a view to expanding the training to other colleges across the country as demand increases.
Alongside Plantforce's significant investment in technology for use by students, the courses will provide access to the latest Trimble technology, with SITECH offering expertise on how to utilise machines to their full capability.
Steve Breen, General Manager at SITECH said,
"It's encouraging to note that 60 per cent of employers in the construction sector already have some kind of skills' development system in place, with 71 per cent of businesses recognising that technology plays a role in attracting talent.[1]
"At SITECH, we want to take this further and believe the key to developing talent is to ensure that employees are equipped with the latest digital skillsets that are so sought after across the industry. These skillsets are now a key requirement for many Tier one contractors delivering services to some of the country's major infrastructure projects, where machine control and 'dig to design' technologies are now an expectation – helping to drive health and safety standards and improve productivity and profitability."
Dale Hawkins, Marketing Manager from Plantforce added:
"Ensuring operators are 'site-ready' and have the necessary skills and competencies for Tier one projects requires different skillsets than much of the standard training available on the market can deliver. Rather than taking a basic excavator course and earning a beginner's licence, our exclusive five-day training package provides the operator with experience of the latest technology, a practical test and simulator profiling alongside a medical examination. This provide customers with peace of mind that their operators are fully conversant with the latest practices."
Simon Werkshagen, Head of Commercial Construction Training and Logistics Centre at Weston College concluded:
"Weston College is rated Ofsted Outstanding, plus offers a quality training environment; delivering group sessions through to individual upskilling. This unique partnership with Plantforce and SITECH, enables us to offer simulated training after the basic course; bridging the gap that currently exists, by creating a virtual construction site and teaching people how to use the various pieces of technology that are required for higher level contracts.".
To watch how the training centre helps reduce the skills gap, follow the link https://bit.ly/36eneJV.
The Centre also offers apprenticeships and other construction and logistic training programmes. To enquire about our training offer or for more information please go to www.construction-training-centre.co.uk, email enquiries@construction-training-centre.co.uk or call 01275 465555.
£1 billion mixed use development
ENGIE, leading energy and services specialist, has partnered with Edinburgh St James, the 1.7 million sq ft development, to develop and operate a new low carbon decentralised energy scheme, worth £90m.
The 33 year partnership will develop and operate a new low carbon energy scheme at Edinburgh St James, which will:
Offer substantial savings in terms of capital and operational expenditure;
Save occupiers the costs of onsite plant provision;
Serve all homes and businesses at the site with affordable heat and chilled water for cooling (where needed)
Ensure cost-savings and a low carbon footprint
Encourage sustainability and recycling throughout the site, by using electricity generated from the Energy Centre to supply power elsewhere.
By using a low carbon and cost-effective energy solution through the onsite Combined Cooling, Heat and Power (CCHP) energy centre, ENGIE, who is committed to long-term consumer cost-savings, will meet all residents and occupiers energy needs, right on their doorstep.
CCHP typically has an energy efficiency of over 80 per cent compared with 56 per cent for a more conventional system. In addition, allowance has been made for expansion of the service into even more sustainable technologies as they are developed.
The new energy centre is a part of the Growth Accelerator Model (GAM) agreement between Edinburgh St James, the Scottish Government and the City of Edinburgh Council. The funding from this innovative partnership is helping to regenerate the capital's east end, with ENGIE's recent deal the latest in a series of projects that have already benefitted the local community and city as a whole.
ENGIE has been working closely with Edinburgh St James since 2016 when it was appointed preferred bidder, to agree future sustainable energy proposals for the site. Under the terms of the new partnership, ENGIE will design and fit out a basement energy centre and adopt the district heating and cooling network from Edinburgh St James and provide ongoing operation and maintenance, including lifecycle responsibility for the scheme.
Andrew Hart, Managing Director for ENGIE's Urban Energy business, said: "This hugely significant project will be transformational for the city of Edinburgh. We have been involved in conversations surrounding the future of the scheme for several years so it's fantastic to have agreed our part in bringing it to fruition.
"Too often, energy is an after-thought when it can bring remarkable benefits to a scheme of this size. The fantastic thing about Edinburgh St James is that they saw very early on, how important a factor this would play in the successful delivery of the scheme. It will also play a role in supporting City of Edinburgh's target of net zero carbon by 2030.
"We have several similar schemes across the country and our unparalleled expertise in district energy, coupled with our capabilities in construction and services, means we are ideally placed to deliver this important project."
Martin Perry, Director of Development at Edinburgh St James, said: "It became clear from the outset that ENGIE's commitment to cost-savings in a low carbon environment aligned with ours, CEC and the Scottish Governments aspirations for our existing and future partners, residents and occupiers within the development.
"This deal marks another milestone on the road to completing this transformational project for Edinburgh. To have been fortunate enough to agree a partner of the quality of ENGIE takes us another step closer to the project completion and we look forward to a long and successful relationship with one of the very best energy centre operators in Europe."
Cllr Kate Campbell, Housing, Homelessness and Fair Work Convener, the City of Edinburgh Council, said:
"We have set an ambitious target of net zero carbon by 2030, so it's very welcome that the Edinburgh St James development has plans for a low carbon, energy efficient scheme. The energy centre, which will be delivered as part of the infrastructure agreement with the council, will provide homes and businesses at the site with affordable heat and encourage sustainability by generating power to be used elsewhere"
ENGIE is anticipated to complete the centre in late 2019. The retail element of Edinburgh St James is set to open in October 2020.
Former Top Gear Stig, Ben Collins, has been announced as this year's guest speaker at the Guild of Architectural Ironmongers (GAI) Education Awards.
Ben will join the awards, which?recognise the outstanding educational achievements of the door hardware industry, at the Royal Lancaster hotel in London on 7 November. 
Ben started his motorsport career in 1994, competing in Formula First, Formula Vauxhall Junior and International Formula 3. He is best known as The Stig from BBC's Top Gear, but throughout his career he has also been a television presenter, author, stunt driver and World Record holder.
The GAI Education Awards include Gold, Silver and Bronze awards for the top students in the GAI Diploma, as well as the Pinnacle Award, sponsored by Eurobond Doors, for the student with the best aggregate results over the three years of the Diploma programme.
The GAI Diploma is designed to give students a high level of product knowledge and the ability to write accurate hardware specifications and quotations. The qualification is particularly suited to those in customer facing roles, contract management, scheduling and estimating, and sales.
GAI president, Julian Newman, said:
"Scrutiny of the skills and competence of everyone in the building industry has never been higher, and each part of the supply chain needs to prove its worth. The GAI Diploma makes this possible in our sector – it is the only recognised architectural ironmongery qualification to British and European standards in the world.
"As we celebrate the fantastic achievements of this cohort of students, it's important to reflect on how far the education programme has come and to recognise the hard work of our members and committees that have shaped the course to ensure it is always relevant to today's ironmongery professionals."
The Guild's education programme has been running for more than 50 years, training future generations of architectural ironmongers to British and European standards.
This year's GAI Education Awards is sponsored by ASSA ABLOY opening solutions. 
To book your tickets to the 2019 GAI Education?Awards, visit the GAI website.
A national trade body conference, which provides insight into the latest thinking and technology in the preservation and protection of buildings across the UK, has unveiled its agenda for this year's event.
The 2019 Property Care Association International Building Preservation Conference takes place at The Slate, University of Warwick, on Thursday, November 21.
Speakers will include Lady Renee-Marie Young, of the National Landlords Association, as well as representatives from Nationwide and Historic England.
The full list of speakers and booking details can be found at: www.property-care.org/ibpconference2019/programme
James Berry, PCA's Technical Manager said: "Over the years, the conference has built up a reputation as a key event for anyone looking at how to tackle moisture issues in buildings.
"With challenges including a greater airtightness in buildings to meet environmental performance requirements, fuel poverty and a changing climate, the issue is becoming more and more significant in both the public and private sector.
"The format for the conference is a series of expert speakers and Q and A sessions.
"The day is designed to create engagement between speakers and delegates, all with the common goal of finding new and innovative ways to adapt to the challenges we face.
"Damp, uncomfortable homes take their toll on the health and wellbeing of the people who live in them and can really impact on a person's quality of life.
"Such conditions can also lead to costly defects in a building's structure and fabric.
"The PCA International Building Preservation Conference sets out how new technologies and advances, coupled with time-proven expertise and knowledge, can be drawn upon to address the issue."
For the first-time in the Association's conference history, the preservation event will run concurrently with the PCA's Invasive Weed Control Conference, at The Slate.
More details on the agenda for that can be found at https://www.property-care.org/conferences/invasive-weed-2019/
Northern-based building consultants say HS2 and HS3 is not the answer to boosting the North's transport infrastructure.
Sharing their 'wishlist' for the upcoming autumn budget, three directors from Trident Building Consultancy's Liverpool, Manchester and Leeds offices, say where investment should be made to better connect the North.
Keith Richards, director in Trident's Leeds office, said: "While a faster line between Leeds and Manchester would be beneficial, this line already exists. I believe a better use of HS3's £39bn cost would be links from York to Sheffield and from Birmingham to Newcastle – perhaps complementing existing lines to form a 'northern crucifix'."
Danny McEvoy, associate director in Trident's Liverpool office, feels HS2 is of little benefit as it reduces the journey time from Manchester to London by only 15 minutes. Instead, a rail link between Scotland and Manchester would be of much greater value as the journey currently takes over four hours – no quicker than making the journey by road.
In August, after the government pledged to invest more in the region, political leaders in the north of England demanded a 'Northern Budget', including £7bn for transport infrastructure. But Keith Richards urges that the investment addresses the needs of northern towns above the needs of the northern cities:
"The old industrial bases – Darlington, Doncaster, Wakefield, Wigan, Bolton, Barnsley, Rotherham and others – still house a large proportion of the population of the north, and yet they could be left out as a result of HS3. In fact, they may suffer as a result of investment into rival conurbations. These are the towns that have had their heart ripped out in the last 40 years but there's not enough investment to get them back on their feet. Relative to these towns, Manchester, Liverpool, Leeds and Sheffield are prosperous."
Keith also recognises the need for better public transport: "Some city centres desperately need better transport systems. For example, Leeds needs a tram or a better bus system to enable people to get to their place of work. This is also true of new developments outside Leeds. Knaresborough has grown by approximately 5,000 new homes in five years and the vast majority of new residents commute to Harrogate, York and Leeds, mostly driving. The towns to the north and west of Leeds need better, more localised, rail links."
Danny McEvoy adds: "In Liverpool there's lots of work going on but not a lot of collaboration between the public transport providers."
Connectivity goes beyond transport
Furthermore, to attract large companies to northern town and cities, high speed fibre optic broadband is required.
Keith Richards explains: "It's the higher end commerce that has helped Leeds. Sky Betting and Gaming, Channel 4, the new Government Hub and the legal and financial sectors would not have located themselves in Leeds were it not for the ability to access broadband. But there is a reliance on BT to provide fibre optic broadband. This should be something that the government is investing in."
From a Liverpool perspective, Danny McEvoy agrees: "There is a real lack of investment in broadband. We're currently working on an office building on Castle Street in Liverpool's business district where there's no fibre optic broadband. The client is having to put their own line in at an astronomical cost. For the majority of new office builds, it's included as part of the development, but refurbs aren't getting the upgrade and so many office buildings are missing out on what is a necessity. In most cases, broadband is better at home than it is at work."
Pete Ewbank?, senior associate director in Trident's Manchester office, said: "Even in Deansgate in Manchester there's no dedicated line. Having to put in your own line can push costs up from £50 a month to £500."
Pete also made the link between better connectivity and achieving greater sustainability in their work: "Better internet connectivity would enable us to reduce the number of meetings and removes the need to travel at all in some cases. And when we do need a face to face meeting, if we had better transport infrastructure, we would opt for public transport to get there.
Currently the North East, the North West, and Yorkshire and Humber receive €380m from the European Regional Development Fund (ERDF) and the European Social Fund (ESF). The regions also receive matched funding from the UK for projects that boost the economy or employment opportunities through training. The government has said it will replace the ERDF and ESF post-Brexit with a Shared Prosperity Fund which is likely to be split equally across England.
Pete Ewbank concluded: "With the absence of this fund, we need the autumn budget to come through for the North. We need it to bring the right transport infrastructure, and we need connectivity – both digitally and physically. The North is very much alive, but it needs government investment and commitment to fulfil its true potential."