Skills shortages are wrecking the quality of workmanship on construction projects.
Scape Group has carried out a major survey of the construction supply chain which highlights the impact of the skills crisis.
Sustainability in the Supply Chain found 58% of contractors and suppliers cited shortages as negatively impacting the quality of their workmanship.
The problem is worse in the public sector with 85% of managers seeing the quality of their built environment projects negatively affected by skills shortages.
Lack of labour is also busting budgets with 80% of public sector respondents and just under 40% of contractors and consultants blaming skills shortages for cost rises.
Mark Robinson, Scape Group Chief Executive, said: "Our research has shown that the skills shortage is at breaking point, not only severely impacting the quality of what we are building but also our ability to build it on budget.
"While there is a mountain to climb to overcome this challenge, basic recommendations can be put in place to ease the burden, for example, 19% of contractors and subcontractors still do not have an apprenticeship scheme."
Brookfield Multiplex has warned that its £150m Royal Hospital for Sick Children project in Edinburgh will be completed at least six months late after being hit by the collapse of two key trade contractors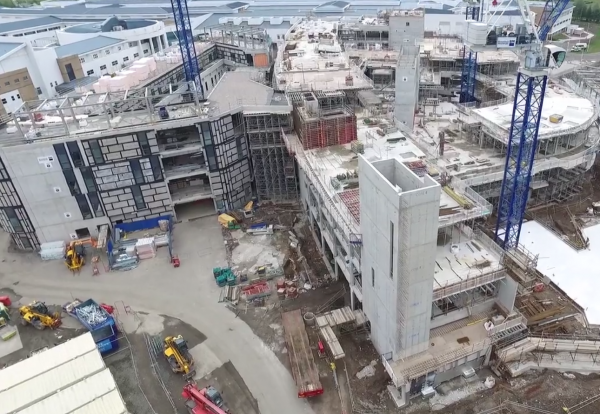 The project programme, which was already challenged by bad weather and technical construction issues, has now been hit by the collapse of concrete contractor Dunne Group last month and more recently trade contractor JB Brickwork entering provisional liquidation.
Building consortium IHS Lothian is responsible for design, build, financing and maintaining the new hospital, with Brookfield Multiplex delivering the build, Bouygues E&S due to handle FM and finance from Macquarie Capital.
The consortium has warned NHS Lothian that despite ramping up staffing and working hours it has been forced to review the construction timetable after work stopped on site on the key packages.
A revised programme will be outlined in October but early indications suggest that the building will now open to patients in spring 2018, as opposed to autumn 2017.
The Royal Hospital for Sick Children is the first acute hospital facility to be procured under the Scottish Government's non profit distributing model.
Jim Crombie, acting chief executive, NHS Lothian, said: "We will continue to work closely with IHS Lothian to ensure that our state of the art new hospital is delivered as soon as possible.
"Projects of this scale and, of this nature, are very rarely straightforward and bring with them many complex and sometimes unavoidable challenges.
"It is important to note that these alterations to the construction timetable will not result in any additional costs to NHS Lothian."
Cutting thousands of construction and housebuilding jobs would be the 'first nail in the coffin' for the industry, according to One Way.
An analysis by the construction and rail recruitment specialist outlined that a further loss of jobs would prove critical for the construction sector. This comes at a time when the National Housing Federation has said any slowdown in housebuilding would result in the loss of nearly 120,000 construction jobs over the next decade. The UK's construction sector has also slipped into recession for the first time in four years, with many commentators suggesting the industry is in turmoil and that the government must do more to support housebuilding.
Paul Payne, Managing Director of One Way, agrees:
"The news that the construction industry has slipped back into recession after four years isn't particularly optimistic and a loss of jobs on the scale that has been suggested would almost certainly be the first nail in the coffin for the sector. We simply can't afford to lose any more professionals from both construction and housebuilding and the government needs to do considerably more to support these industries before it's too late."
"We all saw the potential impact of job losses in the steel industry and the scale of this for construction would be far greater. We need more professionals operating in the sector if we want it to recover, not less, and the potential impact of these cuts could be devastating if something isn't done soon. We've been very vocal about how the government, employers and trade bodies need to do more to engage with youngsters and promote greater interest in construction, because at the current rate there will barely be an industry left in a few years' time. Confidence is the only way to get through this difficult period and we need more investment and more projects to be given the green light. If we take a step back and allow programmes to be put on hold and jobs to be cut it could have a hugely damaging effect on the economy and on thousands of peoples' lives. As Winston Churchill once said, 'If you're going through hell, keep going.'
Nearly everything nowadays is made with steel. Your sinks are made with stainless steel, the building you're sat in will have been created from steel structures and your car is made of steel. Steel is a strong and durable material that has a complex fabrication process, especially the development of modern steels which have a larger variety of shapes and sizes.
Steel fabrication is the process used to manufacture steel components, which can be assembled and joined together to form complete steel frames which we use in building structures or cars. Frames are generally built en-masse and are readily available from steel stockholders. In some cases the standard frames may not be the correct shape or size for the consumer and new shapes can be created via the steel fabrication process.
The first process for properly smelting steel was invented in 1856 by a British inventor named Henry Bessemer. There are 2 ways in which we can process steel fabrication. The first is the raw material approach which involves the correct materials being heated up, then melted down and mixed into steel. This is called the integrated route. The other process which is quicker and easier is done by using an electric arc furnace (EAF). This method involves putting recycled steel into a furnace and melting it down, once it is melted down it is then mixed with other materials crucial to the steel building process. Strong steel is the end result of this welding process, over a third of steel fabrication general takes place with the EAF method. Let's go into more detail about the welding process.
Welding is a core actively within steel fabrication to prepare joints for connection with other steel components. The welding process involves using an electric arc to generate enough heat to melt the material in a joint. A separate material that helps the steel to maintain its strong properties is also melted and combines with the melted joint to form a molten weld pool. As welding progresses along the joint, the molten weld pool starts to solidify which fuses the materials which were also melted down into the steel joint. The welding may need several attempts or passes in order to form the correct shape.
Steel & Site are steel fabrication and steel stockholders in the Midlands. Our welders have years of experiences in steel fabrication and we can supply a wide range of RSJ Steel Beams created in our warehouses. Contact our Structural Steel Fabricators Midlands office on 01384 265 747 today for all enquires.
A major new survey on the impact of Brexit on the building services engineering sector has been launched by leading industry trade bodies.
Results of the survey will help the Electrical Contractors' Association, Building Engineering Services Association and SELECT negotiate with Government.
Paul Reeve, Director of Business Services at the ECA said: "It's now up to our sector to help shape UK government policy and to identify the opportunities, and solutions to the challenges ahead."
Rob Driscoll, Director of Commercial and Legal at BESA added: "The referendum vote has created business uncertainty and knocked confidence just when the economy was showing signs of gradual recovery after the financial crash.
"However, there is a lot of misinformation and scaremongering out there – the UK is in danger of talking itself into a recession.
"It is vital, therefore, to gather good quality, accurate market intelligence at a time like this so businesses can make investment and recruitment decisions based on what is actually happening."
The Brexit survey has just 12 questions and will usually take around 5 minutes to complete.
It is open to all contractors in the BSE sector.
To take the survey click here
The Government's new apprenticeship levy will come into force next Spring when firms with a wage bill of more than £3m will have to contribute 0.5% of the annual wage bill.
Large companies will still have to make levy payments to the CITB as well with at least 900 firms facing a double whammy.
But CITB bosses are working on plans to hand back around £38m in duplicated payments in the form of rebates.
Today's Government guidance said: "Some industries already operate levy systems, or other collective training arrangements. If you already contribute to one of these, you will still be required to pay the apprenticeship levy.
"The Industry Training Boards for the construction, engineering construction and film industries will consult their members on potential changes to their existing levy arrangements."
Firms will have to start paying the new levy in April and can claim training grants from May from their "digital account".
Apprenticeships will be graded into 15 new bands with funding allocated in each from £1,500 to £27,000.
The upper limit of each funding band will cap the maximum amount of digital funds an employer who pays the levy can use towards an individual apprenticeship.
For full details of the apprenticeship funding programme click here
Steve Radley, Director of Policy at CITB said: "This announcement brings mixed news for construction, but it's good that Government has responded to what we said on the challenges faced by smaller firms.
"The co-investment rate for non-levy payers is lower than expected, at 10%, with the remaining 90% covered by funds raised  by the levy.
"It's also encouraging to see that smaller firms will be exempt from co-investment if they take on a 16-18 year old apprentice. With more than half of all construction apprentices under the age of 19, this is a win for the industry.
"Companies of all sizes will also appreciate the £1,000 incentive for taking on one of these younger learners.
"But there is still work to do to make sure ensure funding bands reflect the actual costs of training, so that apprenticeships are affordable for companies of all sizes.
"We will seek further clarification from Government on how the bands have been set, and together with industry, set out the likely impact on construction firms and their ability to take on apprentices.
"We will now work with Government to ensure the Apprenticeship Levy works for the construction industry.
"Today's proposals will inform our ongoing work to reshape the CITB grants scheme, so that it supports the most-needed skills and helps employers take on the apprentices construction vitally needs."
Royal Borough of Windsor and Maidenhead has started the hunt for a contractor and consultants to deliver highways maintenance services in the borough.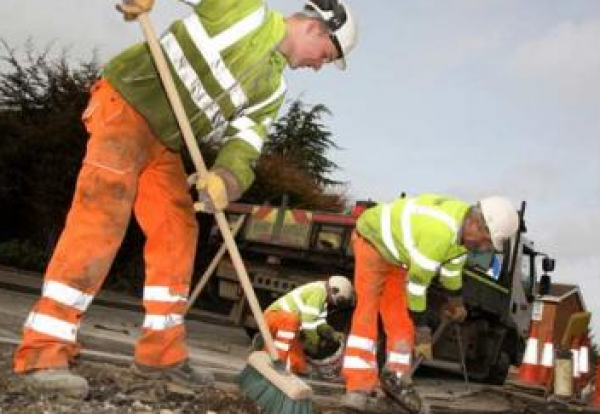 The five-year main maintenance framework, which has options to renew for two further years, is expected to be worth around £50m.
The council is also looking for a consultant to develop and promote innovation in delivering highways services to the community, expected to be worth around £3.6m over the term.
It is also seeking to appoint a contractor to better manage levels of congestion in the town centres and reduce levels of pollution caused by visitors to Legoland, Windsor Castle, Wentworth Golf Course and Windsor and Ascot Racecourses.
Visitor numbers are increasing with the vast majority arriving by road. Car and coach parks fill up during peak periods impacting on the local economy and environment.
This would involve upgrading existing traffic management systems for a more connected approach with a budget of around £7m being allocated for this element of the programme.
A plumbing boss and his subcontractors have been jailed for charging elderly and vulnerable victims rates of up to £672 per hour.
Victims contacted the Birmingham-based companies over a two year period via Yellow Pages, where Duane Linton, 34, of Handsworth, advertised as an emergency local plumber offerering OAP discounts.
Linton – company director of both Plumb-Tech Plumbing and Heating Ltd of Great Barr, Birmingham, and Plumb-Tech Plumbing and Heating 1 Ltd of Handsworth – was sentenced at Stafford Crown Court last week along with three subcontractors.
An investigation by Staffordshire County Council's Trading Standards and local police found that once a call had been made Linton sent out subcontracted plumbers from Birmingham.
Under Linton's direction subcontractors were ordered to charge rates of hundreds of pounds per hour to address dripping radiators, leaking toilets, dripping taps and under sink leaks.
In one incident two plumbers turned up at a rate of £672 per hour to unblock a toilet.
They then returned the following day to do non-emergency work on a soil pipe at the property where an emergency rate was again charged. The total cost for "unblocking" the toilet came to £5,642.
A total of 14 mainly elderly victims from all parts of Staffordshire have been identified between March 2014 and January 2016.
Linton pleaded guilty to fraud by false representation, as did subcontractors Otis Wray,44, of Birmingham; Peter Hawketts,55, of Kings Norton and Patrick Thawe,45, of Quinton.
Linton was jailed for two years and eight months, Thawe 20 months, Hawketts 16 months and Wray for nine months.
Wray was also ordered to pay £2,000 costs and compensation to victims of £1,113.
The court also heard that claims in advertisements were untrue and basic parts were not carried by the plumbers who subsequently took an inordinate amount of time to source them and charged that also at a premium rate.
Gill Heath, Cabinet Member for Communities at Staffordshire County Council, said: "It's scandalous that this company charged such extortionate rates to elderly and very vulnerable people, who had no choice but to pay. It's absolutely right that the court has handed out these severe penalties.
"It sends out a clear message to rogue traders that they will feel the full force of the law when we catch unscrupulous companies behaving like this.
"It is always best to go with a reputable company, ideally someone who has been recommended by friends or family.
"Alternatively use a trader who is a member of the government's TrustMark scheme or our own Staffordshire and Stoke-on-Trent Trader Register Scheme."
Construction industry welcomes e-learning to help increase best practice in being a considerate
constructor
Over 3600 courses undertaken so far by construction sites, companies and suppliers registered with Considerate Constructors Scheme
The Best Practice Hub – the construction industry's online platform for sharing best practice – has launched a series of free e-learning courses designed to help raise standards across the industry.
Considerate Constructors Scheme-registered construction sites, companies and suppliers of all sizes can undertake the e-learning courses, designed to improve their knowledge of the Scheme, in order to meet and exceed the expectations of the Scheme's Code of Considerate Practice.
The e-learning courses, which are eligible for CPD, were launched to all Best Practice Hub registered users during May, and have since then received a huge response, with over 3600 courses being taken by over 750 individuals across the sector.
Completing e-learning improves users' understanding of the Scheme's Monitors' Checklist, as well as providing a range of ideas to help fully prepare for Monitors' visits. There are six courses available, five of which relate directly to the Scheme's Code of Considerate Practice: Care about Appearance; Respect the Community; Protect the Environment; Secure everyone's Safety; Value their Workforce, and one which provides an introduction to the Scheme.
Considerate Constructors Scheme Chief Executive Edward Hardy said: "The Best Practice Hub's e-learning courses provide a great resource for any site manager, contractor, supplier or client looking to improve their knowledge of the Scheme and meet and exceed the Scheme's Code of Considerate Practice. These easily accessible and practical courses are also helping to achieve the ultimate aim of continually striving to raise standards, and improve the overall image of the industry."
Sales of aggregates, ready-mixed concrete, mortar and asphalt rose during the second quarter of the year.
The increases reported by members of the Mineral Products Association cast doubt on the official ONS output figures which showed a decline during the same period.
The MPA said: "The overall positive trend in these markets indicates an improvement in general construction activity, as these materials are used across all major construction sectors, particularly in the earlier stages of projects.
"Our information, based on actual sales volumes of materials, therefore conflicts with the official ONS data on construction output for 2016 Q2, which we would have anticipated to be positive."
The MPA survey shows aggregates sales volumes increased by 1.5% in the second quarter.
Aurelie Delannoy, Chief Economist at MPA, said: "These materials are ubiquitous in construction, so we are very surprised that the ONS construction figures for the quarter were negative.
"We do not think that construction declined in the second quarter in spite of some negative commentaries about the sector although over the year growth will remain muted.
"The 2016 Q2 output was strong and everything needs to be done to sustain positive momentum."