New research by a money saving website in the UK has discovered that over one third of workers in Briton have to eat breakfast, lunch and dinner at work at least twice a week. Furthermore it was found that on average Britons work 12 hours more per week than they are contracted too. 
Workers across the country have admitted that they often find themselves consuming all three of their daily meals whilst at work, according to new research by a money saving website in the UK.
The team at www.VoucherCodesPro.co.uk conducted the research as part of an ongoing study into the average Britons working day. A total of 2,015 UK-based workers aged 18 and over, all of whom stated they were in full-time work, were quizzed about their average working week. Respondents polled in the study were from a wide variety of professions.
Initially all respondents were asked how often they found themselves working unpaid overtime in order to complete their assigned work. 87%, the majority, stated they worked over their working hours 'very frequently- at least once a week'. Following on from this, participants were asked if this overtime was voluntary; 61% told researchers it was, whilst the remaining 39% admitted they felt pressured by their employers or manager to work the extra, unpaid, hours.
Researchers then asked 'Roughly how much overtime do you work in a typical week?' The collated results showed that the average worker worked 12 hours more than they were contracted too. All respondents were then asked 'Do you often have to eat meals at work?' to which over one third (34%) confessed that they consume all three of their meals within their work environment around twice per week.
Finally, to find which profession found themselves eating all three meals the most often at work, participants were asked to provide which sector they worked in. The following emerged as the top 5:
Construction workers– 23%
Doctors/Nurses – 21%
Chefs/Cooks – 19%
Lawyers/Solicitors – 16%
Lorry drivers – 13%
George Charles, spokesperson for www.VoucherCodesPro.co.uk, made the following comments:
"There is such a thing as too much work; and when you find yourself eating breakfast, lunch AND dinner at your workplace, it should probably be a warning sign that you're pushing yourself too hard. I am all for voluntary overtime on occasion in order to prove to employers how motivated and dedicated to your career you are, but when you begin to have no time for yourself or a social life that's just not okay.
"Some professions obviously do call for longer hours such as doctors, but this is why we have to treat them with the upmost respect. Eating all three of your meals in a massive rush while standing up or sitting at your desk isn't healthy or fun."
BLACKBURN, England, May, 2016 – Chubb Fire & Security Limited, a leading provider of security and fire-safety solutions for businesses and industry, held a groundbreaking ceremony for a new high-performance workspace in Blackburn. The project will transform Chubb's existing Blackburn office campus into an advanced, integrated and sustainable space for Chubb, as well as UK affiliates of Otis Limited and Carrier Controls Limited, and serve as a showcase for the capabilities of all three brands. Chubb is a part of UTC Climate, Controls & Security, a unit of United Technologies Corp. (NYSE: UTX).
Alastair Reynolds, managing director of Chubb Fire & Security said, "This is an exciting day for our company. With this new building we are creating a safer, smarter and more sustainable environment that will be a great place for our employees to work, and an asset to the local community in terms of our efforts to blend in with the local environment, and also the investment in Blackburn."
The building will be constructed by Lancashire-based nationwide contractors, investors and developers, Barnfield Construction, and has the full backing of Blackburn with Darwen Council. Councillor Phil Riley, Blackburn with Darwen Council's Executive Member for Regeneration, said, "This is great news for the borough, securing jobs and opportunities for local people. Blackburn with Darwen is home to many national and international companies which are bringing more investment and prosperity to the area and I look forward to seeing this development start."
Steve Riley, contracts director of Barnfield Construction said, "On behalf of us all at Barnfield we're delighted to have been awarded the contract to construct the brand new 55,000 square foot offices for such a prestigious company. The first of the three former buildings has already been demolished to make way for Chubb's brand new facility."
The development, which will involve the demolition of three existing Chubb buildings on the Shadsworth Business Park and temporary relocation of employees whilst work is undertaken, will result in a modern and a high-performance building for hundreds of employees working in information technology, finance, supply chain and customer service. It will also be the new home for Chubb Systems and Chubb Community Care, including their research, development and engineering teams.
"This development demonstrates our commitment to green building technology – it will incorporate a number of the most modern and eco-friendly technologies possible to provide our employees with an environmentally responsible, smart and energy-efficient workplace for them to enjoy. We are aiming for a completion date of summer 2017," added Reynolds. "This is the culmination of many years of hard work for the Chubb team of which I am immensely proud."
Horizon Nuclear Power has struck a deal with joint venture partners Hitachi, Bechtel and Japan's JGC Corporation to deliver the Wylfa Newydd nuclear power station project.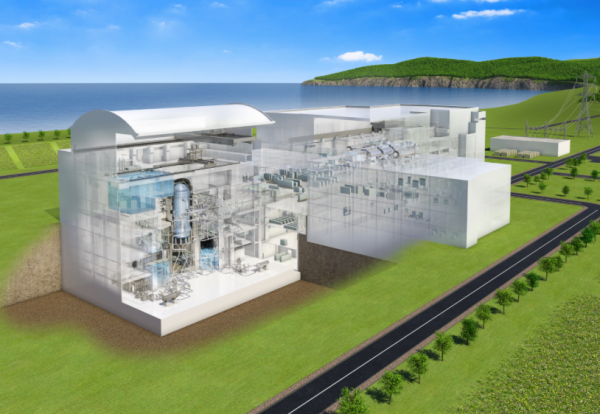 This JV will work as a Tier-1 contractor responsible for engineering, procurement and construction of the £14bn project in Anglesey.
The deal paves the way for the JV known as Menter Newydd, meaning New Venture in Welsh, to strike deals with key subcontractors.
Menter Newydd will scale up its UK presence in the coming weeks and months, developing construction plans for the Wylfa Newydd site.
Suppliers interested in any aspect of Menter Newydd scope should register details at www.hitachi-hgne.co.uk and Menter Newydd will communicate further contracting structures, routes to market and contact points, in due course.
Duncan Hawthorne, Horizon CEO, said: "This is an important step in any large, complex infrastructure project and it adds to Wylfa Newydd's growing momentum.
"The depth and breadth of expertise Hitachi Nuclear Energy Europe, Bechtel and JGC bring to the Menter Newydd venture will help us ensure the timely delivery of our project, which will be vital for meeting the UK's energy gap.
"We look forward to working with the team and continuing to make great strides with our plans."
Combined, the partners have been involved in the delivery of more than 170 nuclear power stations, as well as a huge array of complex infrastructure mega-projects.
Hitachi Nuclear Energy Europe draws on Hitachi's 50 year history of Boiling Water Reactor deployment, including 4 ABWRs, the technology that will be built at Wylfa Newydd, while Bechtel last year completed construction of the first nuclear power station authorised to operate in the USA this century, at Watts Bar in Tennessee.
Hitachi's Malcolm Twist, Project Director for Menter Newydd, said: "We expect to begin firming up relationships with our main subcontractors – many of them British – very soon."
Hitachi-GE, which has been operating under a front end engineering and design contract to Horizon for more than three years, will continue to provide the UK ABWR technology, under subcontract to Menter Newydd. 
The appointment comes as Horizon continues to make progress across all areas of the Wylfa Newydd project, having just completed a further stage of public consultation in North Wales and recently launched its apprenticeship scheme.
Site development work is also continuing to advance and the UK ABWR remains on track to complete its regulatory Generic Design Assessment by the end of 2017. 
–       Members of the design and construction sector are welcome to attend this debate on Wednesday 15 June at the University of Huddersfield
–       The debate will be webcast
CAN Britain build a better future in or out of the EU?  The likely impact on the UK construction sector of either BREXIT or a vote to remain in Europe is to be debated at a special University of Huddersfield event featuring leading industry figures.
Titled BREXIT – it's impact on the Design and Construction sector, the debate takes place on Wednesday 15 June (17:30–19:00) at the University's 3M Buckley Innovation Centre.
In the chair will be Bernard Ainsworth, who has been in the construction industry for over 40 years, the majority of those spent with firm J. Laing.  He has led the delivery of many major projects, which have included the Millennium Dome at Greenwich, for which he received an OBE.  He has also been awarded an Honorary Doctorate by the University of Huddersfield.
Also among those taking part will be Peter Cartwright, director of the architectural practice Cartwright Pickard, for which he heads the  Leeds and Manchester offices; plus Mike Connolly, a director of multi-national infrastructure firm Turner and Townsend.
Also confirmed for the panel is Christopher Bovis, who is Professor of Business Law at the Business School of the University of Hull.  International business and trade law and European Union law are among his specialties.
One of the organisers of the free event is Patricia Tzortzopoulos, who is is Professor of Integrated Design, and Head of Department of Architecture and 3D Design in the University of Huddersfield's School of Art, Design and Architecture.
"The idea is to provide people with an opportunity to look at the impact of Brexit in terms of the construction industry.  We will have a group of people pro and a group of people against, so we have a balanced argument.  Just a week before EU referendum, it will spark discussion and provide a forum for people to share their views."
Opinion polls have been showing that up to 85% of people in the construction industry want the UK to remain in the EU.  Now, the University of Huddersfield event will be a discussion between industry and academic experts on the potential impact of BREXIT on the sector.
There have been fears that BREXIT could it worsen the construction sector's skills shortage and constrain investment in new housebuilding.  There are also claims that changes, in taxation and restrictions on labour migration from other EU states affect the cost of construction projects.  The event on 15 June will explore whether such fears are justified.
·       A place at the event can be registered online.  The debate is to be webcast live via AdobeConnect.  Attendees will also be able to browse large numbers of posters, architectural models and other presentations that form the School of Art, Design and Architecture's final-year undergraduate show.
Many commercial, customer facing businesses have been disrupted by the notion of a comprehensive customer 'experience' that has been introduced largely by tech giants Apple and Google. In view of this, they are presented with customers and clients that have an insatiable appetite for a new 'experience'. The challenge inherently begins with the business premises themselves, they need to hint towards the promise of being 'interestingly different' as we are all aware of the old cliché, "first impressions count".
The space that a commercial business occupies has a number of requirements, it needs to be both functional and aesthetically pleasing but it also must carry the energy of the brand. The premises are integral to brand perception as well as productivity levels and staff morale. They need to be authentic; does this mean raw? Has the demand for authenticity caused us to shun whimsical and bohemian trends that have been favoured of late and revert to materials that are raw and elemental? These kind of materials only serve to embark a message of transparency; they are not masking themselves or dressing themselves up – they send a message of brand integrity.
The dynamic around industrial material has changed, no longer considered cold and necessary. The once clinical ambience of such materials are now bringing a much warmer and more sentimental, almost residential energy to commercial workspaces.
The term 'industrial design' is more than appropriate when talking about new trends in commercial spaces. Much more than an image, materials within industrial design serve to optimise function and value. I'm talking in particular about materials such as concrete, Corian, metals and brick. As separate entities, all of the materials have function and purpose, which will be explained shortly in their own right; but when used together they offer a contemporary combination of textures that has an underlying accent of masculine strength.
Commercial spaces are usually exposed to high traffic and for this reason they need to be adorned with materials that with withstand this. Flooring materials such as tiles and hard wood are being ditched for concrete. Usually found 'polished' when used within a space, concrete offers itself as a highly durable flooring option that is low maintenance and sustainable. It also comes with eco credentials, another important factor in todays 'green' obsessed world. Concrete is being increasingly used as a versatile option for interiors; as well as being used as a flooring option, it has also been known to be used on walls.
"As on any large development, we have used concrete extensively," says Phil Sullivan, senior projects director at Argent. "It's in the groundworks, big retaining structures, basements, embankments and roadways. But I have been privileged to work with some very talented engineers and architects who are really pushing boundaries and showing what can be done with concrete. I've learned a lot about the way the material can be used – especially within buildings from a sustainability point of view."
Contrary to popular opinion its not a cold or inviting material, it can be stained to take on colours and various finishes, such as wood or marble – perfect for high end businesses. Its ability to impact the light within a space is one of the reasons that many businesses are turning to the material. Due to its natural high light reflectivity means that natural light is amplified, having an effect on the morale of both employees and customers in the environment.
As many businesses are looking for ways to become more innovative in their approach, Corian seems to be an increasingly favoured option. It has deep seated roots in the healthcare sector due to its ability to uphold strict hygiene levels within medical and dental practices, it has now filtered into the hospitality and retail sector, as well as many corporate offices. Considered to be a quality and elite material, Corian is used in a vast number of ways.
Roz Fairbank from Superior Surfaces gives her take, "Corian has been around for a long time but I think people are only just beginning to understand its numerous applications.  One of the wonderful things about Corian is that you can thermoform it and so form it to a 3D so that it becomes one solid, seamless piece. Architects and designers are beginning to use the fabric more and more in various settings. Commercial designers are always looking for ways for a space to become more creative and Corian allows for this and stands out even against beautiful surfaces such as granite because of the flexibility it offers."
Corian has even been used to create high tech installations, or ones that multitask as a screen by using fibre optic technology – creating a high impact space.
I wanted to touch upon glass. Perhaps not necessarily to be classed as an 'industrial' material, it has strong roots in the industrial trend and heavily used as an architectural feature. Using glass can transform a commercial interior into a dynamic space; it has gone far beyond being used as a simple window, but has been extended to being used as internal partitions and even entire walls, exceeding the necessary and decorate to being functional and even structural. As the era of 'collaboration' is upon us, glass is becoming increasingly relevant, particularly in businesses where teams are divided into different departments. It has been argued that using glass internally increases visibility, employee interaction and morale – all positive factors within any commercial space where ultimately the need to invoke the right culture to secure profits prevails.
Develop Training Ltd (DTL), the UK's leading training and consultancy specialist, is pleased announce that it has been awarded a large scale contract for the provision of operational training to Northern Gas Networks (NGN), following a competitive tender process.
The gas distributor is responsible for the delivery of gas through some 37,000km of pipelines to over 2.7 million homes in the North East, Northern Cumbria and much of Yorkshire. NGN directly employs around 1,300 people and provides regular work to around 800 contractors.
In order to manage the learning and development of such numbers, NGN has contracted DTL to deliver gas network technical training and health & safety training.  The technical training will be conducted at DTL's York training centre, while classroom-based learning will be delivered on-site at various NGN depots.
"We are pleased to place this contract with DTL, with whom we've enjoyed an excellent working relationship in the past," said Lyndsay Ellis, Operational Training Manager for NGN, "The variety of courses DTL offers, combined with their superior facilities and what we consider to be world class trainers, made them the strongest contender for this programme of work."
Chris Wall, Sales & Marketing Director for DTL, said: "I'm delighted that our partnership with Northern Gas Networks continues to flourish. The award of the contract followed a hard fought tender process, in which DTL's quality of delivery and variety of programmes prevailed. We are looking forward to working closely with NGN and explore innovative training solutions for their operational training."
The contract, which will run for an initial two year period, has an option for two one-year extensions, and has an anticipated total value of over £1m. Training is set to commence in May 2016.
A lack of manpower is the biggest concern for the Government in meeting construction targets, according to construction and rail recruitment specialists, One Way.
This comes in light of a recent survey from property consultants McBains Cooper which revealed that just three in ten of England's housebuilders believe the Government's target of building one million homes by 2020 can be achieved. The report listed the biggest barriers as land shortages, the slow granting of planning permission, a lack of finance and skills shortages.
However, the firm has argued that the biggest problem facing the Government's target is the lack of 'feet on the ground'. One Way has highlighted that these targets should have included greater consideration of the manpower requirements which will have a significant impact on productivity.
Paul Payne, managing director at One Way, comments:
"While I agree with the general concerns raised in the report from McBains Cooper, I was concerned that the issue of manpower wasn't at the forefront of the discussion. There are numerous challenges facing the completion of these targets, but many can be addressed. While there are incentives in place to address the skills shortage – such as the upcoming apprenticeship levy – the immediate lack of feet on the ground should be the number one issue to address. Amendments to the planning permission process can be – and in some instances are already being – made and more investment can be sought, but all of this will be in vain without the people in place to fulfil projects."
"While there's no immediate solution to this, the fact that the Government target has been set without due consideration as to the people needed to achieve it is a concern. Yes there is a need for more homes to be built, but setting unrealistic targets isn't a solution for an industry which has long felt the impact of a talent brain drain."
Topping out takes place at ground level when 16 metre steel truss is dropped into place
A STEEL truss 16.2 metres tall that will be at the structural heart of the University of Huddersfield's latest building was carefully lowered into place by a giant crane, guided by a team of construction workers.  But it took just a few turns of an Allen key for it to be secured by the trio of dignitaries called on to perform a special ceremony.
The event was a variant on the traditional "topping out" that marks a crucial stage in construction projects.  It usually revolves around the installation of a final beam at the top of a structure.  
On this occasion, however, the "topping out" took place at ground floor level as one of the twin trusses that will act as a frame for the main entrance to the building and support its roof was manoeuvred  into a steel "shoe" that will anchor it.  A stainless steel pin was then inserted and tightened by the Vice-Chancellor of the University, Professor Bob Cryan, the High Sherriff of West Yorkshire, Mr Chris Brown – who is also chair of the University Council – and Mr Pat Boyle, who is MD of Morgan Sindall Construction Infrastructure, the projects main contractors.
Morgan Sindall is the firm that is constructing the £27.5 million Oastler Building, which overlooks the busy Aspley Roundabout, and it was designed by Huddersfield-based architects AHR Global.  When ready for use in early 2017, it will be a new home for the study of law and the humanities at the University.
The trusses were manufactured by the Elland Steel Structures Ltd, which has fabricated 674 tonnes of components for the new building.  They were trucked to the University in the early hours of Tuesday 4 May, so as not to disrupt peak-time traffic. 
The University's Department of Estates and Facilities encouraged the architects and the building contractors Morgan Sindall to use local manufacturers and suppliers as much as possible in the design and construction of the building.
The structure's steel and aluminium frame will be faced with 2,092 square metres of glazing, fabricated by Huddersfield firm Dual Seal Glass Ltd and Brighouse Company HWA.  Other major contributors include the Myers Group, proprietors of Johnson's Wellfield Quarry at Crosland Moor, Huddersfield.  It has furnished 1713 square metres of locally quarried stone and is a major supplier of concrete for the structure. At a celebration lunch following the topping out ceremony, there were guests from many of the firms and practices involved in the project, including Morgan Sindall, AHR Global and structural engineers Tim Stower and Partners.
Professor Cryan said that the new Oastler Building would be an ultra-modern structure for a dynamic university, but one that would preserve the memory of one of the most inspirational figures in the history of Huddersfield. 
Richard Oastler, who lived from 1789 to 1861 was based in Huddersfield when he began his famous campaign for a reduction in the hours worked by factory children.  He described their plight as "Yorkshire slavery".  Oastler became known as the "Factory King".
"As a university, it is important that we not only work for the benefit of our students, but also support the local economy," said Professor Cryan in his speech prior to the luncheon.  "The building of this structure is a good example of those efforts and I am very glad that today that we can welcome senior figures representing key partners in the design and construction of the Oastler Building, many of them local companies."
New Property Renovation Calculator Gives Homeowners Estimated Cost of Home Improvements
A brand new microsite has launched allowing people considering making home improvements to input information, such as the room they are looking to renovate, the size of the space and the region they live in, and then get an estimated cost for the work. Months of research have gone into making the home renovation calculator as accurate as possible.
In a bid to help people understand the cost of home improvements before they start the work, the team at www.Web-Blinds.com has designed and built a home renovation calculator, based on months of research, to help users create the property of their dreams.
The calculator initially asks users to choose the room they want to update, with a choice of the kitchen, bathroom, conservatory, bedroom, dining room or living room. They are then required to measure and enter the size of the room in metres squared (m²).
Next, users of the calculator are asked to consider whether they require a budget, mid-range or high-end finish. Finally, the region the property is located in is also needed, in order to account for the varying costs of services in different areas of the UK.  For example, the cost of renovating a 7m² bathroom, on a budget, would equate to roughly £4,175 in the North East, but would cost £5,322 in London.
Kirsty Martin, spokesperson for www.Web-Blinds.com, made the following comments on the creation of the calculator: http://www.web-blinds.com/resources/home-renovation-calculator/
"Making the decision to completely renovate a room in a house can come about for a multitude of reasons. You may be considering a house move and want to ensure that you make as much as you can from the sale, or perhaps you are a first-time buyer with limited funds and considering a fixer-upper.
"This calculator has been built to give users the chance to generate a rough estimate of the work needed to improve the room. And while we don't know the specific tiles, taps or fixtures you want to incorporate into your lovely new room, it will give you an idea of whether or not you can afford the home of your dreams!"
Four constructors triumph at Considerate Constructors Scheme National Site Awards 2016
Costain, Gentoo Construction, Robert Woodhead Ltd and Walter Thompson (Contractors) Ltd have each been awarded the prestigious title of Most Considerate Site at the Considerate Constructors Scheme's 2016 National Site Awards.
This year marks the first time four sites have won the esteemed Most Considerate Site accolade, as a result of 'value bands' being introduced, enabling sites to be assessed against projects of similar value.
The value bands are: Under £500k; £500k to <£5m; £5m to <£10m; £10m and over, and the award-winning sites are:
Denton Green Bungalows project – Robert Woodhead Ltd (under £500k)
This project involved the construction of four new-build bungalows on a brownfield site in a recognised area of social deprivation in Broxtowe, Nottinghamshire.
Linthorpe School Extension and Refurbishment – Walter Thompson (Contractors) Ltd (£500k to <£5m)
This project was the construction of a single-storey classroom and office extension in Linthorpe, Middlesbrough.
The Cheviots – Gentoo Construction (£5m to <£10m)
This project was the construction of a 40-bed extra care home, alongside six new bungalows in Ashington, Northumberland.
A556 Knutsford to Bowdon Improvement Scheme – Costain (£10m and over)
This scheme was the construction of a 4.7 mile section of main road, together with associated bridges and underpasses in Cheshire.
Over 3000 guests from construction sites of all different sizes attended award ceremonies held from 11-29 April in Edinburgh, London and Manchester.
This year's National Site Awards applied to registered sites that completed in 2015.
Projects registered with the Scheme must demonstrate an appreciation of the impact of their work on the community, the environment and their workforce, and this year was no exception with around 9000 sites eligible to win a National Site Award.
The Scheme held 13 ceremonies and presented a total of 932 National Site Awards. In addition to the four Most Considerate Site awards, there were 430 Bronze, 293 Silver and 173 Gold and 32 Most Considerate Site Runners-Up.
Edward Hardy, Chief Executive of the Considerate Constructors Scheme, said: "Congratulations to each and every site receiving a 2016 National Site Award. Every year, the Scheme is taken aback by the many different ways contractors demonstrate their considerate credentials. This year has been no exception, with project teams across the UK serving as beacons of best practice.
"Special congratulations go to each of the 2016 Most Considerate Sites. These sites have shown truly exceptional performance, making tremendous efforts in going way above and beyond compliance with the Scheme – taking considerate construction to a new level.
"They have worked with enthusiasm and dedication to ensure that they showcase the very best of the construction industry, helping to make construction a more attractive career choice.
"This year's introduction of value bands underlines that no matter what size or scale of construction site, consideration towards the community, workforce and environment makes a marked difference in improving the image of the industry.
"My congratulations again, and also my thanks to all winners for their continued commitment and hard work in striving towards an ever improving construction industry. All those winning awards this year are at very forefront of making the construction industry great and they should all be very proud of how their efforts are improving our industry's image."
Click here to read more about awards and search the database listing all 2016 National Site Award winners.