Former Trade Association Forum Ltd Chairman and Company Director with a wealth of experience in strategic development and senior management takes-up new role of Executive Chairman
The Considerate Constructors Scheme is pleased to announce the appointment of Isabel Martinson as Executive Chairman, with effect from 12 July 2016.
The new role of the Executive Chairman will be to further develop strategies to enhance the Scheme, by taking it 'to the next level'. The Scheme's vision is to make registration essential for every construction site, company and supplier, large or small, to ensure continual improvement in performance leading to a step change in the image and attractiveness of construction as a sector.
Isabel has had a hugely successful career that has included senior positions in the trade association sector and military service. In addition to her role as Chairman and Company Director of Trade Association Forum Ltd, she was also Chief Executive of The Giftware Association until June 2015. Prior to this, Isabel was Head of Marketing, Communications and Export Services at The Sports Industries Federation.
Isabel served in the Royal Navy and was one of the first female Naval Supplier Officers to serve at sea, reaching her final Naval appointment in 1997, in the rank of Lieutenant Commander – a key management post in Europe's largest Naval Base, leading 177 staff with a budget of £5m per annum.
Isabel is a member of the Chartered Management Institute.
Considerate Constructors Scheme Non-Executive Chairman Mike Petter said: "The Scheme has grown exponentially since its first registration back in 1997, celebrating its 90,000th site registration earlier this year. We welcome Isabel's appointment and we are very much looking forward to Isabel's wealth of senior management experience and strategic insight in helping to develop the Scheme and achieve even more success in improving the image of construction in the future".
Commenting on her appointment Isabel Martinson said: "I feel honoured and delighted to be joining the Considerate Constructors Scheme. I am new to the construction industry however, I have been aware of the Scheme as a member of the general public for a number of years, so it has clearly raised awareness of the sector's commitment to improve the image of construction. There are now significant opportunities to take the Scheme further. I am very much looking forward to meeting as many people as possible in the industry, to develop the visions of all involved in this crucial contributor to the UK economy".
Non-Executive Scheme Chairman Mike Petter will hand over as Chairman, while remaining a Director of the Scheme and continuing to oversee managerial and operational aspects of the Scheme, with a particular focus on Associate and Partner activities.
Carillion is remaining upbeat about prospects for the year after Brexit with revenue and margins up in the first six months.
In an upbeat half-year trading statement this morning, Carillion chief executive Richard Howson said the group was on track to deliver growth this year with 97% of targeted revenue in place for 2016.
Howson said Brexit was unlikely to impact on Carillion in the short term although the longer term effect was more uncertain.
"The referendum vote in favour of the UK leaving the European Union has obviously created uncertainty for the UK economy as a whole and therefore for businesses generally, including Carillion, and it is clearly too early to predict the extent to which businesses will be impacted by this result. 
"However, Carillion has no significant operations in Mainland Europe and prior to the referendum we undertook extensive work to assess the possible impact on our business of a vote to leave and we have put in place robust plans to manage this outcome," said the trading statement.
Carillion's construction arm continued to deliver strong margins of around 2.5%-3% in the first half of the year as it stuck to its selective bidding strategy.
He said support services was now expected to drive group turnover and profit growth for the full year, putting these activities on track to deliver two thirds of total operating profit.
Work winning has remained strong, with new first-half orders and probable orders worth £2.5bn. This includes £24om of new contract wins revaled today for a-4.5 year support services contract for Petroleum Development Oman and two support services contracts for the Northern Ireland Housing Executive.
The housing contracts have an initial value of £60m, but are potentially worth up to £366 million over 10 years.   
A shortlist of three bidders has been confirmed for £2bn of development plans across Haringey in north London.
The shortlisted bidders are Lendlease, Morgan Sindall with Affinity Sutton and Circle; and Pinnacle with Starwood Capital and Catalyst.
The bidders who have dropped out of the race are Places for People, Galliford Try with Home Group and Urban & Civic.
The Haringey Development Vehicle will work with the winning joint venture partner to deliver town centre regeneration and housing estate renewal across the borough.
Over the next 20 years plans will see construction of 5,000 new homes and a new town centre in Wood Green.
The leader of Haringey Council, Councillor Claire Kober said: "Today we are a step closer to appointing a partner to deliver one of the biggest regeneration programmes in the UK.
"This £2billion programme underlines our ambition for Haringey and will transform our borough and the role it plays in London, with thousands of new jobs and homes for current and future residents."
A winner from the shortlist will be chosen by the start of next year.
Highways England has revealed the line-up of a dozen consultants for its new Specialist Professional and Technical Services – SPaTS – framework.
The agency plans to spend around £400m through the new arrangement over four years on support for the £11bn of capital investment in its Roads Improvement Strategy, announced in December 2014.
Firms selected will offer a mix of technical engineering advice, commercial services, dispute resolution advice, insurance advice, procurement advice and post-opening project evaluation.
SPaTS replaces previous routes available via T-TEAR, SPSF, PSF, and DRIP. This is an enabled framework and is available to the wider public sector.
Select Property Group has secured planning permission for two residential tower blocks of over 500 flats for private rent in Manchester's city centre.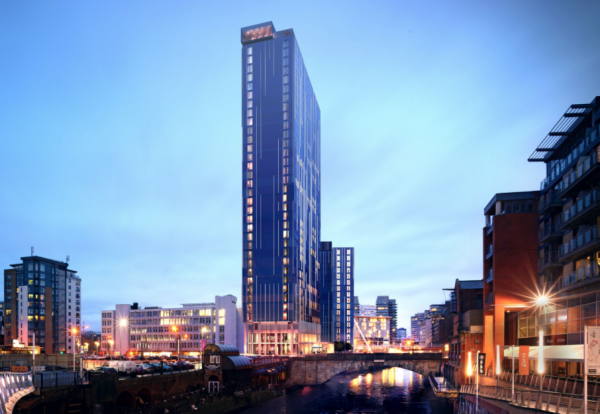 The two buildings, Riverside and Riverview, will operate under Select's Affinity Living brand and will be built in a next to the Lowry Hotel on the banks of the River Irwell.
Carillion is preferred contractor for the job and will start on site in October.
The decision marks the third planning approval given for Select's Affinity Living residential brand, after approval was granted for 677 apartments at Circle Square last month, a joint venture project with Bruntwood, and for 684 apartments at Embankment West in May.
Located on New Bailey Street next to the riverside footpath, the 35-storey building, Affinity Living Riverview, will house 318 apartments, while the 17 storey building, Affinity Living Riverside, will comprise of 188 apartments.
Enabling works are expected to begin in October with Affinity Living, Riverside scheduled for completion end of Q1 of 2018 and Riverview in Q4 of 2019.
Mark Stott, CEO of Select Property Group, said: "Affinity Living Riverside and Riverview promises to bring something exceptional to a generation of professional young renters in a highly sought after area of the city. We are delighted to have been granted planning permission and look forward to starting work on the site."
Niall Alcock, Assistant Director at Deloitte Real Estate said: "The proposals will deliver significant new high quality residential accommodation from a proven developer and operator and play a key role in securing the long term success of the region.
"This will be the third Affinity Living to be granted planning permission in the Regional Centre over the past two months. Having advised Select on all three schemes, it is exciting to reach another key milestone in bringing this new build-to-rent residential product to the market."
The architects working on the scheme are Denton Corker Marshall.
Construction companies have been fined £8m for safety offences since sentencing guidelines were changed earlier this year.
New guidance was introduced in February instructing courts to consider the size of a company when it comes to imposing safety fines.
Penalties have soared since then including a £2.6m fine for Balfour Beatty Utility Solutions after a worker was killed in a trench collapse.
Insurance and risk specialist BLM has been tracking fines since the changes.
BLM found that out of 101 health and safety fines issued since February, 38% affected those in the construction sector.
The three highest fines alone totaled £5.6m while directors of two construction companies were also given custodial sentences.
Helen Devery, partner and head of SHE practice at BLM said: "These new guidelines have introduced fines that are proportional to the size of the company, meaning that both small and large businesses will feel the same impact.
"It is expected that fines will remain high for larger firms that are charged with serious offences so businesses need to work harder than ever to avoid incidents and the subsequent negative impact on their people, productivity and profits."
Construction costs under Phase One of the Priority School Building programme have risen by £178m since January 2015.
An update published by the Cabinet Office revealed cost increases for the programme to rebuild and refurbish 260 schools – taking the total budget to £2,298.8m.
The report states: "A number of external factors continue to impact the programme, the most significant being the recovery of the construction market.
"Over the last 22 to 24 months we have experienced a lack of interest from the contractors in the new batches being released into procurement and delays on a number of schemes as contractors seek additional funding to cover increasing costs of labour and materials.
"This has resulted in delays against our internal delivery programmes, expenditure slipping backwards and an increase in the overall cost to deliver the programme.
"To mitigate the risks described above we have expanded the number of procurement routes that we are using: we are now using the EFA Contractors Framework, the EFA Regional Framework, we have procured two batches of schools using the CSS modular framework and we are currently preparing documentation to allow us to OJEU projects."
Brick making giant Forterra is planning to mothball two plants in Lancashire.
The move was revealed in a trading update ahead of its interim results in September.
Forterra was formerly known as Hanson Building Products and floated on the Stock Exchange in April.
The company said profits since then were "in-line with management's expectations."
But it added: "Given current economic uncertainty and sufficient brick inventory levels, the Board has reviewed the current production plan and has decided to maximise the utilisation of our most efficient brick plants and effectively manage our cost base."
Forterra said the mothballing plans were a "prudent action that will allow us to continue to meet customers' needs while effectively managing our costs and cash position until we are able to more effectively forecast demand."

Both the plants were mothballed between 2010 and 2014 and Forterra said it can "bring production back online in a short period of time."
The company added: "Forterra has sufficient brick inventory and production capacity to service customer demand should housing output continue to grow as previously expected."
Steve Kemp, GMB National Officer, said "Imported bricks are still coming into the UK at an unprecedented and alarming rate.
"In 2014 brick imports accounted for 25% of sales in the UK representing £80 million per year to the UK economy and these imports have meant that future investment is becoming difficult to forge and is increasingly unsteady.
"We call on the UK Government to act in defence of the UK brick industry to give both stability and continuity to this important industry."
But one brick supply specialist said: "House builders started panic ordering and stock piling back in 2014 so of course importers filled some gaps.
"It's a bit rich to turn round and start blaming them now for decisions like this."
Mobile CAD Surveying Solutions Ltd  can accommodate either a simple single property floor plan for a domestic or
private customer to a complete schedule of buildings including whatever type of data collection the customer requires for commercial customers. If Architects or Surveyors and you require fast turn around building surveys, please give us a try! we currently work for dozens of architects, surveyors and designers around the UK and into mainland Europe, recently carrying out projects in France, Switzerland and the Channel Islands, or where they haven't the capacity or staff to handle their own surveys or where they just require someone to make sure the job is done right, first time, Mobile CAD Surveying Solutions can help you.
Currently we are working on many Commercial surveys around the country, with a number of domestic and Dimensional Property Surveys around the UK and into Europe, if you require any type of Measured Building Survey then please contact us.
We can provide Floor plans,  Elevational drawings, or a Topographical survey also Underground Utility Traces and all types of Measured Building Survey with varying levels of detailed work – from simple walls, columns, doors and window surveys, to a fully detailed data set including all 3D information including cill & head heights, stair riser and going details, door heights, ceiling heights, beam details, fitted furniture etc.. As part of our measured surveys, the surveyors can also pick up and highlight other information for example: any electrical and data points, sanitary fittings, incoming mains positions, plant, fire fighting and detection equipment, security equipment, signage and so on.
An accurate  topographical survey or land survey is essential to any project that you are considering and can lessen the possibility of costly mistakes or unforeseen issues later on.  The amount and type of topographical survey data that we collect on site is always based on your specification. However, our experienced land surveyors will use their knowledge of planning and development issues and requirements to provide additional information that might be vital for any future design or planning application. We are also able to gather information from any utility companies which can be added to your topographical survey drawings..
360D Panoramic Photography – We can also provide a 360 degree photographic record of your project to aid with design/construction
The 'as built' documentation provided by the company is highly detail oriented, every project can be accompanied by 360 degrees photographs to provide better understanding of the plans. Photographs give clients instant visuals which help in picturing the plan in a much better fashion.
We can also provide other additional land surveying services that you may require, for example; underground services tracing ( GPR – Ground Penetrating Radar) and 3D laser scanning enable us to provide you with a one-stop-shop for your surveying requirements.
for more information, please visit:-
June 29th, 2016
Comments off
Lendlease is set to start construction next month on a £275m office complex at 245 Hammersmith Road in west London.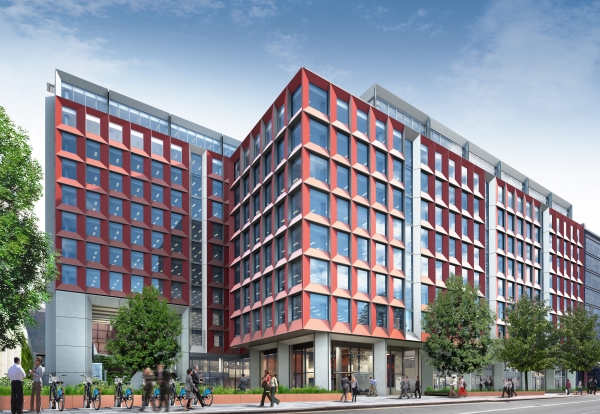 Legal & General Property has sold a 50% stake to Mitsubishi Estate London to form a new partnership to develop the 250,000 sq ft scheme.
The speculative scheme has been designed by Sheppherd Robson and already has planning consent from Hammersmith & Fulham Council.
The new building will consist of a basement, ground and 11 upper storeys and an extensive public realm, including a new urban park and plaza to the Hammersmith Road.
Simon Wilkes, Head of Business Space Development, Legal & General Property, said: "245 Hammersmith Road will be much more than just an office building; we are creating a destination with modern working and lifestyle trends at the core of our thinking.
"It will set a new standard for Hammersmith. There is still a lack of Grade A development taking place which means we are set to benefit from rental growth.
"We are already seeing high levels of interest from blue chip occupiers, who are particularly drawn to the design and location of the scheme, especially given the competitive nature of the rents compared to the West End."
The scheme should be completed in the first quarter of 2019.