In the Autumn Statement the chancellor, Philip Hammond announced new government policies to tackle the housing challenges the UK faces.
One of the biggest changes for the buy-to-let sector was that letting agent fees will be scrapped.
The ban will help struggling renters, as the average cost of these fees is £340 per tenant.
As a result of the new ban,  stocks of Foxton's and Countrywide fell sharply.
However, there has been concerns in the industry that the fees could be passed on to landlords, who are already facing the upcoming 'tax attack' in April 2017.
Experts fear landlords will be left to foot the bill, as estate agents will raise fees to make their money back. As a result landlords could be forced to raise rents to cope with more financial strain.
Others advise landlords to look elsewhere for new letting agents to cut costs. The emergence of online letting agents who can undercut high street agents could be where landlords turn next as a way of negating the need to increase rents.
Many believe that the ban could backfire as landlords are left with no choice but to raise rents, making rents even more unaffordable.
Additionally the government plans a comprehensive package of reform to increase housing supply and help first time buyers.
A new fund, the Housing Infrastructure Fund, will invest £2.3 billion into housing by 2021. The fund will be competed for between local governments in high demand areas and will help to build 100,000 new homes.
A further £1.4 billion will be provided in 2020-21 to start building an additional 40,000 affordable homes.
Funding will be made available for a large-scale regional pilot of the Right to Buy scheme too.
The scheme will be for housing association tenants, helping over 3,000 of them to buy their own home with under the new right to scheme discounts.
Will you look to pass on any additional costs, or do you plan to absorb them ?
Well, following the announcement last month that Chancellor Philip Hammond is to abolish letting agency fees for tenants, it is expected that many private landlords will increase rents to compensate. This is a further blow to buy-to-let landlords who are also facing higher borrowing costs and increased Stamp Duty fees, as the Government cracks down on the sector. Tenants' fees add on average £340 to the cost of letting a home, so naturally the 4.3 million renters in the UK will be concerned of further rental increases when landlords have to pay the letting agency fee themselves.
 https://www.simplelandlordsinsurance.com/landlord-news/letting-agent-fees-ban-could-force-rent-increase
Professional, corporate landlords such as Folio London offer a fresh alternative to private landlords. Renting with Folio London, tenants can be assured against these increases and any unpredictable changes in the market. Many lettings agencies charge for administrative work such as contracts and inventories. Folio does not charge admin fees, only a deposit of £350 to secure the property while references are checked, which is then deducted from the first months' rent and deposit.
For further information on Folio London and the rental offering across the capital, please see attached press release and images.
Managing construction projects is no small feat. With 1000s of action items to handle, timelines to be met and projects to be delivered, the question many project managers face is, "is my team working as effectively as possible?"
In efforts to help you answer that question, we asked over 30 experienced project managers in the construction industry about how they spend their time on the job, their best advice for managing their team, and how they know when their team is performing to its full potential.
How do Project Managers Spend Their Time?
Many in the workforce agree that email occupies a significant amount of time spent during the workday. This article from Huffington Post found that workers spend 3.2 hours on average on work emails per day.
The construction project managers we interviewed fell in line with this finding.
Of the 17 project managers who responded to the question "How many hours per day do you spend on emails to and from your team?", the average response was 3.02 hours. The median response was 3 hours flat. Talking numbers, this adds up to an average of 72 emails per day, with a median of 50.
So, if you find yourself spending significantly more than three hours clearing out your inbox on a daily basis, you may want to explore methods to cut back on the number of emails you're sending to your team.
Project managers also dedicate a significant amount of time to meetings, an average of just under 1.4 hours per day.
If emails and meetings count as "managing", this adds up almost perfectly to an 8-hour workday, with about half of the hours spent on emails and meetings, and the rest spent working on other activities that move the metrics they care about most.
Impressively enough, when asked how they split their time between "managing" and "working" most common answer we received was an even 50/50 split. This not only means that these managers balance their time well, but that their perception of how they spend their time is accurate down to the hour.
Finally, the median number of construction projects the project managers we surveyed reported is between 3 and 4. While respondents told us that things change depending on the phase of projects, most of the project managers we talked to reported splitting their time 75:25 between the office and the field.
Construction Project Management Advice and Best Practices
So, how do these project managers keep everything running smoothly to make sure their teams deliver projects on time and within budget?
We asked the project management experts to tell us the most important thing they've learned in their role in the construction industry, and here's what we heard in response.
"Make sure that [you] are looking ahead and understand the risks involved in the project and are able to mitigate those risks prior to them becoming problems." – Derick Hofstetter, South Bay Construction
"You must keep up with technology and new construction practices and materials." – Frank Narciso, South Bay Construction
"Meetings are a necessary evil for large, complicated projects." – Anonymous
"Stay positive, do your best to catch every detail and make sure the cash flow river flows…" – Mark Vandersea, Ciarra Construction
"Keep an open environment that fosters trust and communication. People should feel comfortable to ask questions all the time. Take the time to know about subordinates' lives, even if the relationship is short." – Anthony Garcia, Operation Nova
"The importance of relationships.  If you can develop a friendly rapport with people you manage, you will always be able to work together to help solve problems (whether it be financial or something physical in the field)" – Haydon Osborne, Sevan Multi Site Construction
"How to be successfully persuasive." – Cloy Coats, DEB Construction
"Patience" – Mitch Rhodes, Blach Construction
"Never stop learning. If you aren't learning new means, methods, practices, then you are stagnant and not growing. Teach others around you so they can learn." – Curtis Stavinoha, Metropolitan Contracting Company, LLC
 "No action is an action." – Evan Butler, Bear Construction
"Good relationships with the owners of projects is vital to success." – Michael Candelaria, MGC Contractors
"Communication is most important.  Whether it's with the client or with subs, it needs to be constant." – Zach Cannon, The Burt Group
"Learning never ceases" – Jim Larsen, GSI, LLC
"People skills are more valuable than technical construction skills." – Gregory Cashen, Wood Partners
"You are only as good as the people you work with." – Michael Williams, T Morales Company
"Communication is key, as well as accountability." – Jeff Ewing, Byrne Construction
"Deliver bad new as soon as its identified with multiple solutions" – James, Company Not Provided
"Communication is one of the most important tools to have in this industry, and possibly one of the most challenging. I'd have to say outside of communication, bonding and rapport is very important in customer relationships." – Rusty Reynolds, Contractors, Inc.
"Be firm, but fair. Look ahead. Try not to get too far into the weeds."- Josh Lowe, Streetlights Residential
"Every day matters." – Nathan Fellows, MAPP
What Makes for a Great Team?
We also wanted to find out how construction PMs know their team is performing well.
Out of the 20 project managers who responded to the question, two answers swept the majority of the responses.
The first, to be expected: deliver projects on time and under budget.
The second? Understanding the "big picture" or "intent" of the project, so the team can act proactively to keep things moving in the right direction.
This was described well by Anthony Garcia, of Operation Nova, who explained that when there is an issue, his team doesn't just notify their superiors, but rather, they line up potential solutions, so that superiors can simply give approval. Garcia explained further used the example of an on-site issue. When a problem occurs, rather than raising the issue to the next level of command and asking for direction, his team explores the potential best solutions and presents them to a manager for approval.
In order for this to work, though, the team must have understanding of the general direction of the project. In order to achieve this, Garcia says he strives to keep lines of communication open, whether via text, emails, or updates on the Google Spreadsheets they share to manage operations. Project management tools can also help increase project visibility to ensure that your team knows where the project is headed.
Haydon Osborne from Sevan Multi Site explains how to implement this practice simply: "Look ahead, and go beyond the bare minimum."
Finally, a number of project managers pointed out that when their team focuses on building strong relationships, communication flows more smoothly, which is reflected in more effective collaboration. As Tony Stock of Koontz Construction put it, "construction is a as much a function of creating and maintaining relationships with people, as it is actually building a building."
Conclusion
At the end of the day, when the hard hats come off and the spreadsheets are put away, how do construction management teams celebrate project success? One anonymous respondent tells us, "100 beers".
Irish petrol forecourt firm Applegreen is planning major motorway service stations on the M42 near Birmingham and M3 near Basingstoke.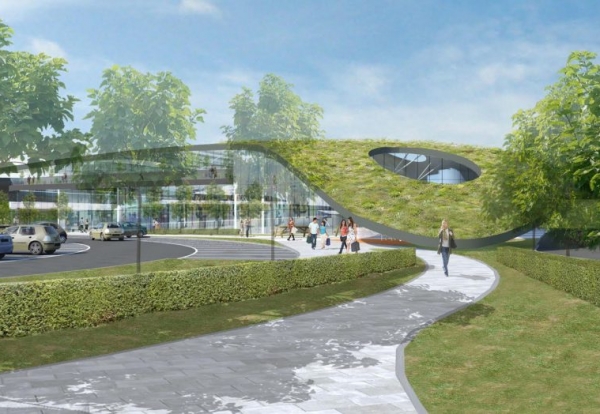 Subject to planning, the largest scheme will be built at junction 4 of the M42 near Shirley and will boast a rolling 'green roof' on the main amenity building.
The location of the 21.5-acre site means Applegreen plans to deliver a very compact scheme that does not require building significant new access road infrastructure in the Green Belt.
Under the plans, drawn up by architect Axis, the main parking area will cater for over 600 cars and 70 HGVs with separate fuel and parking for trucks and coaches. A new pedestrian bridge over the M42 will also be required.
Applegreen is expanding its operations after a successful IPO in June 2015 raised more than €90m on the Irish and London stock exchanges.
The firm is also in talks with Basingstoke and Deane Borough Council to build a motorway service area on the M3.
The facilities at the site, known as Kennel Farm, would include a service area amenity building and around 300 parking spaces.
Laing O'Rourke is calling for the introduction of construction GCSEs and A-levels in a bid to solve the industry's skills crisis.
The suggestion is part of a ten-point plan put forward by the contractor in a report launched today.
O'Rourke wants to see the introduction of GCSEs and A-levels in Design, Engineer and Construct (DEC).
Schoolchildren can currently learn DEC as part of the curriculum but the existing qualifications are not recognised by many universities.
And only 42 schools out of a possible 3,401 state-funded secondary schools in England offer the DEC curriculum.
O'Rourke said: "The government has the opportunity to work with the industry to create GCSEs and A-levels in DEC and incentivise schools and colleges to offer them to pupils and students.
"This would boost the appeal of the sector to schools, students, parents, universities and higher education institutions and educate people about the positive reality of a career in modern day construction and engineering."
Laing O'Rourke's full Ten-Point Plan is:
Flex the government's planned Apprenticeship Levy and reduce delays to approval of 'Trailblazer Apprenticeship' standards
Create regionally focused skills pipelines
Increase availability of Russell Group university standard part-time degree apprenticeships
Review options for career transitioning apprenticeships
Introduce GCSEs and A-levels in Design, Engineer and Construct (DEC) disciplines
Foster collaboration between industry and government to deliver a broader range of improved careers advice for construction and engineering
Commit the industry to measurable improvements in diversity
Seize the opportunity of the new Department for Business, Energy and Industrial Strategy
Support the creation of a single construction and infrastructure
skills body
Facilitate the ongoing professional development of a directly employed workforce
CONSIDERATE CONSTRUCTORS SCHEME AND NATIONAL FEDERATION OF BUILDERS
ANNOUNCE PARTNERSHIP
London, United Kingdom, 21 November 2016: The Considerate Constructors Scheme – the national scheme established by the construction industry to improve its image – and the National Federation of Builders (NFB) – the construction industry's longest established trade association – have formed a partnership to promote best practice and raise standards across construction industry SMEs.
This first, truly ground-breaking collaboration between two construction industry organisations heralds a new way in which like-minded organisations can work effectively together to offer greater benefits to members, at no additional cost.
The partnership will provide NFB members, with a turnover banding of £500,000 to £3.5 million, free Company Registration with the Considerate Constructors Scheme. It will come in to effect from 1 January 2017.
By becoming a registered company, NFB members (in this banding) will have the opportunity to demonstrate their commitment to improving the image of the industry. Scheme-registered companies voluntarily agree to abide by its Code of Considerate Practice. The Code commits those registered with the Scheme to care about appearance, respect the community, protect the environment, secure everyone's safety and value their workforce.
Considerate Constructors Scheme Chief Executive Edward Hardy said: "SMEs are a critical part of the construction industry's future success. They have a huge role and responsibility to continually raise their standards and, in doing so, make a valued contribution to improving the image of the industry.
"The NFB provides a great platform for the Considerate Constructors Scheme to help support SMEs in championing the principles of considerate construction. We are therefore delighted to establish this partnership with the NFB."
Richard Beresford, Chief Executive of the NFB said: "We're delighted to join forces with the Considerate Constructors Scheme to offer added value to our members. NFB members pride themselves on their professionalism and ability to deliver exceptional quality, so it's great that their efforts can now be recognised as part of the Scheme.
"SMEs often miss out on opportunities simply because they don't have the resources to complete the multitude of registrations and benchmarking initiatives available in the industry. By collaborating in this way, we hope to reduce this burden and improve access to opportunities, working towards achieving a fair playing field for SMEs in construction."
A record number of over 900 company registrations have been made with the Scheme so far this year, with a total of more than 4,100 company registrations taking place since this type of registration was introduced by the Scheme in 2009.
The number of females in professional construction roles is less than many analysts predicted, according to a survey carried out by specialist construction recruitment firm, One Way.
In a survey of professionals from across the industry, the firm found that 65% of respondents work in a company where less than 5% of the workforce is made up of women in an actual construction role.
When asked about the challenges for women in construction, over half (58%) stated that businesses themselves are to blame due to a range of issues such as stereotyping in the recruitment process and a lack of commitment from employers. Just over a third (35%) felt that it simply isn't a popular career choice for women.
The survey – carried out as part of the firm's #GirlsAllowed campaign which aims to bring together those in construction and education outlets to encourage more girls into the sector – also revealed that the majority (83%) believe that a lack of construction career education in schools is creating a concerning gap in female talent.
Reassuringly, over 80% of those surveyed agreed that they would personally get involved in an initiative to help address the lack of women in construction.
Paul Payne, Managing Director of One Way, commented on the findings:
"What is clear from these results is that employers need to do more to both attract more women into the industry and embrace them once on board. The results of the survey clearly demonstrate that the sector has a bad reputation when it comes to hiring females and given the severity of existing skills shortages, this simply cannot continue. While we were expecting to find low levels of employment, some of the figures were certainly below our initial perceptions, which makes the need for greater collaboration through initiatives such as the #GirlsAllowed campaign more vital now than they have ever been."
"While it's great to see so many respondents commit to taking more action, there were some concerning views that came to light that I feel need to be altered immediately. Aside from some of the gender stereotyping comments, other remarks suggested that some in the industry itself don't think construction is a sector that women should be in. This is quite simply untrue and is an attitude myself and the team at One Way certainly want to turn around."
Union leaders are calling for housing sites to be closed down when temperatures plummet below freezing.
Chiefs at UCATT have written to the major house builders demanding the introduction of extreme weather health and safety guidelines for construction workers.
The National House Building Council publishes minimum temperature guidance to protect materials on site.
Now UCATT wants to see similar recommendations to protect workers.
It said: "The NHBC makes it clear mortar should not be used below 2 degrees C, whilst construction workers should put their gloves on, get out there and suffer."
The union also hit out at an "institutionalised" macho culture which prevents workers from complaining about the cold.
UCATT Acting General Secretary, Brian Rye, said: "It's a complete indictment of an industry that has temperature guidelines to safeguard materials but none whatsoever for the workers. This must now change.
"We have written to the NHBC to ask them to inject some humanity into the industry and provide clear temperature and extreme weather guidelines for constructors to apply to workers.
"In an age when we no longer send young children up chimneys to clean them, we should equally not be forcing construction workers to work in inhuman conditions.
"If it's too cold for mortar – it's too cold for mortals!"
There is no current legal minimum or maximum temperature for working outside.
Unions are currently negotiating to have rules or guidance on working in extreme weather included in the Construction Industry Joint Council agreement.
Tax rebate specialists Brian Alfred are offering new and existing customers the opportunity to get an early tax rebate months before the usual tax refund date of April 2017. This is a unique and exciting opportunity for those in the construction industry who fancy some extra cash for Christmas or even to beat the January blues.
Construction workers who make use of the early tax rebate offer will receive up to 60% of their tax rebate amount for the year 2016-2017 early, with the remainder being paid at the usual time next April. There are no hidden fees, loan agreements or credit checks needed, Brian Alfred will simply advance part of the full year rebate early.
For the average UK CIS worker, this could mean they can claim an early tax rebate of up to £900 by Christmas. This will be a welcome bonus for construction workers just in time for the hectic and often expensive festive season.
Commercial Practice Director at Brian Alfred, Anda Gregory says of the product: "We're proud to be the first and only tax rebate specialist to offer an early tax rebate. We listened to our customers and realised that Christmas is a time of year when they really want to treat their families, so we launched this product to give them some added support in making it one to remember."
Considerate Constructors Scheme crowns Most Considerate Companies and Most Considerate Supplier at 2016 National Awards
London, United Kingdom, 15 November 2016: The Considerate Constructors Scheme – the national scheme established by the construction industry to improve its image – has recognised the Most Considerate Companies and Suppliers at this year's National Awards.
Four companies were presented with the coveted top award of 'Most Considerate Company 2016', they are: Connect Plus Services (annual turnover: £10m and over); Rydon Maintenance – Islington (annual turnover: £3.5m to <£10m); Linfoot Country Homes Ltd (annual turnover: £250k to <£3.5m) and Solent Industrial Roofing Systems (annual turnover: Under £250k).
HSS Hire Service Group Ltd triumphed as the 'Most Considerate Supplier 2016', making them the first registered supplier to win this prestigious title since Supplier Registration was introduced in 2014.
The Considerate Constructors Scheme's National Awards are one of the most respected accolades in UK construction. By registering with the Scheme, companies and suppliers demonstrate a strong commitment to improving the image of the industry.
The awards recognise the highest performing companies and suppliers which have demonstrated excellence in relation to the community, the environment and their workforce.
The prestigious awards ceremony took place on 10 and 11 November at the Four Seasons hotel in London.
In total 21 Gold, 32 Silver and 43 Bronze Awards were presented to registered companies, and two Gold, one Silver and four Bronze Awards to registered suppliers. Of the Gold Award winners, seven companies were shortlisted and received the 'Most Considerate Company Runner-up' and one supplier the 'Most Considerate Supplier Runner-up'.
Connect Plus Services undertakes planned and reactive highway maintenance works to sections of the M25 motorway and its arterial link roads through a 30-year contract with Highways England. This enthusiastic and safety-conscious team was applauded for its constant refinement of depot and site safety, and consideration of its workforce.
Linfoot Country Homes Ltd is a family-owned business located near Stratford-upon-Avon, Warwickshire, specialising in high quality new and converted homes in the South Midlands for over 20 years. In constantly striving to achieve yet higher standards, this company projected an image which was a credit to all those involved.
Rydon Maintenance (North London Region) is in the 13th year of a long-term contract with Islington Council for the repair and maintenance of more than 6000 properties. This potentially intrusive work demands a high degree of care and consideration and this was clearly demonstrated by Rydon through its community work.
Based in Portsmouth, Hampshire, Solent Industrial Roofing Systems specialises in providing roofing services industry-wide. One recent project was for a storage building on a military base in Wiltshire and the company spared no effort in ensuring the development was sensitive to the client's operations security standards.
Undertaking inner London deliveries is no easy task, but HSS Hire Service Group Ltd, whose head office is based in Mitcham, south west London, has robust policies and procedures in place to ensure professional, safe and efficient operations.
Considerate Constructors Scheme Executive Chairman Isabel Martinson said: "Congratulations to all award winners. The Scheme is hugely proud to honour the great achievements of top performing registered companies and suppliers. Over 900 companies and suppliers registered with the Scheme in the past 12 months, representing significant growth on the previous year, and making competition even tougher. With such high demand for construction activity across the UK, it is essential that the industry works collaboratively and continues to raise standards."
Click here to see each of the winners in the categories of Runners-up to the Most Considerate Company Award, and Runner-up to Most Considerate Supplier Award, as well as each Gold, Silver and Bronze Award winner.
Visit Twitter @CCScheme #ccsawards and the Scheme's LinkedIn company page to see more from the awards ceremonies.
Skills chiefs are pumping more cash into non-trades training including money for sales and marketing staff at house builders.
The Construction Industry Training Board and Homes for Scotland have launched the £250,000 scheme to train non-trade employees.
The training money will go to "all areas involved in the production of new homes such as surveying, management and sales and marketing."
The Homes for Scotland Professional Skills Fund will run from November 2016 to December 2017.
Michael Lennox, Strategic Partnerships Manager at CITB Scotland, said: "Scottish housebuilders told us that more needs to be done to address the range of skills challenges in the sector.
"Working with HFS, this investment is a step towards addressing that important issue and will boost technical and professional skills to ensure that we can build the homes that Scotland needs."
Nicola Barclay, Homes for Scotland Chief Executive, said: "Ensuring we have enough homes for our growing population is absolutely fundamental not only to our country's social well being but also its economic success.
"With every home built supporting four jobs, the employment potential is huge, so HFS is delighted to be partnering with the CITB to ensure all those working in our industry have training opportunities available to them."
The CITB came under fire earlier this year when it emerged funding was being allocated for sales staff via the Home Builders Federation.