Specialist engineering contractors and construction union Unite are both calling for a licensing system to be introduced across all construction trades following the Greenfell Tower disaster.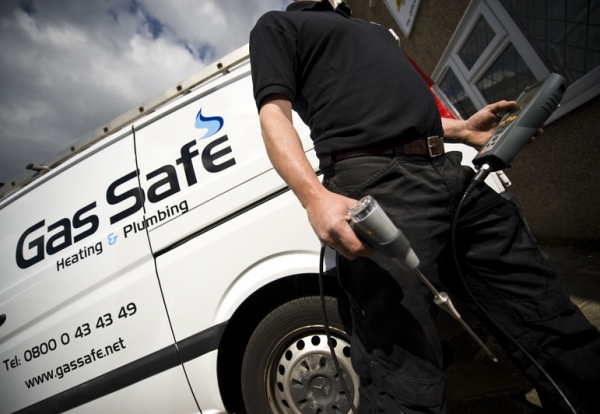 The register would be in line with the existing gas engineers licence scheme operated by Gas Safe, which means that it would be illegal for non-licensed practitioners to undertake specialist work.
Already many trade associations run robust accreditation schemes for technical performance but are frustrated that public bodies rarely require compliance.
Professor Rudi Klein, group chief executive of the Specialist Engineering Contractors, said: "Accreditation schemes set up by trade bodies belonging to the SEC Group could form the basis of a new licensing scheme in the UK.
"It is something that the United States and Australia have done successfully across most trades."
Klein has also called for a national enforcement agency for building control to be set up as concern grows about inspection regimes that have allowed unsafe cladding to be fitted to more than 100 tower blocks.
"There is clearly a need to consider how to improve enforcement process for building control after Grenfell," he added.
Calling for a radical new approach to regulations and safety laws, Unite national officer for construction Bernard McAulay, said that all construction companies should be registered in order to undertake public sector contracts.
"We now need to have a major sea change in the way that we view regulations. Rather than a knee jerk reaction to cutting red tape we should be educating people to understand that properly enforced laws and building regulations are essential in ensuring safety.
"In particular, we need to professionalise the construction industry by introducing a licensing and company registration system so only fully accredited workers and bona fide construction companies can undertake construction work on all future public sector contracts, especially involving safety critical work."
Today, the Prime Minister revealed that retired judge Sir Martin Moore-Bick would head the Public Inquiry into the Grenfell Tower fire.
The Inquiry will have the power to compel the production of documents, and to summon witnesses to give evidence on oath. The Inquiry will be held in public.
Theresa May said: "We must get to the truth about what happened. No stone will be left unturned by this Inquiry, but I have also been clear that we cannot wait for ages to learn the immediate lessons and so I expect the Chair will want to produce an interim report as early as possible."
"The immediate priority is to establish the facts of what happened at Grenfell Tower in order to take the necessary action to prevent a similar tragedy from happening again.
"But beyond that immediate focus it is also important that all the wider lessons from both this catastrophe, and the inspections of other buildings around the country that followed it, are identified and learnt."
With more and more people deciding to build their own properties, more people are putting themselves at risk of injury on building sites. From simple building extensions to 3 bed houses at some point those who work on the project will need to wear the correct safety equipment, but often health and safety regulations are only followed by contractors and those who regularly work in this sector.
In this article, we will be exploring why the sudden increase in injuries and risks can be quickly averted…
Self-Building Safely
Self-Building is a rewarding and brilliant way to save money, however maintaining site safety is a must, even more so if you do not work in the building sector. A lot of the time when people are to self-build, they spend their spare time such as evenings and weekends to complete the project. This can cause many problems, the biggest of which is laziness and cutting corners.
Something as simple as putting on the correct safety equipment can become a chore, with the popular thought being "I'm only going to do a bit, not worth putting it on". Well not wearing safety equipment can quickly increase the risk of injury, whether that injury is minor or major.
Cutting time doesn't save lives.
Areas such as the hands and feet are usually the first place to have injuries with hazards such as sharp objects, you can easily find yourself with a minor if not severe injury. Protective gloves and boots can quickly reduce the risk of these injuries but there are many other potentials you will need to protect from. Hard hats are a must on a building site and can quickly reduce the impact of an object on the head. And strong thick clothing can reduce the chance of scuffs and abrasions, however specialised PPE will need to be used in other circumstances.
Remember if you do not have the correct protective equipment then you shouldn't be working, no matter the complexity of the task.
Not sure what PPE to wear?
If you do not understand which PPE you should wear before you begin the task you need to speak to an expert. Whether this is specialist which will also provide equipment for you and your team or a PPE and Workwear company. Both will help you choose the correct items which are rated for the type of work you are undertaking.
Apsley House Capital and Galliard Homes have acquired a 12-acre regeneration site in the centre of Birmingham.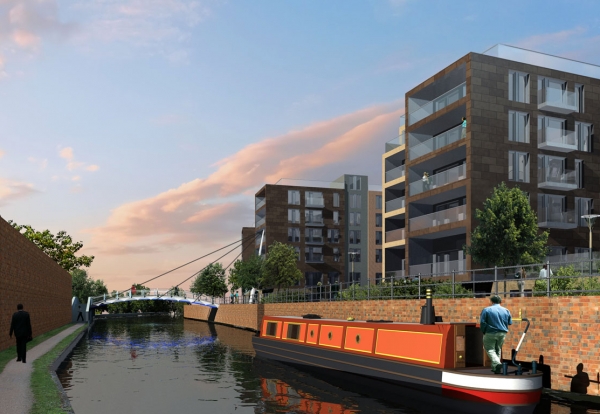 The two companies have bought the Soho Loop site near City Hospital from City and Provincial Properties.
The joint venture teamed up with Claremont Property Group to purchase the site which will now be subject of a revised planning application to build 800 homes.
Birmingham City Council has already given planning consent for 500 homes on six key plots.
Vacant and derelict buildings will make way for a variety of energy efficient homes that will help to address the city's housing shortage.
Robin Norstrom, director of Apsley House Capital, said: "We are really excited about the Soho Loop development.
"It is going to transform what is a neglected and derelict area of Birmingham into a canal-side quarter of high quality homes with character in a green pocket.
"It is an ambitious project which will deliver well-managed good quality housing. We see it as an innovative response to today's changing needs in accommodation.'
Soho Loop sits next to Icknield Port Loop and features in the Greater Icknield Masterplan, part of the Birmingham Development Plan, which has outlined plans for 3,000 new homes and 1,000 new jobs in the area.
Apsley House Capital is also working with Galliard on another site in Birmingham's Southside district on a development of 385 apartments.
Norstrom added: "We have identified Birmingham as a key city in Europe for further investment.
"We really believe it has an enormous amount to offer both now and in the future with the arrival of major projects such as the new HSBC headquarters, the Paradise development and the start of work on HS2. Birmingham is calling."
Cambridge major landowner Marshall Group has signed up to a joint venture with house builder Hill to deliver 450 homes around the city's airport.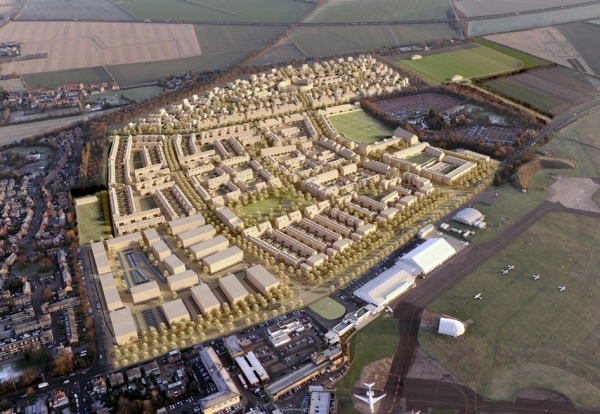 The new development, Wing, will sit on a 160 acre parcel of land owned by the Marshall Group and is the business' first major residential development project.
With a masterplan that allows for a total of 1,300 homes, the first phase of the development will be delivered by Hill and when complete, will comprise 315 private homes and 135 affordable homes – including shared ownership and affordable rent tenures.
Designed by Pollard Thomas Edwards architects, this first phase will offer a range of properties including 1-3 bedroom apartments and 2-5 bedroom houses.
The scheme includes a primary school, sports pitches, allotments and retail and commercial space.
New transport infrastructure will also be delivered as part of the development and nearby Newmarket Road will be upgraded.
Andy Hill, Chief Executive of Hill, said: "Having developed over 1,000 homes in Cambridge over the last five years alone, we take great pride in being able to provide a variety of homes for a range of people.
"We are therefore thrilled to be partnering with Marshall on this development and hope that it marks the start of a successful long-term relationship between two like-minded family firms committed to making Cambridge one of the best cities to live in the UK."
Sales are expected to launch at Wing in late 2019, with the first homes expected to be complete in the summer of 2020.
The Government has selected its preferred nine firms to deliver a massive programme of fit-out work on its estate reorganisation programme.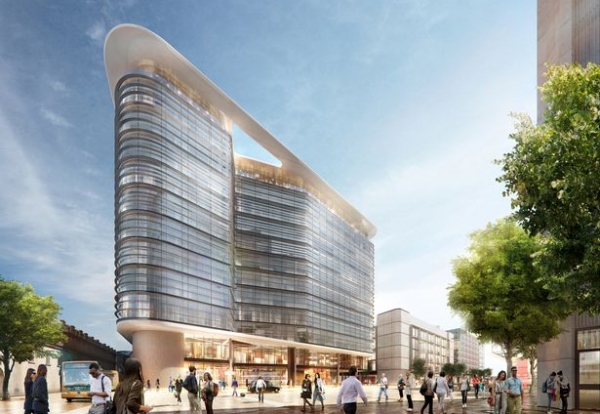 The Government Hubs office closure and relocation plan will run over the next seven years and promises up to £1bn of fit-out work.
This will be shared between a line-up of big industry players and several smaller firms like Shaylor Group and BW Interiors.
All three lots: Mace, Interserve, Overbury, Wates Construction.
Lots 2+3: BAM Construction, ISG Fit-out, Shaylor.
Lot 2 only: Styles and Wood. Lot 3 only: BW Interiors
When it comes to maximising natural daylight in buildings, understandably perhaps, much attention is paid to the type of glass used in windows or the shades of finish applied to walls – but what about the colour of the flooring?
In commercial properties especially, staff not only benefit from a smooth, reliable, hard-wearing surface, its colour can have a large bearing on creating an environment conducive to a happy, healthy, productive workspace.
In a good light
As industrial flooring specialists of many years' experience, we have seen how lighter-coloured floors can help optimise natural light in buildings for the good of the company and environment. Daylight is an even more precious commodity for those working inside; therefore it's particularly important this natural resource is fully-harnessed as its rewards are plentiful.
Naturally-lit buildings increase the feel-good factor for occupants, and in commercial terms, a contented workforce is proven to be more productive. Lighter, brighter environments reduce instances of sick-building syndrome among staff, which leads to less absenteeism. Letting more daylight into offices and factories can also help reduce conditions such as Seasonal Affective Disorder (SAD), an illness which is thought to occur due to lack of exposure to sunlight, particularly in winter.
As well as the health benefits, buildings with a predominance of natural lighting will use far less energy than those flooded with artificial illumination. Electricity used for lighting is considerably more expensive in terms of CO2 than gas used for heating, and as reducing carbon emissions is paramount to achieving Part L Building Regulation compliance, the importance of making full-use of natural energy cannot be overstated.
Reflective glory 
A recent refurbishment Zircon Flooring carried out at SFS Intec, a self-drilling screw manufacturer in Leeds, gives a perfect example of how a light-coloured floor can utilise available daylight. The 7,300m2 new surface of its plant comprised a low-viscosity resin: Sikafloor-161, and Sikafloor-263 SL, a multi-purpose binder.
The top coat's light-grey colour provided the ideal shade to best reflect the natural daylight and enhance the building's overall brightness.
Sika's support was paramount to the successful specification of the aforementioned flooring system. The guidance and knowledge of its technical teams meant the selected products were absolutely appropriate for the floor's required performance. As well as providing excellent thought leadership, Sika's support teams remained available throughout the floor's installation to ensure the process was completed successfully and to the highest quality.
Extolling the benefits of light-coloured flooring doesn't guarantee clients will take the notion on board. Some will continue to insist on having black or dark flooring as it is felt shadier tones will mask dirt or markings, which is far from the case. Reds, greens, dark greys, blacks and browns are all no-no flooring colours if natural daylight reflection is the goal.
Sikafloor has any number of light-coloured finishes to maximise daylight in buildings. Each shade has a RAL number, ensuring it meets international colour standards. Scientific study has proved interior colours can have a major influence on our mood and sense of wellbeing. Therefore, taking a lighter approach to the shade of flooring we choose can give our working environment a lift in so many welcoming ways.
Commercial spaces are at a premium and mortgages are harder to secure than ever. But George Clarke's Amazing Spaces show has inspired people across the UK to use innovative design to navigate building regulations and live mortgage free.
Whether you want to seek advice on converting a farm shed into the ultimate mancave or transforming an abandoned lorry trailer into your dream home, here are five awesome design ideas to get your creative juices flowing.
Outstanding home offices
Creating cost-effective practical space is essential for new business owners but building regulations can put paid to the best laid plans. Using existing structures creatively is a great way to get around this.
Mezzanine floor specialists can help you beat planning regulations by converting an existing warehouse shed into a two-storey structure.
This lets you preserve as much storage space as possible with a brand new private office offering the privacy to chat to clients.
Ship-shape and mortgage-free
Abandoned shipping containers have long been reclaimed as makeshift shops and shelters around the world. But a canny Bedford resident made a giant leap in design evolution by transforming an old container to a fantastic floating home.
With a price tag under £50,000, the home maximises space with unique features like a bath set into the base of the shower and an under-bed wardrobe.  This is a cool compact home that epitomises large-scale recycling.
Shed your preconceptions
Stereotypical British sheds have often unfairly been stereotyped as sad retreats for hassled husbands. But Amazing Spaces spin-off show Shed of the Year shows contestants from across the country competing to build beautiful sheds that become serene sanctuaries.
Past winners include a terrific treehouse that allows you to channel your inner Ewok and a Roman temple that provides the perfect excuse for donning a toga when you relax after work.
Conserving classics
Caravanning is still a favourite pastime in the UK so it's no wonder that caravan and camper van conversions have featured in their own Amazing Spaces shows.
One of the most innovative conversions showcased a decrepit 1950s classic caravan that morphed into a modern static home complete with roof garden and external spiral staircase.
Bringing the past to life
But the most touching show featured a custom made caravan recreated from sketches stashed away by a British soldier imprisoned during the second world war.
Right down to the custom light switches, the Amazing Spaces team cleverly brought the design to life for the deceased soldier's surviving relatives.
George Clarke has a knack of discovering people make the most mundane objects magical.
Amazing Spaces inspires us all to take DIY to the next level and live lives less ordinary.
The Government recently announced plans to support the creation of 14 new Garden Villages. Universally seen as a good idea, there is however an underlying concern. This is around the historical slow growth which can be attributed to the existing ones failing to be the Utopia they promised to be. However, this discouraging outcome is rooted in lack of a mechanism that considers all social and technical impacts of a new development in its context in a wholesome manner. So what do we need to do to make sure our planned 14 Garden Villages are a success?
The concept of Garden Towns or Garden Villages was first introduced in the UK in 1898 and has continued to modestly grow ever since. They are defined as 'a free standing, self-sustaining, high quality urban space that can address the housing issues, and is led by the local authority and supported by the community'.
To ensure the new 14 new Garden Villages are a success, there are a number of common problems that need to be addressed. BREEAM Communities is one solution that can help to ensure we don't fall in to the same old traps.
Loss of Character
Garden Villages/Towns have been often criticised for not respecting or retaining the original characters of the locale they are developed in.
Every region and community holds its own unique characteristics and vernacular. Continuity between architectural style and building design within the development and the surrounding area will create coalition between the existing and new residents which in turn adds value to the quality of life within that community.
Injecting a new neighbourhood with its own facilities and potentially brand new occupants into the countryside requires a great deal of scrutiny into the existing and local features through studying the surroundings and consultation with stakeholders and community representatives. To illustrate the importance of this, BREEAM Communities scheme has an assessment issue worth of 2 credits dedicated to the subject of local vernacular to confirm that the development relates to the local character whilst reinforcing its own identity through a few practical steps.
Infrastructure
Concentrating new homes in purpose-built new towns or villages, has a two-fold effect on infrastructure:
Services and infrastructure (such as new drainage systems and gas and electricity services etc.) are built as part of the development which upsets people who live nearby in numerous ways if not done properly. Power loss, road closures, interruptions to customer supply or unnecessary expenses are some of the unwelcome outcomes of the inefficient structure for the existing/surrounding communities.
This is addressed under BREEAM Communities' Utilities assessment issue where 3 credits are awarded for providing ducting and access points for services and for service providers' coordination to ensure that installation and maintenance would not interrupt consumers' supply.
It puts pressure on the existing infrastructure and services where no extra infrastructure or services to support the new homes has been provided.
The notion of considering communities needs and requirements in terms of services and facilities and also delivery of these is visited in a few assessment issues within BREEAM Communities at the very early stages of development.
Traffic
Milton Keynes, as one of the first new age Garden Towns, has over the years been criticised for its grid of broad roads that steers the residents towards driving their cars rather than using public transport. The grid also frustrates developers by taking up more space than a traditional city street despite the fact that it distributes traffic.
Other Garden Villages, on the other hand, seem to have been unable to cope with the traffic load due to poor or no evaluation of the infrastructural needs of a newly built community.
Both of the above cases have led to unhappy stakeholders, whether that's the community or the local authority. Whereas, an early consultation with the stakeholders alongside an assessment of the transportation situation in the area followed by a design review in line with the results, can prevent either of the above issues.
To achieve this, BREEAM Communities provides step-by-step guidance to:
Ensure the needs, ideas and knowledge of the community are used to improve the quality of the design, planning and construction process. (Consultation)
Ensure that the masterplan's design is reviewed by the community and other key stakeholders, ensuring that it supports a vibrant, healthy, functional and inclusive development. (Governance) and;
Ensure transport and movement strategies reduce the impact of the development upon the existing transport infrastructure and improve environmental and social sustainability through transport. (Transport and Movement)
Other issues
Overloaded schools and surgeries and lack of essential facilities such as shops, post office, banks etc. and absence of green infrastructure are some of the other issues that have made Garden Cities movement unsustainable. These are all as a result of a lack of consideration to demographic needs in general which is the core of BREEAM Communities methodology.
Undeniably there are other types of hurdles to building a practical Garden Village/Town. However, with the Government's financial backing, lessons learned from the previous projects and the sciences within the Communities assessment methodology, now is the right time to create Garden Villages that are, more than ever, environmentally, socially and economically sustainable.
The most commonly accepted number of homes the UK needs to be building each year, in order to meet future housing need, is 240,000. Despite the small increase (6%), against the number of the newly built homes in the past year, we are far from achieving the above, hence the Government backing of the garden villages.
However, the housing crisis is not about how many homes we can build each year. It is about how many of these homes are affordable, habitable and practical for the people, the community. This is where the politically sponsored, sustainably created and socially approved Garden Villages/Towns come into play.
For more information on BREEAM visit: www.breeam.com
Gilbert-Ash Completes British Embassy Fit Out in Kathmandu, Nepal
UK Foreign & Commonwealth Office project assists with local rebuilding efforts
Award-winning UK construction, refurbishment and fit out contractor, Gilbert-Ash, has put the finishing touches to a £1m fit out project on the British Embassy compound in Nepal.   In the wake of the Gorkha earthquake, the project included design, fit-out and seismic reinforcement.
Within the British Embassy compound in Kathmandu, the project builds on Gilbert-Ash's international expertise with work completed for the UK Foreign & Commonwealth Office in a total of 41 countries to date.
Nepal has been rebuilding since the devastating Gorkha earthquake which took place two years ago killing 9,000 people and causing widespread structural damage.  The fit out team at Gilbert-Ash worked closely with Nepalese construction companies to assist in sourcing local materials and labour to support the refurbishment.   Having had little exposure of working in earthquake zones, they worked closely with local structural engineers for whom earthquakes are a common occurrence and have excellent knowledge of seismic projects.
In contrast to the UK, Nepal has seen an increasing number of females taking up more prominent roles in the building trade since the earthquake due to a local labour shortage that has seen many male construction workers leave for work in the Middle East.
Ian Fisher, Contracts Manager, Gilbert-Ash Fit Out said: "This was a humbling project as our team saw first-hand the impact of the 2015 earthquake on the everyday lives of the people in Nepal. The local response to the earthquake to rebuild their country has been inspiring and we are pleased to have supported the recovery efforts."
"The refurbishment of the British Embassy in Nepal for the UK Foreign & Commonwealth Office included retrofitting to increase the safety of the buildings and our team worked closely with local structural engineers to meet earthquake building regulations. This project was complex due to its location but having worked in so many countries, our fit-out team are now highly skilled in undertaking projects in a wide range of culturally diverse and environmentally challenging locations."
He continued: "We travel with an open mind and are constantly learning and adapting to local cultures. Everywhere we work we take away something new. It was particularly inspiring to see the construction skills, knowledge and standards of craftsmanship practiced by the local industry in Nepal; with the advances in modern technology, many of these traditional skills have been lost in the UK.  Also while we are one of many actively involved in encouraging more women to join the construction industry in the UK, it was really incredible to see so many in the workforce in Nepal who are playing such a key role in rebuilding the country."
To help the Kathmandu construction companies involved in the project, the Gilbert-Ash team donated building tools and materials alongside the transfer of new health and safety skills.
Highly detailed design, advanced logistical planning and development goes into every Gilbert-Ash fit out project, with the team skilled in delivering the finest quality projects on a global scale. To meet exacting specification standards befitting the UK Foreign & Commonwealth Office, the company ships many of its fit out materials around the world.
The leading construction company has specialist fit out expertise in a range of sectors including workplace, retail, leisure and restoration.
For more information on Gilbert-Ash visit www.gilbert-ash.com
June 26th, 2017
Comments off
The skills and ingenuity of UK-based acoustic professionals working on national and international projects across a variety of environments were celebrated at a trade body awards.
ANC, the Association of Noise Consultants, unveiled the winners of its acclaimed Acoustic Awards programme at the Hyatt Regency Birmingham.
Promoting and recognising excellence among UK acoustic consultants, the awards showcased the skills of members across five categories.
Hoare Lea secured the winning project in the award for 'Architectural Acoustics: Commercial Buildings,' sponsored by H & H Acoustic Technologies, with Sandy Brown Associates highly commended and SRL Technical Services commended in this category.
'Architectural Acoustics: Education Buildings,' sponsored by Ecophon, was secured by Sandy Brown Associates, with Adrian James Acoustics receiving the highly commended accolade and a commended award for Pace Consult.
'Environmental Noise,' sponsored by ANV Measurement Systems, was won by Apex Acoustics, with Southdowns Environmental Consultants taking highly commended and a commended title for AECOM in this category.
It was another successful outcome for Apex Acoustics, the winners in the 'Smaller Projects' award sponsored by Bruel & Kjaer, with AECOM taking the highly commended award and Red Twin the commended title.
The final award, 'Vibration,' sponsored by Pliteq, was won by Cole Jarman. WSP were highly commended and RBA Acoustics commended in this category.
Full details about the winning entries, with a link to a brochure featuring case study information on each project, can be viewed at http://www.association-of-noise-consultants.co.uk/2017-award-winners-revealed/
The awards were presented by James Woudhuysen, forecasting and innovation specialist and visiting professor at London South Bank University, with a distinguished panel of judges comprising of academics and professionals, as well as representatives from the sponsor companies, scrutinising the national and international entries.
Robert Osborne of ANC, said: "Now in their fifth year, the ANC awards continue to gain ground as a major opportunity to highlight world-leading expertise in the industry, and to inspire the next generation of acoustic consultants.
"Once again this year, the judges were hugely impressed with the scope and scale of the entries.
"The projects illustrate the unique skills of our UK-based acoustic and noise professionals and their innovative approach across the built environment, transportation and entertainment sectors."