The UK government has launched its Clean Growth Strategy as part of its commitment to reduce greenhouse gas emissions across the nation. It outlines a proposed approach to building a lower-carbon future for the UK.
You can read the Department for Business, Energy & Industrial Strategy's (BEIS) comprehensive report by downloading it here. However, if you don't have the time to scroll through all 165 pages, don't worry. This time-consuming task has been made easier thanks to energy provider Flogas, who provide business gas prices. Read on for a summary of the strategy's key points, and what they mean for UK homes and businesses.
What is the UK's commitment to climate change?
To begin with, it's vital to understand what made the Clean Growth Strategy a necessity.
In 2008, the UK introduced the Climate Change Act, and through this, became the first nation in the world to self-impose a legally binding carbon reduction target. The crux of it? To reduce greenhouse gas emissions by at least 80% by 2050 (compared to 1990 levels).
Is this target in our grasp?
BEIS published positive data in March 2017, revealing that the UK is on track to meet this target, with overall carbon emissions dropping by 42% since 1990. While this progress is encouraging, the government acknowledges that there is still plenty of work to be done – and that's where proposals like the Clean Growth Strategy come in.
How can the Clean Growth Strategy help?
The Clean Growth Strategy aims to accelerate the pace of 'clean growth' in two ways: by increasing economic growth, and by decreasing emissions. With that in mind, the two guiding objectives underpinning the strategy are:
To meet our domestic commitments at the lowest possible net cost to UK taxpayers, consumers and businesses.
To maximise the social and economic benefits for the UK from this transition.
To turn this vision into a reality, the government has pledged to roll out lower-carbon processes, systems and technologies nationwide – doing so in the most cost-effective way possible for businesses and homes alike.
What are the key proposals in the Clean Growth Strategy?
There are six key areas that the strategy's proposals focus on. Together, they are completely responsible for the UK's carbon emissions:
Improving business and industry efficiency (25% of UK emissions).
Improving our homes (13% of UK emissions).
Accelerating the shift to low-carbon transport (24% of UK emissions).
Delivering clean, smart, flexible power (21% of UK emissions).
Enhancing the benefits and value of our natural resources (15% of UK emissions).
Leading the public sector (2% of UK emissions).
You can find the full list of 50 pledges in this executive summary.
What will this mean for homes and businesses?
Essentially, the government will encourage and support homes, businesses and industrial operations to minimise their carbon footprint in several ways. A major focus will be to reassess the fuels we use for tasks such as heating, cooking, and powering industrial and manufacturing processes – and embracing cleaner, greener alternatives.
This will help boost the uptake of renewable technologies (e.g. heat pumps, biomass boilers and solar panels) in the long term, and favour cleaner conventional fuels over more polluting ones. For example, for off-grid homes and businesses, the strategy sets out specific plans to phase out high-carbon forms of fossil fuels like oil. As the lowest-carbon conventional off-grid fuel, oil to liquefied petroleum gas (LPG) conversions will play a key part in replacing oil in rural parts of the country.
Natural gas will remain a popular choice for properties that are connected to the mains network – not only because of its affordability and accessibility, but also because it's the lowest-carbon fossil fuel that's available. Flogas, which specialises in highly competitive commercial mains gas, expects to see this part of its business continue to go from strength to strength.
The company has been an expert in the energy sector for more than 30 years and predicts that the 'green gas' phenomenon (natural gas injected with a proportion of environmentally friendly biogas) will rise in popularity as the Clean Growth Strategy rolls out.
Reaction to the Clean Growth Strategy
Key industry figures have been vocal in their support since the unveiling of the Clean Growth Strategy.
Managing Director of Flogas, Lee Gannon, said: "Through the publication of its Clean Growth Strategy, the government has made clear its intention to reduce carbon emissions from off-grid UK homes and businesses. Natural gas is affordable, versatile, widely available and – most importantly – emits significantly less carbon than the likes of coal and oil. As such, it will continue to play a central role as the UK works towards cleaning up its energy landscape. We look forward to working alongside policymakers and wider industry stakeholders to make the Clean Growth Strategy the success that it deserves to be."
Also supporting the strategy is Oil & Gas UK. Mike Tholen, its Upstream Policy Director, commented: "Oil & Gas UK welcomes the government's commitment to technology in the strategy, especially with regards to carbon abatement measures such as carbon capture, usage and storage. Oil & Gas UK looks forward to working with the government to see how these technologies can further reduce emissions across the economy."
Network Rail has officially started the hunt for firms to deliver its programme of trackworks for the next 10 years.
It wants design suppliers and contractors to pre-form as consortia to express interest and pre-qualify for the forthcoming invitation to tender on 15 August.
Three partner consortia will be selected to deliver the £3bn- £5bn programme of works through separate Programme Alliance Agreements.
These will cover three regions: North (Scotland Route); Central (LNW, LNE and East Midlands Routes); and South (Western, Wales, Wessex, South East and Anglia Routes).
The scope of work will predominantly cover design and construction of trackworks on plain line track and switches and crossings points, with the new arrangement coming into being from July/August 2019.
Steve Featherstone, Network Rail's director for Track said: "Combining our plain line expertise with that of switches & crossings will bring huge benefits to both our route customers and the wider supply chain.
"The proven alliance model offers a flexible and cost effective solution with a greater focus on each route's specific requirements and needs."
Prequalification information can be obtained from Network Rail's procurement site.
The Scottish Government has agreed to introduce legislation to make sprinkler systems compulsory in all new social housing of over 10 tenants.
Scottish Housing Minister Kevin Stewart confirmed that the Scottish Government will take forward David Stewart MSP's proposal for a Members' Bill to make it a legal requirement for all future new build social housing.
Currently all new high-rise domestic buildings, whether private or social, with a floor over ?18m must have automatic fire suppression systems fitted.
New legislation would extend this to all houses in multi-occupancy or more than 10 people, including care homes.
Scottish Housing Minister Kevin Stewart said: "I am very grateful to David Stewart for his work on bringing forward this important issue and gaining cross-party support for his proposal.
"I can confirm that the Scottish Government will implement the aim of Mr Stewart's proposal and will bring forward legislation as soon as is practicable in this Parliamentary session.
"This is an opportunity to further improve standards in our social housing and this work will be taken forward alongside the recommendations of the two reviews of building standards and fire safety which we will consult on later this summer."
ISG has secured a £34m contract to build a major new teaching block at Richmond upon Thames College's Twickenham campus.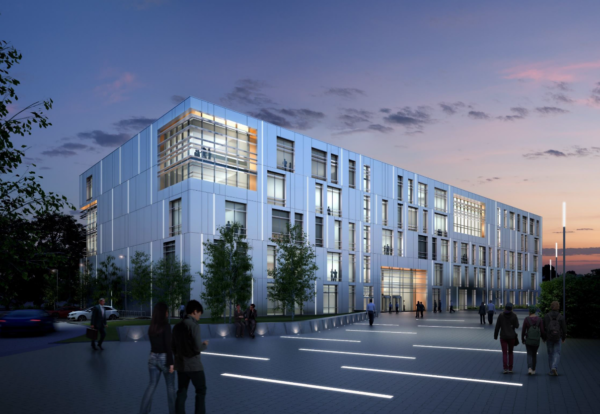 The project starts a wider masterplan to transform facilities at the highly-rated London higher education institution.
It was awarded via the Pagabo framework, which drives efficiencies and best value across public sector procurement.
ISG will build a new five-storey, concrete framed teaching block, extending to 160,000 sq ft of space.
Constructed on a plot adjacent to the existing college buildings on campus, it will accommodate an enlarged intake of up to 3,000 students when it opens at the end of 2019.
Targeting a BREEAM excellent environmental performance rating, the new learning centre incorporates a full height atrium space, with internal wood cladding.
Exposed concrete soffits and structural columns are a key design element, with rainscreen cladding and curtain walling to the structure's façade.
Steven McGee, managing director for ISG's Construction South business, said: "The complexities of this project have ideally suited the Pagabo framework procurement route that was selected to bring this highly anticipated scheme to site.
""This is a beacon project for RuTC, kickstarting the wider redevelopment of its entire campus site and a key win for the ISG business, further demonstrating our education credentials on high profile schemes."
Architecture practice Maber has reorganised its top management to drive growth in London and the Midlands.
Managing Director Mark Hobson becomes CEO and will focus on the practice's growing London office and portfolio of projects in the capital.
Ian Harris, previously head of Maber's Leicester office takes over as Managing Director with a brief to develop the practice's Nottingham, Derby, Leicester and Birmingham offices.
Tim Boxford, an Associate Director who has developed several high-profile projects in the East Midlands, has stepped up to lead the Leicester office. Catherine Lambert has been promoted to become an Associate.
Mark Hobson commented: "We are delighted to announce these developments in our management team that will position us for further growth. With some exciting projects coming forward in the capital, I am looking forward to focusing on growing our London office and client base."
Through longstanding client relationships, Maber has generated a healthy crop of projects in London with a construction value around £400 million and including large scale mixed use developments, build to rent schemes, hotels and student accommodation as well as work in the education sector. 
Gary Neville and Ryan Giggs' £200m St Michael's skyscraper scheme in Manchester has got the full green light.
The consortium of investors supporting the footballers-turned-developers has been told the scheme will not be called in by the Secretary of State upholding earlier city council full planning approval.
Located in Deansgate, the St Michael's scheme will consist of a landmark tower and stepped extended podium building designed by architect Hodder and Partners.
This replaces architect Make's previous twin tower plan, which was dropped in the face of complaints that it would destroy historic buildings at the site.
As a result the Sir Ralph Abercromby pub and the frontage of the Bootle Street Police Station will now be preserved within the scheme.
Including a large podium building the tower will rise to 39 storeys and contain a five star, 200-bed hotel with nearly 190 luxury flats above.
There will also be 148,000 sq ft of offices in a 9-storey stepped building forming part of the podium to the east of the main tower. This will include rooftop bars with stunning outdoor rooftop terrace.
Chinese construction group BCEGI is an active equity and construction partner in St Michael's, owning a 21% stake.
At present there is no time table for enabling works and construction, which will employ nearly 300 throughout the build.
Neville said:   "We are delighted that the Secretary of State has decided to not call in our revised plans for St Michael's and that the vision for this landmark mixed-use scheme will be realised.
"It's been more than a decade since the idea to regenerate a strategic city centre location was first considered – and our whole team is very pleased that we can focus on delivering this project for Manchester, bringing new high-quality development that will enhance the city's position both nationally and internationally."
Project Team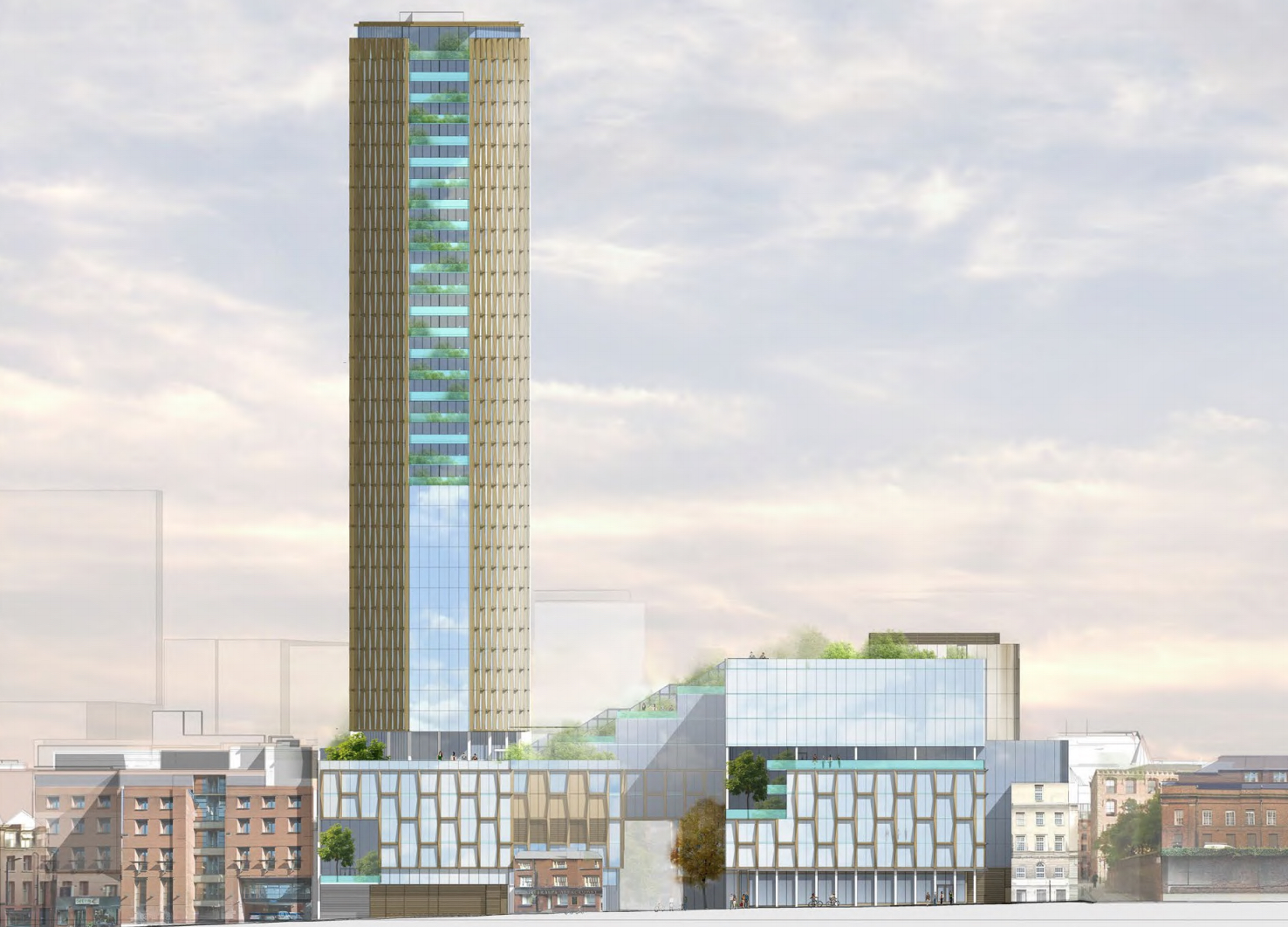 Project Manager: Zerum
Cost Consultant: Turner and Townsend
Architect: Hodder + Partners
Structural Engineer: WSP
MEP Engineer: Zerum
For years, tradespeople have been unfairly tarnished with the reputation for prioritising football over work. Many members of the public see them as being a bit too eager to down tools and head to the nearest big screen.
Nearly 20 million viewers tuned in to watch England in their first world cup match on Monday 18th June, however, it is the daytime games that will put loyalties to the test in a clash of the World Cup vs work.
However, recent research shows that 75% of tradespeople, including builders, carpenters and joiners, will always choose work over football if the two ever conflicted.  According to a poll of more than 1,000 IronmongeryDirect customers, the vast majority of tradespeople claimed they would never consider skipping work to watch their team or the World Cup. Many poll participants are planning when and where they will be watching their team – but outside of work.
If they were to 'pull a sickie' to watch their team play during the day, tradespeople offered some of the best excuses they would give, with the more elaborate ones including:
"I've been called up as a late replacement by Gareth Southgate"
"My boyfriend's in labour."
"I've got soap in my eyes and can't find a towel."
"I've been delayed at the airport on holiday…in Scarborough."
"My Auntie's Gerbil is about to give birth and I'm the nominated birthing partner."
Some of the more convincing examples included:
"I have a dentist appointment."
"The children are poorly."
"I've got the flu."
Employers are recognising that the World Cup is important to many of their staff. Many responded to the polls saying they would be more than happy to be flexible by offering them time off.
One respondent stated: "As the boss, I always give my team the time off. It also saves them giving me the daft excuses!".
The research also revealed ongoing optimism among tradespeople, with more than half believing England will make it to the Quarter Finals. Also, half of those polled (49%) said they would give up alcohol for good to see England win the tournament.
The UK's leading online trade supplier, IronmongeryDirect, ran a series of polls to find out more about tradespeople's attitude to work during the World Cup in June.
Andy Wood, football enthusiast and Marketing Director of IronmongeryDirect, said: "The World Cup is an exciting time for many of us – tradespeople are no exception. We wanted to find out how our customers were preparing for the year's biggest sporting event. The research was carried out in the name of fun, but it was great to see results challenging the outdated stereotype of contractors and other trades professionals neglecting their jobs for football! Tradespeople in Britain work hard, and we hope they enjoy watching World Cup 2018."
Students and building design enthusiasts are being offered the chance to learn the basics of one of the world's most successful environmentally-friendly building solutions.
The Green.Building.Solutions. Summer School, Passivhaus Austria and the Passive House Institute of Innsbruck are hosting a DesignPH Workshop in the stunning city of Vienna to share understanding of the energy balancing and planning tool for efficient buildings and refurbishment.
The workshop takes place at the TU Wien from 13 to 14 August and will cover topics such as: energy balancing, shading factors, ventilation and cooling strategies, as well as hot water supply and heating.
Suitable for students, graduates and professionals, the two-day workshop will be held in English and participants will receive a free demonstration version of the software.
Naomi Morishita, Green.Building.Solutions Programme Manager, said: "We're really pleased to be hosting this workshop for the second year running.
"Over the two days the learners will develop new skills to enable them to use the PHPP software."
The cost of the course is €600 for professionals and €330 for students – registration closes on 31 July, to apply email office@passivhaus-austria.org.
The workshop will follow on from the Green.Building.Solutions. course, which brings together the latest thinking in sustainable design and engineering. It is taking place in 2018 from 21 July to 12 August.
The OeAD-Housing Office offers all workshop attendees a room reservation extension in the Passive House dormitory for an additional three days affording them a week's accommodation to casually explore Vienna and beyond.
Registration for Green.Building.Solutions is open until 30 June – for more information visit http://summer-university.net/study-abroad/green-building-solutions-vienna/
Fly-tipping is a growing problem across the UK. Many lawbreakers will illegally use large areas like building sites as a dumping ground. For those in the construction industry, it can be time consuming, hazardous and costly, having to deal with someone else's illegally disposed rubbish. The following guide, produced by agricultural insurance specialists Lycetts, outlines what processes are in place to deal with fly-tipping in the UK. It will also explore prevention methods you can implement on your site to deter fly-tippers.
What is regarded as fly-tipping?
Fly-tipping involves the illegal act of disposing of waste material on a land that is not licenced to receive it.
Common items that fall under fly-tipping are bags of rubbish, furniture like beds and mattresses, garden waste, and tyres.
Does fly-tipping happen a lot?
The Daily Telegraph reported on fly-tipping after a freedom of information request by ITV, which revealed the extent of Britain's fly-tipping problem. Keep Britain Tidy's chief executive, Allison Ogden-Newton, went as far as to say that the crime has reached "crisis levels" throughout the country.
Some parts of the UK have seen fly-tipping incidents rise by over a fifth year-on-year, according to The Daily Telegraph. For example, almost 40,000 reported incidents were recorded in the North London district of Haringey between November 2015 and December 2016, with more than 30,000 incidents also reported in Manchester over the same period.
Even with some parts of the country seeing a reduction in the number of fly-tipping cases, the issue is not yet resolved. In Birmingham, for instance, the number of fly-tipping cases are down by 13 per cent between November 2015 and December 2016. However, the figure during this period was still recorded at 21,000 offences.
Ms Ogden-Newton observed that: "Fly-tipping is an epidemic, it's reached crisis levels and something needs to be done about it. Local authorities are overwhelmed with instances of criminal fly-tipping and we need to address this urgently."
Fly-tipping is a particular problem in Scotland, says James Cuthbertson, an account executive at Lycetts. Near to 61,000 fly-tipping incidents are recorded in this country every single year, Mr Cuthbertson has found.
He also said: "The culprits tend to think of this practice as a victimless crime; but estimates put the cost to Scottish tax payers at £8.9 million a year to clear and dispose of tipped rubbish from council land. Farmers and other countryside custodians must meet the cost of clearing rubbish from private land themselves, at an average of £1,000 a time."
Is fly-tipping prosecutable?
Efforts are in place to try and discourage fly-tipping.
Figures from the BBC show 1,602 prosecutions were made across England for fly-tipping between 2016 and 2017. What's more, 98 per cent of prosecutions made resulted in a conviction. During the same time period, councils across England served 56,000 fixed penalty notices with regard to cases of fly-tipping.
What are the penalties for fly-tipping?
Carrying a penalty of an unlimited fine and five years' imprisonment, fly-tipping is marked as a serious crime. It is also important to note that those who permit fly-tipping to take place on their land or any land that they rent will also be committing a fly-tipping offence.
With that said, Mr Cuthbertson points out: "Fines of up to £40,000 can be imposed but, given budgetary constraints, the pursuit of fly tippers is well down the list of priorities of councils and the police. Furthermore, it is hard to gather evidence to bring a successful prosecution."
What can I do if I am a victim of fly-tipping?
You are responsible for clearing away any rubbish on your site, even if you are a victim of fly-tipping.
Fly-tipped waste may be dangerous, so do be careful when dealing with it. Bags and drums should not be opened, and piles of soil should be a cause for alarm bells as the material could be contaminated or hiding dangerous material.
Record details about the waste you have discovered on your site. This includes where you located the waste, as well as taking photographs if possible. After all details have been recorded, report the case of fly-tipping to your local authority:
Those in England and Wales should head to this GOV.UK page and report fly-tipping by first entering the postcode where the waste has been discovered.
Those in Scotland should report fly-tipping waste by either filling in a simple online form on DumbDumpers.org or contacting Stopline directly by calling 0845 2 30 40 90.
Those in Northern Ireland should head to gov.uk and find details for their local council, who will be able to advise on the waste disposal sites and recycling centres based nearby for the safe and legal recycling or disposal of unwanted items.
After reporting the waste, secure it to prevent any unwanted interference or additions to it.
There are measures to consider when the waste is being moved away as well. First and foremost, do not take the waste to a licensed site yourself unless you're registered as a waste carrier. If hazardous waste has been identified, it should only be carried and then disposed of by someone who is licensed to deal with hazardous waste.
If a third party is required to deal with the waste for you, make sure they give you the required documentation. It should include details about the waste and those who are taking it away. Keep all information about clearance and disposal costs safe, as these can be recovered in the event a successful prosecution is made against the crime committed.
"In the event you wake one morning to find the midnight cowboys have paid you a visit, if the problem is severe, it is worth consulting with your insurance broker," Mr Cuthbertson says.
If you spot someone actively fly-tipping on your site, your own safety is priority. As the practice is illegal, people are unlikely to take kindly to their crime being observed. Do not confront the guilty parties, but instead immediately call 999 and then make a note the number of people involved, descriptions of their appearances, details about the waste being fly-tipped and information about any vehicles used — this includes the makes of the vehicles, their colours and their registration numbers if you can make it out.
What can I do to prevent fly-tipping on my site?
There are steps you can take to reduce the risk of fly-tippers visiting you.
Making sure any gates are closed and locked when not being used will secure your site from fly-tippers. Strategically placing physical barriers around the perimeter can also make it difficult for fly-tipper's vehicles to get through.
The risk of being caught is also a very effective deterrent. Therefore, work on improving visibility all around your property and its land, make sure high-quality exterior lighting is installed and in working condition, and set up CCTV cameras and appropriate signs alerting people of the technology's presence.
Since the dawn of time, mankind has constantly been evolving. Ancient Neanderthals took advantage of nature's resources and used caves, forests, and mountainous regions as places of refuge. These natural shelters provided protection from the elements, ferocious predators, and rival tribes.
Throughout history, mankind has also consistently shown its remarkable ability to survive and evolve. As groups of people migrated from one area to another, they realized that the need to construct their own shelter was imminent.
Early materials in prehistoric times used for the construction of shelter included tree branches, animal bones and hides, and stones. As the human race continued to evolve, it realized that the durability of a structure was very important and began to find and create new materials to use in order to build larger and more efficiently designed places of refuge.
Other common building materials used in times past included wood, straw, bricks, and stone. Fast-forward to modern times and you'll see the likes of concrete, steel, glass, and other metals being used in the construction of buildings. With that, let's take a look at 5 of the most durable materials used to build structures today.
Wood
Given that wood is one of the Earth's most abundant resources, it is one of the earliest materials used to create shelters. Tree branches were cut and used as poles to hold up a canvas such as animal hide, cloth, or other types of fabric.
Wood is light and easy enough to carry around in small amounts, is relatively cheaper, and its natural colours blend in well with other materials. However, some of the downsides to using wood are that it decays or rots faster and has a lot of natural enemies including moisture, fire, and termites.
Stone
This natural material is durable and strong and can hold a heavy vertical weight. However, it is conversely extremely heavy, difficult to quarry, and special tools and equipment are needed to properly prepare it for use.
As such, stone has been replaced by other materials that are cheaper and easier to manufacture, but that still doesn't mean it's without purpose. Although admittedly, the use of stone in construction is now limited to decorative items, full stone houses were widely used during the Neolithic period. Temples in Europe and China still show us today how widely stone was used in construction during ancient times.
Brick
Bricks were originally made by creating clay and then drying it in the sun to harden. Earliest forms of bricks were crafted by the Egyptians, but the method was further improved upon by the ancient Assyrians who found that baking them in an oven (called a kiln) produced stronger and more fortified bricks.
Initially, the clay for the bricks was formed using only hands, feet (by stomping), and with the help of animals such as oxen to mash and mix the clay. Future generations used wooden frames with which to place the clay thus giving the square shape.
Bricks are still used widely in construction today, as they provide a cool place of refuge and reduce the risk of fire hazards.
Concrete
Concrete is the most widely used material for construction by humans today. It's composed of an aggregate such as sand, slag, and gravel mixed with a binder like cement.
Concrete is strong, versatile in its application, and flexible in usage. Concrete use can be dated back to the time of the Romans, with such magnificent structures as the Colosseum of Rome still standing as a testament to its strength.
Today, concrete is widely used because of its fairly inexpensive price tag and overall great benefits. It has excellent thermal mass which means it'll sufficiently cool down the inside of the house enough to reduce energy requirements by 17%. It uses less energy to produce and leaves a smaller carbon footprint.
Steel
At the end of the Iron Age, mankind discovered how to smelt different elements to create steel. The alloy is produced by combining carbon, iron, and various other elements including manganese, nickel, chromium, and molybdenum.
Steel is synonymous with strength and durability. It is very light compared to timber and thus, easily transported from one location to another. Can be easily adapted to suit an owner's requirement. It's a also an affordable choice as stated by Cost Figures.
The introduction of steel as a mainstream material in building construction marks the beginning of a new era of economic progress as we look towards the future and continue to evolve and survive as we have since the beginning.