Forecasters predict construction will just avoid an output decline this year if a soft Brexit is finally delivered.
But economists for Experian warn that their forecast of sluggish growth would have to be ripped up if the UK crashes out of the European Union with no deal.
The latest forecast for the next three years predicts construction will see a weak 0.4% rise in workloads this year followed by a return to stable but below trend growth of between 2.5%-3% in 2020 and 2021.
Forecasters now presume a "soft Brexit" will be the eventual outcome, with the UK gaining similar access to the EU single market as it does currently.
"We fully anticipate that such a deal could take longer to conclude than the initial transition period, and we do not expect a Brexit deal related bounce back in output growth to materialise until 2021," says the report
It also assumes the planned Wylfa nuclear power station is not cancelled and the road building programme does not slip, as some in the industry fear.
Of the three key construction sectors housing and infrastructure are expected to experience good growth while there is weakness in the non-residential building sectors, like offices, retail and education.
It will probably not be until towards the mid-2020s that this profile unwinds.
Balfour Beatty chief executive Leo Quinn is reported to have taken part in a conference call with ministers last night after the Government's Brexit deal defeat,
Sky News said Quinn and bosses from Tesco and Amazon voiced their concerns to a trio of ministers including Chancellor Philip Hammond.
Quin is reported to have asked: "I would like to know when we might get back to a normal functioning government.
"Decisions are being delayed on HS2, new nuclear, Heathrow expansion.
"The enemy of business is delay and procrastination, and the construction industry will face large-scale restructuring where it cannot carry the resources it will need over the next 25 years, and capability will have to be let go.
"Once resources are lost to industry it is very difficult to get them to come back; the next six months are critical."
New technology and red tape will drive change in learning and development in 2019
That's the verdict in a new report from utilities training specialist Develop Training Ltd (DTL).
With the utilities sector facing rapid and fundamental change, the white paper highlights how new regulatory and technological developments will present businesses in the sector with a raft of challenges.
The report entitled 'Utilities sector: Facing regulatory and technological change' is available to download at https://tinyurl.com/DTL-RegandTechReport.
The authors, whose customers include household names in the utility and construction sectors, point out that these industries face growing challenges in mission critical areas. Those challenges include improving efficiency, reducing costs, increasing resilience and meeting customers' changing expectations.
Yet, the report notes, it is unclear how many of these tests will unfold, or how best to approach them.
John Kerr, DTL's Operations Director, said: "To be successful in this business environment, organisations must be innovative, responsive and customer-focused. That takes a skilled, flexible and motivated workforce, and investing in the right kind of training now so that businesses are prepared is critically important."
He said as the challenges facing the sector were constantly developing, organisations would need to keep reassessing and revitalising their learning and development approach to ensure that the right skills were in place.
The whitepaper discusses the challenges facing organisations in the utilities sector in depth, and forecasts how these will affect learning and development strategies in 2019 and beyond.
It concludes that adapting learning and development processes is a vital part of strategic planning, as utility companies prepare for an uncertain future.
Leading online trade supplier, IronmongeryDirect are celebrating the success of their graduate management scheme.
The UK's largest supplier of ironmongery have recruited two new graduates following the continued progression of the organisation's previous intake of newly qualified students.
One of the stand out performers is Dimitra Koutsochera. Dimitra joined IronmongeryDirect in 2013 after completing an MSc in Business Management and since starting as a graduate management trainee, has gone on to be promoted to Supply Chain and Inventory Planning Manager.
Dimitra identified the diversity on offer in her role and the opportunities she was provided with to realise her best strengths as the major contributing factors for excelling in the scheme. Talking about the scheme, she said: "My university course gave me the tools and introduced me to the best frameworks for me to know what it takes to perform a job well. However, you are only going to learn if someone gives you the opportunity to apply this into practice, make mistakes, and learn from them.
"This is the advantage of the IronmongeryDirect graduate scheme as you have the opportunity to work in various departments, build business acumen, earn further qualifications, and at the end of it all, identify what you really enjoy doing and start a career. You understand how each department links to each other and the impact that your decisions may have. Graduate schemes give you the flexibility to choose what is best for you and your future career, compared to going down another route."
IronmongeryDirect's latest crop of graduates include Oliver Bull and Luke Scott.
Oliver graduated from the University of Warwick having completed a Masters in MSc Biotechnology, Bioprocessing and Business Management and is already immersing himself in the new role: "I have just started my first three-month project, aimed at further enhancing customer experience. I have been welcomed and already feel valued and part of the team.
"IronmongeryDirect offered the perfect opportunity for me to further expand my knowledge and experience in the field. It was clear the company invests time and effort into its employees, and despite its size, has maintained a family-like business environment, which in turn, has created a thriving workplace. A wide range of personal development opportunities are also available."
Luke, who graduated with a degree in Mathematics from Loughborough University also praised the wide-ranging nature of the graduate scheme: "The most attractive feature of the scheme was the fact that I would be working in lots of different departments throughout the programme, which meant I would be getting a full scope of how the business works.
"There is a great work culture here; the whole team is friendly and always ready to lend a helping hand, with everyone, including the directors, available if you need a chat! I would definitely recommend IronmongeryDirect to somebody else."
Dimitra concluded with some final advice to any aspiring graduates: "Ask questions, loads of questions as this is your opportunity to learn. Also, take any feedback on board and do not hesitate to suggest ideas or solutions. Be proactive and take your own initiative to investigate and change things for the good of the department. It's your time to shine and give your career strong foundations so make the most of it!"
IronmongeryDirect is the UK's largest specialist ironmongery supplier, with over 16,500 products in stock, available for next day delivery.
They're cheaper then tradition builds, yet higher quality. Prices start at £25,000, which is 11% of the UK's average house price.
They can be built quicker – modular homes can be built in three days whereas the average traditional build takes 32 weeks. This would make the governments housing goal by 2025, easier to achieve.
Poor weather can't hamper construction as the buildings are manufactured inside factories. This also reduces the number of days that work can't place due to rain or snow.
As modular homes are manufactured on a production line, workers only need to be semi-skilled,which not only makes the job more accessible but will also help overcome the current declining workforce in construction.
With 1.2 million households currently on the housing waiting list, modular housing could offer a quick-fix by providing good-quality accommodation at a faster rate, and all whilst reducing government costs.
The Decline of House Building Since the 1970s
The shortlist for the biennial GAI RIBA Architectural Ironmongery Specification awards has now been announced.
A record number of projects were submitted by architects, specifiers, architectural ironmongers and manufacturers from across the world.
Organised by the Guild of Architectural Ironmongers (GAI) in conjunction with the Royal Institute of British Architects (RIBA), the awards are designed to identify and reward excellence in the specification of architectural ironmongery.
The 2018/19 awards will see changes from previous years, including an additional project being shortlisted in each category and a brand new award for the best new product. The 'Best new product: design and innovation' category has been created to celebrate new door and window hardware and access control products, allowing advancing technologies to be fully showcased and recognised.
David Stacey, president of the GAI, says:
"The Specification Awards ceremony is one of the Guild's most highly anticipated events. The calibre of entries is always incredibly high and shows architectural ironmongery at its best. The GAI is always proud to see its member companies involved in so many complex projects.
"These awards are unique because they reward the whole specification team, highlighting the importance of the professional partnership between architects and architectural ironmongers."
For each category there will be a winner, second and third place as well as a highly-commended award. The judges will also decide on an overall 'winner of winners'. At the 2017/18 Specification Awards, this accolade went to Kings Gate, a residential project by architectural ironmongers izé and architect Lynch Architects. A brochure featuring the 2017/18 winning projects can be downloaded from the GAI website.
The winners will be announced at a celebratory lunch at OXO2 in the OXO Tower on 21 March 2019.
4 Key Design Elements For A Flourishing Financial Building
I
In financial districts all across the globe, successful companies symbolise their status at the top of the game in steel and glass. But what goes into the design of these famous buildings, and how can businesses harness this in their own building projects? There are numerous considerations that architects and project managers need to consider when creating a financial building fit for a flourishing enterprise.
In this post, we'll run through these key considerations, providing a one-stop guide to a dazzling yet functional office space for a financial business.
Aesthetic
As mentioned above, the glass and steel tower is as synonymous with the financial sector as a spire is to a church. The smart, clean lines that glass and steel create communicate a professional, corporate aesthetic – meaning these materials are a reliable basis for any finance-focused HQ.
However, it's important to add your own twist to the overall design theme of the space to avoid creating a sterile building devoid of any character or originality. Whether you incorporate some vibrant plant life or a large-scale, eye-catching logo in the reception area, personalising your building will allow you to truly communicate your brand in a competitive market.
Layout
Debates regarding the efficacy of an open-plan office are long-standing – while some praise their team-building benefits, others claim they're simply too noisy and distracting for any meaningful work to be done.
The financial sector comes with a long list of specifications that should be considered when opting for a particular office layout. A trading floor must facilitate communication between traders, to optimise the chances of high-quality deals being struck. However, an overly busy trading floor can have a negative impact on concentration, and noise-cancelling headphones can only take you so far, so striking a balance between open-plan areas and more private offices is essential for a harmonious working environment.
These private areas form an ideal area for employees new and established to hone their skill sets – allowing your business to become increasingly competitive over various frontiers.
Security
Any financial institution, from hedge funds to commercial banks, will have sensitive data galore within their walls – for example, servers that keep complex trading algorithms going or safeguard the information of customers.
As a prime piece of city-centre real estate, you'll need security measures to ensure the safety of your staff and the integrity of your company. Make sure your foyer area is spacious enough to accommodate a metal detector, so that VIP gatherings that require such measures are a breeze to organise and execute.
The future
A new building in a financial district will expect to stand for many hundreds of years, so it needs to be built on solid foundations – both literally and figuratively. Ensuring your building is geared for a change in the ways in which financial trading is conducted will stand it in good stead for many decades to come.
There has been speculation that wearable tech will liberate traders from their desks and allow them to collaborate more freely in the near future. A virtual reality (VR) trading desk has been prototyped by Bloomberg – which proves that seemingly fanciful advances in tech are being taken seriously by business leaders. Make sure your building can accommodate just about anything – as nobody quite knows what the future of finance will holdI
Taking on board these tips is a sure-fire way to make sure your financial building is a worthwhile investment. Keep them in mind through the design, building and fitting processes, and, with a dash of your own company's personality, you'll have the recipe for success.
Author bio:


John James is a content writer for Learn To Trade, the foreign exchange education and learning specialists – offering a range of training courses to help people understand the currency trading market, as well as its opportunities and risks.
New micro robots will be built to repair the country's underground pipe network and cut the disruption caused by road excavations.
Scientists from four British universities will use a £26.6m government investment to develop 1 cm long robotic devices that use sensors and navigation systems to find and mend cracks in pipes.
The traffic closures and disruption to businesses of these roadworks is estimated to amount to more than £5 billion.
Robots will also be developed to be sent sent to hazardous work places such as offshore wind-farms and nuclear decommissioning facilities.
Science Minister Chris Skidmore said: "While for now we can only dream of a world without roadworks disrupting our lives, these pipe-repairing robots herald the start of technology that could make that dream a reality in the future
"From deploying robots in our pipe network so cutting down traffic delays, to using robots in workplaces to keep people safer, this new technology could change the world we live in for the better.
"Experts in our top UK universities across the country are well-equipped to develop this innovative new technology."
UK Research and Innovation (UKRI) Chief Executive, Professor Sir Mark Walport said: "The projects announced today demonstrate how robots and artificial intelligence will revolutionise the way we carry out complex and dangerous tasks, from maintaining offshore wind farms to decommissioning nuclear power facilities.
"They also illustrate the leading role that the UK's innovators are playing in developing these new technologies which will improve safety and boost productivity and efficiency."
The £26.6 million government funding boost is part of the modern Industrial Strategy, investing in the technologies of tomorrow and creating high skilled jobs across the country.
A joint venture between Morgan Sindall and VolkerFitzpatrick has secured the London Overground rail extension from Barking to the planned 10,000 homes Riverside scheme.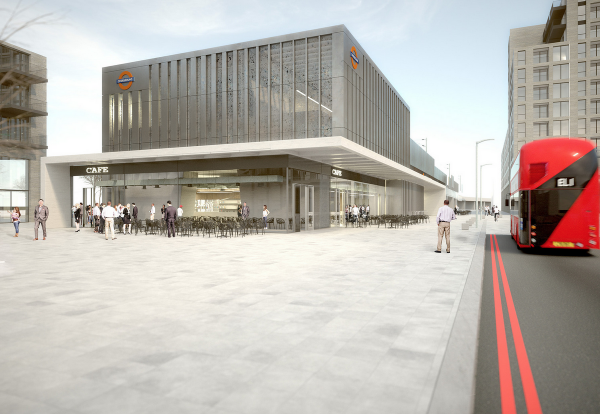 The planned new station at Barking Riverside
Transport for London negotiated the deal with the joint venture for a price of £196m, including a new Barking Riverside station.
Balfour Beatty was the other contender left in the race after Carillion's collapse last year.
The joint venture contractors will construct the 4.5 km extension of the Gospel Oak to Barking line.
Works include the modification of the existing railway lines from Barking station over a stretch of 3km with a new 1.5km railway viaduct extension from Renwick Road overbridge to the new terminus station.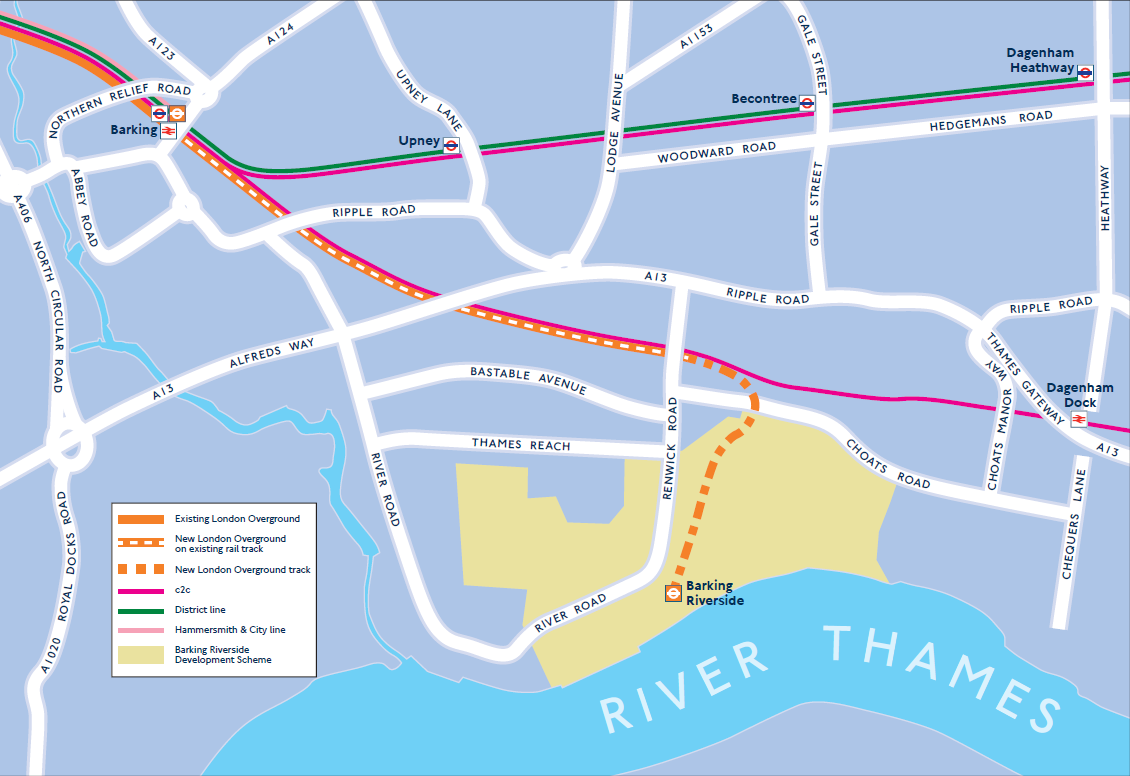 This will involve constructing an embankment ramp up to the new concrete viaduct supporting a 2-track railway extension into the heart of the new residential development at Barking Riverside.
The extension is fully funded, with £172m of the overall cost of the scheme being met by the developers, Barking Riverside Limited.
Works to prepare the site have already taken place, including the demolition of several redundant Network Rail buildings and a disused ramp where the new viaduct will land.
The deal paves the way now for main works to start in May.