Big firms will feel the pain of the Apprenticeship Levy this spring when the first wave of levy payments will be wiped from their accounts unless they have invested them in training apprentices.
Apprenticeship provider Develop Training Limited (DTL), whose customers include household names in construction and the utilities, says the deadline should focus attention on making the controversial initiative work.
Companies with payrolls above £3 million have been paying into the scheme since its launch in April 2017 and continue to do so monthly. They can get the money back if they invest it in apprenticeship programmes with approved providers such as DTL, but there is a two-year deadline.
That means in April this year, levy payments dating back to the start of the scheme will go to the Treasury, and funds will continue to be funnelled away each month on the second anniversary of when they were paid in. So, for example, the levy payments that companies made in September 2017 will no longer be available to invest in apprenticeship programmes from September 2019.
The levy was supposed to encourage firms to invest in apprenticeships but confusion and concerns about costs meant the scheme initially had the opposite effect.
DTL hosted an Industry Skills Forum in late 2017 for leading figures in HR in construction and the utilities that highlighted wildly varying views on the levy, from companies that were embracing it to train new and existing employees to those who saw it as a tax.
Since then the government has tweaked the scheme significantly, reducing the amount of levy payments and allowing smaller companies to use levy money to help other organisations finance their own apprenticeship training, typically those in the big companies' supply chains.
Now, despite wider political and economic uncertainty, DTL hopes 2019 could still be the year that kick starts the faltering programme. The training company has campaigned vociferously for businesses and government to invest in training in the construction and utility sectors to address the massive skills shortage faced by the industry.
Whether by using levy-funded apprenticeships or by investing directly in learning and development, DTL is urging companies heading for the looming levy deadline to meet the challenge and ensure Britain has the workforce it needs to keep the country's infrastructure and building projects running into the future.
In our digital age it's not uncommon to find marketing campaigns swamped with digital methods. This includes a most sectors, including construction. But the question is… does print marketing have its place or is it really its way out? Let's explore the subject some more with this insightful discussion piece produced by UK event signage company, Where The Trade Buys.
Marketing strategies swamped with digital solutions
Many campaigns today are lost without digital. With more consumers than ever before spending time on the internet, businesses would be foolish not to get involved with online marketing.
Search engine marketing is one area of advertising that companies are becoming more involved with. As the name suggests, this side of digital marketing focuses on driving a business' site to the top of the search results around relevant target phrases — from corporate keywords like 'event signage' to more fashion-focused targets like 'dresses'. As a result, this can increase brand exposure and site traffic while improving sales figures.
Social media marketing is another area of business activity that wasn't popular a few years back. From paid adverts to viral campaigns, the digital world has opened up many doors for small and medium companies in particular — exposing themselves to an audience that may not have known they existed and in turn, generating mass interest.
The digital world has made room for businesses to begin analysing their audience, allowing them to gain a greater insight to their general behaviour and spending patterns. From tracking analytics, whether this is across social media platforms or the main website, marketing managers are able to identify key areas of interest and create campaigns around this to drive sales.
There are many methods businesses can follow to hook an online audience and stay ahead of their competitors. Through a combination of search engine and social media marketing, many brands are beginning to run competitions and deals that are only exclusive to an online following. These low-cost campaigns will benefit from extensive reach.
Print is still a credible marketing method… fact!
Although more businesses are beginning to take their focuses online, they shouldn't neglect the power of print and the opportunities that can come off the back of it. Print very much has a place in modern advertising as it can offer a personal touch unlike no other and generally has a longer life cycle which is always beneficial for the exposure of your brand. Take printed leaflets for example, once they have been posted through the door, whoever picks them up will have to acknowledge your materials!
As well as door-to-door print advertising, business merchandise has not taken a backseat since the sprout in popularity of online promotions. Brand image has never been more important for businesses and shouldn't be ignored — as a result, more companies are making investments in personalised products that represent what they stand for. Whether this is to help them externally, with the likes of outdoor banners, or internally for your office with the likes of customised calendars.
Although printed goods can often be higher in price, they can drive exceptional ROI to your campaign and create a memorable experience for the receiver which should be a core focus for your print campaign. This can be achieved through eye-catching designs and a choice of luxury materials which will lead to a meaningful engagement.
Where print meets digital: the way forward?
Although online and offline advertising are two entirely separate entities, they can work well together, and some brands are already utilising such methods.
Take QR codes for example, more businesses are trying to audiences in the real world to their online solutions. As QR codes are unique and can entice people to be more inquisitive, they can drive immense traffic to online campaigns when printed on banners. Through this method of advertising, marketing departments can track success and gather data on users when they're interacting with the code. With the data collected from campaigns like this, businesses can record contact information (such as email addresses) if users decide they want to opt-in.
When looking closer to news publications, many of them still offer printed versions of their product — blurring the line between print and digital. With an understanding of the influence they have online, they've been able to merge two channels together and to distribute stories to a wider audience.
Near field communication is another area that should be further looked into when it comes to the relationship between online and offline platforms. Essentially, near field communication is a type of technology that has the ability to connect two smart devices — often with the help of a print medium. For example, a section of a poster can be tapped with a mobile phone which will then take the user to the ecommerce site for a specific product.
Digital giants are employing print marketing
Online hospitality marketplace, Airbnb has made huge waves in the way that we now book our holidays. Predominantly a digital business with its own website and downloadable app, the company decided to launch its own magazine for registered hosts (those who advertise their property) which is around 18,000 people. This magazine included personal stories of hosts and their accommodation, encouraging interaction with the digital business through print. Although the magazine production has been put on hold since, it's a good example of how an online business can promote its services elsewhere.
Remember those iconic Coca Cola bottles that had labels with your name on? The printed labels for the Share A Coke campaign allowed the drink manufacturer to become more personal with its customers and as a result, buyers then shared their bottles on social media which made it an integrated campaign.
As we can see, digital and print both play huge parts in the marketing of a business. But often, they can be most successful when they're brought together.
Successful businesses drive change, but the larger you get and the longer you have been around, the harder that becomes. Reaching its 35th birthday, expanding architectural practice Maber found a surprising solution – start again.
Too often, established traditional businesses see workers confined to delivering management's instructions. By contrast, a start-up conjures up images of energy, investment, shared vision and democracy. That's the feeling maber set out to recapture.
On the face of it, Maber doesn't need to change. With five offices in the Midlands and London, the practice employs a growing workforce of 80 people and occupies a solid place in the AJ100 list of the country's biggest architecture practices.
Yet the firm saw that it needed to evolve to get to the next level. That led to a management restructure in 2018, as Ian Harris was appointed Managing Director, leaving Mark Hobson to take on a strategic role as CEO. Change at the top was accompanied by a determination to invigorate the business. That manifested itself as an idea to challenge its 35-year-old ways of working by instilling a start-up culture. It is a decision that is not only changing the way that people work but also their physical environment, with new agile working premises replacing one of the practice's traditional office locations in January 2019.
Ian Harris takes up the story: "Lots of businesses want a more agile, more engaged, more productive, more profitable workplace. We asked ourselves what that would look like, and what we needed to do to get there. Like everyone else, we are chasing improvements in productivity, efficiency, quality and the experience of working with us."
He highlights Maber's strap-line 'Great to work with, great to work for' and says: "That may sound like a slogan but it is something we actually use to make decisions and measure ourselves against. The idea is to work in ways that improve our credibility with our clients and improve our relationships with each other, and the choice of the word 'great' is a commitment that we want to be the best at it."
Maber's journey covers eight areas of improvement.
Agile Working Environment
Taking on a historic, quirky, former shopping arcade in Leicester city centre to replace its traditional offices in the professional district means not only more space but also an opportunity to think differently about the way people work.
Ian Harris explains: "We are a knowledge-based business, so it makes sense to treat our talent carefully. That means creating a workplace where people can take responsibility for their work and be well supported to tackle challenging projects."
The new office is not just a one-off. Maber is using it as a cultural experiment. It will see a mix of spaces, with some formal areas and a wide range of informal areas, from stand-up meeting tables to a 3D printing area and a 'family' kitchen.
"We are moving away from allocated desks to a richer variety of spaces and working environments," says Ian Harris. "The emphasis is on individuals and teams selecting the spaces that suit the task they are working on at any particular time."
Democracy in Innovation
Everyone at Maber is part of at least one of the practice's 14 working groups that review ideas in key areas of the business including design quality, virtual reality and visualisation, BIM (Building Information Management) and sustainability.
Each group reports to Maber's associates and directors' forum with a summary of recommendations. Ian Harris calls it "the open and transparent engine room of the business". As well as being democratic, the working groups give people the opportunity to get involved with subjects outside their normal working remit, accelerating the chance of new ideas breaking through.
Supporting People
Giving administrative work to architects makes no sense, says Ian Harris. Over the past two years, Maber has brought a dedicated admin team into its Leicester and Derby offices. The impact has been so good that it is now being replicated in the practice's HQ in Nottingham, the city where Maber was founded 35 years ago.
Ian Harris explains: "Our admin people take a bunch of tasks off the architects' desks and do it better." Maber also employs office administrators to look after the practice's buildings and the people within them.
Keeping it Together
Now that Maber has achieved a certain size as well as being distributed across several offices, it has to work to keep everyone connected. Slack is really useful, according to Ian Harris, and it is starting to connect not just Maber staff but its consultants and clients as well. Maber is using Trello for visual and collaborative project planning and management. The practice now has two dedicated IT professionals who have brought forward plans focused around collaborative working. Change is the new norm in the practice's IT, as demonstrated by a recent move of its entire mail system to the cloud with barely a murmur.
"We have put a lot of thought into building communications systems that are a pleasure to use and are as open as possible," says Ian Harris. "Agile working is now a technical reality, allowing us to work together on anything wherever we are."
To ensure that the practice's priorities are distributed across all of its locations, each of the five Maber offices has a champion in each of its key areas, including BIM, eco and interior design.
Harnessing Technology
Maber is harnessing technology to drive change. It has implemented new finance and time-tracking systems, for example. Moving to the cloud is giving its people the opportunity to work from anywhere, and the practice is now discussing how to manage providing opportunities for working from home.
Driving Creativity
Creativity is a watchword at Maber, as Ian Harris articulates: "We want a workplace where people are motivated to get engaged and expected to bring their best to work every day. We want great ideas and we want people to try things out, to learn and to try again. We want creativity, conscientiousness, collaboration and community. We want high-performing people to influence and inspire their colleagues to do even better."
To drive 'creative conversations', everyone in the practice gets two days of time and £200 every year to do something creative away from their desk. People have used their creativity budget to make stained glass, arrange flowers, write poetry, 3D print, build in VR, learn blacksmithing, visit great buildings, attend festivals and carve stone among many other things.
"By sharing their experiences with the team, we hope to drive up the quality of creative discourse and ultimately our architecture," says Ian Harris.
Sharing a Vision
As the business grows over time, Maber has realised it needs to consider how to communicate across the generations.
Ian Harris explains: "Our Millennials are starting to think about taking on more influential roles in the business, so consciously considering cross-generational conversations is increasingly important. Labelling individuals is actively discouraged in the practice, but we need to recognise how misunderstanding might arise because of different priorities, expectations or emphases."
It is a debate worth having, as Ian Harris points out: "To harness the best talent and build the strongest sustainable plan for growth, we need everyone to share a vision for the future."
Tools for Improvement
As well as advances in technology and a changing culture, Maber is on a journey to refine its more traditional tools for improvement. These include the practice's design review process, appraisals and performance management, training and knowledge sharing. It is using workshops and online platforms, and working with internal and external providers, to do that.
Ultimately, the most valuable advantage from becoming a start-up again may be the ability to see your business with fresh eyes. "We haven't previously been very self-aware," says Ian Harris, "but we are finding that having discussions about how we operate is making us challenge old habits and assumptions, which is both invigorating and exciting. Change is the new normal."
IronmongeryDirect, and sister company ElectricalDirect has completed a major expansion project, to house 1000's more new products whilst expanding its customer proposition. Part of the Manutan European Group, IronmongeryDirect and ElectricalDirect is the UK's largest supplier of ironmongery and electrical products to the trade.
A new 100,000 sq ft warehouse, which is the equivalent of two football pitches, will now house over 30,000 products for both IronmongeryDirect and its co-brand ElectricalDirect all available for next day delivery. The new facilities will also have 2,000 pallet storage locations.
Managing Director of the Manutan Traders Division, Wayne Lysaght-Mason, commented: "We took the decision to double the size of our warehouse in order to continue our 20% year on year growth, cement our market leading proposition and drive ambitious range extension. Whilst giving our sister brand ElectricalDirect a strong base for growth.
"At the same time, we have expanded our call centre, while all other departments have been moved into modern, purpose-built office space."
The new warehouse officially opened on Thursday 17th January by Xavier Guichard, Chief Executive Officer at Manutan Group and Wayne Lysaght-Mason. They were also joined by the rest of the Manutan Group Management Board, along with over 200 staff to celebrate this significant landmark.
Wayne added: "IronmongeryDirect will now benefit from an upgraded and expanded distribution centre, enabling an improved customer experience. The expansion will improve all areas of the business, providing a major boost for our revenue and profitability growth."
The expansion also allows the organisation to bring in the fulfilment of ElectricalDirect orders under one roof, enabling the service and product range to be greatly improved.
Wayne concluded: "Our customers can expect to receive the same great service, ordering up to 8.00pm 7 days a week for next day delivery, but with the addition of a number of new and exciting products which will further complement our already market leading range".
In 2019 IronmongeryDirect is also celebrating its 50th year supplying architectural ironmongery to tradespeople. Starting out as a traditional ironmongers, today customers can browse over 17,500 products in the catalogue and online.
With the UK's biggest range of quality products in stock for next day delivery as standard, an award-winning service and low trade prices, IronmongeryDirect is proud to be the masters of their trade.
Orders can be placed as late as 8pm for next day delivery from Sunday through to Friday and by 4pm on Saturdays. Free, no quibble returns are available on all products.
For more information, visit IronmongeryDirect.com or call their team of specialist advisors on 0800 168 28 28.
Construction buyers have reported a slow start to the new year with business growth slowing to its lowest level for ten months in January.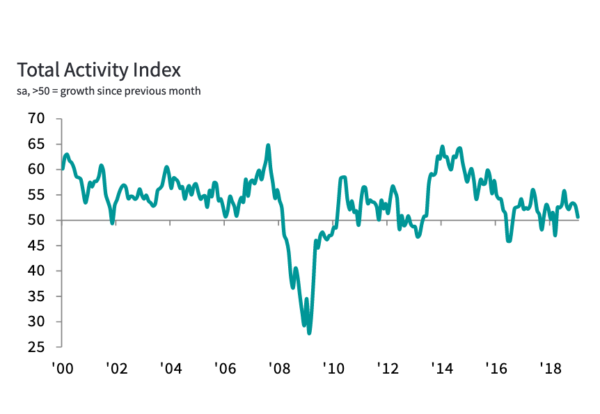 The latest IHS Markit/CIPS UK Construction Total Activity Index dropped to 50.6 in January, from 52.8 in December.
Residential work was the strongest performing area, although the latest expansion was only modest and the slowest seen since March 2018.
Civil engineering activity increased marginally, with the rate of growth much softer than December's 19-month high.
Commercial work was the weakest performing area of construction output in January as data indicated a decline in work on commercial construction projects for the first time in ten months.
Anecdotal evidence suggested that Brexit-related anxiety and associated concerns about the domestic economic outlook continued to weigh on client demand.
Construction firms still remain positive about the outlook for this year with 41% expecting a rise in output while only 16% forecast a fall.
Large-scale civil engineering projects were cited as a key source of optimism, while and Brexit uncertainty was the most commonly cited concern.
Tim Moore, Economics Associate Director at IHS Markit, which compiles the survey said: "UK construction growth shifted down a gear at the start of 2019, with weaker conditions signalled across all three main categories of activity.
"Commercial work declined for the first time in ten months as concerns about the domestic economic outlook continued to hold back activity.
"The latest survey also revealed a loss of momentum for house building and civil engineering, although these areas of the construction sector at least remained on a modest growth path.
"Staff recruitment slowed to a crawl in January, with construction firms reporting the softest rate of job creation since July 2016.
"Delays to client decision-making on new projects in response to Brexit uncertainty was cited as a key source of anxiety at the start of 2019.
"Difficulties converting opportunities to sales were reflected in a slowdown in total new business growth to its lowest since last May.
"Business expectations for the year ahead slipped to a three-month low and remained subdued in comparison to historic trends in January.
"Positive sentiment towards the outlook for civil engineering work remains a key factor helping to support business sentiment across the construction sector, according to survey respondents."
3 Essential Considerations For A Seamless En-Suite Renovation
P
En-suite bathrooms have become a popular renovation choice for homeowners across the nation – adding grandeur, convenience and value to homes in one fell swoop, it's not hard to see why.
However, there are a number of complexities associated with this type of renovation that need careful consideration before building work begins – ensuring your en-suite bathroom project runs smoothly. In today's post, we'll be delving into the nuances of en-suite design, covering the essential elements that are key to delivering a stylish, functional and seamless bed and bathroom combination.
Measure, measure and measure again
The key to any successful home improvement project is to have accurate measurements of all areas that will be impacted by the design. When it comes to a winning bedroom and bathroom, it's vital to account for space usage in both rooms – particularly if you're utilising existing bedroom floor space to accommodate the bathroom.
First and foremost, it's important to understand the exact dimensions you're working with overall, drawing up scaled floor plans that will allow you to envisage the layout. From there you can factor in how much space you will need to accommodate integral design features, including stud walls with room for hidden pipework and cables, bathroom suites, walkways and doorways. These key features should all be accurately accounted for in your initial planning stages, so you can be confident in your plans and avoid any unnecessary surprises.
If you are facing space limitations, one way to combat this is to embrace compact solutions into your design, meaning you don't have to compromise on luxury and a stylish finish. Think sumptuous ottoman-style beds with hidden storage, space-saving corner sinks and toilets or wall-hung cupboards to save on floor space. There are a myriad of space-friendly options available, but always be sure to measure items before making the purchase.


Be aware of structural challenges
Adding a bathroom inevitably comes with a number of structural implications for your property – so it pays to have a handle on these early on in the project.
Certainly with any bathroom there will be an element of plumbing work required to ensure a sound water supply, as well as effective waste-water removal. As the backbone of a successful bathroom renovation, it's always recommended to employ a reputable plumber to carry out this work – particularly if you're adding to an upper level as there may be additional measures needed to account for drainage and weight.
Many en-suite projects also involve knocking through walls, so we'd always recommend getting professional advice before you start, to ensure your plans don't impact on the integrity of your home. If your design does incorporate removing weight-bearing walls, suitable measure must be taken to replace them.
Keep an eye on fashion and function
With any home improvement project, there are likely to be compromises made – this could be opting for a less expensive suite or a more compact design. Without the right consideration, these compromises can affect the overall aesthetic and practicality of the space, which is why it's important to keep them at the fore throughout the renovation.
Not least, keeping an eye on the end results is a great motivator in the midst of a busy build, but also it will ensure that any necessary compromises made are well-thought out and have minimal impact on the finished design.
Firstly, make use of floor plans, using them to experiment with different layouts, sizes of furniture and styles to find the perfect solution. Secondly, have a clear idea of what your key design elements are – that is, what you can and can't live without – and stick to them. With a firm vision and fully informed decisions made at every turn, you can have complete confidence that your en-suite bathroom will deliver on both style and functionality once completed.
Planning and executing an en-suite bathroom project definitely does come with its challenges, but we hope after reading this article you'll feel fully prepared to create a seamless bedroom-bathroom combination that brings a touch of style and luxury to your home.
Author bio:
Shuayb Patel works at OWO Living, specialists in stylish home furniture and beds.
As a member of the British Drilling Association (BDA) Aarsleff Ground Engineering has now been involved in some major drilling & grouting shallow mine working schemes and with more on the horizon, the company decided to take learning outside of the 'classroom' and visit an authentic Yorkshire coal mine. The company's Estimators and Engineers visited West Yorkshire's National Coal Mining Museum to experience at first hand the geology of a mine via a drift walk and an underground tour.
The area is one of the few locations in the UK where the public can participate in underground tours of a coal mine that are led by former miner and tour guide Stephen Oxley, who began work as a miner in 1978 until they closed in 2004. Caphouse Colliery is situated on the north side of the A642, mid-way between Huddersfield and Wakefield. Coal production at Caphouse ceased in 1985 when the mine closed in association with downscaling of the mining industry in the UK. In 1988, the site was re-opened as the Yorkshire Mining Museum with technical support and assistance from the British Coal Corporation. The area has a history of coal extraction dating back over 500 years.
First, the team walked along the inclined cross-measures ventilation drift, which acts as a second egress, and provides a unique educational resource for the study of Coal Measures rocks. The Ventilation drift consists of two legs, 250m in length with an abrupt change of direction between the two legs. Several coal seams, in particular the Flockton Thick, Flockton Thin, Old Hards, Green Lane and New Hards coals, are traversed. The ventilation drift is supported by steel arches with timbering or metal sheets between each arch. Consequently, exposure along the drift is not continuous and is mainly accessible via a series of refuge holes, originally created to provide a safe space for miners to avoid passing coal tubs. The inclined ventilation drift enables access to about 100m of this stratigraphical interval, which includes economic coal seams and associated inter-seam strata as well as recent mineral precipitates including calcium and manganese carbonates, manganese oxides and iron oxyhydroxides.
Following on, the team then descended 140m to view former workings and exhibits in the New Hards Seam Workings.
Aarsleff Ground Engineering's estimator Chris Purvis said:
"The trip to the NCM was a fascinating opportunity to learn first-hand about the aspects of early and modern coal mining extraction methods such as pillar and stall and longwall, the machinery that was used to cut, transport and support the roof, the dangers of mine gas and also most importantly what geological structures, minerals and rock properties would help miners understand where workable seams could be found. As an estimator who prices drilling and grouting projects around the UK this trip was beneficial because it developed my understanding of how coal is mined throughout the 18th, 19th and 20th century, and to help provide clues as to what areas are most likely to have increased risk of subsidence for any modern-day developer." For more information about Aarsleff Ground Engineering, Abandoned Mine Consolidation or its Drilling and Grouting solutions, contact the company on 01636 611140 or email info@aarsleff.co.uk
A new publication focussing on collaboration in the design of innovative timber buildings is to be launched at Futurebuild this March.
'Timber Design Pioneers' is published by TRADA (Timber Research and Development Association) and supported by the timber industry's campaign, Wood for Good. The launch will take place on Wood for Good's stand at G50 on 6 March at 4.15pm and is a one-off opportunity to get a copy of the publication in print, while stocks last.
Pulling together the most successful partnerships in timber design, the publication shares the lessons learned and obstacles overcome by multidisciplinary teams which produced buildings including the award-winning Cowan Court by 6a Architects, the BREEAM excellent-rated Dyson Centre for Neonatal Care and the award-winning Vortex at Bloomberg's new headquarters.
These particular projects will be the focus of three seminars at Futurebuild offering delegates the opportunity to hear each building's journey from design to completion from the architects, structural engineers, project managers and technical directors.
Each case study explores different approaches to problem-solving and how effective collaboration led to innovative designs for timber buildings. 'Timber Design Pioneers' covers key themes such as wellbeing, sustainability, interiors, process, and complex briefs.
TRADA's Membership and Marketing Manager, Rupert Scott, says:
'TRADA is honoured to collaborate with Wood for Good in producing such an indispensable publication. We hope it inspires others to work together in partnership across disciplines, so that as an industry we can continue improving the quality of our timber buildings.'
Christiane Lellig, Wood for Good's Campaign Director, shares:
'This project is as much about inspiring new pioneers in timber design as it is about celebrating innovation and driving change in the way projects are approached and delivered; a kaleidoscope of solutions mirroring the different perspectives in multi-disciplinary teams.'
The timber design pioneers case studies will be available for free download following the launch at Futurebuild. For more information, visit trada.co.uk.
WoodFest comes to Sheffield in February with a focus on health and wellbeing, low carbon, circular economy, building performance, offsite construction and modular design.
The month-long event will feature wood in design and construction throughout Sheffield and Yorkshire. The programme includes an exciting line-up of events, seminars, exhibitions and challenges celebrating the versatility and sustainability of building with wood, organised by the UK timber industry's campaign, Wood for Good.
Christiane Lellig, Wood for Good campaign director, said:
"WoodFest Sheffield promises to offer a fantastic opportunity to bring all those involved with the built environment to explore what can be achieved when we work together."
"Each event is a chance to learn and share about the use of timber in architecture, particularly around health and wellbeing and offsite construction. It provides a platform to discover what's happening in the region and to be inspired by timber design."
WoodFest kicks off on 7 February with Small Project / Big Challenge, an evening seminar with sustainability-focused Sheffield architects Paul Testa Architecture and Jon Carr Structural Design along with Sheffield University. They will discuss design and structural challenges with examples including the multi-award-winning Hen House.
On 8 and 9 February TRADA will run its annual student challenge at Sheffield University for students of engineering, architecture, architectural technology, quantity surveying and landscape architecture. Judged by high profile engineers, architects and quantity surveyors, multi-disciplinary teams will compete in an intense 48-hour challenge to design an exemplary student accommodation predominantly from timber.
On 21 February, Sheffield-based consultancy, Ollio, and experts from the Kollider projects will host a healthy building evening seminar along with a networking and drinks reception.
A tour of timber door, window and stair manufacturer JELD-WEN's production facilities will take place at 10am on 28 February. This will offer the chance to see first-hand how timber doors are made in the company's Sheffield factory, from the timber arriving on-site through to the finished product leaving for distribution. The tour will include a presentation followed by a drinks reception for all attendees.
Managing forests in a sustainable way is vital to protect these important ecosystems, reduce the impact of climate change and to preserve plant and animal species for the future. On 28 February, the PEFC (the Programme for the Endorsement of Forest Certification) will deliver a lunchtime CPD to explain how to procure sustainable timber and timber from sustainably managed forests.
Further events include window-specialist Bereco hosting a CPD session on noise and health in the build environment at their Sheffield showroom. There will be a behind-the-scenes tour with Sheffield timber merchant Arnold Laver including a networking lunch, followed by an afternoon CPD. Visitors will have the opportunity to see their production facilities including roof truss manufacturing and its treatment plant.
Striking examples of great architecture and design, such as the Hunt House – featured in The Modern Timber House in the UK book, will offer visits focussed on sustainability and wellbeing within the Sheffield region. This will be followed by an exhibition and further evening event on offsite construction and modular design at The Arts Tower.
Keep checking the WoodFest Sheffield web page to book your place, find out more details, confirm dates and see further added events.
Partners include: Arnold Laver; Bereco; Constructing Excellence Yorkshire & Humber; Halliday Clark Architects; IstructE; JELD-WEN; Paul Testa Architecture; PEFC UK; Sheffield University and TRADA.
Book your place for any of the WoodFest Sheffield events here.
High rise buildings are increasingly common because of the demand for high-density development. They allow people to live and work in close proximity to amenities. However, there are extra considerations to make when designing a high rise building that one doesn't have to deal with when designing suburban homes and two-story office buildings. Here are a few of them.
The Importance of Safety during Construction
Construction is a dangerous enough job as is. High rise construction is even more dangerous. Falling from the roof of a two-story home will result in broken bones. Falling from the 20th floor without adequate fall protection is lethal. Risk management is one way to identify and mitigate these risks. Safety training before people begin work is another option, though it shouldn't be the only one.
Some risks only exist at certain stages of the project. For example, you don't have to worry about crane collapses during preliminary activities. The damage high wind gusts can cause exist at every stage of construction, though risks will increase with height. The solution is planning for the risks that come with each stage of construction and systematically eliminating or mitigating them. Having plans in place so that you can continue work when high winds or bad weather make outside work unsafe can minimize the disruptions to your construction schedule.
The Value of Policies that Improve Everyone's Safety
If safety training for everyone before the start of the project is standard practice, you will minimize the risk of someone getting hurt because they don't know better. Encouraging open lines of communication can help managers know when safety hazards need to be addressed or employees are being pushed to cut corners on safety to meet performance standards. Forbid smoking on the premises to minimize the risk of fires and explosions and make monitoring of this part of the regular routine.
The Necessity of Planning for Emergencies
When the power goes out, infrastructure like lights in common areas and elevators go out. This poses a risk to the safety of people inside high rises. That explains why many building codes make emergency generators compulsory for both new buildings and old buildings.
Backup power must at a minimum supply power to emergency lights and exit signs, and the backup power should be separate from an on-site generator you may keep running. Work with electrical engineers to install backup systems that meet the local building code, and consider backups of the backups. If you can keep elevators running or provide near-normal power levels while everyone else has gone dark, the building occupants will appreciate it.
The Long-Term Impact of Design Choices
Fall protection methods used during construction include netting, standpipes, and sidewalk sheds. However, buildings should be designed with the safety of occupants and maintenance staff. Don't ask someone to climb around on the outside of the building without adequate fall protection to fix air conditioners or clean gutters. Install railing, barricades, and other safety features where a fall could occur, and make it durable to last for years.
Conclusion
High-rise buildings have many benefits. However, they bring with them significant risks we can only mitigate with detailed planning and constant vigilance.