Spurs chairman Daniel Levy said he is not confident about the ability of Mace and its contractors to deliver the delayed stadium to a revised timetable.
His comments came as the club confirmed it would be shifting the Man City fixture to Wembley on October 29 plus all Champions League group stage games up to Inter Milan on November 28.
The new ground was due to open on September 15 but that was postponed due "issues with the critical safety systems."
Spurs have been in constant contact with Mace and its team as the club tries to agree a firm revised opening date.
Levy said: "We are now being regularly updated on progress and as soon as we have confidence in our project managers' and contractors' ability to deliver against the revised schedule of works, we shall be able to issue dates for test events and the official opening game.
"We are all focused on ensuring contractors deliver our new stadium in the shortest possible period of time and opening our stadium at the earliest opportunity.
"We are facing many issues, but although disappointing, costly and frustrating, I am uncompromising in my determination to deliver something extraordinary to our fans."
Preston contractor Warden Construction has been appointed by the Bowker Motor Group to build a new 43,000 sq ft Porsche Centre in the city.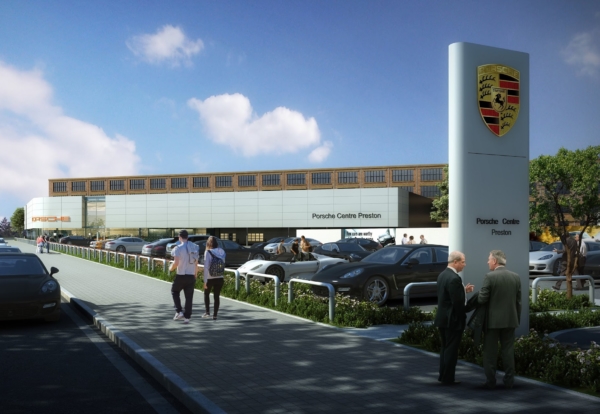 Demolition on the Watery Lane site is now complete and Warden will now start work on the new Porsche Centre which is due to open in Spring 2019.
Bowker Motor Group chief executive, Paul Bowker, said: "Congratulations to Warden Construction. We are looking forward to working with them as the Porsche Centre Preston takes shape.
"Wherever possible, we prefer to work with Lancashire companies. Bowker Motor Group's strategy to work with the world's most prestigious automotive brands unlocks exciting opportunities for other local businesses too.
"That's why we spoke to a selection highly-regarded Lancashire construction companies before we appointed Warden.
"Warden faced some stiff competition to win the business. But there was a good fit with our respective project teams: not least with their experience; and, their passion to deliver a remarkable new building on a landmark site for Preston."
Warden managing director Richard Kenworthy said: "Everyone at Warden is delighted to be working with Bowker Motor Group on such a prestigious retail development.
"It's an area of Preston that many of us have driven past all our lives. That's why we are proud to be part of a construction project which will transform the area."
The designs for the new Porsche Centre Preston were prepared by Preston-based architects Cassidy and Ashton.
The building design features a 35-car showroom and a 13-bay workshop.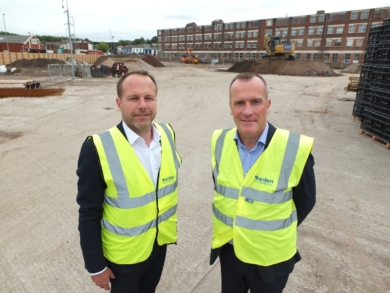 Richard Kenworthy managing director Warden Construction Ltd and Tom Fox director Bowker Motor Group
Offsite construction specialist McAvoy Group is aiming to make a mark in housing with a new seven-day foundations-to-finish modular system for all tenures.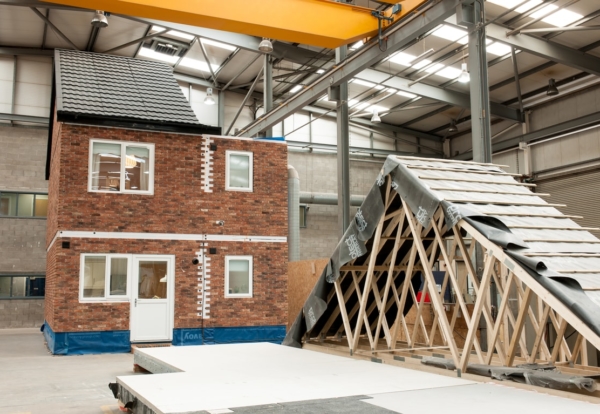 In collaboration with Queen's University Belfast, McAvoy has developed a steel-framed offsite housing solution for multi-storey apartments, detached, semi-detached and terraced family homes.
It claims an entire house can be assembled in a single day – with a total programme of foundations to occupation in just seven days.
The McAvoy approach to housing will slash programme times in half compared to site-based construction.
This will allow earlier occupation for public sector housing providers and generate a faster return on investment for private developers. It will use proven factory processes to deliver greater certainty of completion on time, on budget and to higher quality standards.
Eugene Lynch, managing director of The McAvoy Group, said: "We have ambitious plans for growth in the residential sector and have capacity already in place to meet demand using our highly skilled labour and flexible production facilities.
"We are also advancing plans to further expand capacity to meet the anticipated growth in demand.
New McAvoy offsite housing system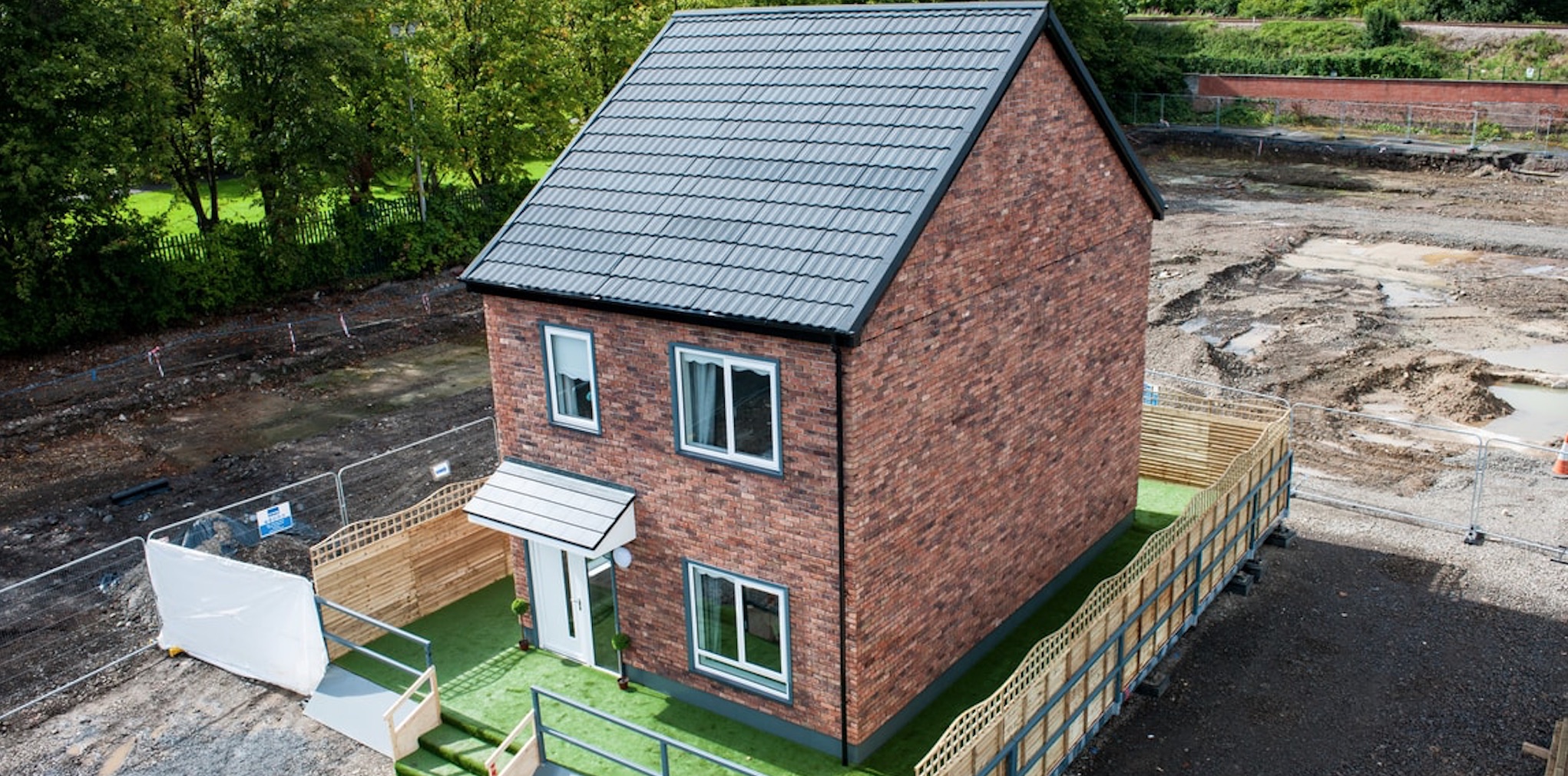 An innovative floor construction created using highly sustainable recycled material – an alternative to energy-intensive concrete – and offering excellent thermal performance and acoustic properties
A highly flexible building system with a wide range of façade treatments, roof options and module configurations
A roof module pre-tiled in the factory, which is safer, faster and avoids work at height and in poor weather conditions
Bespoke housing designs can be developed and there is a library of standardised layouts to reduce design time for planning and cost
BOPAS accreditation for reduced risk, and the assurance of durability for a 60-year design life to ensure mortgageability.
"We have a proven track record, strong project management expertise and highly transferable skills in the successful delivery of offsite solutions across a range of other sectors.
"These factors combined with our financial stability and pioneering work in digital construction technology, mean we are well placed to become a significant player in the provision of high-quality family housing manufactured offsite."
Galliford Try has is starting work on a new £29.3m contract to build a teaching and research centre at Leeds Beckett University's Headingley campus.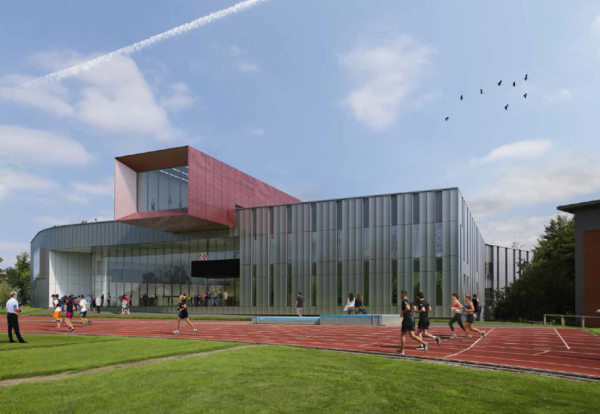 Work will see the creation of a new home for the Carnegie School of Sport.
It will include research laboratories, an indoor rooftop sprint track for performance training and analysis and a roof walking track and terrace.
Cliff Wheatley, Managing Director for Galliford Try North East and Yorkshire, said: "We are delighted to be working with Leeds Beckett on such a prestigious project.
"We have a proven track record in providing high-quality buildings for higher education and we look forward to working with the University to ensure that their students and staff have the world-class sports science facilities they demand."
Professor Peter Slee, Vice-chancellor of Leeds Beckett University, said: "This £45m world-class facility will underline our global reputation for delivering high-impact sports teaching and research.
"It is part of a wider £200m programme of investment across our campuses which will further increase the positive contribution we make to our city region and beyond."
Construction is due for completion in Autumn 2019.
Barratt Developments has launched a safety review after accident rates on its sites increased.
It said: "Increased activity levels across the industry in terms of site openings and production volumes combined with shortages of skilled workers has contributed to an increased risk of accidents on sites.
"We remain fully committed to the highest standards of health and safety on our sites.
"In the year, our reportable injury incidence rate has increased with 462 (2017: 379) reportable incidents per 100,000 employees.
"We have already undertaken a review into factors that have contributed to this increase and will be working with our management teams to drive improvements in the prevention of injuries."
Barratt has also set a target of increasing construction levels by up to 5% in the medium turn to boost completions to 20,000 a year.
That will be step change on the current output of 17,579 units which only increased by 1.1% on last year.
The figures were contained in latest results from Britain's biggest house builder which posted a pre-tax profit up 9.2% to £835.5m on turnover up 4.8% to £4,874m for the year to June 30 2018 as gross margins hit 20.7%.
Barratt said: "We have a robust and carefully managed supply chain with around 90% of the housebuild materials sourced by our centralised procurement function manufactured or assembled in the UK.
"On labour, we continue to see some pressure on skilled labour supply with shortages remaining location and trade specific.
"We are also improving construction efficiency and reducing demand on labour through implementing the new housetype ranges, which are easier to build, and through the use of alternative build options such as Timber Frames, Large Format Block and Light Gauge Steel Frames.
"We continue to expect that overall build cost inflation for FY19 will be c. 3-4%."
An Acivico architect has been at the heart of the NEC's £4.5million transformation by supplying concept designs for the stunning and technically innovative pyramid formations which will completely change the look and feel of Birmingham's iconic premier international conference and leisure venue.
Using the latest design software, Principal Architect Alan McBeth developed three gigantic custom designed trapezoidal shapes, each the size of a three-story house. When connected, these form a 3D wall of 37 units, reinventing and giving life to the flat facades on five of the halls, originally constructed in 1976.
Using state-of-the-art membrane technology and a healthy dose of imagination, the vision was for the facade to be covered with stretched membranes combined with colourful vector graphics panels, positioned between the 3D trapezoidal shapes.
The final colour changing boulder pattern was designed and supplied by international PR and advertising firm McCann whose programmable LED animated backlighting has created a dynamic and engaging environment for the 7 million annual visitors to the campus… but it's at night that guests can really see the complex come to life.  Acivico has used graphic visualisation technology to share the display.
You can take a fly through the pyramids here;  
https://www.youtube.com/watch?v=e6VCWvkANlQ
Alan McBeth has been delighted with the results of this unique and original approach to facade design on such a high-profile landmark project. Alan said;
"The design required the use of the latest in tensile fabric innovation from within the UK and we found the print graphics specialist in Holland – the only company in the world who could print the polyester fabric which covers the trapezoids to the correct lifespan requirement.
"The magnitude of this work has to be seen to be appreciated, but it is very scaleable and there is no doubt this type of design treatment can be applied to give an economical facelift to other aging buildings, large or small, in need of some TLC."
Martin Clarke, NEC Marketing Director says; "We are delighted with the outcome of these concept designs by Acivico. The team understood the brief perfectly and came up with a unique concept using innovative technology which they brought to life using superb 3D visuals. The finished results are stunning"
The NEC's 'project facelift' will be officially revealed with the launch of the Bear Grylls adventure world in October 2018.
Technical facts and figures;
The building facades are very large with Hall 5 alone being 210m long x 19m high.
Considerable research was done to identify the best design solution using different types of membrane fabrics that would work well with 3D geometric backlit shapes.
The pyramids are covered in a printed polyester fabric with an ultra violet acrylic protection layer with at least a 10 year no fade lifespan. This process was carried out by a specialist in Holland – the only company in the world with the expertise to complete the project.
The challenge was to design something that looks as good at night as during the day as many of the events around the NEC occur during the evening.
Statistics – NEC  
The revamp includes installations on 37 trapezoidal 5m wide translucent shapes, each the size of a three-storey house.
Each trapezoid has three powerful led floodlights that are programmable to produce any colour, including a sonic interface.
The installation also includes 62 x 5m wide graphic panels – each 10m high
The projects also included the installation of 12277 m² specially designed metal cladding (known as zebra cladding) – almost 3 football pitches worth
Project Value –   £4.5m by negotiated tendering.
As summer sees Britain breaking record after record for solar power generation, new research, compiled by Green Business Watch, ranks the UK's solar performance on a county-by-county basis for the first time.
With the growing public demand for sustainable builds, the UK Solar Power County Rankings provide an unprecedented amount of information about UK Solar energy in one place, allowing property owners see the real benefits of solar in their area.
As the potential savings and income from solar PV installations vary across the country, residents and businesses can for the first time use the map to identify the potential savings and income they could achieve by investing in solar PV.
UK Solar Power County Rankings 2018
Not surprisingly, the rankings show Southern counties leading the way but they also highlight a number of areas that are not making the most out of their solar resource.
Some Key Findings:
Solar irradiation across the South of England is uniformly strong but counties such as East Sussex, West Sussex and Surrey seem to be missing out, and have installed less solar capacity than might have been expected.
Wiltshire, which ranks number one for installed capacity is neither the sunniest nor the largest of Britain's counties. Despite being outside the top 10 for solar irradiation, large volumes of commercial solar see Wiltshire top the rankings and hint at opportunities that some other counties are perhaps missing out on.
Estimates of domestic income / savings varied from £413 in Shetland to £655 in the Isle of Wight but excluding the extremes of the Islands, differences in solar irradiation and potential earnings are probably smaller than imagined. As an example, sample locations in Angus (Scotland) had a predicted income/savings figure of £538 per year. This was less than southern English counties such as Bedfordshire (£561 per year) but the gap is only £23 per year.
Norfolk, Lincolnshire and Nottinghamshire are all surprise finds in the top 10 and Northern English counties such as Yorkshire and Greater Manchester make surprise showings in the top 10 for domestic capacity.
Overall, the UK Solar Power County Rankings paint a picture of solar uptake in the UK that is much more patchy than the opportunity, with some counties outperforming their solar potential while others aren't yet taking advantage of the available resource.
The timber industry is invited to take on the health and wellbeing agenda this autumn at the Wood for Good Marketing Summit.
Aimed at timber marketing and communications professionals, the event 'Marketing Timber for the Health and Wellbeing Agenda' will take place on Thursday 20 September at Headspace in Farringdon, London.
Health and wellbeing, indoor air quality and the use of healthy building materials are becoming increasingly important in construction and the marketing summit will assess the market potential, demand and drivers for healthy building products. The event will cover innovative approaches and best practice in marketing for the health and wellbeing agenda.
An interview style panel debate with speakers including Harry Knibb, principal consultant and healthy buildings expert at WSP, and Olga Turner, director and co-founder of Ekkist. This will be followed by an open audience discussion allowing for speakers and delegates to establish requirements for healthy building products and how to meet them.
Christiane Lellig, Wood for Good campaign manager, said:
"We've had discussions with organisations such as the Construction Products Association, Savills and Legal and General and they've all shared that there is currently no particular focus or research on health and wellbeing trends in residential buildings.
"To date the focus has been on office buildings with the intention to increase employee retention and performance, but we want to know what the key challenges are for timber marketing and communications professionals catering for the wider health and wellbeing agenda.
"For example, how does everyone describe a healthy building material? This is an opportunity for us to come together and unite in our messaging and gain a better understanding of healthy building standards and material databases, so we can communicate this effectively and accurately."
The marketing summit, taking place the day before the Timber Trade Journal Awards, is an essential opportunity for anyone responsible for communicating about timber products and allows for networking with like-minded professionals.
The final session on the day will be exclusively for Wood for Good supporters to discuss the main focus for 2019, receive a brief update on 2018 performance, and learn about the new funding strategy.
Tickets are free to Wood for Good supporters and a 25% discount is available for British Woodworking Federation and Timber Trade Federation members.
Numbers are limited so register for tickets now: https://www.eventbrite.co.uk/e/wood-for-good-marketing-summit-autumn-2018-tickets-48237635065
Subscribe for the latest e-news on timber in design and construction here: www.woodforgood.com/info/sign-up
Measured Buildings Surveys throughout the UK
Mobile CAD Surveying Solutions Ltd  can accommodate either a simple single property floor plan for a domestic or
private customer to a complete schedule of buildings including whatever type of data collection the customer requires for commercial customers. If Architects or Surveyors and you require fast turn around building surveys, please give us a try! we currently work for dozens of architects, surveyors and designers around the UK and into mainland Europe, recently carrying out projects in France, Switzerland and the Channel Islands, or where they haven't the capacity or staff to handle their own surveys or where they just require someone to make sure the job is done right, first time, Mobile CAD Surveying Solutions can help you.
Currently we are working on many Commercial surveys around the country and also a number of larger dimensional surveys and many domestic measured building surveys in the UK, if you require any type of Measured Building Survey then please contact us.
We can provide Floor plans,  Elevational drawings, or a Topographical survey also Underground Utility Traces and all types of Measured Building Survey with varying levels of detailed work – from simple walls, columns, doors and window surveys, to a fully detailed data set including all 3D information including cill & head heights, stair riser and going details, door heights, ceiling heights, beam details, fitted furniture etc.. As part of our measured surveys, the surveyors can also pick up and highlight other information for example: any electrical and data points, sanitary fittings, incoming mains positions, plant, fire fighting and detection equipment, security equipment, signage and so on.
An accurate  topographical survey or land survey is essential to any project that you are considering and can lessen the possibility of costly mistakes or unforeseen issues later on.  The amount and type of topographical survey data that we collect on site is always based on your specification. However, our experienced land surveyors will use their knowledge of planning and development issues and requirements to provide additional information that might be vital for any future design or planning application. We are also able to gather information from any utility companies which can be added to your topographical survey drawings..
Revit models – we are currently working on a number of modelling jobs, producing 3D Revit models from our own survey data and laser scans.
360D Panoramic Photography – We can also provide a 360 degree photographic record of your project to aid with design/construction
The 'as built' documentation provided by the company is highly detail oriented, every project can be accompanied by 360 degrees photographs to provide better understanding of the plans. Photographs give clients instant visuals which help in picturing the plan in a much better fashion.
We can also provide other additional land surveying services that you may require, for example; underground services tracing ( GPR – Ground Penetrating Radar) and 3D laser scanning enable us to provide you with a one-stop-shop for your surveying requirements.
for more information, please visit:-
Aarsleff is excited to announce the delivery of its new Klemm 909-3G Drilling Rig, along with a new Putzmeister P11 concrete pump, and a new CX 4/10 Colloidal Mixer. The addition of the equipment will further enhance Aarsleff's ground engineering capability within the UK allowing it to seize opportunities and deliver a high standard performance for its clients across the country.
Vital to the performance of Aarsleff Ground Engineering and its comprehensive ground package offering, is its fleet of geotechnical and piling rigs.  Aarsleff's Operations Director Jody Parkin says, "We are always looking at how we can renew and update our plant and have a good track record for trialling different machines, for successfully reducing the overall age of our fleet and for making the most of inter-company transfers".
The 909-3G is one of Klemm's flagship multi-purpose drilling rigs, featuring its fully remote-control operation and dual head drilling units. It is a compact and powerful drilling rig that is easily adaptable for a variety of tasks, including ground anchors, soil nails, drilling and grouting and SFA piles.
Aarsleff first became interested in purchasing a Klemm 909 rig at the Bauer Exhibition 2018 where its UK plant manager, Steve Wilkinson, was able to get a closer look. Steve commented,
"These types of drilling rigs have a wide range of capability and will certainly satisfy the boost in demand for our geotechnical services. We already utilise multiple Klemm drilling rigs in our fleet, and we are excited to now add the 909 (drilling rig) to our fleet."
Jody Parkin also attended the exhibition, adding:
"We looked at various machines at the exhibition, including the larger bored piling rigs, but felt that the Klemm 909 suited us a lot more and was considerably more dexterous in terms of capacity, capability and disciplines".
Along with the Klemm drilling rig, Aarsleff have also invested into a new concrete pump and a new concrete & grout mixer, which will be deployed alongside Aarsleff's drilling rigs for grouting, soil nailing and ground anchor projects.
For more information about Aarsleff's plant equipment, or to discuss a project that might benefit from these rigs specialist capabilities, please contact Aarsleff on 01636 611140 or email info@aarsleff.co.uk