September 11th, 2014
Comments off
Nine contractors have secured places on 20 framework agreements with Network Rail worth £1.6bn over the next five years.
The deals cover an extensive programme of enhancements and renewals to the London North Western and East Midlands routes.
The winners are: Amalgamated Construction Limited, Amey, Buckingham Group Contracting, Carillion, J Murphy & Sons, Miller Construction, Skanska, Story Contracting and VolkerRail.
Network Rail's infrastructure projects director, Rob Offord, said: "The awarding of these frameworks represents a significant milestone in the implementation of our new procurement and contracting strategy.
"This will bring improved safety, whole-life cost efficiency and delivery performance through collaborative relationships with a consolidated and strategically aligned supply chain."
The awards by regions are: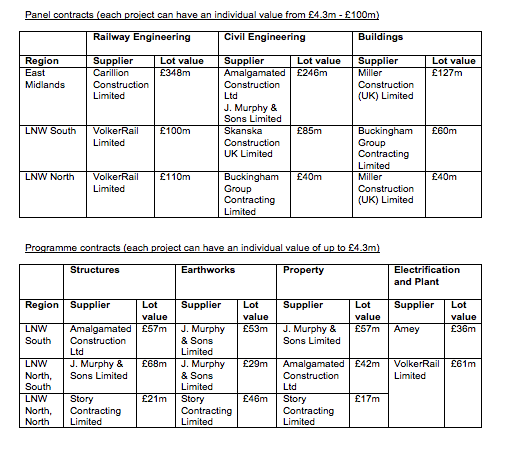 Link To This Page
1.
Click inside the codebox
2.
Right-Click then Copy
3.
Paste the HTML code into your webpage