Design contest for new Thames bridge at Nine Elms
Wandsworth Council in London has launched an international competition for architects and engineers to design a new central pedestrian bridge over the Thames.
The planed new river crossing would link the Nine Elms development district with Pimlico embankment to the north.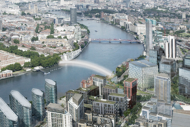 It forms part of a £1bn infrastructure package transforming the Nine Elms regeneration area including two new Northern Line tube stops, improvements to rail stations and two riverbus piers.
The plan for the design competition comes after a TfL feasibility study confirmed the bridge could cost around £40m and carry around 9,000 walkers and 9,000 cyclists a day.
Around four teams will be selected to develop design ideas.
Up to £26m is already committed to the project through the development of Nine Elms. The winning design will be used to attract extra funding or sponsorship.
Transport for London studies show the bridge has a strong transport case and would provide walkers and cyclists with an attractive car-free alternative to Chelsea or Vauxhall Bridges.
Once the winning design is selected, it would need to go through the planning process before work could begin.
Ravi Govindia, leader of Wandsworth Council and co-chair of the Nine Elms Vauxhall Partnership, said: "This is a competition to find a team of brilliant engineers and architects to design a beautiful bridge spanning the Thames.
"This bridge has the potential to become an inspiring landmark, heralding the changes that are taking place south of the river and making vital connections to the north shore. The transport case is very strong indeed and this will be a valuable and sustainable addition to London's transport infrastructure."
Link To This Page
1.
Click inside the codebox
2.
Right-Click then Copy
3.
Paste the HTML code into your webpage