Aarsleff Ground Engineering were awarded the contract by WW Martin Ltd to design & install 436 linear meters of sheet pile retaining wall for a new housing development off Hailsham Road in Herstmonceux, East Sussex.
Aarsleff are now on site & have taken delivery of over 100t of the 550t total requirement.
AGE main works will provide a wall with retained heights up to 6m to accommodate the existing sloping site & allow the housing development to be constructed behind.
WW Martin constructed a temporary piling platform for the AGE 80 tonne crawler crane to operate from & allows AGE to install pairs of Z piles using temporary guide frames as support until s
ufficient penetration in to the Wadhurst clay strata is achieved. A crane suspended high frequency vibro hammer is being utilised to install the Z- piles & the remaining 133 No. 7m long GU8N sheet piles will be installed with Aarsleff's own Movax SG75 & Volvo base machine.
Aarsleff will be installing almost a full range of Z profiles for this project, with section lengths ranging from 9.5m to 17m long to accommodate the site's varying retained heights from 2m to 6m.
Aarsleff Ground Engineering mobilised work on 11th June and are expected to be on site for approximately 6 / 8 weeks.
For more information about Aarsleff Ground Engineering and its driven sheet piling solutions, contact the company on 01636 611140 or email info@aarsleff.co.uk
Technology has made it possible for us to design, create, and maintain structures that were not feasible in years gone by. With the additional support of artificial intelligence, architects can make informed choices regarding the building's structure. Variables such as materials, use, and climate can all be factored in quickly by modern technology.
Together with Oasys, who offer retaining wall solutions, we take a look at some of the best examples of advanced architecture in the world.
Apple Park, Campus 2
One of the most well-known companies in the world, tech titan Apple has moved to its new offices lately. Worth a staggering $234.7bn, the company, which is now one of the biggest on the planet, was able to invest a further $5bn into a new building and move its tremendous workforce into a circular futuristic structure. The new office-space, which opened in April 2017 midway through construction, is made up of 175 acres — and is even bigger than The Pentagon.
This building's unique trait comes from its roof. The whole structure's roof is made from solar panels, which makes it one of the most efficient buildings the world has ever seen, in terms of energy saving. The solar panels are capable of generating 17 megawatts of power (75% during peak daytime) and the company has aims to make the complex entirely powered by renewable energy in the future. Another four megawatts are powered through the use of biofuel and natural gas within the complex, using Bloom Energy Servers which are popular within the Californian region, with Google, Yahoo and Wal-Mart using them, too.
The building's design also prioritised the use of natural heating, ventilation, and air control (HVAC).To achieve this, air is allowed to flow freely between the inside and outside of the building, which can help assist for nine months of the entire year — highlighting the importance of such features in the DNA of design.
The Burj Khalifa
At 2,722 ft, the Burj Khalifa (also known as the Burj Dubai) is a sight to behold as the tallest structure in the world. Starting construction in 2004 and finalising the project in 2008, many decisions had to be made to ensure that this neo-futurism structure was able to serve its purpose, acknowledging that it would be a free-standing building and understanding the hot climate it would be situated in.
A series of underground water networks delivers fresh water, which has been processed be desalination plants from sea water, to the whole city of Dubai, the skyscrapers included. When the water hits the Burj, it is distributed to every corner of every floor on every level. However, with 163 floors, this can become a complicated process, which shows us just how special the Burj Khalifa actually is in terms of design.
The group of architects who planned the structure realised that using one pump for the skyscraper's water supply could prove dangerous, due to the need for high pressure to send the water higher up. This pressure could lead to the pipes exploding. To counter this problem, they came up with a plan to help the water flow up the building in different stages.
The water supply starts in the basement, then flows up to a 40th floor reservoir station. This station then pushes the water on to a series of 200,000-gallon tanks all the way to the top of the building. As the water reaches the top, the water then travels back down under its own weight — it is said that 946,000 litres of water are supplied per day which also helps the building stay cool in the hot climate.
As a desert city, keeping buildings cool in Dubai is vital. Therefore, another water supply — an ice-chilled water system which is the first of its kind to be used in the Middle East — has also been implemented to enable substantial energy savings.
The Taipei 101
The previous title-holder for the tallest building in the world, the Taipei 101 is a platinum certified Leadership in Energy and Environmental Design (LEED) build. Up until 2016, the structure had the fastest elevator on the planet, which could travel from the 5th to 89th floor in 37 seconds!
Taiwan has a multitude of different structures to its name, from the traditional Fort Provintia, to the super-modern Tuntex Sky Tower. But what makes it so spectacular? Starting construction in 1999 and ending in 2004, the Taipei has 101 floors (if the name had not given it away) and is 1,666 ft in height — but the environmental factors that took over its design has changed the way we build for good.
Just as the Burj Khalifa's architects had to consider the building's need to be kept cool, the architects of the Taipei 101 had to consider Taiwan's affinity for natural disasters, such as earthquakes and typhoons. When it comes to Taipei 101, the structure can withstand high winds of 134 mph, which is due to the model prioritising resistance through the use of curtain walls, protected glass and high-performance steel. The walls can provide heat and ultraviolet protection by blocking external heat by 50%.
The Taipei 101 has a structure that includes 36 steel columns. Eight of these are known as mega columns, and they have 10,000 pounds of concrete per inch. Within Taipei 101, there are outrigger trusses every eight floors which connect to the columns within the exterior to ensure secure resistance from probable natural disasters in and around Taiwan.
Technology will only continue to grow, so we are set to see even more projects come to fruition that balance a design aesthetic with vital survival features. For example, London is set to have 13 new skyscrapers by 2026 — we know that these will be designed to uphold the ethical requirements for a modern-day structure.
As one device evolves, the devices it interacts with also finds scope to improve and change. Access control panels have adapted to technological advancements, both in the physical and digital domain. 2020 Vision, providers of IP CCTV systems, present this guide to past changes to access control panels, and potential future developments.
Security advancements
Keypads
Technology has enjoyed some substantial improvement upon the old lock and key. The way we entered restricted areas has changed over time — and it all started with the famous keypad. Similar to what we now see on ATMs, these were used to access locked areas and would require an individual to type in a specific numerical code to enter. The passcode would usually be around four to six digits long. But was this a viable method to protect a business? At the time, it was a revolutionary idea — but as times progressed, anyone could obtain the code and enter even if they weren't authorised to do so. This was classed as a non-intelligent reader.
Card Readers
Keypads began to lose their effectiveness when compared to the next stage in security development: card readers. Usually, a magnetic strip would be attached to the card which a staff member could then swipe through a narrow slot in order to gain access. However, such cards are now available with a bar code reader, a proximity reader, smart card readers, and biometric readers — tailoring each to specific business requirements.
IP Door Readers
Card readers were further advanced upon with the introduction of IP readers: these could be accessed via card or by Bluetooth. Biometrics are now also common in IP readers — unlike card readers and keypads, IP readers can operate independently as they hold an internal memory and if the details you provide do not match what the IP reader has knowledge of, you will not gain access.
These leaps in development took place within 50 years. At this pace, what will the next stage be?
Access control panels for smartphones
There are a few different ways to lock the internal features of a smartphone. The use of passcodes is still common amongst most devices and are similar to keypads in terms of security. Biometric access, through the use of the fingerprint, is something that is relatively new and has revolutionised the way we get into our phones. However, in 2017, the iPhone X was released which saw tech-mogul company, Apple, introduce facial recognition as the main route to gaining access using a 3D sensor that can recognise the phone owner's facial features. We suspect that this will be implemented across more smartphone devices in order to compete for the title of being the most accessible and the easiest. However, convenience and simplicity whether facial recognition, fingerprint scanning Bluetooth, and even a short PIN code come at a price they simplify access not only for the authorised user, but also for a potential attacker. So when it comes to implementing an Access Control System always seek the advice of an experienced security integrator.
The next stage of access control panels
We predict that the next advancement will come in the form of 'eyeball recognition', a technology still in its early stages. As no two people are the same, DNA ensures that access is being granted to the right person. Even in extreme and unlikely circumstances, if someone was to obtain your eyeball, they would still be unable to gain access.
We're already starting to see advancements in technology shown to us in movies start to creep into the real world. But the movies were unaware of how secure they would actually be. In "Diamonds are Forever" in the James Bond franchise, 007 tries to gain access through a 'copy' of the required fingerprint. Realistically, if this was to occur, there would be smudges on the fingerprint which would lead to alerts being made and a fail in gaining access.
In "Demolition Man", a criminal group attempt to escape prison using a warden's eye. In reality, this would not get past any sort of IRIS scan, as there is a detection process which determines whether the person is alive or not and a dead person's pupil would not be responding to any light that is around.
What do you think will be the next stage in access control panels? Will movies this year predict even greater possibilities? And the bigger question is: will they be brought to life? With the evolution of access control happening frequently, and becoming more intelligent, we are sure to see new additions soon.
July 19th, 2018
Comments off
An insightful new video from the timber industry's campaign Wood for Good shines the spotlight on the growing Build to Rent sector and examines the unique nature of this market.
According to the British Property Federation, there are now almost 120,000 Build to Rent units already built, under construction or in planning across the UK; a 30% increase over the last year.
Christiane Lellig, campaign director at Wood for Good said:
"Build to Rent is becoming increasingly important in the UK housing market. We teamed up with Build to Rent consultancy LIV Consult and property consultancy Gardiner & Theobald to highlight the growing importance of this sector, to examine some of the opportunities and challenges of this market and also to show how the timber industry can play a central role."
Oliver Booth, partner at property consultancy Gardiner & Theobald, said:
"The need for Build to Rent has never been more important. The bottom line is we have an availability of housing crisis in the UK and there are many brave organisations, corporations and institutions stepping up to try and fix that."
Build to Rent developers and investors are in the market for the long haul; choosing higher-end materials such as engineered timber, both within the building's fabric and the fit and finish that will stand the test of time.
Designing for efficiency and specifications that will last long term is a distinct separation from the traditional build for sale market, where cheaper materials and finishes are frequently specified to maximise profits for the developer.
Commenting on the unique nature of the Build to Rent market, Ashley Perry, Build to Rent consultancy director at LIV Consult, said:
"The Build to Rent market is unique because of its focus on resident experience and efficiency through design, operations and overall long-term use.
"Designers and developers have to understand how efficiently the building can operate as that will drive long term income and capital growth for investors."
Highlighting the pivotal role the timber industry can play, Oliver Booth said:
"A major benefit of engineered timber is that it's fast to construct and that's good for the Build to Rent model because we need to build quickly.
"In addition, organisations want to use timber because it's such a sustainable product. Those materials that are made and can be disposed of in a sustainable way and that contribute to people's health and wellbeing, will have a competitive advantage over those that don't."
Typically, Build to Rent schemes target young professionals, students and downsizers who buy into the lifestyle and convenience of well-built properties with a superior fit and finish, and are close to local amenities.
To view the video click here.
To find out more visit www.woodforgood.com
July 17th, 2018
Comments off
The UK government has launched its Clean Growth Strategy as part of its commitment to reduce greenhouse gas emissions across the nation. It outlines a proposed approach to building a lower-carbon future for the UK.
You can read the Department for Business, Energy & Industrial Strategy's (BEIS) comprehensive report by downloading it here. However, if you don't have the time to scroll through all 165 pages, don't worry. This time-consuming task has been made easier thanks to energy provider Flogas, who provide business gas prices. Read on for a summary of the strategy's key points, and what they mean for UK homes and businesses.
What is the UK's commitment to climate change?
To begin with, it's vital to understand what made the Clean Growth Strategy a necessity.
In 2008, the UK introduced the Climate Change Act, and through this, became the first nation in the world to self-impose a legally binding carbon reduction target. The crux of it? To reduce greenhouse gas emissions by at least 80% by 2050 (compared to 1990 levels).
Is this target in our grasp?
BEIS published positive data in March 2017, revealing that the UK is on track to meet this target, with overall carbon emissions dropping by 42% since 1990. While this progress is encouraging, the government acknowledges that there is still plenty of work to be done – and that's where proposals like the Clean Growth Strategy come in.
How can the Clean Growth Strategy help?
The Clean Growth Strategy aims to accelerate the pace of 'clean growth' in two ways: by increasing economic growth, and by decreasing emissions. With that in mind, the two guiding objectives underpinning the strategy are:
To meet our domestic commitments at the lowest possible net cost to UK taxpayers, consumers and businesses.
To maximise the social and economic benefits for the UK from this transition.
To turn this vision into a reality, the government has pledged to roll out lower-carbon processes, systems and technologies nationwide – doing so in the most cost-effective way possible for businesses and homes alike.
What are the key proposals in the Clean Growth Strategy?
There are six key areas that the strategy's proposals focus on. Together, they are completely responsible for the UK's carbon emissions:
Improving business and industry efficiency (25% of UK emissions).
Improving our homes (13% of UK emissions).
Accelerating the shift to low-carbon transport (24% of UK emissions).
Delivering clean, smart, flexible power (21% of UK emissions).
Enhancing the benefits and value of our natural resources (15% of UK emissions).
Leading the public sector (2% of UK emissions).
You can find the full list of 50 pledges in this executive summary.
What will this mean for homes and businesses?
Essentially, the government will encourage and support homes, businesses and industrial operations to minimise their carbon footprint in several ways. A major focus will be to reassess the fuels we use for tasks such as heating, cooking, and powering industrial and manufacturing processes – and embracing cleaner, greener alternatives.
This will help boost the uptake of renewable technologies (e.g. heat pumps, biomass boilers and solar panels) in the long term, and favour cleaner conventional fuels over more polluting ones. For example, for off-grid homes and businesses, the strategy sets out specific plans to phase out high-carbon forms of fossil fuels like oil. As the lowest-carbon conventional off-grid fuel, oil to liquefied petroleum gas (LPG) conversions will play a key part in replacing oil in rural parts of the country.
Natural gas will remain a popular choice for properties that are connected to the mains network – not only because of its affordability and accessibility, but also because it's the lowest-carbon fossil fuel that's available. Flogas, which specialises in highly competitive commercial mains gas, expects to see this part of its business continue to go from strength to strength.
The company has been an expert in the energy sector for more than 30 years and predicts that the 'green gas' phenomenon (natural gas injected with a proportion of environmentally friendly biogas) will rise in popularity as the Clean Growth Strategy rolls out.
Reaction to the Clean Growth Strategy
Key industry figures have been vocal in their support since the unveiling of the Clean Growth Strategy.
Managing Director of Flogas, Lee Gannon, said: "Through the publication of its Clean Growth Strategy, the government has made clear its intention to reduce carbon emissions from off-grid UK homes and businesses. Natural gas is affordable, versatile, widely available and – most importantly – emits significantly less carbon than the likes of coal and oil. As such, it will continue to play a central role as the UK works towards cleaning up its energy landscape. We look forward to working alongside policymakers and wider industry stakeholders to make the Clean Growth Strategy the success that it deserves to be."
Also supporting the strategy is Oil & Gas UK. Mike Tholen, its Upstream Policy Director, commented: "Oil & Gas UK welcomes the government's commitment to technology in the strategy, especially with regards to carbon abatement measures such as carbon capture, usage and storage. Oil & Gas UK looks forward to working with the government to see how these technologies can further reduce emissions across the economy."
July 16th, 2018
Comments off
Network Rail has officially started the hunt for firms to deliver its programme of trackworks for the next 10 years.
It wants design suppliers and contractors to pre-form as consortia to express interest and pre-qualify for the forthcoming invitation to tender on 15 August.
Three partner consortia will be selected to deliver the £3bn- £5bn programme of works through separate Programme Alliance Agreements.
These will cover three regions: North (Scotland Route); Central (LNW, LNE and East Midlands Routes); and South (Western, Wales, Wessex, South East and Anglia Routes).
The scope of work will predominantly cover design and construction of trackworks on plain line track and switches and crossings points, with the new arrangement coming into being from July/August 2019.
Steve Featherstone, Network Rail's director for Track said: "Combining our plain line expertise with that of switches & crossings will bring huge benefits to both our route customers and the wider supply chain.
"The proven alliance model offers a flexible and cost effective solution with a greater focus on each route's specific requirements and needs."
Prequalification information can be obtained from Network Rail's procurement site.
July 12th, 2018
Comments off
The Scottish Government has agreed to introduce legislation to make sprinkler systems compulsory in all new social housing of over 10 tenants.
Scottish Housing Minister Kevin Stewart confirmed that the Scottish Government will take forward David Stewart MSP's proposal for a Members' Bill to make it a legal requirement for all future new build social housing.
Currently all new high-rise domestic buildings, whether private or social, with a floor over ?18m must have automatic fire suppression systems fitted.
New legislation would extend this to all houses in multi-occupancy or more than 10 people, including care homes.
Scottish Housing Minister Kevin Stewart said: "I am very grateful to David Stewart for his work on bringing forward this important issue and gaining cross-party support for his proposal.
"I can confirm that the Scottish Government will implement the aim of Mr Stewart's proposal and will bring forward legislation as soon as is practicable in this Parliamentary session.
"This is an opportunity to further improve standards in our social housing and this work will be taken forward alongside the recommendations of the two reviews of building standards and fire safety which we will consult on later this summer."
July 10th, 2018
Comments off
ISG has secured a £34m contract to build a major new teaching block at Richmond upon Thames College's Twickenham campus.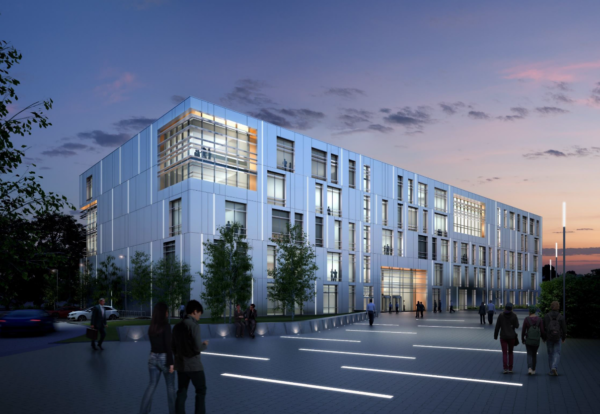 The project starts a wider masterplan to transform facilities at the highly-rated London higher education institution.
It was awarded via the Pagabo framework, which drives efficiencies and best value across public sector procurement.
ISG will build a new five-storey, concrete framed teaching block, extending to 160,000 sq ft of space.
Constructed on a plot adjacent to the existing college buildings on campus, it will accommodate an enlarged intake of up to 3,000 students when it opens at the end of 2019.
Targeting a BREEAM excellent environmental performance rating, the new learning centre incorporates a full height atrium space, with internal wood cladding.
Exposed concrete soffits and structural columns are a key design element, with rainscreen cladding and curtain walling to the structure's façade.
Steven McGee, managing director for ISG's Construction South business, said: "The complexities of this project have ideally suited the Pagabo framework procurement route that was selected to bring this highly anticipated scheme to site.
""This is a beacon project for RuTC, kickstarting the wider redevelopment of its entire campus site and a key win for the ISG business, further demonstrating our education credentials on high profile schemes."
July 9th, 2018
Comments off
Architecture practice Maber has reorganised its top management to drive growth in London and the Midlands.
Managing Director Mark Hobson becomes CEO and will focus on the practice's growing London office and portfolio of projects in the capital.
Ian Harris, previously head of Maber's Leicester office takes over as Managing Director with a brief to develop the practice's Nottingham, Derby, Leicester and Birmingham offices.
Tim Boxford, an Associate Director who has developed several high-profile projects in the East Midlands, has stepped up to lead the Leicester office. Catherine Lambert has been promoted to become an Associate.
Mark Hobson commented: "We are delighted to announce these developments in our management team that will position us for further growth. With some exciting projects coming forward in the capital, I am looking forward to focusing on growing our London office and client base."
Through longstanding client relationships, Maber has generated a healthy crop of projects in London with a construction value around £400 million and including large scale mixed use developments, build to rent schemes, hotels and student accommodation as well as work in the education sector. 
July 6th, 2018
Comments off
Gary Neville and Ryan Giggs' £200m St Michael's skyscraper scheme in Manchester has got the full green light.
The consortium of investors supporting the footballers-turned-developers has been told the scheme will not be called in by the Secretary of State upholding earlier city council full planning approval.
Located in Deansgate, the St Michael's scheme will consist of a landmark tower and stepped extended podium building designed by architect Hodder and Partners.
This replaces architect Make's previous twin tower plan, which was dropped in the face of complaints that it would destroy historic buildings at the site.
As a result the Sir Ralph Abercromby pub and the frontage of the Bootle Street Police Station will now be preserved within the scheme.
Including a large podium building the tower will rise to 39 storeys and contain a five star, 200-bed hotel with nearly 190 luxury flats above.
There will also be 148,000 sq ft of offices in a 9-storey stepped building forming part of the podium to the east of the main tower. This will include rooftop bars with stunning outdoor rooftop terrace.
Chinese construction group BCEGI is an active equity and construction partner in St Michael's, owning a 21% stake.
At present there is no time table for enabling works and construction, which will employ nearly 300 throughout the build.
Neville said:   "We are delighted that the Secretary of State has decided to not call in our revised plans for St Michael's and that the vision for this landmark mixed-use scheme will be realised.
"It's been more than a decade since the idea to regenerate a strategic city centre location was first considered – and our whole team is very pleased that we can focus on delivering this project for Manchester, bringing new high-quality development that will enhance the city's position both nationally and internationally."
Project Team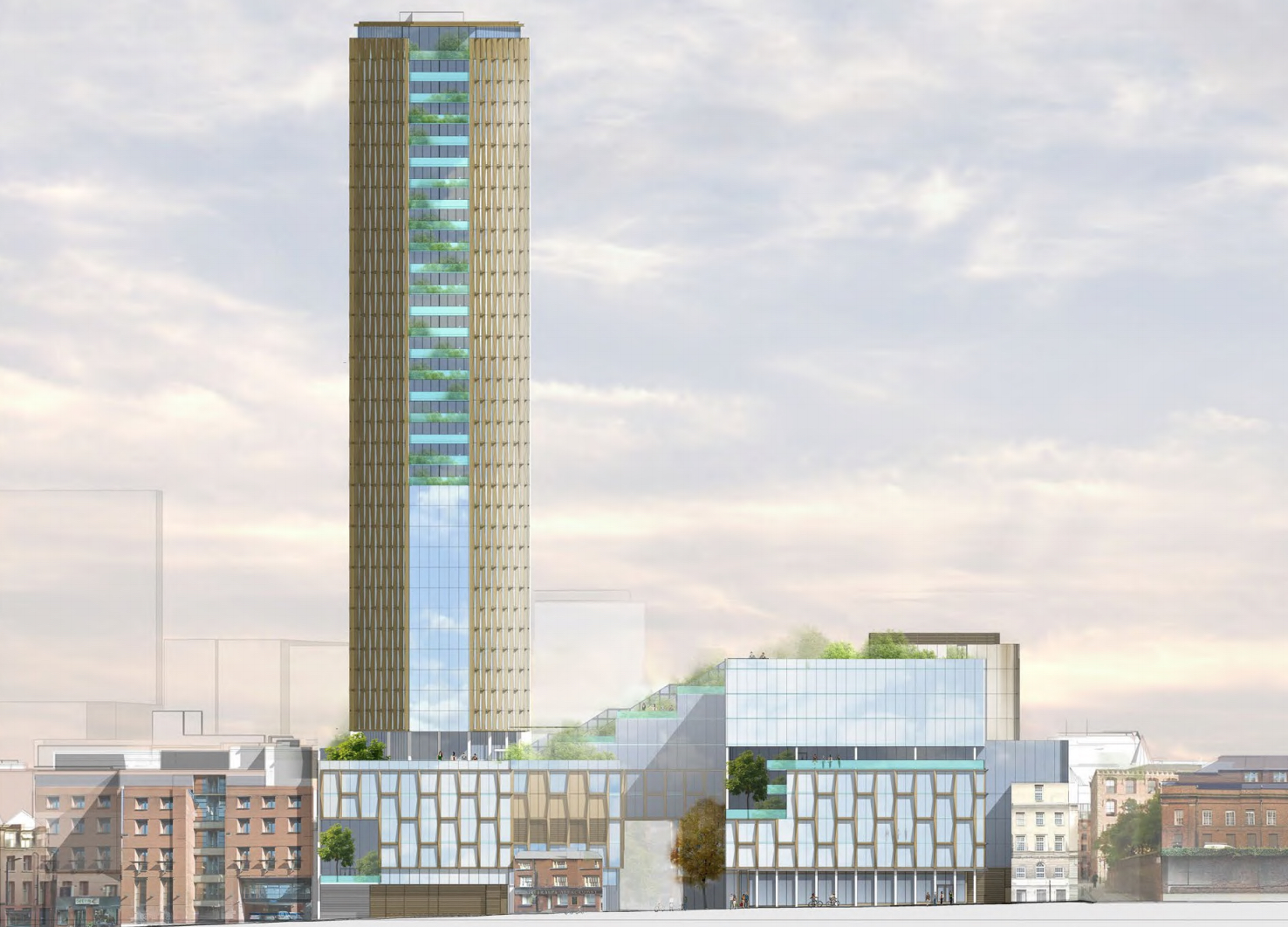 Project Manager: Zerum
Cost Consultant: Turner and Townsend
Architect: Hodder + Partners
Structural Engineer: WSP
MEP Engineer: Zerum