A minimalist hardware system for glass doors has taken top prize at the biennial Architectural Ironmongery Specification Awards, organised by the Guild of Architectural Ironmongers (GAI) in association with the Royal Institute of British Architects (RIBA).
The TECTUS glass hardware system, created by Simonswerk, has been designed to maximise the light coming through glazed panels by swapping large hinges and handles for more discreet finishes.
Typically, door hardware installed on to glass doors use bulky patch fittings which can impact on the final finish. The TECTUS glass hardware system uses a concealed hinge system, magnetic closure and handle. No glass processing is required to add any elements of the system to the door.
Douglas Masterson, technical manager of the GAI, said:
"In terms of innovation, this product was head and shoulders above the rest. Ironmongery for glass doors can be a problem area for architects and specifiers as the hardware options available don't always compliment more minimalist designs, but this TECTUS glass hardware system takes that obstacle away."
Two products were awarded joint second place: Guardian by Exidor, and Smart Entrance by Hafele UK.
The Guardian is an electro-magnetic door closer. It has been designed specifically to meet the needs of residential rooms in care homes. It has an inbuilt anti-slam function that has been developed to control and slow the motion of the door. The Guardian closer uses hydraulics to offer a low level control on the door, which stops it from drifting from its open position, at the same time allowing it to operate freely to the user.
The Smart Entrance by Hafele is a touch-to-open latch system consisting of a set of designer flush / low projecting handles with an electronic mortice lock. The technology used is similar to the use of touch lamps or smartphones. Touching the Smart Entrance handle activates the electronic mortice lock to retract the magnetic latch bolt to allow the door to swing open. When the door is closed, the magnetic latch bolt shoots into the magnetic striker supplied.
Third place was given to ASSA ABLOY for the DC700G-FT Security Cam-Motion Door Closer. It has the function of a Cam-Motion door closer with access control, and has been designed to be multifunctional by having delayed action and hold open options. The DC700G-FT Security Cam-Motion Door Closer also avoids secondary bracketry (z-angles) for the locking device to improve the final appearance of the door, and includes Cam-Motion® technology, extended mounting plate and integrated latch bolt and extended guide-rail with integrated escape door strike.
The best new product design and innovation award was sponsored by allgood.
This is the first time that specific ironmongery products have been recognised at the Architectural Ironmongery Specification Awards. The 'Best new product: design and innovation' category was created to celebrate new door and window hardware products, allowing advancing technologies to be fully showcased and recognised.
The Architectural Ironmongery Specification Awards also reward excellence in the specification of architectural ironmongery, and projects are nominated for one of four categories: commercial and hospitality; public health and education; residential; and international.
David Stacey, president of the GAI, said:
"The Architectural Ironmongery Specification Awards are unique because they reward the whole specification team, highlighting the importance of that professional partnership between architect and architectural ironmonger.
"These awards underline the importance of using qualified and experienced architectural ironmongers as the driving force in creating ironmongery schedules that are not only technically correct but also fundamentally affect the way a building looks and performs. Those ironmongery schedules help architects and clients minimise risk and achieve their aesthetic vision."
Find out more about all of the winning projects on the GAI website.
A recent investigation by the BBC has found there's a booming "rogue trader" business in selling fake receipts. Tens of thousands of pounds' worth of these false documents are changing hands in construction right now, costing HMRC thousands and risking serious trouble for people using them.
According to HMRC figures, about £1 goes missing for every £17 paid in UK tax each year. Worse still, they believe that over half the people in construction, transport and hospitality are under-reporting their income in their Self Assessment tax returns. Of those, more than half are under-paying by at least £10,000 a year.
When you claim a tax refund or file a Self Assessment tax return, you're making sure that you're only paying the tax that you owe. Not only is HMRC continually making random spot-checks on tax returns and refund claims, but they've also got both highly trained people and computer algorithms constantly scanning for and flagging suspicious activity.
The HMRC "Connect" system, used by trained analysts, sifts through vast quantities of information, from many disparate systems to find otherwise invisible patterns, network and relationships that suggest fraudulent or unusual activity.
Knowingly and deliberately submitting false information in your self-assessment or tax refund claim counts as tax fraud and is illegal. If HMRC investigate and identify a false submission before you come clean about it, they will judge that your "deliberate action has been concealed" and that means more than just coughing up the extra tax you owe.
As well as the overdue tax itself, you will have to pay 50-100% of the amount owed in additional fines.
Bradley Post, Manager Director at RIFT Tax Refunds says ''If you're working in the construction trade and have fallen for a scam of this type and want to put things right with HMRC before you get into serious trouble, get in touch with them as soon as possible. There will still be a penalty to pay for having made a "deliberate and concealed error" on a tax return but it may be possible to reduce the fine if you or your tax agent tell HMRC about the error, help them work out how much extra tax is due and give them access to information to enable them to check your figures.''
Providing false documentation to HMRC can result in a jail sentence, under Tax Evasion Laws. Depending on the severity of the case you could receive a summary conviction or via a magistrates court. The maximum UK penalty is a fine for up to £20,000 or a six months prison sentence.
About Rift Tax Refunds
Rift Tax Refunds is one of the UK's leading tax refunds specialists, helping UK employees in the Construction industry successfully claim back the tax they are owed from HMRC.
TIMco, one of the UK's largest and fastest growing wholesalers to the construction industry, will be showcasing the latest additions to their expanding product portfolio as well as unveiling their complete set of specialist product guides at the NMBS Show at the Ricoh Arena, Coventry on 10th April 2019 at stands 265, 266 and 269.
TIMco will be revealing extensions to the TIMco SHIELD range – including the new SHIELD Protective Board, as well as additions to the VETO range. Demonstrations of both new products will be available, with the new protective board having been laid on the trade space floor for the whole day.
The TIMco Team is committed to the continued development of all their ranges. The dedicated VETO Security and Ironmongery brand continues to expand with the unveiling of a new range of premium quality hinges at this year's NMBS Show, as well as the official launch of the innovative Fantom Doorstop.
The team will also be releasing an updated set of product literature at the show, as well as making their current catalogue which totals 160 pages readily available. The Product Team will be on hand to talk through the product information guides with visitors to the stand. They will also be handing out TIMco branded products including rucksacks for orders placed at the show (while stocks last).
The barista will be returning to the TIMco stand for a second year in a row, serving a fantastic selection of hot drinks for those visiting the stand. The team will also be providing complimentary brownies and cookies from the Cheshire-based artisan bakery, Buzzy Bee Bakery.
Simon Midwood, Managing Director of TIMco, comments: "The NMBS Show is one of our biggest events in the calendar, and our stand for this year is set to be our busiest and best yet! With so many of our customers in attendance to the show, this is the perfect place for us to launch our specialist guides and introduce a number of exciting new additions to our ranges. We look forward to welcoming visitors to our stand to discuss our new products over some delicious refreshments!"
For more information on the NMBS show or to register for tickets to the show, visit: https://www.nmbs-exhibition.co.uk/register
TIMco, one of the UK's largest independent wholesale suppliers of screws, fasteners, fixings, nails, building chemicals and adhesives, power tool accessories, building hardware, site protection and ironmongery, is headquartered in Nantwich, Cheshire and imports and supplies more than 6,500 product lines from around the world to distributors throughout the UK, Ireland and Europe. The company was established in 1972 and now employs 160+ members of staff from its offices in the UK, Ireland and Taiwan. For more information, visit www.TIMco.co.uk.
An 18th century manor house in Ireland has been announced as the global 'winner of winners' in the biennial Architectural Ironmongery Specification Awards, organised by the Guild of Architectural Ironmongers (GAI) in association with the Royal Institute of British Architects (RIBA).
The Adare Manor Hotel and Golf Resort is a luxury hotel in Limerick that was recently renovated and extended to add more guestrooms and facilities including a ballroom, spa, golf club and function suite.
The renovation project was led by Richmond International, an interior design consultancy that specialises in hospitality buildings.
The team enlisted the help of two architectural ironmongers; Carrson International, a division of Harbrine Limited, and Mooney Architectural. The brief included a hardware specification for approximately 1,500 doors that was in keeping with the gothic style of Adare Manor.
The hotel boasts a range of bespoke ironmongery including products from Sun Valley Bronze of Idaho, USA for the guestrooms and public areas. Stainless steel has also been used for the inside of bathrooms and the back of house areas.
Judges noted that the bronze finish of the ironmongery was continued throughout the hotel, highlighting the attention to detail and adding to the overall quality of the project.
Douglas Masterson, technical manager at the GAI, and assessor of the Specification Awards projects, said:
"Every piece of hardware had been carefully considered and was perfectly in keeping with the gothic nature of the original manor house. The bespoke ironmongery was particularly impressive. Every piece of hardware mirrored the smaller details of the hotel; from wardrobe fittings and light switches, even down to the badges of the hotel's staff. It's a truly striking building."
The original Adare Manor was built in 1832 and is a rare example of a Calendar House. It has 365 leaded windows, 52 ornate chimneys, seven stone pillars and four towers to mark the number of days, weeks, and seasons in a year.
The project beat 19 other shortlisted projects to scoop the top prize in these awards which reward excellence in the specification of architectural ironmongery. Projects are nominated for one of four categories: commercial and hospitality; public health and education; residential; and international. There is also a fifth award focussing on new product design and innovation.
Adare Manor also won first place in the commercial and hospitality category. In second place was the Royal Academy of Arts, London by dline Eisenware and David Chipperfield Architects. Third place was the Royal Opera House by John Planck Ltd and Stanton Williams Architects. The St Andrew's House project in London, also by John Planck Ltd together with DLA Architecture received highly commended.
The other category award winners were:
Public health and education:
Residential:
International:
Product design and innovation:
David Stacey, president of the GAI, said:
"The Architectural Ironmongery Specification Awards are unique because they reward the whole specification team, highlighting the importance of that professional partnership between architect and architectural ironmonger.
"These awards underline the importance of using qualified and experienced architectural ironmongers as the driving force in creating ironmongery schedules that are not only technically correct but also fundamentally affect the way a building looks and performs. Those ironmongery schedules help architects and clients minimise risk and achieve their aesthetic vision."
The GAI is the body that represents the interests of the architectural ironmongery industry in the UK and internationally. Its qualifications, education and CPD programmes are widely respected throughout the world. Its technical information service is the only specialist service of its kind, providing GAI members with comprehensive advice.
The awards were sponsored by GEZE UK, Forza Doors, ASSA ABLOY, Harbrine, Frank Allart, dormakaba and Allgood plc.
Energy efficiency measures for buildings often focus on equipment upgrades and automatic controls. However, the building envelope design also has a significant impact on energy performance. Even if heating and cooling systems use the most efficient equipment in the market, deficient insulation and air leaks will increase energy expenses.

An efficient HVAC design minimises the cost per BTU of heating or cooling, but the loads served are determined by building conditions. At the same time, automatic controls ensure that the available HVAC capacity is used efficiently; when the full heating or cooling capacity is not needed, operating at maximum output is a waste of energy.
Specifying a High-Performance Building Envelope


To enhance energy efficiency, the building envelope must minimise heat transfer in both directions. Consider that summer heat gain is added to the air conditioning load, while winter heat loss is added to the space heating load. Thus, a high-performance building envelope achieves HVAC savings all year long.

Heat transfer across the building envelope can occur by conduction through walls, fenestration and other building elements. Air leaks also transfer heat, due to the temperature difference between indoor and outdoor air. The following are some effective strategies to improve the energy efficiency of a building envelope:

Increasing the R-value of the building envelope with insulation.
Using energy efficient windows with triple-pane glass and low-emissivity coating.
Ensuring airtightness, to minimise heat loss and heat gain from air leaks.
Deficient insulation and air leaks are invisible, but they can be detected with thermal imaging, and insulation performance can be modeled based on the properties of construction materials. Air leaks in particular can be detected with pressurization tests, which use a blower door and smoke infiltration to pinpoint their locations.

In new building projects, insulation can be improved drastically with innovative products such as insulated concrete forms (ICF), which serve as formwork during construction while increasing the R-value of finished concrete elements.

Window orientation can have a significant impact on air conditioning loads. While windows allow natural lighting, they also cause glare and solar heating if their locations are not planned carefully. In the northern hemisphere, the southern face of a building gets the most sunshine throughout the year, while the northern face gets the least. North-facing windows do not cause significant glare and solar heating, but windows with other orientations may require shading or outdoor vegetation.
Envelope Enhancements in New Buildings and Renovations


An efficient building envelope design is highly recommended in new constructions and major renovations. Deploying a new envelope for an existing building is expensive and disruptive, since walls and facade elements must be modified. However, a renovation is an excellent change for an envelope upgrade, since the building will be altered anyway. In the case of new constructions, a high-performance envelope can be specified from the design phase.

An efficient envelope design can also lower the upfront cost of HVAC equipment in new constructions and renovations. Since heating and cooling loads are reduced, the corresponding equipment can be specified with a smaller capacity. This reduces all ownership costs associated with HVAC installations: the initial purchase, operation and maintenance.

High-performance windows can be deployed easily in a new project, since there are no existing windows to replace. On the other hand, a window upgrade in an existing building can be challenging: window frames are not normally designed for triple-pane glass, and must be replaced completely. Scheduling a window upgrade along with a major renovation is strongly recommended, since two disruptive projects are combined in one.
Fixing Issues in Existing Building Envelopes


As mentioned above, an envelope upgrade is more challenging in an existing building due to the disruptive nature of the project. However, there are ways to improve the thermal performance without taking apart building elements.

Storm windows are a lower cost alternative to triple-pane windows, if a property owner prefers not to disrupt the existing envelope. Storm windows are installed on top of the existing ones, creating an air gap that reduces heat transfer. Although triple-pane glass offers better insulation, this project does not require the removal of existing building elements. As a complementary project, air leaks can be fixed with special foams that are sprayed in place.

Property owners who are planning an HVAC upgrade should consider a building envelope assessment. If insulation and airtightness issues are fixed first, the new HVAC equipment can have both a higher efficiency and a reduced workload.
Michael Tobias, PE, LEED AP, CEM.
Michael Tobias is the founder and principal of New York Engineers, an Inc 5000 Fastest Growing Company in America. He leads a team of 30+ mechanical, electrical, plumbing, and fire protection engineers from the company headquarters in New York City; and has led over 1,000 projects in New York, New Jersey, Pennsylvania, Connecticut, Florida, Maryland and California, as well as Singapore and Malaysia.
Aarsleff Ground Engineering are proud to have become official members of ASUC, the Association of Specialist Underpinning Contractors. ASUC's activities are focused around key domestic techniques and practises including subsidence repair and underpinning, retrofit basement construction, engineered foundation solutions and mini piling operations.
ASUC is an independent trade association originally formed by a number of leading contractors to promote professional and technical competence within the subsidence industry. ASUC work with and across a large number of organisations, partners and supporting bodies to deliver a range of highly valued activities and services on behalf of the sectors and members they support.
Aarsleff are already well experienced in restricted access piling operations. In June last year, Aarsleff installed mini piles for a new residential development on behalf of main contractor J Tomlinson. The site, located on Salthouse Lane in Beeston, will soon accommodate a new student residential complex. Specifically, Aarsleff installed 16 No. 300mm Sectional Flight Auger piles utilising a 14 Tonne Restricted access piling Rig. Due to existing Tree Preservation Orders in place on several mature trees, the rig was selected to provide minimal disruption. Apart from some localised pruning to the trees, the rig was capable of working from the existing tarmac and on a reduced spec piling platform. In 2017, McLaren Construction awarded Aarsleff the design and build contract for the construction of a new cinema and retail development within The O2 Arena in South East London. Specifically, Aarsleff's scope of work included the design and installation of 21No. 18m 340mm diameter 'restricted access piles' situated beneath 2No. Quadro-pods which had to be pitched in 4m segments and welded by Aarsleff on-site during installation. Due to the height restriction Aarsleff utilised their bespoke Banut 500 limited headroom piling rig to solve this issue.
Kevin Hague, Managing Director of Aarsleff Ground Engineering said: "We are thrilled to share our knowledge and experience of the industry, and support ASUC and its member's in the drive to improve project delivery capability across all of the specialist techniques and practices the association promotes".
Caddick Construction has agreed a partnership with health and wellness provider hero which will see all of its 140 employees benefit from a tailored health and wellbeing programme.
The bespoke wellbeing package covers both mental and physical health and includes one-to-one health checks and screenings, wellbeing training for all direct line managers, mental health first aid training and ongoing workshops throughout 2019.
Managing Director Andrew Murray from Caddick Construction said: "Our employees are our greatest asset and we want to ensure they feel valued and supported. We are thrilled to be leading the way when it comes to mental resilience and wellbeing in the workplace – issues which should not and cannot be ignored. As employers we take our responsibility to our team members seriously and want to support them in as many ways possible to ensure they are both healthy and happy inside and outside of work."
He added: "The hero team impressed us with the depth and level of support they provide behind the scenes. I'm confident this project will deliver tangible results for our staff that will enhance and improve the health and wellbeing our employees, whether office based or on site."
Right now, one in six construction workers in the UK is experiencing depression, anxiety or stress.
· In the UK men remain three times as likely to take their own lives than women.
· The highest suicide rate in the UK was for men aged 45-49.
Joe Gaunt, CEO of hero said: "It's always rewarding to see businesses waking up to the fact they play a large and important part in the health and wellbeing of their team. It's great to see Caddick Construction leading the way and championing wellness at work in such a bold and committed manner. The 'Mindset' programme of events have been purposely designed to offer comprehensive screenings and health checks that cover everything from blood pressure to cholesterol and blood tests too."
"We have been working with Caddick to understand the current 'state of the workforce' enabling us to create a bespoke programme, which will deliver results and have immediate and long-term effects. The hero Discovery Report demonstrated clear indicators of specific support around what the Caddick team wanted to see. And, as a result, we were able to design a bespoke and tailored programme perfect for Caddick employees."
2019 marks hero's second year and since its launch in May 2018 it has acquired two businesses and established exciting and innovative partnerships with organisations such as Moda, Les Mills, MyZone and Jamie Peacock.
March 22nd, 2019
Comments off
Bowmer & Kirkland has restarted work on the stalled Hilton hotel project that stopped midway through construction with the collapse of builder GB Building Solutions three years ago.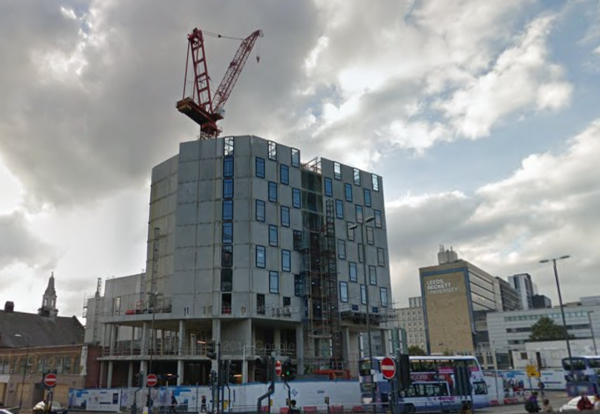 The half-finished scheme has been redesigned by developer Select Property, which will invest £56m to turn the site into 273 student flats, under its Vita Student brand.
Mark Stott, CEO of Select Property Group, said: "For us, finding the right locations for our residences is key and we've done just that with Portland Crescent and St Alban's Place."
The project near the Leeds Arena was to be a 206-bedroom Hilton hotel and marked GB Building Solution's first major foray into development.
But the firm collapsed in May 2015 leaving the project unfinished as a concrete frame. The project was part-funded by a taxpayer-backed loan of £4.8m from the Leeds City Region Enterprise Partnership.
March 20th, 2019
Comments off
Unite is calling for all HS2 workers to be directly employed and an end to using payroll and umbrella companies on the project.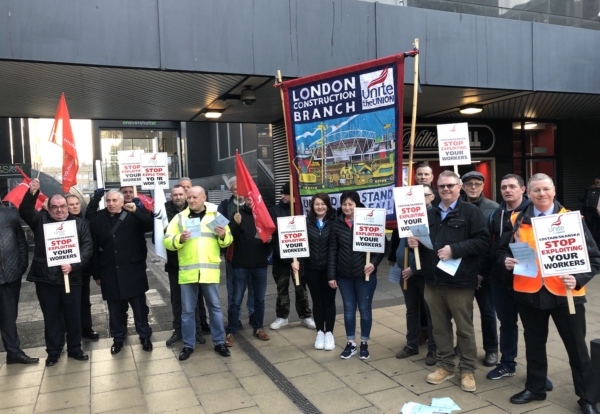 Unite kicked-off its campaign with a demo outside the offices of the Costain-Skanska Joint Venture
The union staged a demonstration yesterday outside the headquarters of Costain-Skanska Joint Venture (CSjv), who are currently carrying out the southern area enabling works for HS2.
Unite want to see CSjv employ workers directly rather than through agencies like Bowercross Construction Limited who supply labour on the job.
National officer for construction Jerry Swain said: "HS2 is one of the most high profile construction projects in the UK and there is an agreement between the unions and HS2 that outlaws these types of practices.
"It would be reasonable to expect that HS2's management, would want to ensure that first class workers' rights exist on this project and as a minimum uphold the agreement they signed."
Unite said it will now be extending its campaign across all of HS2's sites.
An HS2 Ltd spokesperson said: "We have an agreement with the TUC demonstrating our commitment to working with the trade unions.
"By working together, we will build the new high-speed railway safely and create a diverse, inclusive and skilled workforce."
A CSjv spokesperson said: "Bowercross Construction Limited (BCL), is one of the CSjv's approved suppliers, who provide labour to some of our sites on the High Speed Two enabling works programme.
"All BCL workers on our programme are paid via PAYE and receive full employment rights, which include a minimum of the London Living Wage, EU holiday and sick pay and welfare benefits.
"CSjv are keen to meet with Unite to discuss their concerns and have previously offered opportunities for them to meet our workers."
March 18th, 2019
Comments off
Chemical giant INEOS has unveiled plans to build a £350m steam and power plant at its Grangemouth site in Scotland.
Tobias Hannemann, CEO O&P UK said: "This investment forms part of our wider plans to secure a bright future for manufacturing at Grangemouth and will continue its renaissance as a world class petrochemicals site."
INEOS will also invest £150m in Hull to construct a new Vinyl Acetate Monomer (VAM) plant.
VAM is a key component in a wide range of important high-end products including laminated windscreens, toughened glass, adhesives, coatings, films, textiles and carbon fibre.
Graham Beesley CEO of INEOS Oxide said: "This is an exciting time for INEOS and great news for manufacturing in the region.
"We are proud to be bringing production of this important material back to the UK. This will not only strengthen UK manufacturing but boost exports from the UK to Europe and the rest of the world."