New statistics have revealed that UK construction companies benefitted by £80m from UK Government's R&D Tax Credits in 2017
Industry receiving highest average payment per R&D Tax Credit claim
The Momentum Group, a leading UK Tax Credit Advisory firm, based in Northern Ireland, has welcomed newly published statistics from HMRC that show the UK construction industry claimed a total of £80m in R&D Tax Credits.
Focused solely on R&D Tax Credits, the company works across most sectors of industry with expertise gained in the last decade working with over 500 companies throughout the UK.
The latest annual statistics from HMRC show there has been a slight decrease in companies from all regions of the UK claiming R&D Tax Credits, which are designed to drive innovation. Across the UK, London had the most claims with Northern Ireland businesses still significantly behind other regions.
The construction industry accounted for only 3% of all claims submitted, highlighting that the industry hasn't tapped into the potential of the initiative.
The average received per R&D tax claim by construction companies was £58,000. This is slightly lower than the £85,000 average overall payment per claim across the industries surveyed.
Tom Verner, Group Managing Director, Momentum R&D commented: "While HMRC statistics show many industries in the UK are wakening up to the benefits of R&D Tax Credits, the potential is far greater. In our experience, there are still so many construction businesses that are either not aware of R&D Tax Credits, incorrectly think they do not qualify or feel they lack the necessary experience to submit a claim. In fact, many companies are not claiming their full legitimate entitlement.
"At Momentum, we helped a record number of companies with R&D Tax Credit claims in 2017. These are often highly innovative companies, who can reinvest these savings into technological innovation that bolsters their businesses, exports, employment and the local economy in the wake of Brexit."
Momentum is calling on more construction businesses to act now on R&D Tax Credits, highlighting that the regional statistics could be much higher given the increasing investment in export here, with Verner adding:
"It is vital that the construction industry recognises the potential of this very accessible UK government incentive. While seeking in-depth advice is vital, with an increasing number of accountancy practices availing of our R&D expertise, we assist businesses every day that have benefitted from tens of thousands and hundreds of thousands of pounds. Given the potential, we find it startling that more companies aren't claiming, and we have made it our mission to highlight the incentive particularly on occasions like today when regional results show improvement from companies to claim their optimum benefit."
Momentum has helped hundreds of highly competitive companies, from manufacturing to construction, food & drink to technology, to claim this UK government incentive. The
multi award-winning company assists in a range of areas, investing in understanding and optimising R&D expenditure.  The team includes accountancy, business, commercial and ex-HMRC technical experts to ensure every claim gets the necessary expert scrutiny and is thoroughly investigated.
Founded in 2009, Momentum is one of the longest established R&D advisory companies in the UK.   It is also the only R&D tax practice that focuses on providing advice on long-term R&D strategies, offering a complimentary annual review to its client enabling them to assess current and forward-plan future research and development projects.
Ron Gibson, Momentum's Operations and Technical Director, who sits on HMRC's R&D Consultative Committee, added: "In an unregulated area, involving often complex financial review, we find increasingly that owners, managing directors, financial controllers and their accountants are turning to the experts to navigate through this intricate R&D tax area."
Momentum works with an increasing number of accountancy practices, business and financial consultants across the UK who partner with the specialist tax credit advisory firm to enhance their service to clients, reduce workload and grow their businesses.
For more information on Momentum visit www.momentumgroupni.com
Single-use plastic crackdown at UK Construction Week to benefit clean water in Nairobi
In an attempt to reduce the number of single-use plastic water bottles thrown away at the UK's largest construction show, UK Construction Week (UKCW) has partnered with Join the Pipe to install water fountains around the event providing free tap water to its 35,000 visitors.
Everyone will be able to top up at water stations at every bar at the show and at Join the Pipe's stand (stand number H200 in Hall 12).
The first thousand visitors to attend one of the three CPD hubs on each day of the event will also receive free reusable UKCW water bottles.
The initiative will help to raise awareness of Join the Pipe and is raising funds for its drinking water projects in developing countries, including a scheme in Nairobi aimed at providing clean drinking water in under-developed urban areas of the Kenyan capital.
Nathan Garnett, UKCW event director, says:
"Awareness of the terrible impact of our throwaway attitude to plastic has been rising ever since the Blue Planet programme earlier in the year. A staggering 13 billion plastic bottles are used each year in the UK, and 5.5 billion of those end up in landfill, litter or incinerators. We do not want our event to add to that appalling waste.
"That's what makes this such a great idea. Our visitors can stay hydrated with free water and a stylish reusable bottle, and we can help to reduce the growing amount of plastic waste we put into our environment while also
helping children who have desperate need of clean water. Everyone's a winner."
Andrew Eversden, Managing Director of Join the Pipe International says:
"It has been proven that if you provide easy, convenient and reliable places for people to fill up their bottles and drink tap water, they will. Our refills stations are designed to do exactly that, bringing tap water to everyone, everywhere. In the process, supporters are contributing to a water project in a developing country.
"We have a variety of styles of water stations to suit all needs and with our sleek and aesthetic design we also aim to put the style back into tap water. I think this will be of interest to many architects, designers and developers attending this show."
Free water bottles can be collected from CPD hubs in each hall of UK Construction Week from 9-11 October. Register for UK Construction Week at: www.ukconstructionweek.com
When faced with a huge industry event attended by 35,000 contacts, featuring at least 350 speakers delivering 300 hours of content, and more than 650 stands covering over 70,000 square metres and providing launches, demos and offers on more than 10,000 products, you need a strategy.
So, if you have only one day to invest in this year's UK Construction Week (UKCW), 9-11 October at the NEC, what should you prioritise?
Here are five good ways in which to navigate the UKCW.
Go for the new stuff
Ninety percent of visitors to the UKCW say they are there to source new products and suppliers. Four new areas have therefore been added to this year's show, with more than 100 exclusive product launches covering innovations in offsite construction; doors, windows and glass; roofing, cladding and insulation; tools and health and safety.
For the cutting edge inspiration, head to the Future of Construction Hub, providing an immersive experience of digital construction, 3D printing, robotics, artificial intelligence, virtual reality, augmented reality and experimental methods of construction.
The Digital Construction Hub will update you on all things BIM, and follow the UKCW Innovation Trail – a self-guided tour around selected exhibitors with amazing new things to show off.
Or why not create your own tour? Arrive at the NEC an hour early, make yourself comfy in a coffee area and use the floor plan and show guide to map out a bespoke route through the halls to ensure you get to see all the brands you want to see.
Go for the big hitters
The UKCW Stage will see some keynote presentations from UK and international speakers and celebrities you might not otherwise get another opportunity to meet.
So why not choose just one day to camp out at the big stage in the centre of the show to meet and listen to the likes of Barbara Res, the trailblazing engineer who will spill the beans on working with Donald Trump during the years when she project-managed the construction of Trump Tower.
Or join BBC Breakfast's Steph McGovern for hard-hitting discussions on housing policy, quality and how we stop future building failures, the digital future of construction, diversity and political correctness in the industry, economic forecasts, Brexit and the Government's proposed new quality mark for home improvement and low energy retrofits.
Go for the learning
If that's possibly a bit too political for your tastes, the best bet is to get into the show's free, fully accredited CPD sessions. But watch out – there are more than 35 to choose from, and pre-booking is essential.
The BRE Academy will also be hosting CPD workshops on BIM, offsite construction and urban planning and design; OM Group is holding health and safety CPD sessions on its stand; the Access Industry Forum is delivering working at height CPD sessions; and there are also specialist seminars in the Regeneration Hub and the Offsite areas of the show.
Go to do deals
The point of attending many trade shows is to come away with new business. For three days, the NEC becomes the building industry's biggest marketplace under one roof. Key exhibitors at this year's show include: 3Thermo, Easy Trim, American Softwoods, Aurora Lighting, Cemex UK, G2 Energy, Pfleiderer and Tradepoint (B&Q) to name but a few.
But to save hanging around on stands or chasing people around the show, make sure you book online in advance to arrange your meetings with exhibitors. This will save you loads of time.
Go for the networking
Finally, remember that UKCW is also one massive meeting place. Network with customers, suppliers and industry influencers, or even grab a beer with a competitor.
Or choose the informal route – after all, the Beer Festival is bigger than ever this year. Sponsored by Velux, this area features amazing street food, live bands, a gin and fizz bar and rockaoke. FIX Radio will be broadcasting from there from all three days. There is also a central bar in Hall 11, sponsored by the Elliott Group and the Timber Bar in Hall 9 sponsored by Germany Trade & Invest. Where better to meet up with old friends.
So get planning now. You can keep up to date with the latest information about exhibitors, product launches and speakers at UKCW via the website www.ukconstructionweek.com
and on Twitter at @UK_CW or using the hashtag #UKCW2018.
The next generation of architectural ironmongers is celebrating its Guild of Architectural Ironmongers (GAI) education results.
Exams were sat in 23 different countries by 355 learners. So far, 102 students have attained the Certificate in Architectural Hardware and 32 students have now completed the GAI Diploma this year.
The Guild's education programme continues to grow overseas, with 49% of learners based outside the UK. There has been a particularly high number of learners in the UAE, China, India, Hong Kong and South Africa.
Rachel Tipton, manager of the GAI education programme, said:
"The GAI has been providing a unique education, qualification and CPD programme for people who work in and around the architectural ironmongery industry since 1961. It's the only recognised programme in the world that leads to a qualification in architectural ironmongery to British and European standards, and with over 60 of these standards to get to grips with, gaining this qualification is something that all our students should be incredibly proud of. We look forward to celebrating with our newly qualified Diploma holders at this year's Education Awards."
The core of the education portfolio is separated into two qualifications. The Certificate in Architectural Hardware (CiAH) consists of two stages with 24 education modules covering everything an architectural ironmonger is required to know, supported with eight block assessments to test the students' understanding.
Once learners have gained their CiAH, they can continue their studies to achieve the GAI Diploma. This stage focuses entirely on the skills and learning needed for scheduling the architectural ironmongery, electric hardware and key control for a project, and is of particular importance to those architectural ironmongers working on projects being built to UK and European standards across the globe. Once they have completed the diploma, they become a DipGAI, an industry recognised symbol of professionalism.
The 2018/19 education programme prospectus has been published on the GAI website, outlining the qualifications, course content and training support available. It also gives further information on becoming a RegAI through the Continued Professional Development (CPD) programme. The programme was revamped last year to make the process more flexible and give busy professionals more opportunity to gain CPD points.
Enrolments are now open until 31 December 2018.
Download the prospectus here: www.gai.org.uk/prospectus
Since the Brexit referendum in 2016, construction wages have risen by an average of 11% according to data from a staffing software supplier
Over the past two years, Crawler crane operators have seen their pay increase by 54% followed by Electrical testers who have seen a 34% increase and steel fixers who have seen a rise of 22%.
The analysis of pay trends since June 2016 was conducted by Engage Technology partners which attributed the pay rise to shifting patterns of migrant labour.
Bradley Post, Managing Director at RIFT Tax Refunds commented: "It's great to see the rise in construction wages and it's something we expect to see continue in the coming years.  Currently the UK construction industry is facing a serious skills shortfall in the next 10 years. We're looking at a potential 25% drop in the labour pool over the coming decade and that's before we even consider the effects Brexit might have.
"Short term, a high demand for skilled labour is likely to mean lower unemployment rates among construction workers and possibly higher wages. The trouble with a shrinking talent pool, though, is you can quickly find yourself with too few skilled hands for your workload. Projects get delayed or cancelled and investors get nervous about putting money at risk. It looks like we'll be feeling the aftershock of Brexit for the years to come but we've always worked closely with the construction industry and will continue to do so to make sure we're on top of any rules and regulations that may start to change."
Two 1,000 tonne bridges are set to be slid into place later this month as part of an innovative engineering solution on the £1.5bn A14 Cambridge to Huntingdon improvement job.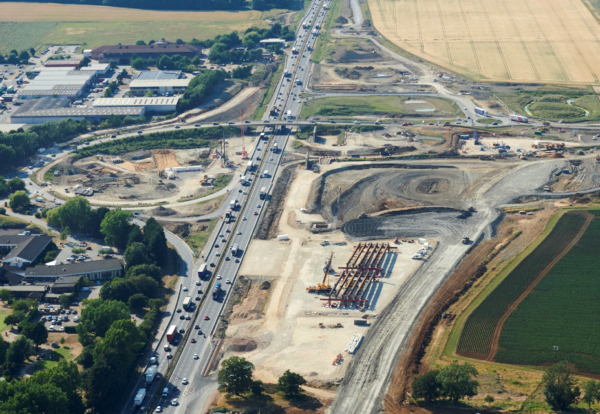 The bridges have been built at the side of the road and will be wheeled into place over just one weekend to cause minimum disruption to traffic by joint venture Balfour Beatty, Skanska, Costain, CH2M and Atkins.
Over the past few months they have built four abutments to support the new bridges as well as two 44 metre bridge decks at the side of the live carriageway.
The new bridges at Bar Hill, will be installed during the weekend of 14 September.
They will form a new, improved Bar Hill junction which will connect the A14 to the future local access road between Cambridge and Huntingdon, as well as to the existing local road between Bar Hill and Longstanton (B1050).
David Bray, project director for the A14 Cambridge to Huntingdon upgrade at Highways England, said: "Redesigning and building the Bar Hill junction was identified from the start of the project as one of the main challenges we would have to tackle.
"I am delighted that we've found a way to build the two bridges while keeping the A14 open as much as possible and disruption for people locally and road users to a minimum.
"And I am also excited that we're using such an innovative solution to our challenge – that's what makes my job so interesting."
The new bridges will ultimately replace the old crossing which will be demolished in 2019.
The team has produced a video highlighting the engineering solution
September 24th, 2018
Comments off
Spurs chairman Daniel Levy said he is not confident about the ability of Mace and its contractors to deliver the delayed stadium to a revised timetable.
His comments came as the club confirmed it would be shifting the Man City fixture to Wembley on October 29 plus all Champions League group stage games up to Inter Milan on November 28.
The new ground was due to open on September 15 but that was postponed due "issues with the critical safety systems."
Spurs have been in constant contact with Mace and its team as the club tries to agree a firm revised opening date.
Levy said: "We are now being regularly updated on progress and as soon as we have confidence in our project managers' and contractors' ability to deliver against the revised schedule of works, we shall be able to issue dates for test events and the official opening game.
"We are all focused on ensuring contractors deliver our new stadium in the shortest possible period of time and opening our stadium at the earliest opportunity.
"We are facing many issues, but although disappointing, costly and frustrating, I am uncompromising in my determination to deliver something extraordinary to our fans."
September 20th, 2018
Comments off
Preston contractor Warden Construction has been appointed by the Bowker Motor Group to build a new 43,000 sq ft Porsche Centre in the city.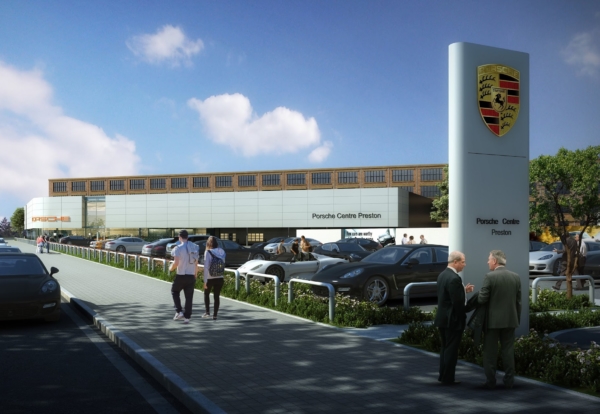 Demolition on the Watery Lane site is now complete and Warden will now start work on the new Porsche Centre which is due to open in Spring 2019.
Bowker Motor Group chief executive, Paul Bowker, said: "Congratulations to Warden Construction. We are looking forward to working with them as the Porsche Centre Preston takes shape.
"Wherever possible, we prefer to work with Lancashire companies. Bowker Motor Group's strategy to work with the world's most prestigious automotive brands unlocks exciting opportunities for other local businesses too.
"That's why we spoke to a selection highly-regarded Lancashire construction companies before we appointed Warden.
"Warden faced some stiff competition to win the business. But there was a good fit with our respective project teams: not least with their experience; and, their passion to deliver a remarkable new building on a landmark site for Preston."
Warden managing director Richard Kenworthy said: "Everyone at Warden is delighted to be working with Bowker Motor Group on such a prestigious retail development.
"It's an area of Preston that many of us have driven past all our lives. That's why we are proud to be part of a construction project which will transform the area."
The designs for the new Porsche Centre Preston were prepared by Preston-based architects Cassidy and Ashton.
The building design features a 35-car showroom and a 13-bay workshop.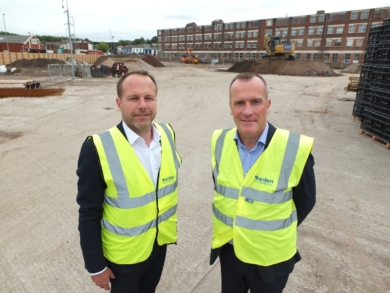 Richard Kenworthy managing director Warden Construction Ltd and Tom Fox director Bowker Motor Group
September 19th, 2018
Comments off
Offsite construction specialist McAvoy Group is aiming to make a mark in housing with a new seven-day foundations-to-finish modular system for all tenures.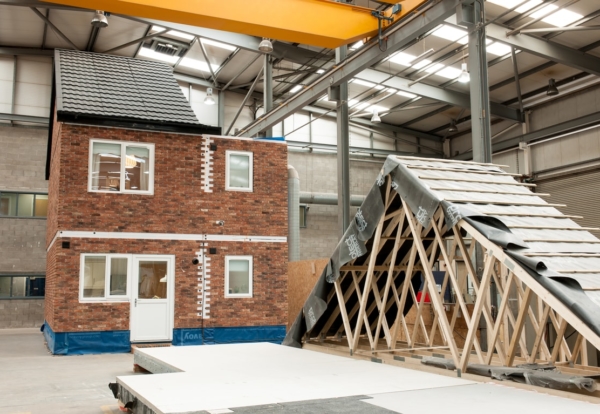 In collaboration with Queen's University Belfast, McAvoy has developed a steel-framed offsite housing solution for multi-storey apartments, detached, semi-detached and terraced family homes.
It claims an entire house can be assembled in a single day – with a total programme of foundations to occupation in just seven days.
The McAvoy approach to housing will slash programme times in half compared to site-based construction.
This will allow earlier occupation for public sector housing providers and generate a faster return on investment for private developers. It will use proven factory processes to deliver greater certainty of completion on time, on budget and to higher quality standards.
Eugene Lynch, managing director of The McAvoy Group, said: "We have ambitious plans for growth in the residential sector and have capacity already in place to meet demand using our highly skilled labour and flexible production facilities.
"We are also advancing plans to further expand capacity to meet the anticipated growth in demand.
New McAvoy offsite housing system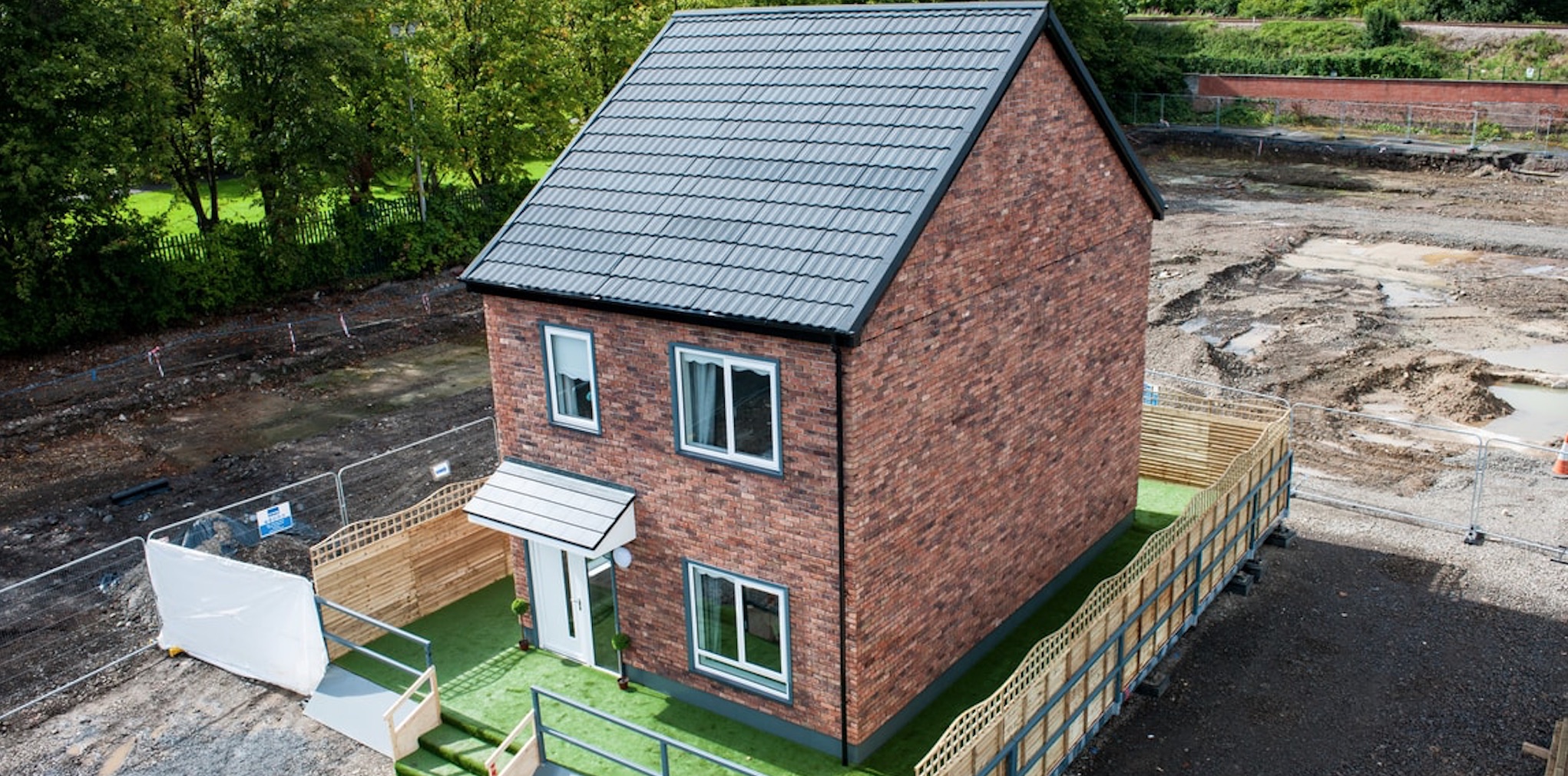 An innovative floor construction created using highly sustainable recycled material – an alternative to energy-intensive concrete – and offering excellent thermal performance and acoustic properties
A highly flexible building system with a wide range of façade treatments, roof options and module configurations
A roof module pre-tiled in the factory, which is safer, faster and avoids work at height and in poor weather conditions
Bespoke housing designs can be developed and there is a library of standardised layouts to reduce design time for planning and cost
BOPAS accreditation for reduced risk, and the assurance of durability for a 60-year design life to ensure mortgageability.
"We have a proven track record, strong project management expertise and highly transferable skills in the successful delivery of offsite solutions across a range of other sectors.
"These factors combined with our financial stability and pioneering work in digital construction technology, mean we are well placed to become a significant player in the provision of high-quality family housing manufactured offsite."