The seaside is known to do wonders for a person's health, but it does nothing for the long-term wellbeing of buildings. The main cause of deterioration of reinforced concrete structures is the corrosion of embedded steel, particularly when exposed to chlorides found in sea water and airborne salts. This impacts on buildings within marine environments such as jetties, ports and bridges.
Reinforced concrete structures are built to last and can generally expect to have a lifespan of about 50 years. However, in areas of chloride ingress the rate of corrosion increases, as does the need for repairs to maintain the buildings. Without professional treatment, a concrete's surface can crack and spall.
This is caused by passivating iron oxides, which protect the steel reinforcement, being destroyed by chlorides in air and water. The resulting surface debilitation could potentially weaken the structure and leave it vulnerable to serious deterioration – even collapse. This is particularly pertinent to public infrastructure such as bridges, which could be subject to lengthy and costly repairs funded by already cash-strapped local authorities. In such instances, people's daily lives might also be severely disrupted.
The same applies to jetties, which serve vital aesthetic and operational purpose for marinas and nearly 100 sea ports across the UK. They also offer frontline sea defence, but bear the brunt of chloride's invasive effects on account of being situated in tidal zones or splash areas.
Sacrificial efficiency
Sika was recently selected to supply a concrete repair and total corrosion management system (TCM) to the underside of a dockside quay that had displayed signs of corrosion due to chloride contamination. Sika® Galvashield® galvanic, sacrificial anodes, which are proven to provide long-term protection to high chloride environments, were installed as part of the refurbishment.
The sacrificial anodes, comprising a zinc core encased in a small, cementitious shell, are installed within repair sites to prevent incipient anodes developing, or outside repaired sites to protect the reinforcement in chloride-infused concrete. Easily fastened to exposed steel reinforcement – or into cored and grouted holes in the concrete outside the repair site – the anode's zinc core corrodes sacrificially to protect the surrounding rebar and prevent formation of new corrosion sites adjacent to repairs. This sacrificial zinc approach is similar to protecting oil rigs & hulls of ships.
All-in-one solution
As there is no need for an external power source, Sika's galvanic systems are a popular choice for effective, low maintenance corrosion mitigation. Unlike other manufacturers, Sika provides repair materials and coatings as part of a total corrosion management package, because as well as supplying the anode, we provide repair materials and coatings. Once repairs have been carried out to all parties' satisfaction, we will guarantee the repair system for up to 20 years – an offer unique to Sika.
Galvanic anodes have revolutionised the treatment of chloride-contaminated concrete. It's a system that is ingenious in its simplicity and effectiveness; eradicating the need for costly, time-inefficient and energy-consuming shot-blast methods of corrosion removal. The anode system is a smart 21st century solution to an age-old problem. It means our weathered, waterfront buildings can stand protected – 'the seas shall not have them'.
As engineering firms move toward developing a digital strategy, a new phrase – going digital- will resonate with engineering, architectural, and construction professionals, as well as infrastructure asset owners, is now part of the infrastructure lexicon. Going digital refers to the business transformation being realized as infrastructure professionals take advantage of a connected data environment by leveraging a cloud computing platform that digitally connects and converges people, processes, data, and technology to yield significant benefits.
In its broadest sense, going digital means moving data that used to be locked in application-specific files or even paper documents, and making the data inherent in these files and documents available to be consumed and analyzed by other software and processes. Through going digital, 3D digital engineering models created during the planning and design phase can provide the interactive 3D environment for operations and infrastructure asset performance modeling, leveraging cloud computing, predictive analytics, and operational data from the Industrial Internet of Things and other sources. These models can now be referenced throughout the full lifecycle of an infrastructure asset, improving performance, safety, and sustainability.
But what about an infrastructure asset that does not have a digital engineering model? Reality modeling, an exciting technology that involves the process of capturing existing facilities and site conditions with the use of digital photographs and/or point-cloud data – enables the rapid creation of 3D, engineering-ready mesh representations of the existing, as-operated conditions. The process is simple: overlapping photographs taken with a camera either handheld or mounted on a UAV are uploaded to a cloud processing service that automatically reconstructs the 3D model for use in engineering applications. Further detail and accuracy can be added to the model through close range photos or point-cloud data from laser scanners.
Keeping on top of the paperwork generated by even the most straightforward project-based contract with a given subcontractor can prove an arduous task, with various documents coming in and going out throughout the works requiring actioning. Managing this process in a timely and efficient manner becomes increasingly difficult as the number of ongoing projects and subcontractor contracts increase, something we have first-hand experience of at Osborne.
We utilised the services of more than 1,200 different subcontractors last year – from major businesses working on our behalf on a number of projects right down to small, niche companies working on one-off projects.
As you can imagine, processing payment-related paperwork for each of these subcontractors without error or issue is no easy task. That's why we're working with Open ECX to build and implement a bespoke system called WebContractor to increase efficiencies.
At this stage, we're looking to launch a pilot phase on a small number of projects in the very near future. Following successful completion, we plan on implementing WebContractor across the business on all our projects.
For now, all we can say is what we're expecting to achieve. There are three main reasons WebContractor stood out for us; compliance, fairness, and forward planning.
Compliance
Firstly, we want to make sure we comply with the requirements laid out in the Construction Act. We are looking for a way to ensure we don't miss any timelines for issuing any paperwork for the various types of contracts we enter into, such as payment and payless notices, for example.
Our current processes are insufficient for our future needs and direction of the business. Through the WebContractor system we will significantly improve our Construction Act compliance, with the system providing early warnings and a fixed process to work through for both our and the subcontractors' teams.
Fairness
We've signed up to the Fair Payment Charter as we believe very strongly in providing payment on time for our subcontractors to help them with their cash flows.
WebContractor will help us achieve this and also provide all of our valued subcontractors with much-needed transparency, letting them know where their application for payment is in the process.
Forward planning
We expect WebContractor will also provide us with additional administrative capabilities as we will have greater visibility of the payment process throughout the project cycle. From a finance point of view, it will allow us to have a better and real-time understanding of our cash flow forecasting, something that is vital in this industry. Moving forward, we would like to expand this solution further to link in with construction industry services and databases such as Builders' Profile and Construction Line, helping us to be more streamlined and joined up in our approach and significantly reduce the need for manual intervention.
We will also benefit from having a single and uniform way of storing all paperwork and supporting documentation and information.
WebContractor has been developed to provide businesses with time and labour savings, helping them to improve efficiencies and compliance with legislation as well as give them the platform to plan their finances more easily and accurately. As a company with construction and infrastructure contracts creating an annual turnover in excess of £350 million, we're very excited about the size and scale these benefits can bring us not only on our pilot projects but long into the future.
There is a housing crisis in the UK. According to the National Federation of Builders, the answer is simple: build more homes.
But, critics say it is more complex than this. Brown land has to be found and planning permission granted. And, say others, the construction industry is not geared to meet such a massive upsurge in building demand. The results will be shoddy buildings and poor-quality homes for homebuyers and tenants.
But there could be a solution that means a surge in new homes coming to the market is possible. Rather than using bricks and mortar or breeze block and concrete, the solution is modular building, using a wood frame or steel frames, along with other readily available materials.
The modular build industry can support the rapid growth in the construction industry and here's how;
SPEED is of the essence
On the one hand, you may assume that quick building means a final product of dubious quality. It is right to be cautious, especially when we are discussing people's homes. This is a place of sanctity, a place where we should be warm, safe and comfortable.
We have seen poor housing in the past and in modern times – the draughty post-war prefabs and the anonymous looking housing estates where walls aren't straight, and quality of the fixtures and fitting flimsy at best.
Speed in terms of modular building is not because the design is poor or the construction hurried, but because the methods of construction and materials used vary from those of a traditional build.
Within days, the outer walls of a modular building can be erected. Only a few days later, the interior walls and roofing frames can be complete. In fact, research shows that a modular build takes around half the time of a traditional building.
For a construction industry that needs to build good quality housing and fast, modular building is the answer.
OFF SITE construction
One of the issues with traditional building is often the location and access to the building site. For example, in cities and towns, building in a busy urban landscape brings additional costs. Difficulty accessing the site also leads to delays, again an expensive problem but also one that slows down progress.
With modular building, there are few worries of this nature and that is because the construction happens off site. In most cases, the houses are built in a factory setting and then shipped to their location. Where access is difficult, the homes can be delivered 'flat-packed' and put together on site.
Utility points can be added as part of the construction process, with the components fixed into position once the building is erected.
This makes this form of building friendly to the local community and businesses, as well as neighbours of the building site as there is no heavy machinery pounding away, day after day for months on end.
COST-EFFECTIVE housing solutions
Another factor that slows down the construction of new homes is who is going to pay for the building work? One of the issues within the housing crisis is affordability. For new buyers, it takes on average 20 years to save up a deposit on a home. By the time they have saved the deposit, there will be new hurdles to jump through.
And so, building housing estates in the traditional style could be a risk. Can people afford to buy? But also, is the style of home being built what they want or need?
Another issue with the housing crisis is that even if someone is lucky enough to get on the housing ladder when they need to buy a bigger property – e.g. more bedrooms for a growing family – they can't afford to do so.
The solution is to bring more supply to the market place. And this means more houses. Modular building consumes fewer materials and resources, and are faster to build and that means they are cost-effective. With these substantial savings passed on to the buyer, more people will be able to afford a home that suits their needs.
HIGH-QUALITY in every aspect
From design to completion, to delivery to style, to aesthetic appeal, everything about a modular building is attractive. And that means the housing market will not be awash with sub-standard homes, but high-quality properties that people want.
For modular build specialists, the building of modular homes to add to the dry well of the housing market is a no-brainer. But is the great British public ready for modular homes?
MTX Contracts designs and constructs modular buildings for clients in the UK and beyond. Specialising in bespoke healthcare buildings, they understand how modular building is the future of the construction industry.
Planning permission has now been granted for the nine-storey building at 262 York Road on the site of a Shell petrol filling station – the last undeveloped site at Battersea Reach, a mixed-use development fronting the River Thames.
Multi-disciplinary consultancy Meinhardt UK is using its expertise in modern methods of construction and structural engineering to realise the architect's vision for a new build-to-rent development despite a unique set of challenges.
Working with clients Angle Property and architects TP Bennett, Meinhardt was originally asked to look at a scheme that would have seen the development rise above the petrol station. Although that plan achieved planning consent, the client decided to acquire the lease of the filling station and demolish it, and the revised application, for a building of approximately 10,000 sq m of floor space, has now achieved planning permission.
The development includes a commercial unit at ground floor with office, retail space and a lobby, ground floor car parking and a one-storey partial basement, which will house bike storage, plant and back of house. Removing the filling station made room for an additional storey of residential accommodation adding a further nine units. The apartments are a series of duplex units designed to stagger over the course of each level.
Large protruding balconies are a key element of the development, and Meinhardt coordinated extensively with the architects to accommodate these, and to incorporate the thermal break requirements in a twin wall construction frame. There is a terrace at first floor level and residents' amenity spaces on some floors. Penthouse flats on the top, stepped back from the perimeter, are built around a lightweight steel frame.
Meinhardt's design does not hinder the overall architectural solution because it sits on a transfer platform from which the structure can fly up. The MMC solution is predominantly twin wall and precast lattice slab over the insitu concrete transfer deck. That will accelerate the construction programme, and so that it does not impede the architectural layouts, Meinhardt's team designed around tricky features such as a central corridor, which would otherwise have impeded the use of twin wall construction, and circumvented tricky sun rooms with steel beams.
Following planning permission, the client intends to tender for a contractor in autumn with start on site in the early 2018. Meinhardt will work with the contractor through an anticipated 18-month construction period to a mid-2019 completion.
Despite the decision to remove the petrol station, the site still poses all the underground complications of having been occupied by one. Meinhardt will work with geotechnical specialists to tackle complications including contamination. Obstructions such as the fuel tanks serving the filling station will have to be removed. A search of the site's history revealed the ground also conceals a gas tank, likely a reinforced concrete wall with basement construction, which will either have to be removed or designed around.
The Meinhardt team has spent a year developing the design from work on the original idea through to planning consent on the current one to replace the filling station, and will now work with the contractor to see the project through to completion. The key outcome is enabling the use of MMC without impeding any of the architectural layout.
This is the second PRS scheme employing MMC in London that Meinhardt has worked on during the pre-planning process, the other being Greenford Green, Ealing, the UK's largest purpose designed build to rent scheme, which will create almost 2,000 new homes.
Specialist engineering contractors and construction union Unite are both calling for a licensing system to be introduced across all construction trades following the Greenfell Tower disaster.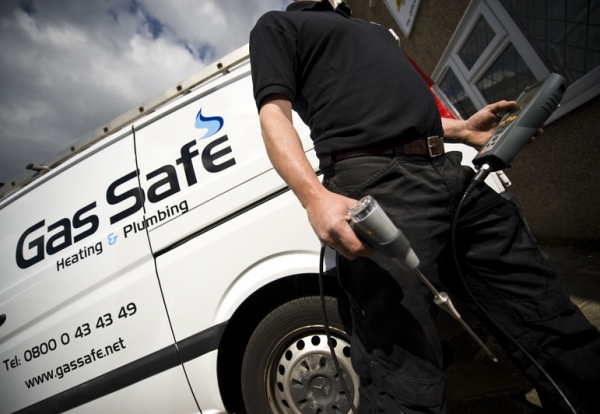 The register would be in line with the existing gas engineers licence scheme operated by Gas Safe, which means that it would be illegal for non-licensed practitioners to undertake specialist work.
Already many trade associations run robust accreditation schemes for technical performance but are frustrated that public bodies rarely require compliance.
Professor Rudi Klein, group chief executive of the Specialist Engineering Contractors, said: "Accreditation schemes set up by trade bodies belonging to the SEC Group could form the basis of a new licensing scheme in the UK.
"It is something that the United States and Australia have done successfully across most trades."
Klein has also called for a national enforcement agency for building control to be set up as concern grows about inspection regimes that have allowed unsafe cladding to be fitted to more than 100 tower blocks.
"There is clearly a need to consider how to improve enforcement process for building control after Grenfell," he added.
Calling for a radical new approach to regulations and safety laws, Unite national officer for construction Bernard McAulay, said that all construction companies should be registered in order to undertake public sector contracts.
"We now need to have a major sea change in the way that we view regulations. Rather than a knee jerk reaction to cutting red tape we should be educating people to understand that properly enforced laws and building regulations are essential in ensuring safety.
"In particular, we need to professionalise the construction industry by introducing a licensing and company registration system so only fully accredited workers and bona fide construction companies can undertake construction work on all future public sector contracts, especially involving safety critical work."
Today, the Prime Minister revealed that retired judge Sir Martin Moore-Bick would head the Public Inquiry into the Grenfell Tower fire.
The Inquiry will have the power to compel the production of documents, and to summon witnesses to give evidence on oath. The Inquiry will be held in public.
Theresa May said: "We must get to the truth about what happened. No stone will be left unturned by this Inquiry, but I have also been clear that we cannot wait for ages to learn the immediate lessons and so I expect the Chair will want to produce an interim report as early as possible."
"The immediate priority is to establish the facts of what happened at Grenfell Tower in order to take the necessary action to prevent a similar tragedy from happening again.
"But beyond that immediate focus it is also important that all the wider lessons from both this catastrophe, and the inspections of other buildings around the country that followed it, are identified and learnt."
July 21st, 2017
Comments off
With more and more people deciding to build their own properties, more people are putting themselves at risk of injury on building sites. From simple building extensions to 3 bed houses at some point those who work on the project will need to wear the correct safety equipment, but often health and safety regulations are only followed by contractors and those who regularly work in this sector.
In this article, we will be exploring why the sudden increase in injuries and risks can be quickly averted…
Self-Building Safely
Self-Building is a rewarding and brilliant way to save money, however maintaining site safety is a must, even more so if you do not work in the building sector. A lot of the time when people are to self-build, they spend their spare time such as evenings and weekends to complete the project. This can cause many problems, the biggest of which is laziness and cutting corners.
Something as simple as putting on the correct safety equipment can become a chore, with the popular thought being "I'm only going to do a bit, not worth putting it on". Well not wearing safety equipment can quickly increase the risk of injury, whether that injury is minor or major.
Cutting time doesn't save lives.
Areas such as the hands and feet are usually the first place to have injuries with hazards such as sharp objects, you can easily find yourself with a minor if not severe injury. Protective gloves and boots can quickly reduce the risk of these injuries but there are many other potentials you will need to protect from. Hard hats are a must on a building site and can quickly reduce the impact of an object on the head. And strong thick clothing can reduce the chance of scuffs and abrasions, however specialised PPE will need to be used in other circumstances.
Remember if you do not have the correct protective equipment then you shouldn't be working, no matter the complexity of the task.
Not sure what PPE to wear?
If you do not understand which PPE you should wear before you begin the task you need to speak to an expert. Whether this is specialist which will also provide equipment for you and your team or a PPE and Workwear company. Both will help you choose the correct items which are rated for the type of work you are undertaking.
We are one of the leading suppliers of PPE and workwear in the UK. We boast a wide collection of products at amazing prices.
—- Author —-
Conor Lyons
Writer for PPE, Safety and Workwear blog at Site King.
July 19th, 2017
Comments off
Apsley House Capital and Galliard Homes have acquired a 12-acre regeneration site in the centre of Birmingham.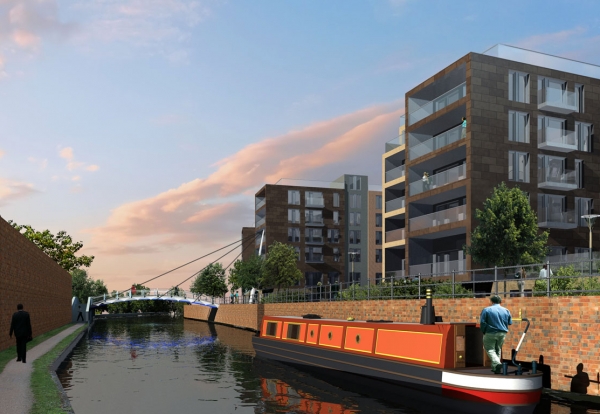 The two companies have bought the Soho Loop site near City Hospital from City and Provincial Properties.
The joint venture teamed up with Claremont Property Group to purchase the site which will now be subject of a revised planning application to build 800 homes.
Birmingham City Council has already given planning consent for 500 homes on six key plots.
Vacant and derelict buildings will make way for a variety of energy efficient homes that will help to address the city's housing shortage.
Robin Norstrom, director of Apsley House Capital, said: "We are really excited about the Soho Loop development.
"It is going to transform what is a neglected and derelict area of Birmingham into a canal-side quarter of high quality homes with character in a green pocket.
"It is an ambitious project which will deliver well-managed good quality housing. We see it as an innovative response to today's changing needs in accommodation.'
Soho Loop sits next to Icknield Port Loop and features in the Greater Icknield Masterplan, part of the Birmingham Development Plan, which has outlined plans for 3,000 new homes and 1,000 new jobs in the area.
Apsley House Capital is also working with Galliard on another site in Birmingham's Southside district on a development of 385 apartments.
Norstrom added: "We have identified Birmingham as a key city in Europe for further investment.
"We really believe it has an enormous amount to offer both now and in the future with the arrival of major projects such as the new HSBC headquarters, the Paradise development and the start of work on HS2. Birmingham is calling."
July 17th, 2017
Comments off
Cambridge major landowner Marshall Group has signed up to a joint venture with house builder Hill to deliver 450 homes around the city's airport.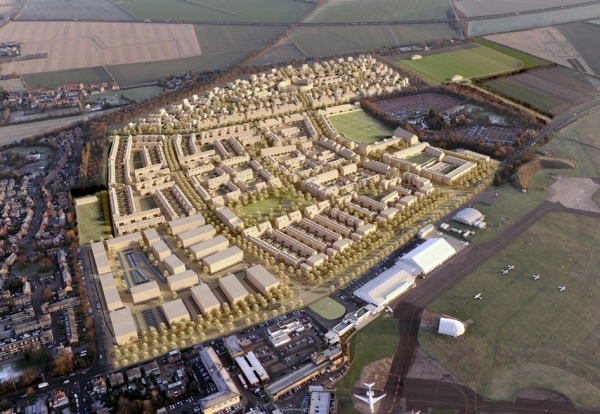 The new development, Wing, will sit on a 160 acre parcel of land owned by the Marshall Group and is the business' first major residential development project.
With a masterplan that allows for a total of 1,300 homes, the first phase of the development will be delivered by Hill and when complete, will comprise 315 private homes and 135 affordable homes – including shared ownership and affordable rent tenures.
Designed by Pollard Thomas Edwards architects, this first phase will offer a range of properties including 1-3 bedroom apartments and 2-5 bedroom houses.
The scheme includes a primary school, sports pitches, allotments and retail and commercial space.
New transport infrastructure will also be delivered as part of the development and nearby Newmarket Road will be upgraded.
Andy Hill, Chief Executive of Hill, said: "Having developed over 1,000 homes in Cambridge over the last five years alone, we take great pride in being able to provide a variety of homes for a range of people.
"We are therefore thrilled to be partnering with Marshall on this development and hope that it marks the start of a successful long-term relationship between two like-minded family firms committed to making Cambridge one of the best cities to live in the UK."
Sales are expected to launch at Wing in late 2019, with the first homes expected to be complete in the summer of 2020.
July 7th, 2017
Comments off
The Government has selected its preferred nine firms to deliver a massive programme of fit-out work on its estate reorganisation programme.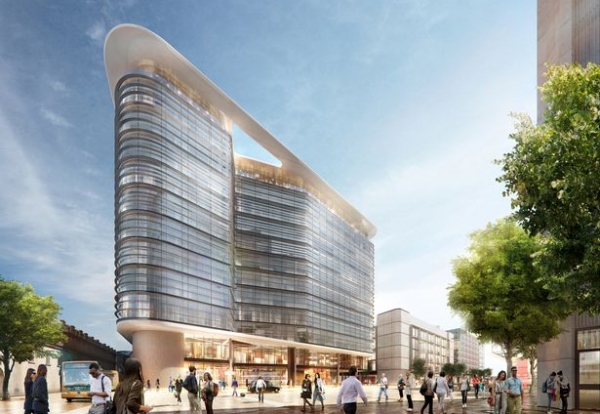 The Government Hubs office closure and relocation plan will run over the next seven years and promises up to £1bn of fit-out work.
This will be shared between a line-up of big industry players and several smaller firms like Shaylor Group and BW Interiors.
All three lots: Mace, Interserve, Overbury, Wates Construction.
Lots 2+3: BAM Construction, ISG Fit-out, Shaylor.
Lot 2 only: Styles and Wood. Lot 3 only: BW Interiors