North York moors potash mine developer Sirius Minerals is scaling back construction on the project amid a funding crisis.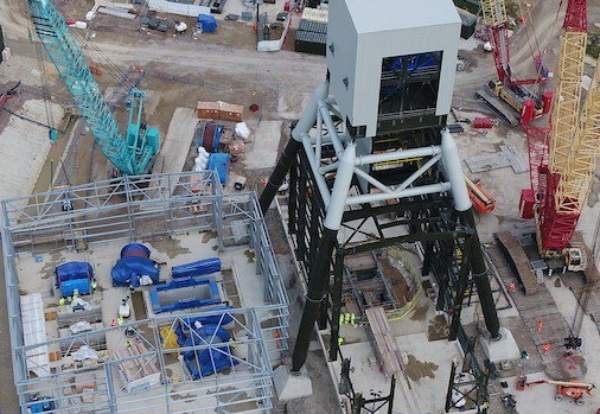 Shares in the firm crashed 60% to 4p recently as it reported failure to raise $500m for the next major phase of construction for the huge fertiliser mining project.
The firm said it would now look at cutting development costs and try to find alternative funding.
Sirius chief executive Chris Frasers said the project had around £180m or six months of cash left under the reduced programme before construction would have to halt.
"Due to the ongoing poor bond market conditions for an issuer like Sirius we have not been able to deliver our stage 2 financing plan," he said.
"As a result, we have taken the decision to reduce the rate of development across the project in order to preserve funding to allow more time to develop alternatives and preserve the significant amount of inherent value in this world-class project.
"The company will now conduct a comprehensive strategic review over the next six months to assess and incorporate optimisations to the project development plan and to develop a different financing structure for the funds required."
The board of directors added that it believed additional financing would be secured in the coming months, but warned there was a risk that a successful outcome may not be reached.
The Woodsmith mine project involves sinking two 1.5km shafts below a national park on the North York Moors to access a huge deposit of polyhalite, a mineral that can be used as fertiliser.
Excavation of the main shaft has reached its target depth of 118m using conventional excavation techniques and a shaft boring roadheader has now arrived at the Woodsmith Mine site to continue excavations.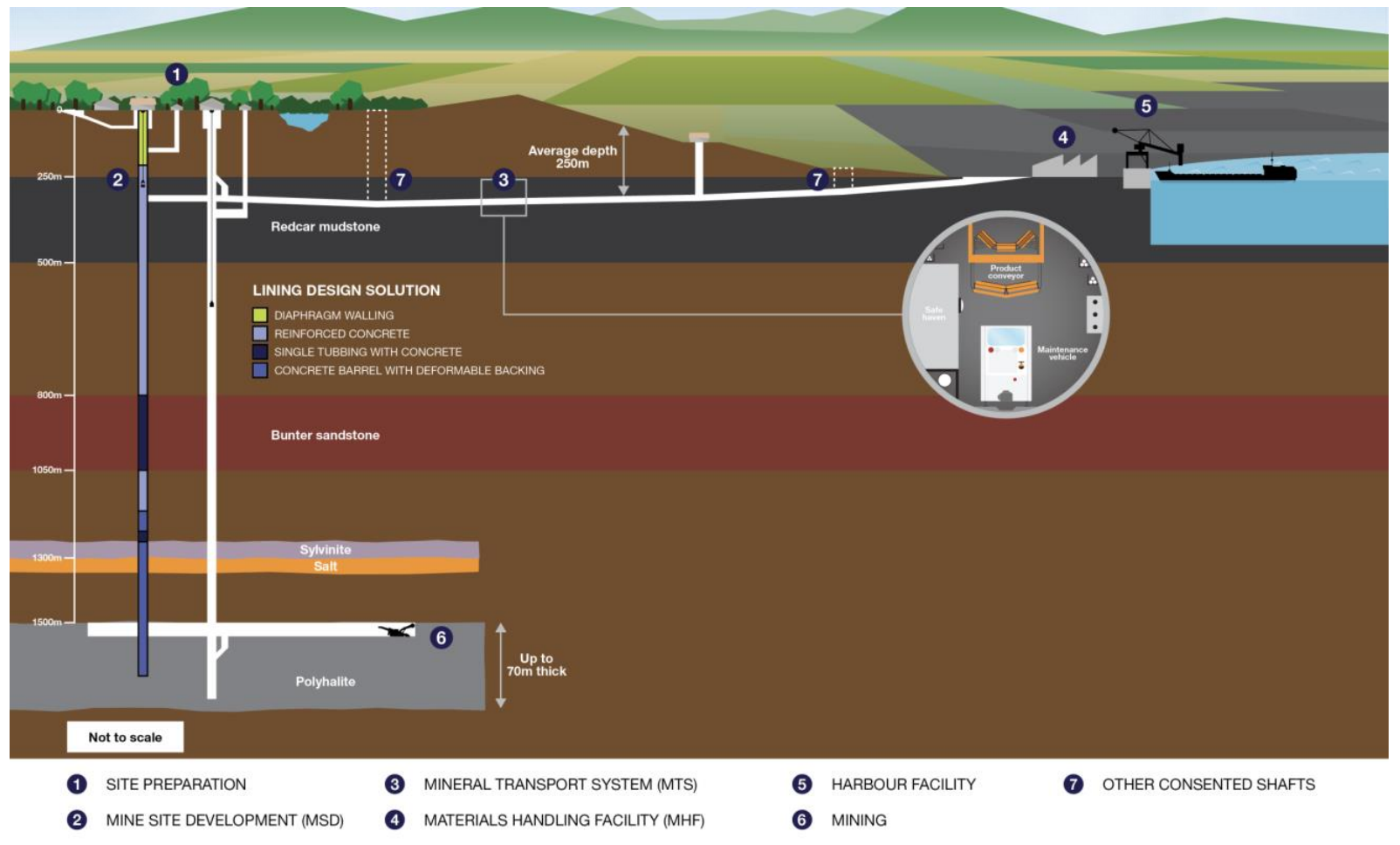 Austrian tunnelling specialist Strabag has the contract for the three main 23-mile tunnel drives to transport excavated material to the coast.
The first of three tunnel boring machines "Stella Rose" is presently at work and completed 1.2km of tunnelling, over two months ahead of schedule.
A contract was signed with P J Carey at the start of this month to deliver port handling facilities at Teesside, cancelling a previous contract with McLaughlin & Harvey.
Transport secretary Grant Shapps has halted removals of ancient woodlands for HS2 while the independent Oakervee review is underway.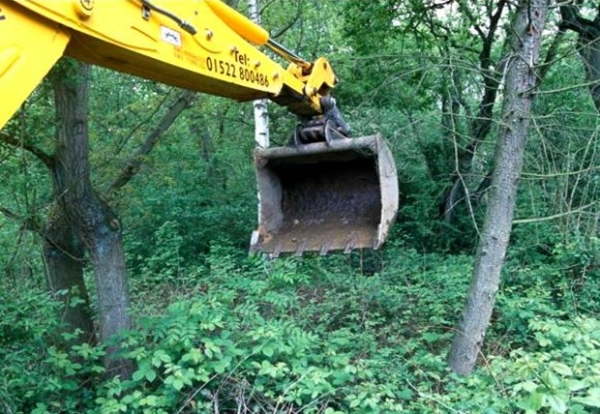 Transport secretary bows to pressure from woodlands campaigners
Shapps said clearances would only be allowed during Oakervee's work if it was shown to be absolutely necessary to prevent major cost and schedule impacts.
Around 60 ancient woodlands will be impacted by the high-speed rail project.
He said HS2 would be allowed to continue with other important preparatory works which, if delayed, would have a damaging impact on cost and schedule if HS2 were to continue.
"There is no sense in hiding the challenges HS2 faces, or masking the difficult decisions that need to be taken.
"So, as Douglas Oakervee's review continues, we must take a sensible approach and recognise that some works simply cannot be undone later.
"Having listened to the concerns of affected residents and Parliamentary colleagues, I have ordered HS2 Ltd to consider what works affecting ancient woodland clearances can be delayed for the duration of the review.
"This ensures we avoid irreversible decisions without major impacts on cost and schedule. HS2 may be a complex project overall, but I think this request is just common sense."
McLaren has been awarded the construction contract for a £190m residential development in London's Fitzrovia.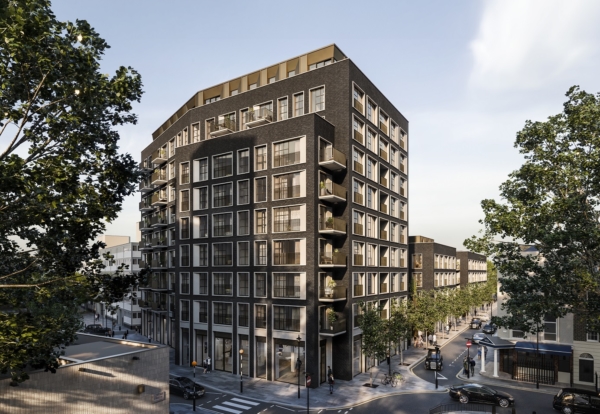 The project is being carried out by a joint venture between Art-Invest Real Estate UK, German real estate developer ECE and Dukelease Properties.
The development will create 88 luxury apartments, 35,000 sq ft of commercial space and 15 affordable housing units and is scheduled for completion in 2021.
Luka Vukotic, Development Director at Art-Invest Real Estate UK, said: "We are excited to appoint McLaren on our first London development.
"Their capability and approach aligns with our vision to create an outstanding building and a high-quality residential product in one of London's most vibrant locations".
Richard Leslie, CEO of Dukelease Properties, added: "We are pleased to work with McLaren and move forward this exciting project with our JV partners, Art-Invest Real Estate and ECE.
"Fitzrovia is becoming one of London's most sought-after areas and 101 on Cleveland Street will be a stunning addition to its residential market".
Demolition and substructure works on the island site are being carried out by Erith with main construction work due to start early next year.
David Miller, McLaren's Regional Managing Director – London, said: "McLaren has extensive experience in the residential and mixed-use sector, and it is great to be a part of a team delivering high-quality homes in this part of London".

Plans for up to £300m of improvements to the A1 around Gateshead have been submitted to the planning inspectorate.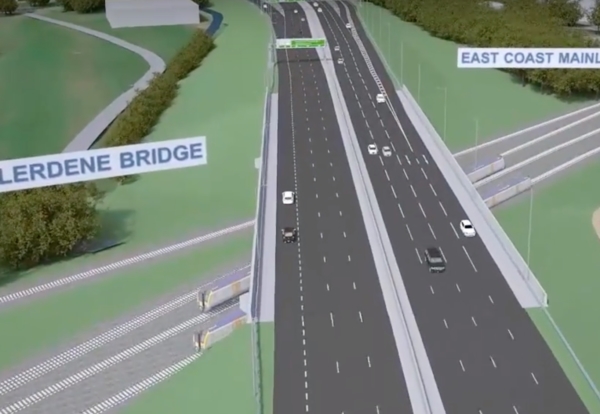 Allerdene railway bridge over East Coast mainline to be replaced
Highways England is planning to widen a 2.5 mile stretch of the A1 dual carriageway between Birtley (junction 65) and Coal House (junction 67).
The project will involve widening of the A1 south of Gateshead to four lanes on the southbound carriageway and three lanes with lane gain on northbound carriageway to provide additional capacity.
Works will include replacing the Allerdene railway bridge, which carries the A1 over the East Coast Mainline.
Plans to improve the dual carriageway next to the Angel of the North had been due to take place this year but work was delayed when resources were focused on upgrading the A19 around Sunderland.
The scheme was one of 16 projects rescheduled back in 2017.
If given development consent, construction could start by late 2020.
An error in a tender document is being blamed for the delayed opening of Edinburgh's £150m children's hospital by more than a year.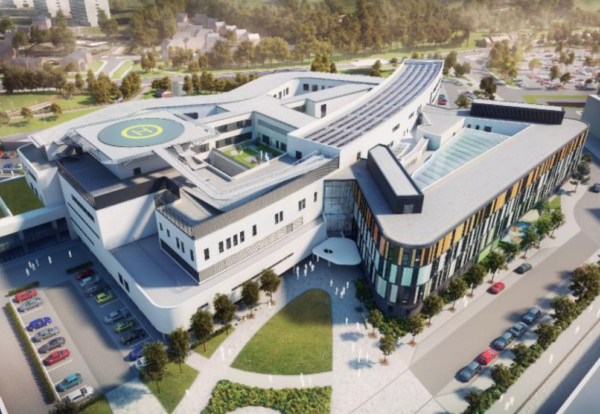 The opening has been set back to 2020 because of ventilation problems in the critical care facility, which could cost an extra £90m to rectify.
An independent review of the governance of the project by KPMG has found that the main issue with ventilation in critical care stemmed from an error in a document produced by NHS Lothian at the tender stage in 2012.
Documents issued to bidders stated single bed cubicles and four-bed rooms in the critical care ward required a ventilation system with four air changes per hour. But the relevant guidance requires 12 changes per hour for this type of ward.
The bid race for the non-profit distributing PFI-style contract was won by Multiplex-led IHS Lothian consortium with a target date to open in July this year.
But days before the opening serious problems with the ventilation system were uncovered during tests by an independent contractor.
The Scottish Government said it would now parachute in a senior programme director to take responsibility for day to day delivery of the Royal Hospital for Children and Young People from now until the site is fully occupied.
A new national body – Programme for Government – will also be created to have oversight for the design, planning, construction and maintenance of major NHS Scotland infrastructure developments.
The KPMG report attributes this to human error and confusion over interpretation of standards and guidance. It also concluded that opportunities to spot and rectify that error were missed.
Scottish health secretary Jeane Freeman said: "I am of course bitterly disappointed that a mistake made in 2012 was not picked up earlier.
"This is a publicly funded project of strategic importance, which has not been delivered by NHS Lothian in compliance with the standards and guidance.
"The delay we now face will be borne by NHS Lothian staff, by patients and their families and the additional cost will be to the public purse."

The new Construction Minister Nadhim Zahawi MP is set to make his first industry appearance at UK Construction Week (UKCW), the UK's largest built environment event, at the NEC in Birmingham on Wednesday 9 October.
A survey of over 900 construction professionals conducted by UKCW[1] asked respondents what their one request to the Construction Minister and the Government would be.
The results of the survey revealed an increasingly impatient industry still focused on Brexit, but split between those who want the Government to 'Get Brexit completed' (37%, with the vast majority of those favouring a "no ifs or buts" approach), and those who want to 'Cancel Brexit altogether' (32%).
Within the industry itself, the research reveals that it's mostly architects who are Remainers, with 57% of those respondents choosing to make 'Cancel Brexit' their number one request, compared to 15% choosing 'Get Brexit completed'.
This swaps over when it comes to contractors, with 44% of those respondents choosing 'Get Brexit completed' compared to 20% choosing 'Cancel Brexit'.
Other political and policy issues came much further down the list. The alternative number one requests from respondents were for the Government to speed up initiatives in construction to tackle climate change (9%), the cancellation of HS2 (a surprising 4%, mostly from consultants), and reform to planning laws and policies to make it easier to build (3%).
Nathan Garnett, UKCW event director, said:
"The splits in the construction industry's views simply reflect what's happening in society generally. But it is a really difficult time for this sector at the moment, a sector that absolutely hates uncertainty. The Minister will hear this very clearly when he attends this year's event – whether it's deal or no deal, or cancelling it altogether, we just want to know how to prepare for the future."
Despite the uncertainties, and to help the 30,000 or more industry delegates expected at the show, UK Construction Week is hosting a wide range of CPDs and keynote speeches to explain what can be done to prepare for the post-Brexit future.
For example, a major debate on the UKCW main stage will take place on Wednesday 9 October, on Brexit Boom or Bust? Industry Economic Forecast 2020. This features Professor Noble Francis, economics director at the CPA, Tom Hall, chief economist at Barbour ABI, and Lord Digby Jones, cross bench peer and businessman.
The Office for Product Safety and Standards will be holding workshops on timber regulations and the impact of a no-deal exit on timber importers.
The Department for Work and Pensions will be advising construction professionals in the UKCW Careers Centre and HMRC is in the Civils area of the show (stand C21). In addition, the Department for Education will be promoting apprenticeships and talking about educational options in the UK for EU nationals post-Brexit.
Nadhim Zahawi MP was appointed in July as the third Construction Minister so far this year. He will be giving a keynote address on the UKCW Main Stage on day two of the event, at 2:15pm. Pre-booking is strongly advised.
UKCW is one event with many sections, including Build sponsored by Easy-Trim, Building Tech, Civils, Energy and HVAC, Surface and Materials, and Timber. It also features Concrete Expo (8-9 October only) and Grand Designs Live (9-10 October only). Single registration gives free access to all areas of the show. Pre-booking is also strongly recommended for the extensive seminars and CPD programme.
Find out more about UKCW at: https://www.ukconstructionweek.com/

---
[1] Research with 906 respondents within the construction industry and registered to attend UK Construction Week was conducted in September 2019.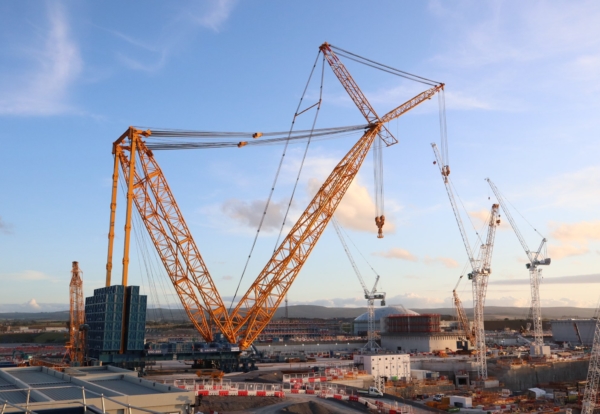 The massive crane, called Big Carl after Carl Sarens the father of the Belgian family business that made it, is able to carry 5,000 tonnes in a single lift.
The 250m tall crane has been developed to support the growth of modularisation in big construction.
Now the tallest man-made structure in the west country, it will be on site for the next four years and lift over 700 pieces of prefabrication including the heaviest components for the reactor buildings.
The SGC-250 runs along six km of rail track and at 50m radius, the crane can lift the equivalent of 32 single-storey houses or 1,600 cars.
It was brought to Hinkley Point C in 280 loads from its base in Antwerp via Bristol Port's Avonmouth Docks.
Rob Jordan, Hinkley Point C construction director said: "The crane is an impressive piece of kit and a world beater.
"It allows us to innovate in the way we build the power station, lifting complete pieces out of our factory bunkers and into place across the site."
Sarens director of Technical Solutions, Carl Sarens, said: "The SGC-250 is a game-changer. Sarens is proud to have conceived its design, designed it, and built it. We believe that this creation will serve Hinkley Point C and other sites around the world like no other crane can."
If your company produces or stores hazardous waste, then it is your responsibility to ensure it is stored and handled correctly. Of course, if this type of waste is mishandled or poorly stored, it has the potential to damage both the environment and people. In particular, hazardous waste can contaminate surface water supplies and groundwater supplies, which in turn can lead to a much wider-reaching problem.
It's understandable then, that the UK government has strict policies in place regarding the monitoring and transport of potentially harmful material. Together with Reconomy, waste management experts, we've produced this guide to help you make sure your duty of care is being carried out correctly.
Identifying different types of waste
If you produce or store hazardous waste on-site, you must identify the waste type in order to correctly handle it. There are two main conditions that define different hazardous waste types — the potential to harm humans, or the potential to damage the environment.
Some common examples of hazardous waste include asbestos, batteries, oils, brake fluid, printer toner, and pesticides.
Of course, there are many other hazardous waste products that could be identified on your site. It is important to know the different types of hazardous waste your company creates, as they need storing separately. For example, if you are working on a construction site, you cannot throw hazardous material in the same standard 8 yard skip you have for general waste and rubble — each type of hazardous waste needs its own container.
Safe storage for hazardous waste material
Naturally, the best way to manage hazardous waste is to reduce the amount you are producing. But for some companies, hazardous waste products are an unavoidable part of the process for their industry. In this instance, the waste must be stored, recorded, then correctly transported.
There are four main subcategories for hazardous waste: construction, demolition, industry, and agriculture. Each type should be separately stored in a container designed to stop anything escaping. To prevent contamination, make use of waterproof covers to avoid any run off from the waste. Be sure that the containers are clearly labelled so that everyone on-site is aware of what they are storing.
A classified inventory of your hazardous waste stored on-site is also vital. These records will help in the case of an incident, as emergency services will be able to quickly attend to the problem armed with the right information.
Record-keeping
Once your hazardous waste is collected, you will need to fill out a consignment note. This needs to be done before the waste is removed from your site.
Consignment notes require the following information:
A full description of each type of waste that is being collected.
The amount, in applicable measurement units, of waste being collected.
The chemical components of the waste.
The form of the waste (solid, liquid, gas, etc.)
You need to fill out a consignment note if the collection is from a business that is a registered waste carrier, or if the waste is being moved from one premises to another within the same company. You will also need a consignment note if another business has produced the waste on a customer site and it needs moving.
You do not need a consignment note is the waste has been imported and is covered by other documentation, or for domestic hazardous waste (except asbestos).
Finally, there is a fee to pay for the consignment note. In England and Wales, this fee is £10 for a collection, or £5 per note if it is part of a milk round of collections. In Scotland and Norther Ireland, the fee is £15.
Brand writing agency Reed Words and global creative agency SomeOne have created a major international advertising campaign for Bluebeam Revu – the leading software for the architecture, engineering and construction industries.
Building on US success
Bluebeam Revu lets construction project partners markup, track and collaborate on the same PDF plan. From anywhere, and in real time.
With Revu, users can finish tasks 70% faster and with 90% more accuracy than traditional pen-and-paper workflows.
Bluebeam Revu is already dominant in the US, where it's used and trusted by over 90% of top contractors and design-build firms. To replicate this success in other markets, Bluebeam briefed Reed Words, who had already worked on the brand's European tone of voice, to create an ad campaign that captured Revu's transformative qualities for an international audience.
Life-changing simplicity
Reed Words called on long-time creative collaborators SomeOne as conceptual and visual partners on the project. Working closely together, the two agencies created a campaign that explains the impact of Bluebeam Revu's radically impactful features.
Writer Jade Barrett, of Reed Words, says,"Bluebeam has loads of features, but for new users, it's the simplest tools that make the biggest impact. The time spent on manual, repetitive jobs drops from days to hours, hours to minutes and minutes to seconds. For architects, engineers and builders, Bluebeam is lifechanging. That idea became the foundation of this campaign."
Working with the new 'Life-changing software' strapline, SomeOne developed a hyper-realistic style of photography with photographer Simon Sorted for the campaign visuals.
Simon Manchipp, Executive Creative Director of SomeOne, says "You wouldn't imagine technical software to be that exciting. But here, it's all consuming. The new work is holding a mirror up to the audience. UltraHD portraits capture the moment when potential customers discover the power of Bluebeam. We wanted to reflect that visual expression of wonder, as it's what new users do when the penny drops".
Reed Words developed the campaign messaging in line with their previous work on localising Bluebeam's brand voice to the UK.
"Our localisation research was a good steer for the messages that would hit home in the UK, and other new markets," said Jade Barrett.
"New audiences need to hear about Bluebeam's basic features. But we wanted the messaging to move beyond functionality – to land an emotional punch that lives up to the core concept. So we focused our headlines on how Bluebeam takes care of the repetitive tasks that drain hours from the working day."
Ready for launch
The outdoor campaign has already been launched in Australia, ahead of its UK launch in late September. The campaign is also set to run extensively in several European markets, including Denmark, Germany & Sweden.
"We're thrilled with how this campaign has turned out," said Jon Setzen, Senior Global Creative Director of Bluebeam. "Reed Words and SomeOne have understood our brand perfectly from the start. They've captured the impact and spirit of Bluebeam in an inspiring way. We're excited to see it roll out."
BIM Show Live has today issued a Call for Papers for its 2020 event which will be held on 26-27 February 2020 at the Boiler Shop in Newcastle, UK.
The annual two day conference attracts up to 400 delegates and provides a unique opportunity for built environment professionals to exchange knowledge on the emerging ideas and technological advancements in digital construction and beyond.
BIM Show Live is inviting the best in the business to take part and be considered for its 2020 speaker programme.
The show wants to hear about the emerging ideas and the creative application of new technologies, as well as the bright individuals making waves in the digital construction industry and beyond.
Submissions are being accepted until Thursday 07 November 2019 across four key content streams:
Technology
Next Generation
People
Stories
For further information please see the below press release.