On behalf of client Torbay Council, main contractor Dyer and Butler has awarded Aarsleff Ground Engineering the soil nailing contract to stabilise the embankment as part of a major Highways widening scheme on the A3022 Brixham Road between Clayland Cross and Wilkins Drive.
The widening of Brixham Road is part of the Western Corridor scheme – one of the Local Enterprise Partnership's portfolio of strategic infrastructure projects that will help to generate growth throughout the whole of Devon, Plymouth, Somerset and Torbay.
Specifically, Aarsleff will install 378 No. self-drilled fully galvanised soil nails, of 6m length. Aarsleff will install the soil nails with their excavator mounted hütte drill mast.
Owing to the success of the contract win, Aarsleff's Assistant Manager for Geotechnical Jonathan Greener said "Combined with our in-house knowledge and expertise on how to stabilise a steep bank or cutting, we ensure our geotechnical solutions will cause minimal disruption to highway schemes like this".
Aarsleff will be on site from the 29th February for an estimated 6-week programme.
Executive Lead for Community Services, Councillor Robert Excell, said: "These works show Torbay Council's commitment to improving one of our major routes, to reduce congestion and allow for future growth within this area.
"We have been successful in obtaining significant funding from the Local Enterprise Partnership and this scheme is the final phase of the current programme of works to improve sections of Brixham Road and Kings Ash Road. This will improve transport links for both residents and businesses and promote future economic growth."
Steve Hindley CBE DL, Chair of the Heart of the South West Local Enterprise Partnership said: "At the start of 2018 it's great to see yet another one of our Growth Deal projects being delivered in Torbay. The widening of Brixham Road is part of the Western Corridor scheme – one of the LEP's portfolio of strategic infrastructure projects that will help to generate growth throughout the whole of Devon, Plymouth, Somerset and Torbay.
Hindley added, "I look forward to seeing the project take shape and start to open up the route to make it more efficient for businesses to thrive in the area."
For more information about Aarsleff Ground Engineering and its soil nailing solutions, contact the company on 01636 611140
It may not happen often but electric motor failure can have serious consequences when it does occur. In fact, it can be difficult to know just what to do. As business downtime and losses mount, it's very easy to make a panicked decision over whether to rewind and repair or replace your motor.
What should motor owners do? With new high-efficiency motors available, do they take the plunge and invest in a whole new motor altogether that promises higher efficiency levels but with significantly greater costs? Or, do they commit to an electric motor rewind or repair? While the cost is often lower, many are concerned about the potential inefficiencies that an electric motor rewind can bring — yet are these worries grounded in fiction?
This way of thinking has been commonly attributed to a small number of studies surrounding smaller motors. It is claimed that carrying out a rewind can drop efficiency by between 1% and 5% each time it is rewound. Considering the associated expense and sheer volume of energy these motors use, this is naturally concerning. However, more recent research has countered these findings.
Involving 22 new motors ranging from 50 to 300 hp, EASA and AEMT conducted a study with Nottingham University. Overall, the results found that when electric motors were rewound using good practice, there was no significant change in the efficiency of the motors. However, in some instances, efficiency actually increased. This clearly dispels the belief that a rewind is actually detrimental to a motor's performance.
Areas of consideration
This suggests that purchasing an expensive electric motor may not be required. Of course, in cases of catastrophic failure, this may be your only option. However, it's very important to fully evaluate your options to make sure you make the right choice in terms of operation, cost and efficiency. This can be done by asking a number of key questions, as explained by Houghton International.
Is your electric motor still suitable for its original purpose?
It is possible that your electric motor may no longer be suited to your operational needs. Review the scale of the damage alongside the requirements for the motor's processes and duty cycles. If the motor is no longer suitable or too damaged, your option is to replace the motor.
Are the stator core and rotor in a good condition?
It's important to check the stator core and rotor of your motor. If significant damage is present, it may be more beneficial to purchase a new motor, as depending on the extent of the damage, repairs can be costly.
If you are considering making the investment, fully weigh up your options. For example, if the lead times for the motor you need are long, you may to decide to repair rather than replace to minimise downtime.
Has any damage occurred to other mechanical parts?
A result of motor failure, damage may occur to the shaft, frame, bearing housing, and other mechanical parts. Examine the extent of the damage; you may be able to replace the affected parts at a lower cost than replacing the entire motor.
Is it an EPAct or Nema Premium motor?
If your motor has failed, it could be the opportunity you have been looking for to upgrade to a more efficient model. If you are considering making the investment, make sure you fully understand the return you'll receive from doing so. Consider the energy savings you'll make alongside the expected life of the motor and its hours of operation. Always consider your overall budget too, to make sure the replacement aligns with your current financial position.
Remember that if you are happy with the existing efficiency of your motor, a repair by a qualified service centre may be all you need. It will not lead to a dramatic drop in efficiency, as we have discussed.
Consider the above in-depth to ensure you make the right choice in the event of motor failure occurring.
Midlands architectural practice maber has appointed four new associate directors at its Nottingham, Derby and Leicester offices.
They are Andy Purvis and Leo Ward, both based in Nottingham, Lee Smith in Derby and Tim Boxford in Leicester.
The promotions are as a result of maber's continued success and a string of major instructions on significant projects across the UK. The company's business plan sets ambitious growth targets, and the strategy is to give key individuals a stake in the business in order to encourage long term commitment to the company. The practice, which was originally formed in Nottingham 35 years ago this year has always relied on organic and sustainable growth driven by a motivated team. This ethos is embedded in each of its five offices, which include Birmingham London, Derby and Leicester, as well as its headquarters in Nottingham.
Managing Director Mark Hobson said: "These appointments are in recognition of the significant contributions that all four have made to the success of the practice. They also strengthen our accountability structure and provide more resilience on projects for the benefit of our clients. Perhaps most importantly, they add new lifeblood to the management team, which will help to ensure our continued growth and success."
Lee Smith joined maber in 2005 and heads a design team that has delivered successful commercial and education sector projects. 
Andy Purvis joined the practice in 2004 and describes himself as a design-driven architect.
Leo Ward came to maber in 2011, having previously worked in London, and now works with a small team heading up projects.
Tim Boxford joined the practice in 2012, having previously worked elsewhere in the East Midlands, Birmingham and New Zealand.
Caddick Construction has taken over from Carillion on the £154m Angel Gardens scheme in Manchester.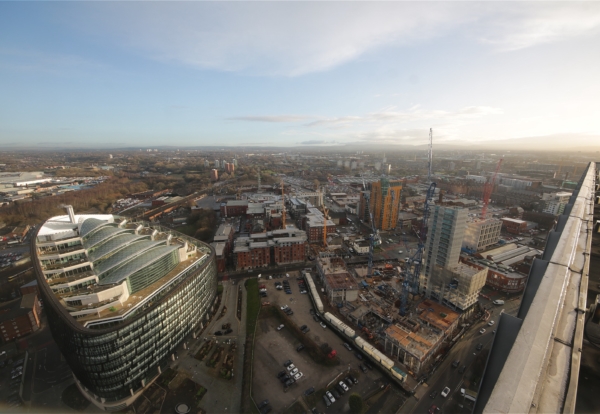 Caddick is the sister company of Moda who are developing the scheme with Apache Capital.
It is one of the first major private jobs to restart on site following Carillion's collapse.
Caddick will be directly hiring 20 former Carillion employees and the move will save around 500 jobs on site protecting around 30 subcontractors previously working under Carillion.

Angel Gardens is one of the country's biggest residential schemes outside of London and Caddick Construction will now act as construction manager to deliver the 35 storey, 466 home build to rent (BTR) project.
Carillion started work on Angel Gardens in January 2016.
Andrew Parker, director of projects at Moda, said: "We have had contingency plans in place for some time and wanted to prioritise saving jobs, as we hugely appreciate the critical role played by the main subcontractors and small businesses that support major projects.
"We have always remained close to the key subcontractors and suppliers throughout the process and this has proved to be an essential part of the solution to keeping Angel Gardens on track."
Adrian Dobson, commercial director at Caddick Construction said: "The fast and effective takeover of this complex project is testament to the strength and depth of our team.
"We are fortunate that our construction team has been able to step in and take this project forward within two weeks and are delighted that so many key Carillion employees elected to join the group, as this really strengthens our team in the North West."
January 23rd, 2018
Comments off
A brand new study looking into the home-buying processes of Britons during the past two years has uncovered that the majority of first-time buyers in the UK secure their home for under the initial asking price, with haggling tactics, issues uncovered during home surveys and mortgage lenders valuing a property at less than an asking price revealed as some of the reasons for price cuts.
New research has revealed that first-time buyers in the North East and Wales knock the biggest values from the asking price of their properties, whilst those in London and Scotland are more likely to have to pay the asking price or higher.
The team at www.web-blinds.com polled 2,589 British homeowners aged 21 and over, all of whom had purchased their first property, either alone or as part of a couple, within the past 2 years. Participants were spread evenly across each of the twelve UK regions to see how the home-buying journey differs for first time purchasers in different areas of the UK.
All respondents taking part were initially asked to state if they bought their first home for more, less or the exact asking price originally set by the sellers. The vast majority (73%) had paid less than the property was originally on sale for, with a further 16% paying the asking price and 11% confessing they'd paid over the asking price to secure the sale.
Next, all those who'd paid less than the asking price were asked to reveal what they believed to be the biggest reason they secured a cheaper deal, with the most common answers as follows:
The seller of my property required a quick sale – 18%
The estate agent handling the sale encouraged me to offer under the asking price – 15%
Issues found during home survey that prompted me to make a lower offer – 12%
My mortgage lender valued the property at less than the asking price and wouldn't lend me the full amount needed – 8%
I was the ideal buyer for the property in terms of my finances/circumstances and haggled a lower price – 7%
When also asked to reveal the amount of money they'd shaved off the asking price through their negotiation processes with sellers, the average amount overall was revealed to be £5,304. The regional breakdown of these figures emerged as follows:
North East – £7,350 (average amount of money first-time buyer was able to cut off asking price of property) – (5.9% of the average cost of North East properties)
Wales – £7,150 (5.3% of the average cost of Wales properties)
East of England – £6,950 (4.1% of the average cost of East of England properties)
South West – £6,600 (3.3% of the average cost of South West properties)
Northern Ireland – £6,250 (5.3% of the average cost of Northern Ireland properties)
East Midlands – £5,550 (3.5% of the average cost of East Midlands properties)
North West – £5,300 (3.6% of the average cost of North West properties)
Yorkshire and Humberside – £5,100 (3.7% of the average cost of Yorkshire and Humberside properties)
West Midlands – £4,950 (3% of the average cost of West Midlands properties)
South East – £3,300 (1.2% of the average cost of South East properties)
Scotland- £3,100 (2.2% of the average cost of South East properties)
London – £2,100 (0.5% of the average cost of London properties)
Melissa Benedict, spokesperson for www.web-blinds.com, said:
"Buying your very first home is a daunting time regardless of your situation, with everyone obviously wanting to ensure the buying process is as smooth and bump-free as possible. Traditionally, many people have been advised to offer 10% under the asking price of a property, but with small homes and flats in high demand, this isn't always a feasible option in many parts of the country.
"The fact that the average first time buyer in the past two years has cut around £5,500 off the cost of their homes will no doubt help to ensure lower monthly mortgage repayments and a bigger nest egg of savings should any unexpected but necessary costs arise in the future."
January 22nd, 2018
Comments off
Aarsleff Ground Engineering has been awarded a sheet piling project that will allow the company to utilise its new Giken ECO 700S machine, allowing for the silent and vibration-free driving of sheet piles at Grovehill Depot in Beverley.
On behalf of main contractor, North Midland Construction/Building Ltd, Aarsleff will be installing 155 No. steel sheet piles, 700mm width and 12.0m in length. The sheet piles will form a retaining wall approximately 108 l/m for maximum retained height.   A long reach excavator mounted with Movax unit will handle and pitch piles to the press unit.
Owing to the challenging site conditions, and wanting to deliver a safe and successful installation process, Aarsleff suggested a Movax unit mounted on a long reach excavator be employed. The limited working room, poor state of repair of the access, and the bank slippage demonstrated to Aarsleff that it is not practical for a mobile crane to traverse, nor provide a realistic radius for lifting. By utilising the long reach, Aarsleff hope to ensure increased manoeuvrability and lower bearing pressures, all at a safe distance from the embankment, allowing the site team to work from behind the press unit where previously installed piles have increased the stability of the embankment wall.
The Movax also allows us to safely and efficiently install and extract the necessary temporary reaction piles for the Giken press. Aarsleff's head of sheet piling John Storry said: "The Giken enables us to provide cost effective installation programmes and solutions to our clients, even in the most environmentally sensitive conditions."
Aarsleff Ground Engineering commence works on the 29th January.
January 18th, 2018
Comments off
Balfour Beatty and Galliford Try have been left counting the cost of Carillion's collapse with big hits on the Aberdeen Western Peripheral Route project.
Carillion was in joint venture with the duo on the £550m contract, which they are obliged to complete.
The current estimate of the extra cash contribution outstanding from Carillion to complete the project is £60-80m, of which any shortfall will be funded equally between Balfour and Galliford.
Both firms said they were discussing the position urgently with the Official Receiver of Carillion and Transport Scotland, to minimise any impact on the project.
Balfour Balfour, which was also working with Carillion on the £1.4bn A14 in Cambridgeshire and the £200m M60 Junction 8 to M62 Junction 20 scheme, estimated its cash hit would be in the range of £35m-£45m in 2018.
This morning Balfour issued a statement saying it would continue to work with its customers and would meet its contractual commitments.
Balfour said the profit impact of Carillion's compulsory liquidation would be recorded as an exceptional non-underlying charge in the income statement.
Both Balfour Beatty and Galliford Try added that they did not have any other material financial exposure to Carillion.
January 17th, 2018
Comments off
Suppliers and subcontractors are owed around £2bn by Carillion.
The figure in the firm's last results statement for "trade and other payables" highlights how hard the supply chain could be hit by the company's collapse.
Subcontractors should be offered some protection on most public jobs by the use of Project Bank Accounts.
PBAs ring-fence money from the client and protect suppliers' cash if a main contractor goes under.
One industry source said: "This is the real acid test for PBAs now as a lot of Carillion's contracts will have been using them.
"PBAs have certainly helped speed up payments to suppliers but they've never seen a test like a firm the size of Carillion going under."
But millions held in retentions will still be lost despite the use of PBAs.
Hundreds of suppliers have also been using Carillion's Early Payment Facility system which has processed invoices totaling more than £400m.
Subcontractors get paid earlier that the firm's standard 120 day terms for a small fixed charge.
Payments are also made directly from Carillion's bankers which should see firms using the system getting the cash they are owed.
During a House of Commons debate yesterday Labour MP Kevan Jones said: "Carillion is notorious in the subcontracting industry as a company that pays its bills very late—over 90 days in most cases.
"The Minister has talked about public sector contractors that will need to be paid, but what support will the Government give small businesses that are in non-Government contracts and are still waiting to be paid?"
Minister for the Cabinet Office David Lidington said: "Companies in non-Government contracts that are not involved in the provision of public services would become creditors of Carillion."
Ian Anfield, managing director at Hudson Contract said: "To many of us who worked alongside or for Carillion, they were affectionately known as 'Carry on Construction' run by accountants rather than engineers and quantity surveyors. 
"Sites were hamstrung with so much red tape they could not function as they should."
Piling specialist Van Elle is among firms owed money having carried out £1.6m of work in December and January for Carillion on Network Rail jobs which has not yet been paid for.
Van Elle said: "The Group will engage with Carillion and its advisers (including the Official Receiver) to determine the status of outstanding payments."
January 16th, 2018
Comments off
A proven waterproof solution is essential for safeguarding basements, car parks, tunnels and other belowground concrete structures against damp and water ingress. But which system is best suited to your building? A render-based product? A drainage system incorporating a membrane? Sika offers both solutions as part of its proven, wide-ranging concrete and waterproofing range, so let's examine the benefits of each.
Sika®-1 Pre-Bagged waterproofing system comprises watertight renders and screeds produced using the Sika®-1 Waterproofing Liquid and Sika®-1 Pre-Batched Mortars. The mortars consist of a blend of special cement and kiln dried graded aggregates. Packaged in four grades, each is specifically designed for optimum application performance and durability.
Key considerations when specifying Sika®-1 Pre-Bagged:
Once applied, it requires absolutely no maintenance
It is more cost-effective when applied to areas of 300m2 or less
The render system takes up minimal space
Bonds directly to the substrate – follows the contours of any structure
Withstands high water pressure
Substrate preparation may be required
In terms of a water management solution, Sika® CD-Cavity Drain System uses a high density polyethylene internal drainage membrane to control water after it has penetrated a structure. The system is installed, loose-laid in flooring applications and attached to the wall with surface plugs in vertical installations. The system directs penetrating water into a drainage system and a collection sump before using a pump to discharge water from the building. A cavity drain provides protection from the ingress of water, vapour and gases.
Key considerations when specifying Sika® CD-Cavity Drain System:
System requires ongoing maintenance and running costs
Requires more space to install
Acts as a vapour barrier
Limited surface preparation required
Can be used where the substrate does not have the strength to resist stresses caused by water pressure
Most cost-effective on areas larger than 300m2
Although varying in application and comprising different materials, the systems share common properties. For instance, Sika®-1 Pre-Bagged and Cavity Drain are suitable for new-build and refurbishment projects involving a range of belowground structures.
As well as being BBA-approved, both systems carry a Sika guarantee when installed by an approved contractor. Other common properties include the systems' suitability for use to grades 1-3 according to BS 8102-2009, and high water table according to BS 8102-2009.
What then, must we conclude from this comparison? Well, by eliminating the need for ongoing maintenance, the Sika®-1 Pre-Bagged system is a more cost-effective solution over a lifespan of 60 years, particularly for structures 300m2 and below.
Not as simple to apply as the pre-bagged system, on account of its additional components, Sika® CD-Cavity Drain System is a more ideal waterproofing solution for areas larger than 300m2. Ongoing running costs are incurred, as the system requires regular maintenance.
Sika®-1 Pre-Bagged or Sika® CD-Cavity Drain system…whichever system you choose as your belowground solution, you are guaranteed the same quality: superb, long-term waterproof performance.
Sika operates a Registered Contractors scheme, designed to help facilitate the selection of suitable contractors to install Sika waterproofing systems including Sika®-1 and Cavity Drain. Choosing a Sika Registered Contractor provides total quality control – from product to service and installation – giving clients added reassurance that they will receive the highest standards of professionalism at every stage.
January 15th, 2018
Comments off
Award-winning UK construction, refurbishment and fit out contractor, Gilbert-Ash, has been appointed for a £2m fit out project at the British High Commission in Colombo,
Sri Lanka.
Work on the 3,000 square metre building adds to the long list of international projects
Gilbert-Ash has completed with the UK Foreign & Commonwealth Office (FCO), with work undertaken in a total of 43 countries worldwide to date.
This is the second project Gilbert-Ash has completed on the British High Commission in Colombo, Sri Lanka having completed a £5m refurbishment project in May 2016.
Scheduled to take seven months to complete, the fit out project involves re-roofing the building and eradicating damage prevalent in the region due to its climate. The new roof is a
purpose-made steel roof specially commissioned by Gilbert-Ash in Birmingham to meet exacting British standard specification and will be shipped to Sri Lanka in the coming weeks.
With a population of 21 million, Sri Lanka's economy has shown strong growth, reflecting a peace dividend and a determined policy goal of reconstruction and development. The UK accounts for about 10% of Sri Lanka's total exports to the world and ranks as the second largest export market for Sri Lanka after the USA.
As well as shipping materials from the UK, Gilbert-Ash will also be working collaboratively with Sri Lankan construction companies to source local supplies, labour and expertise to support the fit out of the British High Commission.
Andrew Whitten, General Manager, Gilbert-Ash Fit Out commented: "We are delighted to return to Colombo for the High Commission project. Using our experience of carrying out work here previously and with the help of local Sri Lankan companies, we are looking forward to completing the project to the highest UK standards despite the harsh, humid climate.
"Through our international work with the UK Foreign & Commonwealth Office (FCO), we have built up a very skilled, rapid deployment team over the last two decades, to undertake these highly challenging projects. Every project is different and we have to know the unique business practices and cultural subtleties thoroughly in each market. This has enabled our staff to work successfully in over 43 countries which is testimony to their adaptability and can-do attitude."
The British High Commission in Colombo is responsible for maintaining and developing relations between the UK and Sri Lanka and provides services to British nationals living in and visiting Sri Lanka.
Highly detailed design, advanced logistical planning and development goes into every
Gilbert-Ash fit out project, with the team skilled in delivering the finest quality projects on a global scale. To meet exacting specification standards befitting the UK Foreign & Commonwealth Office, the company ships many of its fit out materials around the world.
The leading construction company has specialist fit out expertise in a range of sectors including workplace, retail, leisure and restoration.
For more information on Gilbert-Ash visit www.gilbert-ash.com