Civil engineering contractor Crummock has collapsed with the loss of nearly 300 jobs.
Matt Henderson and Donald McNaught at Johnston Carmichael have been appointed as joint receivers for a trio of companies that form the group.
They are now dealing with the receiverships of Crummock (Scotland) Ltd, Crummock Holdings Ltd and Crummock Ltd.
The privately-owned contractor ceased trading today and 287 employees of the business have been made redundant as a result.
Crummock, which operated out of Bonnyrigg just south east of Edinburgh city centre, offered a wide range of civil engineering and surfacing construction expertise including groundworks, infrastructure works, roadworks and road surfacing.
The firm has worked on a range of landmark developments including the Donaldson school residential development in Edinburgh, Fort Kinnaird Retail Park and Shawfair – a major drainage infrastructure project south east of the city.
Matt Henderson said: "Crummock is a long-established construction business which, like many in the industry, has suffered from reduced margins in recent times.
"In recent months it has also encountered cashflow difficulties due to high retention levels, the tight margins within the sector and business specific issues."
"Unfortunately, the business was unable to raise the capital to enable it to overcome the current financial challenges it faces and we are now dealing with creditors' claims."
Latest results for Crummock (Scotland) Ltd show that for the year to March 31 2017 it made a pre-tax profit of £596,000 from a turnover of £23.8m.
Crummock managing director Derek Hogg is also chairman of trade body CECA Scotland but will now be stepping down from the roles.
CECA Scotland Chief Executive Grahame Barn said: "This is a sad day for the civil engineering sector in Scotland and comes at a time when there is little sign of optimism for future workload growth in the sector and SMEs in particular are facing significant challenges.
"Our thoughts are with all the directors, employees and creditors of that company at this very difficult time.
"CECA Scotland will be actively involved in supporting everyone impacted through this very challenging period.
"Regrettably, this announcement means that Derek Hogg will be stepping down as CECA Scotland Chairman and we have already taken steps to ensure a smooth transition to allow the activities of CECA Scotland to continue as normal."
According to research, one in five construction companies across Britain have no women in senior positions. With some industry professionals believing that 'there is a definite prejudice against women' in the construction industry, there appears to still be an inequality of opportunity for women.
Construction News reported that half of all construction companies have not had a woman lead the business, which is astonishing when gender equality is as at the forefront of our minds. What is even more striking is that, when asking the women who did work within the industry, 48% claimed they had experienced gender discrimination in the workplace, with the most common example of this (28%) being inappropriate comments or behaviour from male colleagues. These are figures that prove that the industry still needs to enforce more regulations to change attitudes towards women in the industry and encourage equality.
Not only that, but the gender pay gap is something that is presenting itself forward in the sector. Nearly half of construction companies (42%) do not monitor equal pay between gender in the business and 68% were not aware of any initiatives to support women transitioning into senior roles. Furthermore, according to Randstad, 79% of men believe they earn the same as their female colleagues in the same position. However, 41% of women disagree — highlighting the need for better pay transparency within the industry to dispel perceptions that men are earning more.
With a clear gender divide within the construction industry, Niftylift, work platform provider, explores how the industry can close the gender gap and improve diversity among construction roles. What does the future look like for women in construction?
The direction of the construction industry
Looking at the number of onsite workers, it was found that 99% of positions were accounted by men. Another figure that highlights the lack of gender diversity within the industry. Despite the figures, 93% of construction workers believe having a female boss would not affect their jobs, or would in fact have a positive effect by improving the working environment.
Randstad have said that by 2020, women will make up over 25% of the construction workforce here in the UK. If the industry intends on closing the skills gap, women could potentially hold the key. With the industry raising concerns that it is experiencing a shortage of skilled workers, 82% of people working in construction agree that there is a serious skills shortage. If demand is expected to require an additional million extra workers by 2020, women could account for a significant portion of that — especially in senior roles, which have previously been bias towards their male colleagues.
Although, there has been some progress in the last few years which have witnessed more women take senior leadership roles. Back in 2005, there were just 6% of women in senior roles within the UK's construction industry. However, fast forward to 2015, and this number had risen to 16% and is expected to continue to rise as we approach 2020.
It's been found that similar progression is visible when it comes to women and promotions. Back in 2005, an unfortunate 79% of women in the industry were dissatisfied with the progression of their careers. However, fast forward again to 2015, and this number more than halved to just 29%, with some of this progression likely to be attributed to the fact that almost half of women in the industry (49%) believe their employer to be very supportive of women in construction.
Although the figures above are promising, there is still a lot of work to do when it comes to achieving gender equality. Ranstad also reports that there remains a tendency within the industry to exclude women from male conversations or social events, with 46% of females experiencing being sidelined. A further 28% said they had been offered a less important role and 25% reported being passed over for promotion.
There is no denying that progress is being made to help aid gender inequality, with 76% of women saying that would recommend a job in the industry to their female friend, daughter or niece. There was also a 60% increase in the average annual salary for women in the industry in the past decade from £24,500 in 2005 to £39,200 in 2015 But we still have a long way to go. Hopefully, by 2020, we can report further progress in the industry, making roles more attractive to females, and improving the gender diversity which could consequently prove to be a solution to the lack of skilled workers for the industry right now.
Employers and the construction unions have agreed a two year pay deal which will see minimum rates rise by more than 6%.
The agreement covers more than 400,000 construction workers and will see pay rates rise 3.2% in year one and 2.9% in year two.
The new Construction Industry Joint Council Working Rule Agreement comes into effect from June 25.
It will see the minimum hourly craft rate rise to £12.67 in 2019 resulting in a £494.13 pay packet for a 39-hour week.
The minimum hourly rate for labourers will hit £9.53 representing £371.67 a week.
Chartered financial planners Willson Grange Limited will be relocating its headquarters from Hoylake on the Wirral to a new space on Liverpool's waterfront.
The wealth management company has signed a 10-year lease of 10,500 sq. ft at No. 12 Princes Dock, Liverpool Waters.
The firm will be occupying space on both the third and fourth floor of the Grade A office building on Princes Dock, alongside neighbours including the international manufacturer Cargill, shipping group CMA CGM and global insurance broker Griffiths & Armour.
No. 12 Princes Dock is one of the most striking office buildings located at the waterfront based Liverpool Waters, and boasts stunning panoramic views of the River Mersey and a rooftop terrace. With some recent high profile moves, the five storey Grade A office space is now 93% let.
The news of Willson Grange's move to Princes Dock is one many exciting announcements and developments at Liverpool Waters. This year is set to be the busiest yet for the £5 billion regeneration project, which recently broke ground on the £21 million residential building Plaza 1821 and announced plans for a brand-new heritage trial visitor centre at Collingwood Dock.
Stuart Willson, chief executive officer at Willson Grange, said:
"Relocating our headquarters to Princes Dock will signal a new and exciting phase in Willson Grange's development. Occupying a space in the city centre of Liverpool will not only make us much more accessible to many of our clients but will also allow us to reach a much wider recruitment pool of the very best financial talent the city has to offer.
"We are delighted to be joining the many prestigious neighbours who already occupy many office buildings on the Princes Dock, and of course we are excited to witness the upcoming developments of the Liverpool Waters scheme, which will be happening right on our doorstep."
Liza Marco, asset manager at Liverpool Waters, said:
"It is fantastic to see yet another successful and thriving local business choosing to relocate to Princes Dock. Businesses are seeing the advantages of being located in the city centre and the benefits that it brings in terms of welcoming new clients and team members. We're encouraged to see so much interest in our number of office spaces across Liverpool Waters, and as we enter our next phase of development, we're looking forward to seeing many more organisations join us on Liverpool's iconic waterfront."
To learn more about the Liverpool Waters Development project led by Peel Land and Property (Ports) Limited, please visit www.liverpoolwaters.co.uk.
May 24th, 2018
Comments off
Building surveying, cost management, architecture and project management specialist Trident Building Consultancy has taken the decision to set its own rules regarding fire safety following what it sees as the "extraordinary failings" of the final recommendations from the Hackitt Review which were published yesterday.
Trident is banning the use on its projects of any desktop fire safety studies to prove the suitability of a product or system, and will only specify rigorously tested and proven non-combustible materials for use on refurbished and new buildings.
In addition, it now requires a far more robust method of large-scale product testing, and is considering reintroducing a clerk of works type service on projects wherever possible to try and ensure a much higher standard of installation.
Matthew Clare, one of the founding directors of Trident, said:
"I was disappointed when I read the Hackitt Review report. Expectations were very high and have not been met.
"Of course, we welcome the commitment to tighten the loose and ambiguous wording of the Building Regulations and Approved Document B. The current wording is so grey, so thin, so open to wildly different interpretation. This is one step in the right direction.
"But I was flabbergasted that the use of desktop studies in the process of material selection was not completely struck out in the Hackitt Review recommendations. Relying on someone else's work and picking out bits of it to suit your case is not a sound basis for demonstrating compliance.
"Indeed, it's worse than that. In multiple buildings that we have been looking at over the last year, we have found that not even a desktop study had been carried out before getting sign off from the local authority's building control department or an approved inspector. Nothing. No checks whatsoever that cladding or an insulation system was fit for purpose."
Trident is now refusing to accept desktop studies, and is advising property investors, developers and owners to carry out careful assessments of the risk and costs of remedial works on certain projects, including student accommodation and other multiple occupancy blocks.
Having completed more than 20 large-scale fire tests since last June, Matthew Clare is highly critical of how some manufacturers of cladding and insulation systems have been able to manipulate the testing regime to get a Euroclass A2 'limited combustibility' rating for products which were patently not appropriate.
"We will always advocate empirical testing on large-scale samples," he says.
"Before Trident will specify any product, we will want to see that testing has been carried out in a robust fashion, using a faithful replica of what will be used on a building and that building's design features. The devil is in the detail.
"Furthermore, we must be entirely sure that what is tested is what will then be installed – and to exactly the same tolerances. I've seen systems that pass fire safety tests when used with a 10mm gap but fail when there's a 12mm gap. There is absolutely no substitute for quality control of installation, as well as product manufacture and testing."
Trident Building Consultancy provides building surveying, cost management and project management services across a wide range of sectors in commercial and residential property, and across all parts of the private sector, local and central government.
Most recently, it has been involved in assessing, specifying and project managing the remedial works required on a number of high rise residential buildings that had been clad with similar systems as used at Grenfell Tower, and which also displayed many of the same passive fire safety failures such as lack of compartmentation and missing or damaged fire doors.
Trident was formed in 1998 and currently employs more than 100 staff across 11 offices in the UK and Ireland, enabling it to have a nationwide capability to deliver sound, reliable advice from a solid base of qualified and experienced surveyors and architects.
May 22nd, 2018
Comments off
Tradespeople need to do more to keep up with smart home technology
84% of tradespeople said they had never undertaken any training in smart home technology, according to a recent poll carried out by the UK's largest online supplier of ironmongery, IronmongeryDirect.
Conducted in the lead up to Smart Home Week (21- 27 May) the poll revealed that despite the rise in popularity of smart home products, many tradespeople are still unprepared for the increasing customer demand.
Nearly 30% of UK homeowners now own at least one smart home product[1]. This increase is reaffirmed by IronmongeryDirect expecting sales of smart technology to more than double this year.  This is in addition to previous national research carried out by the leading online ironmongery supplier, which showed that almost 90% of tradespeople are not confident when advising customers on smart products.
Only one in ten tradespeople said they felt "very confident" when it comes to offering guidance on smart products, including products such as smart cameras, smart alarms and locks which can be connected to smartphones.
Now in its second year, Smart Home Week aims to raise the profile of smart home technology and to inform, educate and reassure consumers about the benefits and opportunities of living in a smart, connected way.
Wayne Lysaght-Mason, Managing Director of IronmongeryDirect, said: "Smart products are redefining the way that a property functions, and there is a clear need for tradespeople to keep abreast of the developments involving smart technology. With basic burglar alarms now enhanced to monitor, control and interact with a home or business premises from a smartphone or tablet, we are just at the beginning of this smart tech revolution.
"There is still a demand for traditional products, but these new smart alternatives should not be ignored. There are some fantastic products on the market, whether you want to specialise in security, lighting, heating or household appliances."
Training organisations around the UK offer courses in smart technology, including the AWE Smart Home Academy in Surrey, which equips tradespeople with the skills and confidence they need to advise customers on the technology. For instance, its Foundation Workshop is aimed at the less experienced residential smart technology installer and focuses on the fundamentals of custom installation.
IronmongeryDirect stocks a variety of products including the The Yale® Easy Fit Telecommunicating Alarm, a top-of-the-range house alarm, the Yale® Smart HD1080 4 Camera CCTV Kit a durable and hard-wearing product that can monitor a property with its high definition video quality camera and the Yale® Conexis L1 Multipoint Smart Lock.
The customer service team are available from 7am-8pm 7 days a week and can help with any questions or queries you may have about smart home technology.
IronmongeryDirect has over 16,500 products available and in stock. Orders can be placed as late as 8pm for next day delivery from Sunday through to Friday and by 4pm on Saturdays. Free, no quibble returns are available on all products.
For more information, visit IronmongeryDirect.com or call their team of specialist advisors on 0800 168 28 28.
[1] https://www.smarthomeweek.co.uk/about/
May 21st, 2018
Comments off
Edinburgh Airport started life as a small Royal Flying Corps aerodrome named Turnhouse in 1915 —the first commercial services weren't launched until 1947.
But by the end of 2014 it exceeded the 10 million passenger mark — the busiest year ever for a Scottish airport.
And the hub's transformation over the course of a century involved some fascinating civil engineering projects.
So it's worth reviewing a few highlights from its construction history.
Control tower
Edinburgh's stylish air traffic control tower opened in 2005 after taking a year to complete.
The 57-metre-high structure cost £10 million to complete and was designed by Reid Architecture, with Laing O'Rourke as principle construction partner.
Advocates of aesthetic design appreciate the award-winning tower's sleek, stretched pepper-grinder silhouette.
But it's also innovative — featuring a seven-metre diameter concrete circular core with service riser and stairs clad in diamond-shaped aluminium shingles.
A slide-out drawer in the first floor for removing and replacing technical equipment adds a final ingenious flourish.
Parking facilities
Edinburgh has also displayed innovation in terms of its parking facilities.
In 2004, owners BAA opened a new five-storey car park opposite the terminal building with a terminal walkway and 2000 additional spaces — rapidly reducing the time taken to enter and exit the main building.
The design has a one-way search to all floors, independent vertical circulation and payment areas kept separate from vehicle thoroughfares to protect pedestrians — features that helped it win Best New Car Park at the British Car Parking Awards in 2005.
Private firms also provide excellent secure parking options near Edinburgh Airport that further enhance its provision and offer drivers a range of long- and short-term options.
Terminal expansion
Over the past 10 years, Edinburgh has undertaken a comprehensive terminal expansion project aimed at increasing its capacity and making facilities more efficient and comfortable for customers.
The first stage of the project was completed in 2010 and involved the construction of a new departure lounge with a wider choice of bars, restaurants and retail outlets than previously available.
An initial £25 million terminal expansion plan was announced in 2013, which added 6000 square metres of additional space for passengers, shops and a security area — this was opened in 2015.
Finally, work on the new three-storey terminal building at Edinburgh began in early 2017, with BAM Construction awarded the contract for its first phase.
This latest addition is part of a wider £80 million investment that will futureproof the airport to cope with a significant projected rise in passenger numbers.
It's also attempting to address environmental concerns by committing to a carbon trading system that lowers emissions in a sustainable way in the long-term.
Edinburgh Airport's evolution closely shadows that of aviation itself — it's moved from housing some of the first reconnaissance and fighter planes to gargantuan commercial models that carry passengers to far-flung destinations daily.
If it continues as an agile business, the sky's the limit in terms of where it's flights might carry passengers in another 100 years.
What's your favourite airport construction project? Share your opinions in the comments section.
May 21st, 2018
Comments off
Bentley's RAM Software Provides Innovative Structural Solutions for Unique Geometry of One Blackfriars Tower
Prime Location, Multiple Challenges
Considered one of Europe's most iconic building projects, One Blackfriars London is a mixed-use development that features a 50-story residential tower as its centerpiece, an adjoining three-story podium housing a gym and retail facilities, and a boutique hotel with 161 rooms, all built over a three-story basement with a swimming pool, spa, and parking facilities. Developed by St. George and designed by Simpson Haugh Architects, the project is situated on the south side of Blackfriars Bridge overlooking the River Thames, offering spectacular views of St. Paul's Cathedral, Tower Bridge, and Westminster's Big Ben, and the houses of Parliament. WSP was appointed to provide structural modeling and engineering services.
The project site varied in depth and had remaining elements of a previously demolished building, which could not be removed without collapsing the surrounding infrastructure. Performing a 3D laser site survey enabled the team to understand the site challenges and design the new three-story basement down to 13 meters, fitting around the site's constraints.
WSP also faced challenges designing temporary on-site client facilities, including developing structural solutions for the complex geometry of the 170-meter landmark building. MicroStation, RAM Concept, and RAM Structural System provided WSP an integrated BIM solution to streamline workflows and push the limits of structural design to create an elegant silhouette on London's skyline.
3D Design Coordination Saves Time and Space
Given that St. George desired a strong, on-site marketing and sales presence, WSP designed a temporary three-story, steel-framed facility fitted with replica apartments to serve as the marketing suite. To support it at ground level, the team partially modeled the ground floor slab and supported the slab on plunge columns so that the three levels of the basement could be constructed around and underneath the marketing suite while in use. This piling configuration enabled temporary and permanent works to be combined and facilitated a top-down construction sequence. The interoperability of Bentley technology allowed WSP to share the 3D design models with the construction contractor for generating logistics plans and sequencing work packages. As the works reached the ground floor, the marketing suite was removed and the tower construction commenced.
To complicate matters, the rooftop structure of the tower housed the main building maintenance unit (BMU), which contained a shaft extending down into the multi-level penthouse floors. WSP worked with its in-house façade access consultants, sharing 3D MicroStation models to determine how to prevent the BMU from intruding on the penthouse space. Using the WSP model, contractors could fully understand the space and reduce the size of the BMU to a more compact unit.
In addition to coordinating with the contractors, WSP opted for a collaborative design process to analyze numerous options and determine innovative solutions to ensure structural integrity of the asymmetrically shaped tower. The design team used the architect's 3D model in MicroStation and developed a framing skeleton for the model. Floor plate layouts were then extracted and seamlessly imported into RAM Concept, where multiple design iterations were analyzed and automated drawing productions generated for client and design team coordination. This process streamlined workflow and optimized optioneering, enabling various alternatives to be analyzed in half the time.
Post-tensioned Design Adds Value
The geometry of the tower consists of a narrow base extending upward to a bulge, where the private viewing lounge offers panoramic views of London, and then slopes back in and continues rising upward. A multi-level penthouse accommodates the top five floors of the 50-story building. The tower includes 274 luxury apartments, all varying in layout with floor plates of different shapes and sizes and no repetition throughout the building. Not only did WSP need a structural solution for the varied floor plans, but it also needed to design support columns that offered unobstructed views without intruding on the apartment spaces.
Based on the MicroStation architectural model and using RAM Concept, WSP determined that the optimal structural solution was a combination of fitting reinforced concrete blade columns between the party walls and circular feature columns. With all the various sized apartments, the team needed to determine the location for the columns that best suited the individual layouts while still ensuring structural integrity. Bentley's interoperable technology optimized the column configuration and automatically generated arrangement drawings that were shared with the contractor for construction.
Finally, with RAM Concept, WSP designed the apartment floor slabs as thin as possible. The team modeled and designed 225-millimeter thick, post-tensioned concrete floor slabs, which proved to be the most cost-effective solution based on minimum structural zone. It reduced the self-weight of the floors, which proved the most cost-effective solution based on minimum structural zone. It reduced the self-weight of the floors, which allowed for maximum slab spans and floor-to-ceiling heights to increase apartment value. The post-tensioned slab design saved 10 percent in overall concrete volume for the floors alone, equivalent to five additional floor plates.
Interoperability Ensures Stability
Using RAM Concept, WSP conducted finite element modeling to analyze the entire building, testing stability against wind and numerous forces. The team applied the software's meshing algorithm to accurately predict the floor slab concrete behavior and integrated it with other software, designing the stability system and producing an overall building model.
A glittering pinnacle of One Blackfriars Tower is the multi-level penthouse. Tasked with finding a structural framing solution for the most expensive part of the building, the design team used RAM software to develop structural support for the glass rooftop. With Bentley's structural design and analysis software, WSP introduced a transfer slab to support the entire dead weight of the roof cap and restrained it with horizontal and vertical restraints.
The team conducted a detailed deflection cap analysis that included testing the structural robustness of the main BMU on various transfer slabs. The interoperability of Bentley software optimized analysis, ensuring structural stability of the unique building geometry and achieving an iconic design.
RAM Optimizes Structural Solutions
Consistent with the elegant design of the tower, the architects were keen to have feature columns at the base of the building. The columns were narrow at the base and extended upward 10 meters in height, which forced the team to adopt high-strength concrete to ensure optimal axial stiffness and strength. However, the client also wanted a two-level mezzanine above the lobby without any of the columns interfering with the open lobby space. Using RAM Structural System, WSP designed a steel framework and hung the entire framing system from the first residential floor slab. With RAM Concept, the design team could enhance the thickness of the first level slab to support the frame loads.
WSP faced additional challenges of ensuring structural support for the post-tensioned floor slabs for the different apartment layouts. After conducting numerous design iterations, the team adopted a combined solution of walking columns, raking columns, and split reverse-Y columns. As the raking columns also generated horizontal forces, WSP use the floor plates to tie the column horizontal forces to the building.
Further up the tower structure are two smaller BMUs that required a variation in column design to avoid clashes as the columns rose from the floors below. RAM Concept enabled the team to determine an optimal solution, using reverse-Y transfer columns to allow space for the BMUs but still support the floors.
Finally, as with any high-rise building, lateral stability is a crucial issue. And with residential buildings like One Blackfriars Tower, the building cores tend to be smaller compared to commercial buildings. To ensure lateral stability, WSP designed a staggered outrigger system that extended out and attached to the columns. This solution also provided the construction team complete access to each floor.
Pushing the Limits of Structural Design
Bentley's RAM software saved considerable time throughout all stages of the project. The technology allowed multiple iterations and design changes to be explored and adopted from the initial design proposal stage through construction, while ensuring compliance with European design codes. Within a short period of time, WSP achieved an efficient, cost-effective structural solution incorporating longer, thinner slabs and fewer columns. RAM enabled the design team to push structural design to the limit, providing innovative solutions for each bespoke room and floor.
Using Bentley's integrated 3D modeling applications enabled WSP to design and deliver an iconic landmark for London and reinforces the notion that with the right capabilities, anything is possible and there is no limit as to what can be achieved. One Blackfriars will inspire the next generation of designers to think outside the box and promote London as the capital for world-class architecture and engineering.
According to Aret Garip, technical director, structural project manager and design lead, WSP UK, "Bentley's RAM Concept and MicroStation software packages enabled WSP to design and deliver one of the most iconic projects in Europe. The software was very effective to coordinate and design cost-efficient and environmentally friendly solutions for the benefit of the client and the local community. The project stands proud as a centerpiece for architectural and engineering excellence."
Project Summary
Organization:  WSP
Solution:  Buildings and Campuses
Location: London, England, United Kingdom
Project Objectives:
Provide structural engineering solutions for site constraints and complex geometry of One Blackfriars Tower.
Design cost-effective, efficient framing to fit 274 apartments within the 50-story skyscraper.
Optimize collaboration with architects, client, and contractors to deliver an elegant super-structure with spectacular views of London.
Push the limits of structural design to inspire the imagination of future designers.
Products Used:
MicroStation, RAM Concept, RAM Structural System
Fast Facts:
One Blackfriars is London's mixed-use development accommodating 274 apartments and a multi-level penthouse.
WSP used RAM Concept to design the floor slabs for this geometrically complex building.
Using MicroStation, the design team shared 3D models and produced automated production drawings, facilitating collaboration.
ROI:
RAM Concept optimized optioneering to achieve a cost-effective structural solution within a short time period, saving the equivalent of five additional floor plates.
Bentley's 3D technology coordinated modeling and streamlined workflows to save 50 percent in design time.
Bentley applications' interoperability combined temporary and permanent works, increasing efficiency and reducing construction time.
"Bentley's RAM Concept and MicroStation software packages enabled WSP to design and deliver one of the most iconic projects in Europe. The software was very effective to coordinate and design cost-efficient and environmentally friendly solutions for the benefit of the client and the local community. The project stands proud as a centerpiece for architectural and engineering excellence."
Aret Garip, Technical Director, Structural Project Manager and Design Lead, WSP, UK
May 17th, 2018
Comments off
North Wales contractor Jones Bros Ruthin (Civil Engineering) Co has secured the Wigan link road four years after plans were given the green light.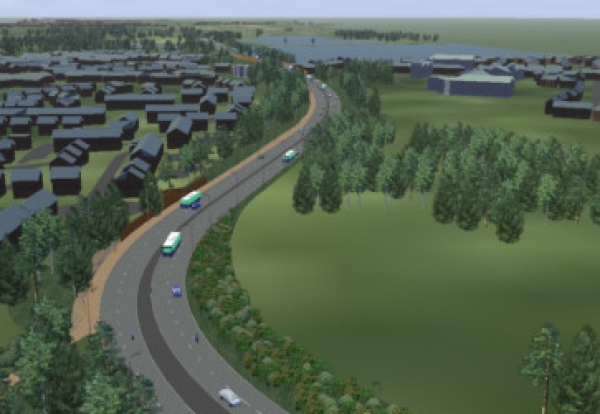 Wigan Council was forced to rebid the road scheme after initially awarding the design contract to Galliford Try in June 2015 but then failed to agree a final build price.
Jones Bros secured the 2.5km A49 Link Road project with a £14.5m bid.
The new dual carriageway will provide a new high-capacity route into Wigan town centre from the south of the borough
The proposed A49 Goose Green to Westwood Park Link Road project includes three major structures to bridge existing watercourses, canals and a primary road.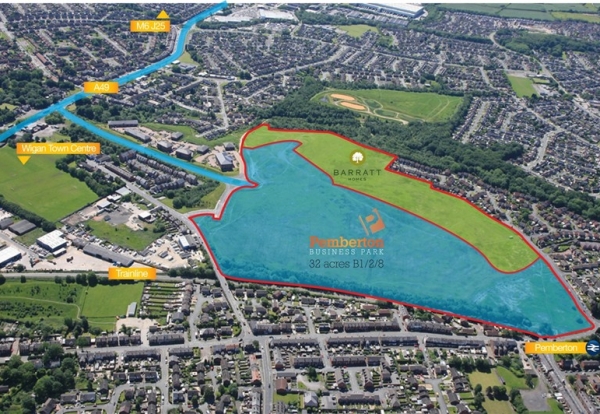 The upgrade scheme will improve two junctions along the A49 and pave the way for housing projects at Pemberton Park and Wigan Arc.
Work on the long-delayed project is now due to start in June.
May 15th, 2018
Comments off
Main contractors in the south of England are looking to boost their supply chains at a major 'Meet the Buyer' event this week
Constructionline is hosting the event in Brighton where local subcontractors can discuss upcoming projects with some of the south's largest building contractors and public-sector authorities.
It takes place at the American Express Community Stadium, Village Way, Brighton, BN1 9BL, on Thursday 17th May 2018, between 8:30am and 2:00pm.
Andrew Lowe, Constructionline Sales Director said: "We are very much looking forward to meeting new businesses in Brighton. Previous events in the area have drawn our attention to some great businesses and we are sure the event is going to be very successful."
The event is open to members and non-members of Constructionline and will feature representatives from Bouygues, McGoff Construction, Baxall Construction and Westridge.
Tickets are free but the event is expected to be in very high demand, so all wishing to attend must book in advance here