November 9th, 2018
Comments off
Are you complying with the Working at Height Regulations 2005? Read the Essential Guidelines
Health & Safety Executive (HSE) have stated that working at height is the leading cause of death and serious injury in the construction industry.  Did you know that it is responsible for 28% of fatal injuries in working environments? This is due to both the risk of falling, and objects being dropped from above. With this in mind, it is essential for any person employed in construction to have a thorough understanding of the Working at Height Regulations 2005.
What are the Work at Height Regulations?
These regulations set out a list of rules that should be followed in order to avoid injury. The rules are mandatory for employers or those in charge of working at height, and can be enforced by law. Whether there is a risk of falling from a ladder, from the edge of a structure, or through an opening at ground level, the rules always apply.
How do you comply with the Regulations?
A basic understanding of hierarchy within the regulations is a good place to start. Here's the hierarchy of control measures explained:
Firstly, you should try to avoid any work at height if at all possible. This could be achieved by using extended tools rather than ladders, or by lowering items to ground level before carrying out repairs.
When working at height is unavoidable, you are required to do everything possible to eliminate the risks to employees. This could involve working from a balcony, or providing machinery with guards/rails (e.g. PASMA Mobile Access Tower)
When risks cannot be avoided, you will need to minimise the distance and consequences of a fall. In order to do this you would need to research options such as netting, airbags, harnesses and Personal Protective Equipment.
What should I do next?
Undertake a risk assessment
Ensure you have identified any hazards and the employees at risk. Based on this, you will need to put in place suitable precautions. Be aware that you are required to record your findings if you have five or more employees.
Ensure your staff are competent
Are the staff working at height experienced? Do they have the necessary skills and knowledge to perform the task safely? The level of competence depends upon the complexity of the job. To understand more about this, read the HSE guide to competence.
Some jobs may only require basic training, such as guidance from a senior employee. Technical tasks will require a higher degree of training, such as completing a course on the safe use of ladders/working at height.
Any staff involved in assembling, dismantling, inspecting or moving mobile access towers should complete a PASMA training course, such as the PASMA Tower for Users Course.
Equip your employees with appropriate safety tools
You are required to provide proper safety equipment for your staff. Each task is different, and you'll need to make sure that you choose the best option for the job. A guardrail or mobile access tower would be one of the safest measures. However, sometimes this may not be feasible and you would then need to use PPE, such as safety harnesses.
Regularly inspect and maintain equipment
Once you have the ladders, PPE, guard rails or access towers, you shouldn't simply assume the risk has been negated. The equipment may move, degrade or break over time. Make sure you have someone trained to inspect the gear and that this is done on a regular basis.
By following the steps above, you're helping to ensure that you are working within the law and prioritising the safety of employees.
This article was written by The Hireman, a tool hire and safety training company based in London.
November 9th, 2018
Comments off
Chinese builder Beijing Construction & Engineering Group International has started work on a 34-storey build-to-rent project for developer Moda on the Liverpool Waterfront.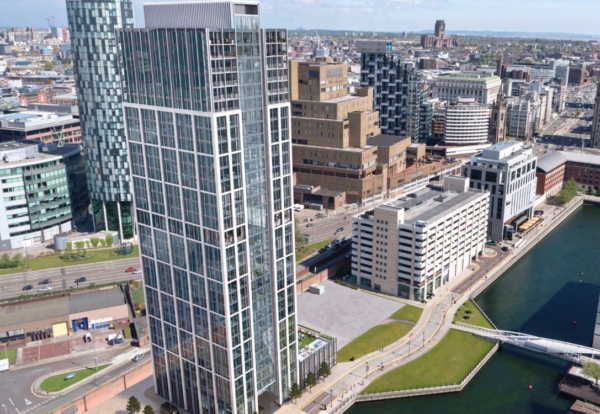 The Princes Dock tower, designed by Falconer Chester Hall architects, has been called the Lexington because its echoes New York-style designs.
Until now the Chinese state-owned builder has mainly worked in Manchester but is expanding in Liverpool.
Having entered the UK in 2013, BCEGI is an equity and construction partner on Manchester's £1bn Airport City and preferred contractor on Middlewood Locks, the £1bn mixed-use development in Salford, which will provide 2,215 homes alongside 900,000 sq. ft. of commercial space and a new hotel.
Bachy Soletanche has started work on the historic waterfront site carrying out piling work.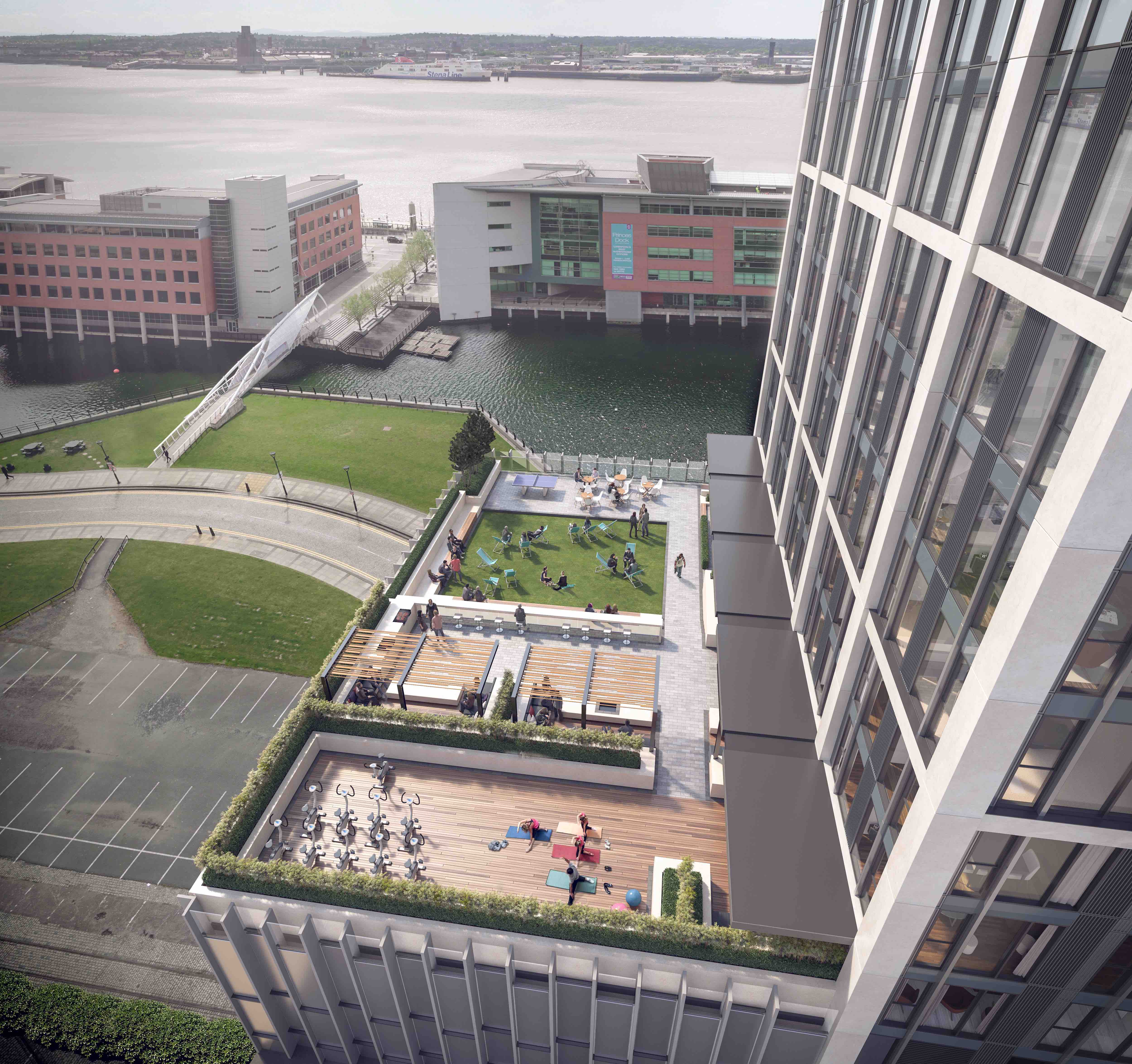 Once completed in 2021, The Lexington will offer 325 flats for rent, with communal facilities including a 17th-floor residents' lounge, gym, a roof, terrace, a garden and a cinema.
Tony Brooks, managing director at Moda, said: "With Angel Gardens in Manchester on track to complete next year, we're delighted to have appointed BCEGI to deliver The Lexington.
"Our ambition is to create a true landmark that will add to the already world-famous Liverpool waterfront. BCEGI has a proven track record of successfully delivering some of the North West's biggest schemes, and we're delighted to have them on board."
Yu Dongwen, lead director at BCEGI, said: "We are extremely proud to be appointed by MODA to deliver The Lexington. It is a flagship development that will significantly contribute to the huge transformation of  Liverpool Waters. We are looking forward to building our first project in Liverpool."
November 8th, 2018
Comments off
Approaching Construction With An Environmental Mind
Construction is a very environmentally intensive process, and when it's done without the prerequisite oversight, it can lead to serious damage to the surrounding area. This post will explore the ways in which construction companies can improve their best practices to help the environment – ensuring that whatever development they're building is in harmony with the surrounding environment.
Order the right materials
There's substantial leeway when it comes to eco-friendly construction materials – you don't necessarily have to opt for concrete or steel, as there are numerous eco-friendly options out there. Bamboo can be used to build eye-catching structures suitable for warmer climes while blending sawdust and concrete together can create 'Timbercrete' –  a much more sustainable option utilising a renewable resource.
Very few materials can match up to steel's suitability for high-rise construction, so, if your project requires strong metal, you should opt for recycled steel – which is becoming increasingly prevalent in modern construction, especially in the form of used shipping containers.
Treat your surroundings with care
An environmental construction process requires special attention to be paid to the surrounding flora and fauna – especially if your project is situated in an area of natural beauty. Buildings in national parks, for example, have to adhere to a set of regulations to make sure they don't detract from the beauty of the area.
You can reflect this in the construction process by minimising noise and traffic that might disturb the local wildlife, and by avoiding felling trees and vegetation clearance at all costs. This will lead to a finished product that looks like a natural addition to the area, rather than a scar on the landscape.
Incorporate natural elements
One of the major construction trends of this century involves the incorporation of natural flora into the architecture of the building. Major modern landmarks such as the Scottish Parliament Building in Edinburgh include grass roofs to help insulation in winter, as well as promote an eco-friendly ethos. Such a roof is very easy to fit and requires very little maintenance once put in place.
You can also use your building's 'transterior' spaces – such as courtyards, indoor/outdoor foyers and outdoor seating areas to incorporate some plant life to help the project feel at least a little more eco-friendly. A leafy-bordered building will soften the edges, allowing for an accentuated feeling of environmental harmony.
Consider alternative methods
Last but by no means least, approaching construction with an environmental mind should also cover construction techniques themselves. An emerging option amongst new builds is modular construction, in which pre-built modules, assembled offsite, are transported to the site and added to the building.
This method drastically reduces water and electricity usage on site, as well as producing a noticeable reduction in traffic, as fewer truckloads of raw materials will be needed onsite. If you're building in a quiet residential area or in a national park, this method should be considered to reduce the overall impact of your construction project.
A sensible blend of these environmental best practices will lead to your building project gaining a more harmonious relationship with its surrounds and the environment as a whole. As the world leans further towards more eco-friendly practices, it's well worth putting some of these strategies into action.
Author bio:
Suhayl Laher works at Tiles Direct, one of the UK's largest independent tile distributors and retailers – bringing design inspiration to homeowners, architects and developers.
November 7th, 2018
Comments off
Keeping young people safe at work was top of the agenda at the latest Industry Skills Forum hosted by Develop Training Limited (DTL).
The event attracted senior apprenticeship and HR managers from major construction, infrastructure and utilities companies.
Safeguarding to prevent abuse and harm is a hot topic, as large firms look to take on more young apprentices under the government's levy scheme. The round table event also highlighted Prevent, the government's initiative to avoid radicalisation of young people.
Tanya Parkin, DTL's HR Manager and safeguarding lead, outlined how the company is tackling the safeguarding issue as an approved apprenticeship provider. The presentation, co-hosted by Andy Holmes, DTL's Head of Audit and Quality, raised key discussion points around the shared responsibilities of the training provider and its corporate customers.
Describing DTL's journey since becoming an approved apprenticeship provider under the levy, Tanya said: "We have implemented a safeguarding and prevent strategy in the business. Our board of directors is really engaged with the subject, which has allowed us to roll out the strategy in our processes and training documentation."
"Safeguarding in the workplace is focused on under 18s but not confined to that age group," she explained. DTL relies on the government's document Safeguarding: Keeping Children Safe in Education for its policies on keeping apprentices safe. The guidelines outline processes for recruitment and training of teaching staff and others working with young people, as well as the duties of designated responsible persons.
A second presentation by an expert in extremism outlined the risks posed by radicalisation and how the Prevent initiative operates to combat the threat. Providers such as DTL have a duty to refer young people who appear to be at risk of radicalisation to a specialist panel as well as to incorporate British values into the learning process.
To find out more about DTL and to download a range of useful resources visit www.developtraining.co.uk/safeguarding
November 5th, 2018
Comments off
Why a flat roof is the right choice for your home
Are you in the market for a new roof? Maybe you are after a design change or you simply want to replace an old roof that is damaged. A flat roof is a great option for your home and here are the reasons why:
They are cost-effective
Flat roofs are cheaper than pitched roofs – so if you're budgeting for a roof and don't want to break the bank, a flat roof is the way to go.
A pitched roof may be traditional but it will cost you thousands more for the same area you want covered.
Speaking about costs, the cover of your flat roof can also vary. According to Home Building and Renovating, a flat roof cover can cost from around £35/m2 up to £80/m2. They also outline the different coverings available like torch-on felt which is the cheapest covering, mastic asphalt which is potentially the longest lasting, EPDM rubberised roofing which is widely used and easy to install, single ply membranes which are fairly expensive, and liquid roofs which are expensive and complex. Make sure you always discuss materials with your builder and make sure you get quality at a reasonable price.
They give you space
Flat roofs provide a large amount flexibility and they free up internal space. They also offer the impression of a sleeker look compared to bulkier pitched roofs, making your home look modern and spacious.
Attics and lofts are more easily available and accessible with a flat roof than with a pitched roof that produces sloped walls. This means that you can easily convert your attic or loft into another bedroom or living space and not have to worry about the interior being too cramped – something to definitely consider if you are wanting to add another room to your home in the future and appreciate the maximum use of interior space.
With a flat roof you can place your air conditioning units with ease, and even better, on top of your flat roof, you can install some solar panels that are more hidden than ones on pitched roofs – something to think about if you want solar power energy without having to sacrifice the outside appearance of your home.
A rooftop garden is another great idea that can be achieved if you have a flat roof. Perfect for green thumbs and those aspiring to do a little gardening a week, a flat roof provides the perfect space for a living garden on top of your home. Gardening know-how has a very useful guide for those interested in starting a rooftop garden. They suggest checking with your local authorities, rental property rules or homeowner association regulations to see if you will be able to make a rooftop garden in the first place. They also suggest that you try to use as little weight as possible and that you should use plastic, fiberglass or foam planting containers and that you should avoid using pavers and regular garden dirt as lightweight potting soil will be better. Using Styrofoam peanuts for drainage rather than rocks or pottery shards can also reduce the weight of your garden on your roof for some extra reassurance and safety.  Some benefits of a rooftop garden other than scenery include:
Reducing the amount of stormwater runoff, protecting your surroundings from damage and possible flooding
Creating a habitat for animals including birds, butterflies and bees
Providing an outdoor space for you and your family to enjoy and relax in
Improving the air quality of your surroundings
Having the ability to grow fruit and vegetables on your roof, and if you can build a lightweight greenhouse on your roof you can have access to food all year round
Gaining quality flora that you can use for decoration in your own home or give to friends and family as gifts
Check out these rooftop gardens and gather some inspiration for your home!
Flat roofs are definitely versatile and you can be creative with the space they provide compared to other roof designs out there – just think of the possibilities!
Easy to install
Flat roofs have a faster and less disruptive installation process and a plain structure means fewer materials are needed. Pitched roofs take comparatively longer to construct and complete and require more intensive labour which may cause interruptions during construction time.
Wind Resistance
You won't have to worry about shingles falling off anymore as flat roofs are perfect for wind resistance, especially when windstorms hit. If you live in the UK you will know that the wind here can be dramatic and long-lasting. A flat roof can safely be exposed to strong winds without you worrying about it needing to get repaired afterward.
Durable
Since flat roofs don't take the wind damage that pitched roofs do, flat roofs are expected to last 30 years or more. Checking your roof every now and then will help you access how long your flat roof has before you will need to either repair it or get it fixed.
Design
Homify Online point out that flat roofs are everywhere at the moment and that they are trendy with people desiring contemporary architecture. They describe flat roofs as startlingly elegant as the straight lines and right angles are distinctive, strong and bold.
Even if you don't want to commit to a whole new roof but would like one as an extension piece, consider getting a flat roof on a conservatory or garage. This can give your home depth and a very sleek modern design.
This semi-detached suburban home has had a kitchen extension built on the back of the building with a flat roof. Notice the artistic contrast of shapes and lines which creates a modern aesthetic appeal.
You can be more involved with the design of your flat roof than you think and can ask for your roof to be built with a slight slope so rain can drain away easily. You can also get some skylights installed or have a glass flat roof that will create an uplifting amount of natural light in your home.
Specialists will be needed if you are considering adding glass to your roof as to limit heat loss and the possibility of cracks appearing over time. General roof repairs may need to be done every so often as well, so make sure you find a reliable company that can offer you a great deal. Flat roof repairs in Newcastle Upon Tyne can be easily achieved as there are many local companies in the surrounding area that specialise in flat roofs and have years of experience. Just look around for companies that have repaired flat roofs previously and have a proven and positive track record of satisfying customers.
Is it Right for You?
If you are looking for a change in roof design, whether it be for appearance or practicality, flat roofs are one of the best options for your home.
Just look at everything you can do with a flat roof! Create yourself a roof garden or have windows that shine in natural light without anything obstructing your view – there are so many positives that flat roofs have, you just have to browse around for a great deal!
 What are your thoughts on flat roofs and are you considering getting one for your home?
November 5th, 2018
Comments off
November 2nd, 2018
Comments off
With the night's drawing in and the clocks set to go back, National Home Security Month comes at the perfect time to remind the public of the importance of home security.
A recent survey of nearly 600 tradespeople found that 85% said their customers only asked them to fit security products following a break-in to their property.
The survey, carried out by leading online supplier, IronmongeryDirect, also revealed that only one in three tradespeople feel 'very confident' when advising customers on better ways to secure their home. In addition, only 14% said they felt confident advising customers on smart security products.
Research by the National Home Security Month[1] campaign shows that a home is five times more likely to be burgled if no security measures are in place against those with two or three measures taken.
The top three concerns among tradespeople's customers, as revealed in the IronmongeryDirect survey, were poor window security, poor door security and a lack of alarm systems.
When the Office of National Statistics (ONS) released its latest crime statistics earlier this year, it revealed that 1 in every 50 homes in England and Wales were burgled in the previous 12-month period.
An additional online poll in support of National Home Security Month found that 71% of respondents felt their home wasn't secure enough.
Wayne Lysaght-Mason, Managing Director at IronmongeryDirect, said: "Certain parts of a property are more vulnerable to a break-in than others, with doors and windows obviously being the most susceptible, while dark areas outside provide the ideal cover for intruders.
"To address these vulnerabilities, there is a wide range of products available to help keep a building safe and secure – from a basic lock to sophisticated alarm systems. Increasingly, homeowners are also switching to smart technology products providing remote monitoring to secure their property."
For any advice and support on the best products to enhance the security of a property, contact our helpdesk on 0800 168 28 28 or visit IronmongeryDirect.com.
You can also view our latest infographic which reveals tradespeople's biggest concerns and the most popular home security products
[1] http://www.homesecuritymonth.com/
November 1st, 2018
Comments off
The building trade has always needed to keep a sharp eye on the Budget. Between a looming skills shortage and an uncertain Brexit deal, firms across the industry were looking to Chancellor Philip Hammond to throw his weight behind them this year. Here are a couple of the key headlines:
PFI and PF2 are out
Private Finance Initiatives, according to Mr. Hammond, simply haven't been good value for money. Partnerships between the public and private sectors are still very much part of the picture, but not in the form of current PFI or PF2 deals.
The Chancellor talked about PFIs failing to "transfer risk" to the private sector – wording that's already raising a few hackles – but existing contracts will still be honoured.
Tax breaks for non-residential buildings
New, permanent tax relief is coming in for non-residential structures, in the form of a Structures and Buildings Allowance.
Buildings can qualify once put into professional use, to the tune of 2% per year on eligible construction costs.
Renovation and conversion of existing commercial structures can also qualify. Some of the cash for this is coming from adjusting the special writing down rate to 6%.
Housing
With his sights set on 650,000 new homes, Mr. Hammond pumped an additional £500 million into the Housing Infrastructure Fund.
The fund now stacks up to a grand total of £5.5 billion overall. "Strategic partnerships" with housing associations are apparently set to deliver 13,000 homes in England, while SME homebuilders will have the support of up to £1 billion in British Business Bank guarantees.
Lifting the local authority borrowing cap could see a new generation of council house building.
Roads
£30bn of road spending was announced including a £25.3bn allocation for the second Road Investment Strategy (RIS2), which will be delivered by Highways England between April 2020 and March 2025.
A further £3.5bn is set aside for National Roads Fund for UK-wide and local major road schemes between 2020 and 2025, funded by vehicle excise duty.
Local authorities have been granted an extra £420m to fix potholes and carry out other repairs to infrastructure, along with £150m to carry out minor works on local road junctions.
What does it all mean?
As the UK's last Budget as an EU member, there was a lot to chew over. Frozen fuel duty and a focus on roads will be welcome, as will some strong moves on the housing crisis.
The death of PFI is a concern to many, though – along with incoming rules on private firms with self-employed workforces.
Greater investment in the construction industry, both for minor works and major development projects is good news.
Spending commitments for the regions and money earmarked for transforming our high streets should provide some a boost to construction employment opportunities and spreading out job creation across the country.
Ideally these promises will encourage more people to join or return to the industry alleviating the current skills shortage by linking this investment to training and job creation, such as the £695m funding package to train three million new apprentices this parliament.
There's cautious talk of a "no-deal" Brexit requiring a fiscal rethink, but it does seem that UK construction is at least being taken seriously.
Bradly Post, Managing Director of RIFT tax refunds
https://www.riftrefunds.co.uk/
October 31st, 2018
Comments off
The status of CE marking on construction products in Europe is to be considered as part of a review of the Construction Products Regulation (CPR).
The CPR is periodically reviewed and as part of this, there is due to be a revision of Mandate M101 for doors, windows and construction hardware.
The Guild of Architectural Ironmongers (GAI) will be producing a response on behalf of the ironmongery industry and is calling for door hardware professionals to participate in a short survey. The results will be shared with BSI Committee B538/4 and ultimately with CEN Committees in Europe.
The survey asks for both GAI and Institute of Architectural Ironmongers (IAI) members' opinions in relation to this topic, including which existing harmonised standards should remain harmonised under the CPR as well as their opinion on the necessity of CE marking of product relating to fire and escape doors.
Douglas Masterson, technical manager of the GAI, said:
"Any change to Mandate M101 is likely to have an impact on CE marking and harmonisation of products within the ironmongery industry. This survey is an opportunity for our membership to have an input and to help influence any significant decisions being made on an area of huge importance to our sector."
Members have the opportunity to provide input into the final submission to the BSI Committee B538/4 until Friday 2 November.
For further detail on this survey please contact Douglas Masterson, GAI technical manager, on technical@gai.org.uk.
October 29th, 2018
Comments off
Instead of dealing with moving costs and time-consuming packing, invest in your current home and add value to it. There are many ideas that can be implemented that can transform your home into a brand-new abode. Just check out these ideas that can add value to your home.
Add some decorations
Decorations can add some simple value to your home in no time. Whether it is plants, ornaments, sculptures or paintings, you can be sure that adding a bit of decoration, colour, and character to your home will definitely improve its surroundings.
You can even get super creative and do some decorative DIY projects yourself. Some examples to consider are:
·         An indoor herb garden – Good Housekeeping have created a list of 10 Herbs you can grow indoors all year round. Some herbs include basil (great for pizza making), thyme (great for stews and pot pies), tarragon (used in béarnaise sauce) and sage (used in various meat recipes). An indoor herb garden can make a great addition to your kitchen; you can even create a herb wall garden as shown here on Pinterest.
DIY centerpieces – Create your own centerpieces for your dining room. Add any flowers you enjoy or go with your own creative flow and add something special to you. Little pieces like these make a big difference to the room and add some personal value to your home.
Candle making – Buy some wax, melt it, add your own fragrance oils and colour, and put it in a mould of your choice. Design as many candles as you wish; you can even gift a few to family and friends. Having candles in your home brightens the mood and atmosphere. Great scents are also provided!
Kit out your garden
Make use of any garden space you have. Purchase some equipment like a BBQ, lounge chairs and even consider a patio. Anything you do to improve your garden will reflect positively on your house.
Plant some of your favourite flowers or invest in some garden ornaments, water features or fairy lights to really make your garden feel magical!
If you have a large garden, consider adding extra special features like a pool or hot tub. Or if you're into sports, add a basketball court or create an outside gym.
If you have children, you can even add some playground equipment so the whole family can enjoy their time in the garden.
Shed bars are also something to consider – you can invite friends over for a party, especially during summertime. It can be fairly expensive to renovate a shed into a bar, but it may be a feature that will provide enjoyment for years to come. Just look at some of these shed bars on Nextluxury.com – how easy it must be to grab a drink and enjoy the outside at the same time with style!
Add a conservatory
If you're in need of extra space, why don't you add a conservatory instead of moving house. A conservatory brings value, space and luxury to anyone's home – that's why they're so popular!
Conservatories can range in price depending on the extension needed, and there may be some planning/building restrictions you may need to check out before committing to this idea. But if you have the spare cash and you have legal permission, add a conservatory and bring a bit more charm and space to your home.
Install some new windows
Windows can change a whole room or the whole house, depending on how many windows you want to add.
Allowing in more natural light can change your home for the better. Replacing old windows with larger ones, or adding in more windows to create a modern well-light appearance, can make your home airy and peaceful. Just make sure to get windows that are well-fitted and energy efficient – you'll save money without sacrificing design!
Think about changing your lights
Just like windows, lights can affect the atmosphere and mood of your home. Certain lights can create certain moods. A dim-lit light creates a darker, romantic feeling, while brighter lights create energised surroundings.
You can even buy some led changing light bulbs to add some extra colour to your home. These ones on Amazon are rated high and are definitely something to consider buying.
Change the outside of your home
Some people forget that the outside of their home is just as important as the inside.
The outside foundation, walls and roof can be practical and aesthetically pleasing. If you're into a modern look, consider revamping your roof to a flat roof. Certain roofers in Newcastle Upon Tyne are highly experienced and offer expert installations – something to really think about if you're local or looking for some professional work to be done.
You outside walls are also important. You can paint your walls yourself or get an experienced painter to do it for you.
Consider white or a neutral brown for a nice modern look. Or, if you want to go crazy and creative, consider a colour like blue or red – pastel colours are also trendy at the moment and have a nice, soft appeal. Check out these examples of painted exteriors for inspiration!
Change the floors
The floors in your home can be comfortable, creative and add value to your home. Wooden flooring can create an aesthetic, modern appeal. Tiles can come in various shapes and sizes; some people even go all out and have murals on their floors!
Carpet is always a favourite with living rooms for an extra comfy feeling – just browse around in-store and pick the best option for you.
A change of flooring can make a dramatic change to your home – you just have to gather the courage to do it!
You'll be surprised with the outcome of your home if you take some of these ideas and implement them, and we guarantee that it will be more fun redecorating and improving your current home than it would be trying to move out and start over again!