May 9th, 2018
Comments off
Lots of people wonder if a garage, barn, outbuilding increase their property value, and if so, by how much?
May 4th, 2018
Comments off
The second reading of the private members Bill to overhaul the hated cash retentions system has been pushed back seven weeks.
Tory MP Peter Aldous was due to deliver the Bill's second reading tomorrow but now the process has been put back to 15 June.
The change comes after concern that tomorrow's crowded parliamentary schedule risked it not being read and abandoned by parliament.
Aldous is seeking to amend the 1996 Construction Act and ensure that retentions are held in a third party trust scheme.
There is a now strong groundswell for reform in both parliament and the industry.
In recent weeks political support for holding cash retentions in trust has soared to over 120 MPs in favour of ring-fencing subcontractors' money. Cross-party support for reform includes Conservatives, Labour, Liberal Democrats, SNP, DUP, Plaid Cymru and the Green Party.
And earlier this week a delegation representing 76 specialist trade bodies – representing over 355,000 companies and many self-employed professionals – petitioned the Prime Minister for urgent reform to payment practices and the retention system.
Aldous said: "The industry loses around £1m for each working day, mostly from SMEs. There have been proposals to stop the abuse of retentions before, but this time there is the largest coalition on fair payments ever."
May 2nd, 2018
Comments off
The proposed £13bn mega-merger between Sainsbury's and Asda is expected to trigger a £600m refit and computer integration programme across the UK store network.
While Sainsbury's said there would be no store closure programme because of the merger, with both brands to operate side by side, the competition authority is expected to insist on disposals where both retailers predominate in local markets.
Announcing the agreed merger plan today, Sainsbury's said it saw the opportunity to roll-out its Argos brand in Asda stores as a result of the tie-up, funded by part of the expected £600m business integration capital spending programme.
Sainsbury's operates over 600 Sainsbury's supermarkets and more than 800 Sainsbury's Local convenience stores, as well as over 800 Argos stores, amounting to more than 2,200 locations. Asda operates through a network of 584 grocery stores, 18 standalone petrol filling stations and 33 Asda Living stores.
Asda's US owner Walmart would receive just under £3bn in cash plus a 42% stake in the combined business, in a deal which values the Leeds-based chain at £7.3bn. Sainsbury's market value, before trading opened on Monday, was £5.9bn.
David Tyler, chairman of Sainsbury's, said: "The proposal will bring together two of the most experienced and talented management teams in retail at a time when the industry is undergoing rapid change. We welcome Walmart as a significant shareholder and look forward to working closely with them."
Roger Burnley, Chief Executive Officer of Asda, said: Asda will continue to be Asda, but by coming together with Sainsbury's, supported by Walmart, we can further accelerate our existing strategy and make our offer even more compelling and competitive.
From my six years with Asda and ten years with Sainsbury's, I know first hand that both organisations are fortunate to employ some of the most talented and customer-focused colleagues in this market and I am excited by the opportunity of the two coming together."
The merger will impact on both retailers' land banks, which has led to a call for unwanted sites to be set aside for housing.
Dipa Joshi, director at Assael Architecture, said: "The brownfield sites that don't survive the merger would be extremely well placed to provide new homes and communities, amid a well-documented housing crisis in the UK.
"The majority of the sites have great road connections and are near public transport links, as well as being located on the fringes of key urban locations, making them ideal sites to bring forward for development."
May 1st, 2018
Comments off
Construction activity slid by 3.3% in the first three months of 2018, impacted by Carillion's collapse and bad weather.
The fall contritubed a 0.2% fall to UK GDP, which grew by jus t0.1% during the first quarter.
It is the first preliminary estimate of GDP by the ONS and incorporates 45% of total data for the quarter, so be subject to further revisions.
The ONS published its preliminary estimate for GDP in the first quarter of 2018.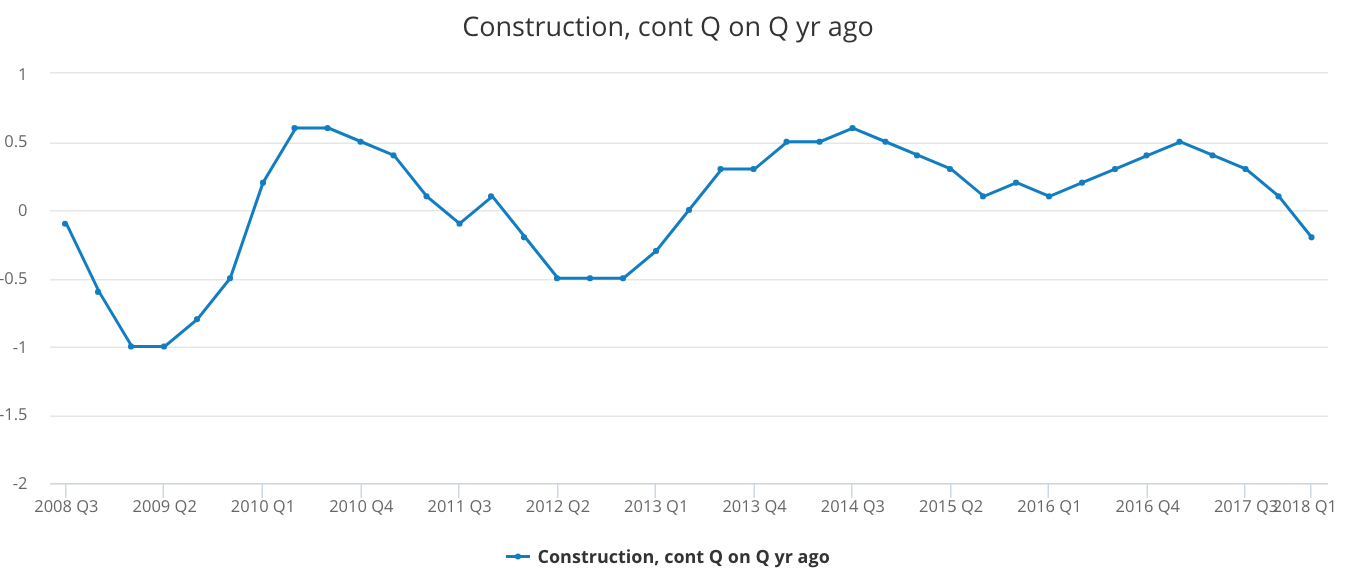 Rebecca Larkin, Senior Economist at the Construction Products Association, said: "This preliminary estimate gives the first full indication of how construction was affected by the liquidation of Carillion in January and the adverse weather at the end of February and beginning of March.
"The quarterly decline of 3.3% was the worst since 2012 Q2 and implies a £1.3bn loss of output in the opening months of 2018.
"Some degree of catch-up is expected throughout Spring and Summer, but on the CPA's forecasts, amid continued economic uncertainty and weakness in commercial construction, output for the year is still expected to be flat at best."
April 30th, 2018
Comments off
The country's best performing construction sites have been confirmed at the Considerate Constructors Scheme's 2018 National Site Awards.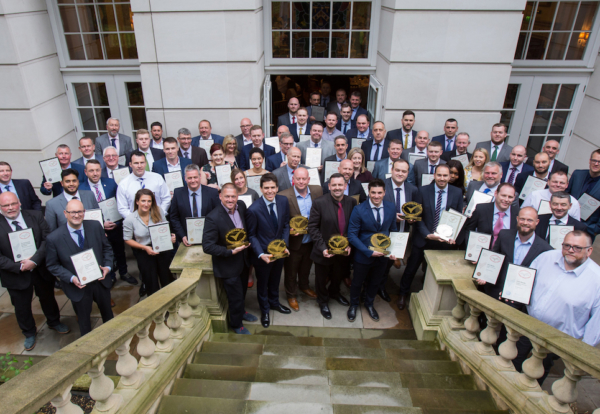 The coveted title of Most Considerate Site went to:
Minton Lane – Northern Gas Networks (project value under £500k)
Lovell Partnership Norwich – Overbury Plc (project value £500k to <£1m)
Hutton C of E Primary School – John Perkins Construction Ltd (project value £1m to <£5m)
Eastern Balancing Reservoir – Morgan Sindall Construction & Infrastructure Ltd (project value £5m to <£10m)
Bravo Taxiway Realignment – Ferrovial Agroman (project value £10m to <£50m)
Greenwich Peninsula Upper Riverside – Mace (project value £50m and over)
The National Site Awards recognise projects that have demonstrated the highest level of consideration in respect of the community, environment and workforce.
The awards ceremonies welcomed over 3000 guests and took place at venues in Edinburgh, London and Manchester this month.
The Scheme presented 840 National Site Awards, out of a total of around 8,000 eligible to win.
In addition to the six Most Considerate Site Awards, there were 348 Bronze, 304 Silver and 159 Gold, as well as 23 Most Considerate Site Runners-Up.
This year's awards also introduced special recognition for Ultra Sites, following the official launch of Ultra Site registration earlier this year.
Ultra Sites were recognised for their outstanding commitment in collaborating with their supply chains during the awards ceremonies. A separate awards ceremony will be held for top performing Ultra Sites later this year.
Considerate Constructors Scheme Chief Executive Edward Hardy said: "Winning a Scheme National Site Award is a monumental achievement.
"To receive this top level of industry recognition reflects how much effort and commitment award-winning sites have made to push their standards, and those of the industry, to even higher levels.
To find out more about the 2018 National Site Awards, visit the Scheme's online Construction Map here.
April 26th, 2018
Comments off
Ransomware is a growing cyber-threat that finally hit mainstream headlines in 2017, due to the Petya and WannaCry attacks that throttled the NHS and caused huge financial losses for globally-recognised businesses.
The aftermath of the attacks proved the most costly for two of the most high-profile victims of the Petya attack: Merck and Maersk.
US pharmaceutical giant Merck lost over $310million due to the production shutdown caused by the Ransomware virus. Its operations were shut down, employees weren't even allowed to work, and it estimated $135million of the total cost of the attack was due to lost sales.
Similarly, Maersk, the largest shipping company in the world, attributed a loss of over £210million to Petya as the majority of its 76 ports were shut down. So severe was the attack, the company had to deal with no IT infrastructure whatsoever for 10 days, and manually dealt with arrivals at its ports every 15 minutes.
This infographic from UK IT support company TSG presents some key statistics on the growth of Ransomware, as well as tips on how to avoid falling victim to this omnipresent threat.
April 24th, 2018
Comments off
Award-winning UK construction, refurbishment and fit out contractor,
Gilbert-Ash, has recently completed an extensive £16.2m rebuilding and remodelling of UCL's renowned Faculty of Laws facilities in Camden, London.
The works connected the University's past with its future, fully integrating a Grade II listed building, Bentham House, with a neighbouring mid-20th century building, Hillel House which housed the Gideon Schreier and Graduate Wings, within the predominantly Georgian conservation area. The adjacent building was significantly remodelled including a major extension at the rear and a completely new exterior façade with Portland stone, complementing UCL Laws original historic home.
With a growing UCL student and Faculty body, Gilbert-Ash delivered a high-quality, technically advanced, bright space, reflecting modern methods of learning. Working closely with leading architects Levitt Bernstein, the development also comprises a central social hub, state-of-the-art research facilities and cutting-edge office and teaching areas.
The two buildings are now linked across all levels, with floor-to-ceiling windows, maximising the natural light and a new spacious atrium improving the student and Faculty experience. The development incorporates sustainability features, including a bio-diverse roof with photovoltaic arrays.
Rodney Coalter, Project Manager, Gilbert-Ash, commented, "Working closely with UCL, Levitt Bernstein and the whole redevelopment supply chain, we are really pleased with the high-end teaching facility that has been created.  It enhances the learning environment and experience for both students and faculty, as well as visitors and alumni. Recognising the renowned reputation of UCL, the redevelopment also aims to build on the traditions and character of the University whilst providing an extended, modern space for continued ambitious learning and socialising."
Professor Piet Eeckhout, Dean, UCL Laws said: "I am absolutely thrilled to have the pleasure to welcome the Faculty back home to Bentham House. UCL Laws has, at long last, a home fit for our world-leading research, teaching and social enterprise. The project has given the Faculty more than a building: it's given us an inspiring environment in which our whole community can come together."
Professor Dame Hazel Genn, UCL Project Sponsor said, "At the very core of the vision for redeveloping Bentham House has always been how the building will support, inspire and motivate the world-class teaching and thriving research culture within UCL Laws.
"The highly creative plans for the building have seamlessly married the much-loved traditional spaces with bright, modern facilities, giving our Faculty a home that reflects and respects its heritage, while also supporting and driving its forward-thinking, global agenda."
The UCL Faculty of Laws development is part of a larger scheme, Transforming UCL, the largest capital programme in the university's history. It will see substantial investment of over £1.2 billion over a 10-year period to refurbish and develop some of UCL's most iconic buildings whilst also bringing forward new world class buildings to enable continued growth.
Highly detailed design, advanced logistical planning and development goes into every Gilbert-Ash project, with the team skilled in delivering the finest quality projects in the UK and globally.
April 23rd, 2018
Comments off
Bill proposes greater security for SME construction contractors
A change to the way UK construction companies deal with contractors may be imminent as MPs get set to debate the second reading of a proposed new Bill later this month.
The Construction (Retention Deposit Schemes) Bill is seeking to ensure retention money (payments to contractors that are withheld for an agreed period of time after the completion of a project) is held in a ring-fenced trust.
According to construction law experts at Manchester firm Slater Heelis the Bill, if passed, will offer greater financial security to SME construction contractors.
Matt Grellier, head of construction & engineering at Slater Heelis, said: "Employers rarely place retention in a separate bank account held on trust. This exposes contractors to financial risk as the money is not 'ring-fenced' in the event of employer insolvency.
"The collapse of Carillion has amplified the concerns of many SME contractors. The new Bill proposes that retention monies are placed in a Government approved scheme, similar to that which applies for deposits taken from shorthold tenancies."
According to Government figures, almost £8bn of cash retentions have remained unpaid over the past three years and with no ring-fencing in place retention cash can be used to pay other creditors in the event of employer insolvency, leaving contractors out of pocket.
According to Mr Grellier, even if the Bill is passed, contractors must not become complacent over the terms of contracts into which they enter.
He added: "Contractors must still ensure they protect themselves in the terms of their contract to ensure prompt payment.
"It pays to be on your guard in relation to bespoke amendments to 'standard form' building contracts. Amendments to provisions regarding payment, defects and time for completion may have knock-on effects on retention release.
"Contractors should risk review payment terms pre-contract formation. Contractual 'milestones' in relation to payment should be diarised so that key dates are not missed."
The Construction (Retention Deposit Schemes) Bill is set to be debated by MPs in the House of Commons on Friday 27 April.
April 20th, 2018
Comments off
City of York Council is terminating its £9m Guildhall development contract with Interserve.
The two stage contract has been ended after costs came in over budget on the first stage.
The council said: "The first phase has now completed and the council has reflected on the current approach to developing this complex and historic site.
"As a result, the construction phase will not progress and instead, the council will consider options before inviting new bids from the market."
Interserve was working with SES Engineering Services and hosted a supply chain event late last year to find subcontractors after being awarded the deal last August.
Construction was originally due to start early this year.
Neil Ferris, director of economy and place, City of York Council said: "I can confirm we have terminated our contract with Interserve to develop the Guildhall.
"We set-up the contract following government procurement rules and as such, included a contractual break point after the first stage of the contract.
"We recognised from the start that given the site complexity and risks around the foundation structure, there was always the chance that estimate would be higher than anticipated.
"We structured the procurement in this way to protect York residents from potentially spiralling costs.
"We remain committed to the Guildhall development and are excited about the potential it offers local businesses, communities and visitors.
"Our next steps are to review options to reduce costs, such as revising the scale, scope or access arrangements to the site and we will invite members to confirm their preferred option in May.
"In the meantime, to reduce delays, we will progress less disruptive works, such as fitting new utilities."
April 18th, 2018
Comments off
A specialist asbestos company has been fined after failing to detect asbestos at a demolition site.
Greater Manchester Magistrates' Court heard how EAS Asbestos Limited were commissioned to conduct refurbishment and demolition surveys by Mercer Brother Limited who were demolishing garages for Hyndburn Homes.
EAS Asbestos stated in their surveys that asbestos was only present in the cement roof sheets, there were no areas that could not be accessed, and that there was no asbestos insulation board present in the garages.
On Wednesday 1 February 2017, the demolition of the garages went ahead but work was immediately stopped when suspect material was found.
Another surveying company was brought in and confirmed the presence of large amounts of asbestos insulation board in the demolition rubble.
An HSE investigation found that the survey carried out by EAS Asbestos Limited was incorrect and misleading.
EAS Asbestos Limited of Sutton in Ashfield, pleaded guilty to breaching safety regulations and was fined £6,700 and ordered to pay costs of £1,000 and a victim surcharge of £170.
Speaking after the case, HSE inspector Jacqueline Western said "This incident could so easily have been avoided by simply carrying out correct control measures and safe working practices.
"Companies should be aware that HSE will not hesitate to take appropriate enforcement action against those that fall below the required standards".