Developers Sterling Property Ventures and Rockspring have got the go-ahead to demolish Birmingham's NatWest tower for a new 26-storey office building.
The 105m-high tower planned for the 103 Colmore Row site has been designed by Doone Silver architects and will be the tallest building in Birmingham once completed.
Work on erecting the new tower will begin in summer 2016, creating 500 construction jobs and completion is targeted for summer 2018.
It will then offer 196,000 sq ft of office space over 19 floors, with restaurants on the upper and ground floors.
Demolition contractors H Smith (Engineers) have been on site since mid July, stripping out the building's interior.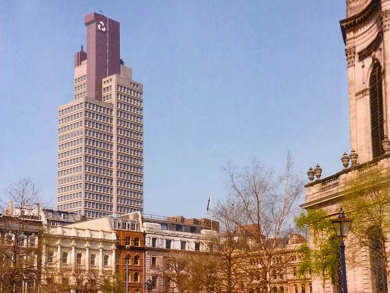 Scaffolding is now being erected to allow for the floor-by-floor dismantling of the concrete tower, which will take around 12 months.
The two-storey former banking hall fronting Colmore Row is scheduled to be removed by November this year.
Peter Graham, construction director at Sterling, said: "We're very pleased that Birmingham City Council has acknowledged our unwavering commitment to this project and this great city.
"It means we can now move this project off the drawing board and on to site, replacing an outdated, inefficient building with a modern, landmark office development that Birmingham can be proud of."
Eric Linden, European director at Rockspring, said: "We are pleased to be playing such a significant role in the improvement of this prime area of Birmingham, a city we view as a strengthening target for regional investment in the UK and where there is significant demand for quality, modern office space."