A major blaze destroyed the roof of the historic headquarters of the Co-operative Wholesale Society and brought part of Manchester city centre to a standstill last Tuesday evening.
Wates Construction was renovating the grade II-listed six-storey building into offices as part of the £800m Noma redevelopment.
Eight fire engines raced to the former CWS building, near Victoria railway station, when the alarm was raised at around 5.30pm.
Over 50 firefighters battled for four hours to get the high-rise blaze under control, which appears to have destroyed the pitched roof section of the building.
Tram services were halted in the area and electricity supplies were isolated as a precaution.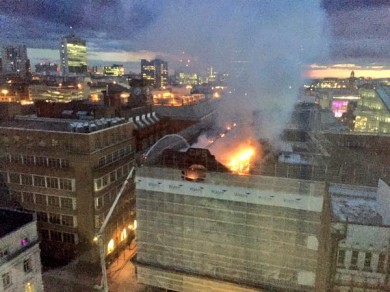 A fire service drone flew over the scene as part of the operation to pick up on heatspots, transmitting images to the ground.
One worker told the Manchester Evening News: "I was working today but left the site at about 4.30pm. I got a call to come back because the building had been on fire.
"Some workers had been carrying out grinding work but we have no idea what has caused the fire."
A spokesperson for NOMA and Wates Construction said: "We are working closely with the Greater Manchester Fire and Rescue Service and our on-site team to ensure we can gain access to the building as soon and as safely as possible."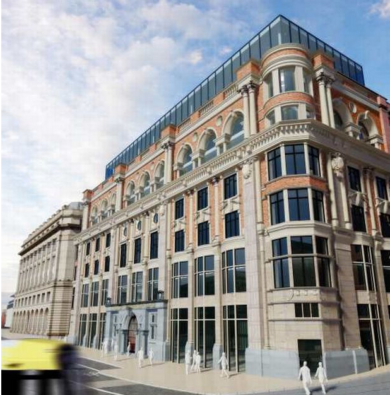 How the revamped Hanover building will look