Developer Sellar Property Group has submitted plans for a much taller cylindrical glazed tower that first mooted in Paddington, West London.
The Renzo Piano designed project was initially launched as a 65-storey building containing offices and flats, rising to 224m.
But this initial proposal has been ramped up, despite vocal objections from Historic England, with new plans for 72-floor building, rising to 254m, making it taller than 1 Canada Square on Canary Wharf.
The development will be known as Paddington Place, but has already been nicknamed the skinny shard, in recognition of Irvine Sellar's London Bridge skyscraper.
It is being taken forward by Sellar Property in joint venture with Singaporean publicly listed Hotel Properties.
Slender tower at 254m
1.3 acres of new public realm
New means of access, including step free, to the Bakerloo line platforms easing passenger congestion
A new and enlarged Bakerloo line ticket hall
Over 330 new homes
Over 108,000 sq ft office space
50,000 sq ft of retail, restaurants and cafés
An open-air public roof garden and restaurant
Create 450 construction jobs per year over the four-year build
The centrepiece crystal light-reflecting tower is being billed as a major marker for Paddington, one of London's most important transport hubs.
The ramp that serves as Paddington Station's entrance will be removed and the whole area in front of the station opened up.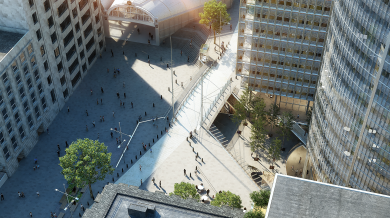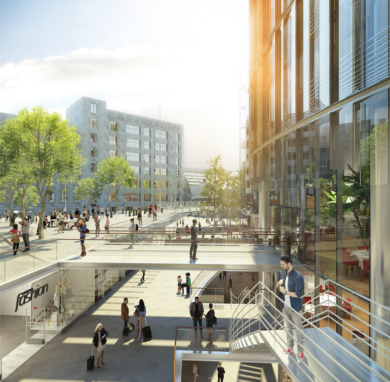 There will be the opportunity to extend the station concourse into a new public piazza while establishing a new 'front door' for the Brunel designed station.
The scheme will provide 100,000 sq ft of offices, with floorplates specifically designed to accommodate small to medium sized high-growth industries.
If will also include 50,000 sq ft of retail and leisure space at Praed Street, rail concourse and tube station levels to breathe new life into the area.
Chris Lim, Group Executive Director of Hotel Properties, said: "This is a unique opportunity involving an investment of over £1bn to provide many public benefits and a scheme which we believe will drive further investment in the wider area."
Irvine Sellar, Chairman of Sellar Property Group, said: "Paddington's transport interchange will be fit for purpose for the 21st Century and the wider mixed-use development and public space will enhance the way residents, visitors, businesses and their people live work and play, and will make a major contribution in revitalising this district."