Firefighters battled  a huge blaze through the night on Sunday after the timber frame of high rise flats under construction in Manchester caught fire.
Crews were called to the site in Gorton.
At the height of the incident five fire engines were in attendance and local houses had to be evacuated due to the heat.
Incident Commander Ben Levy said: "At around five past eight this evening we received a large number of call, in excess of forty.
"The fire involves a large timber frame building and upon arrival our crews found the top two floors well alight.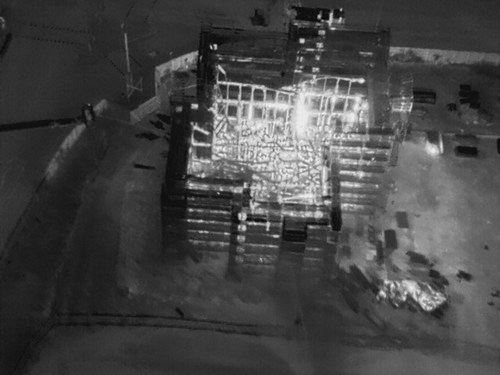 A night vision shot showing the extent of the blaze
"Given the fact it's timber framed and open to the elements the fire spread quite quickly".
Fire crews managed to get the blaze well contained and were damping down throughout the night.
The cause of the fire is still under investigation.