Plans to build Europe's biggest nuclear power station in West Cumbria have collapsed after Japanese engineering giant Toshiba said it is pulling out of the project.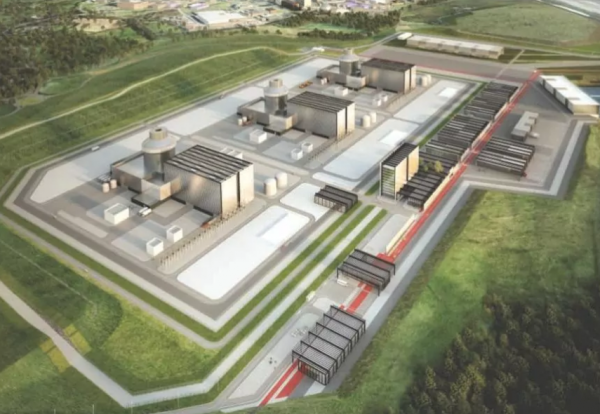 The £15bn Moorside power station project involved building three reactors at the site near Sellafield using Toshiba company Westinghouse's AP1000 reactors.
Toshiba's decision to wind-up its UK nuclear construction operation, Nugen, is a serious set back for Government plans to develop next-generation nuclear power as part of its shift to a low carbon economy.
The Moorside rector in Cumbria was expected to deliver 7% of the UK's electricity needs from 2025.
A statement from the Japanese engineering giant said: "After considering the additional costs entailed in continuing to operate NuGen, Toshiba recognises that the economically rational decision is to withdraw from the UK nuclear power plant construction project, and has resolved to take steps to wind-up NuGen."
Korea Electric Power Corporation had been a preferred bidder to take over the nuclear power plant project.  But after more than a year of negotiations, a deal could not be secured.
The Moorside site in Cumbria remains a site designated by Government for nuclear new build, it now passes to the Nuclear Decommissioning Authority as the owner of the site and the Government to determine its future.
The scheme had been projected to create between 14,000-21,000 jobs over the lifetime of the project – including peak on-site employment of more than 6,500.
Director of the Civil Engineering Contractors Association (North West) Guy Lawson said: "The decision to wind up NuGen is a potential hammer blow to the nuclear sector in Cumbria, and the local economy.
"The area is home to the UK's greatest concentration of companies and workers with genuinely world-leading capability in nuclear delivery and operation.
"It is essential that this competitive advantage and the nuclear skills base are maintained, through sustained investment in nuclear new build, harnessing this capability and delivering low carbon energy to power the UK economy."
General union GMB has called for an urgent rethink and wants the government to build a small modular nuclear reactor at the site.
Justin Bowden, GMB National Secretary, said: "A golden opportunity exists to take control and develop a small modular nuclear reactor in a part of this country which has a groundbreaking nuclear past that can be repeated in the future.
"The lessons from the collapse of Toshiba should have been well and truly learned long ago – relying on foreign companies and countries for our essential energy needs is utterly irresponsible."